The HKTDC Hong Kong International Film and TV Market (FILMART) ­– highlight of the month-long citywide Entertainment Expo Hong Kong (EEHK) – drew cheerful crowds as it opened in the Hong Kong Convention and Exhibition Centre (HKCEC) on Monday.
Mr KK Chan, the Chief Secretary for Administration of the Government of the Hong Kong Special Administrative Region, officiated at the EEHK launch.
Welcome return
"The return of EEHK, with a series of film, TV, music and digital entertainment events, this year could not be timelier. Your presence here, with happy faces clearly seen, is solid proof that Hong Kong has fully resumed normality after three years of the pandemic. Free from travel restrictions, Hong Kong has seamlessly reconnected to Mainland China and the rest of the world. Our city is truly back onstage globally," Mr Chan said.
"With Hong Kong's return to normality, all these events are seeing wide participation of global entertainment practitioners to come experience the real Hong Kong. We warmly welcome them all – and visitors at large from around the world – to see for themselves Hong Kong's unique strengths as an East-meets-West centre for international cultural exchange, an important status underpinned by the National 14th Five-Year Plan."
EntertainmentPulse runs In parallel with FILMART from 13 to 16 March, and more than 700 exhibitors showcase films and TV shows to global buyers and build connections.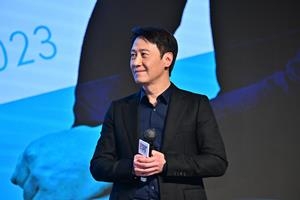 Joining Mr Chan at the opening were Mr Raistlin Lau, Acting Secretary for Culture, Sports and Tourism of the Government of the HKSAR, Ms Zhou Jihong, First-Grade Counsel, International Cooperation Department, National Radio and Television Administration, Mr Zhang Guo Yi, Deputy Director-General of the Department of Publicity, Cultural and Sports Affairs of the Liaison Office of the Central People's Government in the HKSAR, Ms Margaret Fong, Executive Director of the Hong Kong Trade Development Council (HKTDC), Mr John Chong, Chairman of HKTDC Entertainment Industry Advisory Committee, Mr Leon Lai, Hong Kong Entertainment Ambassador, and representatives of event organisers and supporting organisations.
Ms Fong said: "FILMART is one of the founding events of the Entertainment Expo and has, over the years, become the largest cross-media and cross-industry entertainment content-trading platform in Asia. With the full resumption of international travel, this year's FILMART has attracted 702 exhibitors from 30 countries and regions. In last year's Policy Address, the Hong Kong SAR Chief Executive outlined the Government's commitment to foster the cultural development of Hong Kong and expedite the city's progression into an East-meets-West Centre for International Cultural Exchange. I believe that with the Government's strong support, the industry can seize more opportunities and grow further," Ms Fong said.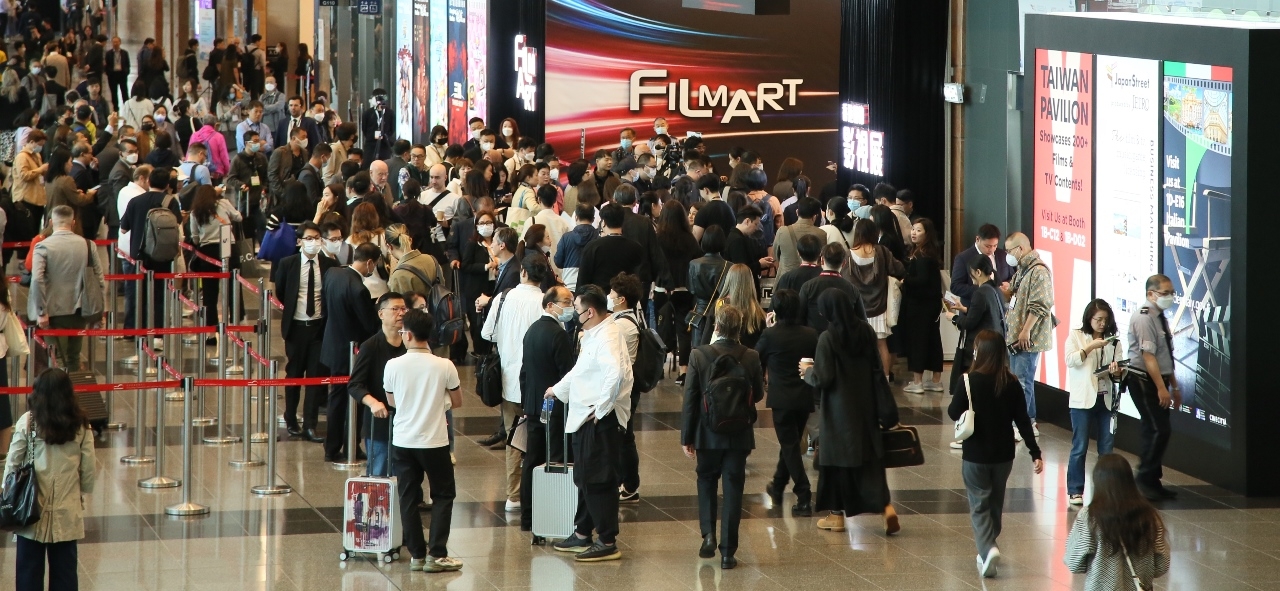 Global exhibitors gather
FILMART receives strong support from filmmakers in Hong Kong, Mainland China and worldwide. Numerous Hong Kong entertainment companies – including Edko Films, Emperor Motion Pictures, Golden Scene, Mandarin Film, Media Asia, One Cool Pictures, PCCW Media and Universal Films – participate in FILMART.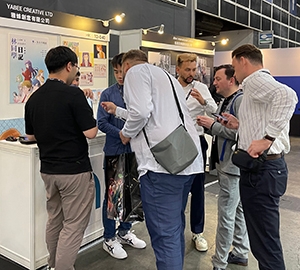 More than 330 mainland exhibitors from Beijing, Fujian, Guangdong, Hunan, Jiangsu, Shaanxi, Shandong and Shanghai are attending. They include renowned content producers and distributors such as Zhejiang Huace Film & TV, Daylight Entertainment, Fantawild, Beijing Yiding Legend Culture Co., Ltd and Linmon Media. Three major mainland streaming platforms – iQIYI, Tencent and Youku — also showcase programmes. The venue hosts nearly 30 overseas pavilions, including those from the mainland, Japan, Korea, Taiwan, Thailand, Italy, the United States and Europe, allowing exhibitors to trade with global buyers.
FILMART also presents press conferences, showcases, summits, seminars, meetings and screenings.
Industry leaders
EntertainmentPulse will feature leading industry speakers who discuss several topics including the hype behind dating and romance reality shows, application of Web3 in entertainment industry and donghua animation as soft power.
The forum began with Spotlight Conversation: The Asian Wave in 2023 and Beyond, co-hosted by Mr Sebastian Kim, Director of International Content Sales and Acquisition of CJ ENM, Mr Sanmesh Thakur, Executive Vice President & Territory Head – APAC of ZEE Entertainment Enterprises Limited, and Mr Ziraviss Vindhanapisuth, Vice President of International Business, BEC World Public Company Ltd. "There's no better time to accelerate the global expansion of Thai dramas beyond Southeast Asian markets on all platforms. We are confident the audience will love the chemistry between our talents and culture," Mr Vindhanapisuth said.
Mr Jiang Defu, COO of Bona Film Group – who released the mainland's highest-grossing film The Battle at Lake Changjin in 2021, earning more than Rmb5.7 billion (US$819 million) at the box office – will discuss the development and future of Chinese film. Mr Hou Hong Liang, Chairman and Producer of Daylight Entertainment Co Ltd, who created famous TV series such as Nirvana in Fire and The Story of Ming Lan, will also discuss the making of quality TV content.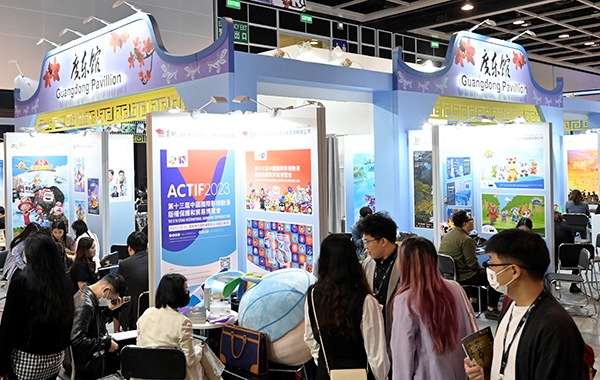 Film financing
As Asia's most significant financing platform, the Hong Kong-Asia Film Financing Forum (HAF) will run alongside FILMART and EntertainmentPulse, connecting filmmakers, investors, producers and distributors.
EEHK started on 2 March and will continue until 16 April, featuring FILMART, The Hong Kong International Film Festival (HKIFF) and The Hong Kong Film Awards Presentation Ceremony (HKFA); and five core events: ifva (Incubator for Film & Visual Media in Asia Festival), Asian Film Awards (AFA), HAF, Entertainment Pulse and Digital Entertainment Summit.
Related links
FILMART
Entertainment Pulse
HKIFF
HKFA
IFVA
AFA
HAF
Digital Entertainment Summit