The global energy crisis and concerns over climate change have been concentrating minds on green transport – all the more so in Hong Kong where the clock is ticking on fossil-fuel driven cars, which will need to be off the road within 13 years.
Green energy and electric-hydrogen vehicles were key issues at the Eco Expo Asia 2022, jointly organised by the Hong Kong Trade Development Council (HKTDC) and Messe Frankfurt (HK) Ltd and co-organised by the Environment and Ecology Bureau of the Government of the Hong Kong Special Administrative Region (HKSAR). The Expo was held at the Hong Kong Convention and Exhibition Centre (HKCEC) last week.
The four-day Expo adopted the EXHIBITION+ model, which allows exhibitors and buyers to extend interactions from the physical fair to the online Click2Match platform until 24 December. The final day was open to the public free of charge to encourage them to take part in green activities and practice green living.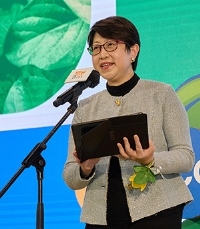 HKSAR Government Secretary for Environment and Ecology Tse Chin-wan and Sophia Chong, HKTDC Deputy Executive Director, officiated at the Expo's opening ceremony . In her remarks, Ms Chong said: "Themed under Green Innovations for Carbon Neutrality, this year's Expo attracted close to 250 exhibitors from nine countries and regions gathering the latest green products, technology and solutions under one roof. It provides a prominent business platform for different industries to capture green business opportunities and help push forward sustainable development globally."
The Eco Asia Conference ran for the first three days of the Expo, bringing together industry leaders from across the globe to share insights on major issues of environmental protection.
Pavilions return
The Expo included a strong line-up of exhibitors from Mainland China, Singapore and Taiwan in Asia, and exhibitors from France, Germany and Sweden in Europe. Alongside the individual exhibitors, the Canadian and Japanese Pavilions returned. The 38 exhibitors at the Japan Pavilion included Toyota Tsusho HK, a subsidiary of the Toyota Group, which introduced ecological and renewable energy technology, including developments in hydrogen energy use; and YKK Hong Kong showcasing environmentally friendly zippers made from plant-based materials as well as a newly launched waterproof zipper made from recycled polyethylene terephthalate (PET) plastic.
Tatsuya Makishima, Chairman of the Environment Committee of The Hong Kong Japanese Chamber of Commerce & Industry said: "The Japan Pavilion returns to this year's Eco Expo Asia, featuring the largest line-up ever with 38 exhibitors. It is fully supported by the Hong Kong Japanese Chamber of Commerce and Industry (HKJCCI) and the Japan External Trade Organization (JETRO). Japanese exhibitors are showcasing a wide range of green innovations along three main fields – infrastructure-related green technologies, sustainable textiles and eco-friendly plastics. They are keen to develop the markets in the [Guangdong-Hong Kong-Macao] Greater Bay Area through the Expo. Local and overseas buyers are very interested in Japanese green innovations, such as biomass-based plastics. Japanese exhibitors are happy with buyers' responses." The Canada Pavilion included exhibitors from the fields of waste treatment, green buildings, solar power generation and the Internet of Things (IoT). CarbonCure Technologies Incorporated, an exhibitor making its debut appearance at the Expo, introduced its innovative technology using recycled carbon dioxide to manufacture reinforced concrete.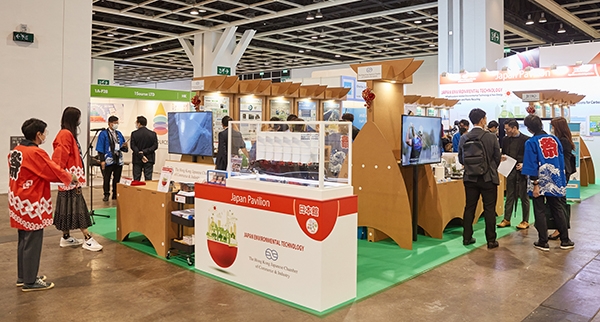 Green transport
In his Policy Address this year, HKSAR Chief Executive John Lee said the Government would cease registration of fuel-powered and hybrid private cars by 2035. The Green Transportation zone at the Expo featured electric vehicles and charging solutions to help the industry seize business opportunities. The largest exhibitor, Wisdom Motors (HK) Limited, displayed its single-deck hydrogen energy bus along with the double-decker electric buses servicing Hong Kong to promote carbon neutrality. Richburg Corporation Limited featured its improved and upgraded versions of electric cars in which the battery life and fast charging performance have been greatly improved, allowing an 80% recharge in just 42 minutes.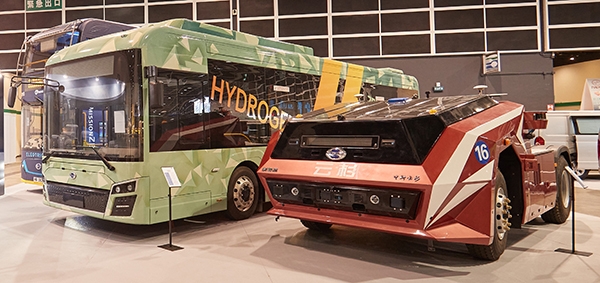 Diverse eco-friendly products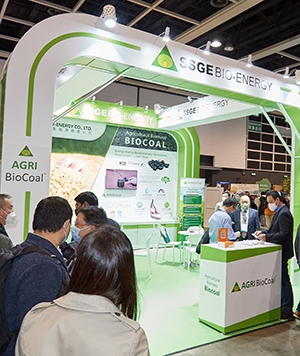 In the Eco-friendly Products zone, Novetex Textiles introduced the Billie System, which converts textile waste into high-quality recycled fibres. Combining raw and recycled materials, the system produces unique recycled yarns to help make the clothing and fashion industries go green. In the Water Treatment and Quality Management zone, ShaanXi ORCA Electronic Intelligent Technology presented an unmanned environmentally friendly vessel, which can navigate and clean garbage round the clock on a pre-set course.
The Green Buildings and Energy Efficiency Zone displays included a small, but high-efficiency generator system developed by Robin Energy, which can generate electricity in light wind conditions, representing a boost to the conversion efficiency of wind energy to electricity; a solar energy storage system by Huawei International that can switch to back-up mode using stored energy within five seconds, if a power outage occurs at home; and an exterior wall coating based on Japanese rocket and aerospace technology from new exhibitor Nishitani (Asia) Limited that helps buildings block ultraviolet rays to increase building energy efficiency.
Green workshops
The public open day offered environmental protection seminars, including the Environmental Protection Department's Reduce Disposable Plastic Tableware at Source and Sharing of the Latest Policies of Environment and Ecology Bureau, as well as a climate change-focused session organised by the Hong Kong Observatory. Green Workshops, such as the Pearl Bracelet Workshop, DIY Toy Workshop, Build Your Own Water Filter STEM Workshop and immersive activities, including virtual reality (VR) experiences, were held to encourage green living and reduce waste proactively.
The HKTDC's EXHIBITION+ hybrid model engaged a wider global audience virtually. It attracted nearly 250 exhibitors from nine countries and regions, an increase of 18% compared to last year. Nearly 9,200 industry buyers visited the physical expo and browsed products online.
The online platform will run until 24 December. As of the Expo's closing day, it had already arranged more than 500 business meetings, enabling participants worldwide to explore business opportunities through the online platform.
Under the carbon neutrality theme, the Expo explored technologies aimed to decarbonise the world. Products and solutions in the fields of green transport, new energy, green finance and ESG, waste management and more were on display. Finally, the Eco Asia Conference covered key environmental issues, including green finance, hydrogen economy, circular economy, carbon neutrality, green retrofits and the latest development of related government projects in Hong Kong.
Exhibitors and visitors expressed their appreciation for an in-person event in Hong Kong, recognising the importance of face-to-face interactions and hybrid events for business communication. The Expo provided a much-needed online and offline platform, facilitating industry recovery and promoting business collaboration.
The upcoming Eco Expo Asia will run from 26 to 29 October 2023 in Hong Kong. The Expo will again be jointly organised by the Hong Kong Trade Development Council (HKTDC) and Messe Frankfurt (HK) Ltd and co-organised by the Environment Bureau of the HKSAR.
Related links
Eco Expo Asia
Messe Frankfurt HK