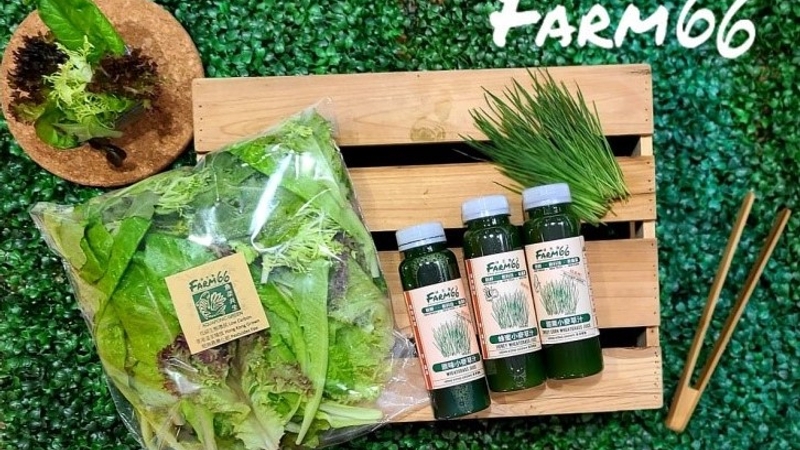 https://hkmb.hktdc.com/en/NTY5NDg4ODk1
Start-Up Hong Kong: Agricultural Transformation Via Industrial Premises Repurposing
While Hong Kong continues to undergo economic transformation and urbanisation, local agricultural activities have been on the decline. According to government estimates, agricultural land currently covers about 66 sq km, around 6% of Hong Kong's total land area. In light of Hong Kong's acute land shortage, one idea that has become popular in recent years is that of reforming traditional agriculture by revitalising industrial buildings to accommodate indoor urban farming. Farm66 Investment Ltd became the first indoor aquaponics farm in Hong Kong, devoting great efforts to researching new technologies for the development of urban farming. Its technologies and concepts have now attracted a number of overseas companies interested in co-operation. Gordon Tam, the founder of Farm66, talked to HKTDC Research about the difficulties encountered during the start-up process. He believes that, in order to boost the local scientific research ecosystem, Hong Kong should be updating its laws to keep pace with the development of innovation and technology.
Resolving Social Problems ​​​​​​​

Tam's interest in the concept of urban indoor farming stems from his time at university. Majoring in sustainable urban development, he conducted a feasibility study on revitalising industrial buildings and proposed that developing indoor farming would be a good way of using the idle space in old factory buildings. This idea won the approval and support of his professors and his fellow students. Encouraged by this success, Tam set about putting his idea into practice to help restore the shrinking local agricultural sector.

Tam noted that the majority of agricultural land in Hong Kong was used for leisure farming and that there was no large-scale cultivation. The scarcity of agricultural land for real farming has resulted in a severe shortage of agricultural produce which has in turn made it necessary for Hong Kong to rely heavily on imports from the mainland. This phenomenon hinders Hong Kong's long-term development. Tam also realised that, with increasing numbers of people in Hong Kong suffering from food allergies, consumers were placing a much greater importance than before on food safety, food quality and environmental protection. To answer both these issues, Tam decided to develop indoor agriculture in a bid to reduce the use of pesticides and pollutants, offer an alternative for vegetable supply in Hong Kong, and provide healthier and better quality agricultural produce for the local market.

Tam and his business partner set up Farm66 in 2013 focusing on indoor farming. Their technology was granted a patent the following year. There are some major advantages to farming in this way. Growing crops locally, for example, means the produce does not have to be transported long distances, which leads to lower transportation costs and a reduction in carbon emissions. Furthermore, the impact of indoor agriculture on the environment is less serious because it involves no land exploitation or large-scale deforestation.
Farm66 uses a number of new technologies, including an "energy-efficient LED light spectrum" and a "symbiotic aquaponics eco-cycle". Symbiotic aquaponics differs from hydroponics, which normally uses chemical fertilisers. Instead, it makes use of the nitrifying bacteria produced in the plant bed to convert fish waste into fertiliser absorbable by plants. As the roots of the plants absorb the nitrogen fertiliser, the process helps to purify the water and create a better environment for the fish, thus forming a virtuous cycle. Furthermore, by using a fully automated farming and production system, an ideal growing environment for crops is created, which means that output can be projected to ensure a steady supply all year round. Tam pointed out that in general the quality and freshness of indoor grown agricultural produce are superior to traditional agricultural produce.
Legislation Needs Modernising
When Farm66 was founded, not many people were receptive to the idea of urban farming. As a result, Tam had to establish his start-up with a few friends using their own funds. In its early stages, the company encountered many challenges. First of all, the Environmental Protection Department ruled that indoor urban farming was not eco-friendly. Then the Lands Department served the company a summons for illegally changing the permitted use of industrial buildings by operating in an industrial building in Kwun Tong. Tam's team had to spend two years negotiating with the government to overcome this particular obstacle. During this period, the team collected a lot of information, sought advice from Legislative Council members, and raised public awareness by increasing media exposure. Finally, Farm66 won its case and the government agreed to include indoor farming as one of the permitted uses of industrial buildings. This success paved the way for the company to make an entry into the Hong Kong Science Park.
Tam recalled that some government officials did support the idea of Farm66. For example, Ko Wing-man, the then Secretary for Food and Health, made arrangements on several occasions for different departments to meet with representatives of Farm66. However, as Tam pointed out, start-ups normally come up with many innovative ideas that are not supported by current legislation. Indeed, Hong Kong's outdated legislation has come in for some criticism over this issue. Tam is grateful that Farm66, with support from the industry, finally overcame the hurdles facing them, but noted that other emerging industries, such as e-sports and car-sharing, face similar problems. He said that he hopes the government can move with the times and strengthen communication with start-ups.
Backed by the emphasis placed by the management team on food safety and the uniqueness and advantages of the company's technologies, Farm66 was able to take advantage of many opportunities. It was awarded Alibaba's Jumpstarter 2017 Winner in an entrepreneurship competition jointly organised by the Alibaba Entrepreneurs Fund, Cyberport and Hong Kong Science and Technology Parks Corporation (HKSTP). After Farm66 gained extensive media coverage, a large number of investors became interested in the company and over HK$10 million was raised. As a result, the company grew rapidly in scale and moved its business from a 2,000 sq ft unit in an industrial building to a factory unit of over 20,000 sq ft in HKSTP's industrial estate in Tai Po. It increased the number of staff it employed from three to 20, and started to produce ready-to-eat packaged vegetables in an effort to tap the consumer market.
Soaring Sales
Tam believes that, although the policies introduced by the government in recent years do help the development of local start-ups, the efficiency with which these policies are administrated is low. For instance, together with the Hong Kong City University, Farm66 has successfully applied for the Innovation and Technology Fund for Better Living granted by the Innovation and Technology Bureau for two research projects. But Tam pointed out that applications submitted by private companies on their own have to go through lengthy examination and approval procedures. Farm66 had once spent two years applying for government funding. Currently, many start-ups still have to rely on a number of channels (such as Legislative Council members or industry associations) to get in touch with different government departments. Tam said he hoped the government will look into this and make improvements, such as strengthening the function of the Innovation and Technology Bureau to serve as a one-stop window for local start-ups.
Tam said he has been greatly impressed by the incubation programmes launched by HKSTP and Cyberport. These programmes provided strong support to Farm66 in the company's early days, such as concessions on rent, a HK$100,000 Initial Working Capital Grant, and assistance in commercialising the company's products. The company also benefited greatly from activities organised by HKTDC such as business missions and Belt and Road business matching. Through participating in these activities, Tam gained a good understanding of the demand for urban aquaponics farming technologies in overseas markets such as Dubai, Pakistan, Malaysia, Thailand and Saudi Arabia. This helped him formulate future development directions for the company. At present, Farm66 is actively promoting its patented "symbiotic system of fishing and planting" and development concept in overseas markets, as well as planning to expand its business to Singapore, Malaysia and Thailand in the form of an equity joint-venture.
Farm66 produces premium vegetables and its clients are mainly airline companies and hotels. As such, the company has inevitably borne the brunt of the Covid-19 pandemic. However, the crisis has also created opportunities. With the coronavirus prompting people in Hong Kong to attach more importance to food safety and cook more often at home, Farm66 has seen an increase in orders from large supermarkets. At the same time, the company has launched an online platform selling fresh vegetables and offering a delivery service.
The company has done its bit during the pandemic too. Early on, when Hong Kong was facing an acute shortage of face masks, Tam postponed his plans for factory expansion and instead lent 8,000 sq ft of factory space in Tai Po Industrial Estate to HKSTP for use as a cleanroom housing four mask production lines. This move helped to launch the first batch of mask production facilities in Hong Kong.
Tallying with GBA Development
Tam is optimistic about the development prospects of the Guangdong-Hong Kong-Macao Greater Bay Area (GBA). The planned directions for the GBA's development include boosting the health industry and supporting agriculture–directions which are in line with Farm66's business. To try to take advantage of this, the company contacted the Hengqin Science & Technology Industrial Park through Cyberport, and was invited by the Hengqin government to set up an indoor aquaponics farming plant there. Unfortunately, this project had to be suspended due to the Covid-19 outbreak.
Tam believes that the GBA is an important base for Hong Kong companies to grow their business. Since the costs of land and human resources in Hong Kong are steep, the newly reorganised Hengqin Science & Technology Industrial Park is very attractive to Hong Kong start-ups as it offers a complete range of supporting facilities such as logistics and town planning, as well as various preferential policies including government 1:1 match funding. Tam said he hopes to restart his project there once the pandemic is over. By then, the vegetables grown indoors by Farm66 will be able to be supplied directly to the mainland domestic market.
Technology
Technology
Technology
Technology
Technology
Technology
Technology
Technology
Technology
Technology
Technology
Technology
Technology
Technology