Syngular Co-founder & CEO Louis Sze demonstrates the surgeons' auxiliary system
E-sports and games were natural nurseries for virtual reality technologies, giving rise to MR (mixed reality), which took the technologies into other fields, including medicine.
Hong Kong start-up Syngular Technology deployed MR to develop surgical assistance software, adding game elements to 3D medical imaging solutions. Surgeons wearing MR goggles can overlay 3D images on their view of a patient's body, giving an inside perspective.
Syngular was one of the 10 top start-ups selected in this year's edition of Startup Express, the Hong Kong Trade Development Council's entrepreneurship development programme.
Louis Sze, co-founder and CEO of Syngular, began to conceive of MR surgical assistance software as early as 2017. Limited functionality of MR goggles at the time crimped potential, but that changed when a new range of goggles appeared in 2019, lightweight and backed by enough computing power.
The developers established a software development company in 2021, producing a prototype last year and launching it earlier this year.
With a master's degree in biomedical engineering and many years' experience in medical 3D printing and entrepreneurship, Mr Sze teamed up with game developers who are familiar with 3D modelling for games.
"The new generation of doctors grew up playing computer games and are very receptive to new application models, which would have been difficult to implement ten years ago," Mr Sze said.
The company uses AI algorithms to generate 3D holograms from raw data in 2D medical images, such as magnetic resonance image (MRI) scans, then applies game technology to produce special effects, generating computer animations. Surgeons who don the MR glasses can see real-life and 3D medical images at the same time.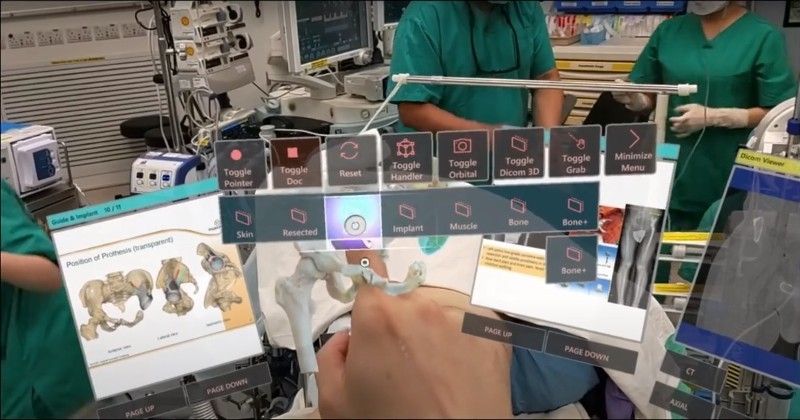 "AI algorithms are more efficient than 3D printing. The waiting time is shortened from days to hours. It can support emergency cases and give doctors greater flexibility. Using a computer to display 3D images without printing them also saves costs."
MR surgical auxiliary software improves surgeons' visualisation, increasing operation efficiency. The systems cut the duration of lengthy, 10-hour plus tumour surgery by 10% to 20%.
"Through our MR software, doctors can pre-plan surgery on the computer, such as marking the location of the tumour on virtual skin, wearing MR goggles during surgery and superimposing the marked 3D images of scans on the patient."
The front scanner of the MR glasses tracks the position of a user's hands and the distance between them and virtual objects. Doctors use eyeball buttons to control different files through line of sight sensing, when their hands are busy.
In addition to on-site surgery, MR can support remote operations and augmented learning. Such procedures, as intubating patients in emergency rooms, can become virtual training sessions, letting students learn anytime and anywhere.
The software also supports live streaming, letting third parties see virtual objects and mark them. Ageing populations and a shortage of medical personnel will boost demand for MR-driven remote surgery.
Syngular charges HK$100,000 (US$12,800) to more than HK$200,000 a year for installation and software. The software currently mainly supports orthopaedic oncology and neurosurgery, but can also be applied to otolaryngology, dentistry, plastic surgery, scoliosis and other bone surgeries.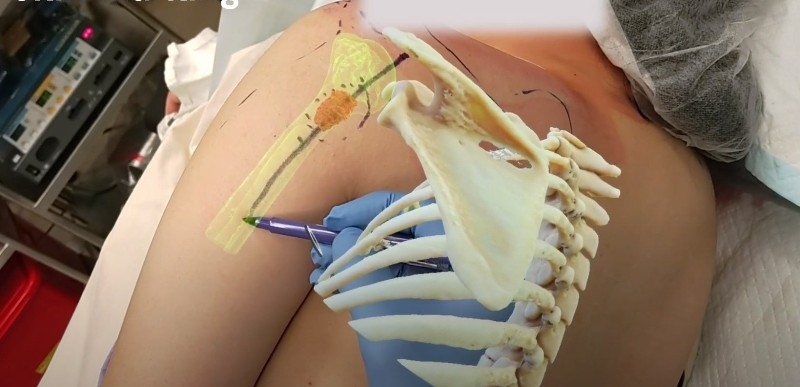 A public hospital in Hong Kong bought a set of software for trial use and planned to promote the software to other public hospitals in future. The company also provided a solution to a Hong Kong university for live broadcast of emergency-room situations. It also provided physical therapy-related designs for Australian customers for teaching purposes.
City University of Hong Kong enrolled Syngular in the HK Tech 300 Angel Fund last year with a HK$1 million grant. The firm has set up in the Hong Kong Science and Technology Park in Sha Tin and is receiving HK$6 million in phases. It also got funding from the Hong Kong Government's Innovation and Technology Fund Research Talent Pool and hopes to raise as much as US$200 million to expand the business.
The firm is also applying for US Food and Drug Administration medical device Class II certification and is planning to develop overseas and in Mainland China. The company plans to expand its seven-strong team, hiring more game-development professionals and AI machine learning engineers, hoping to offer "multi player" mode to support several surgeons simultaneously.