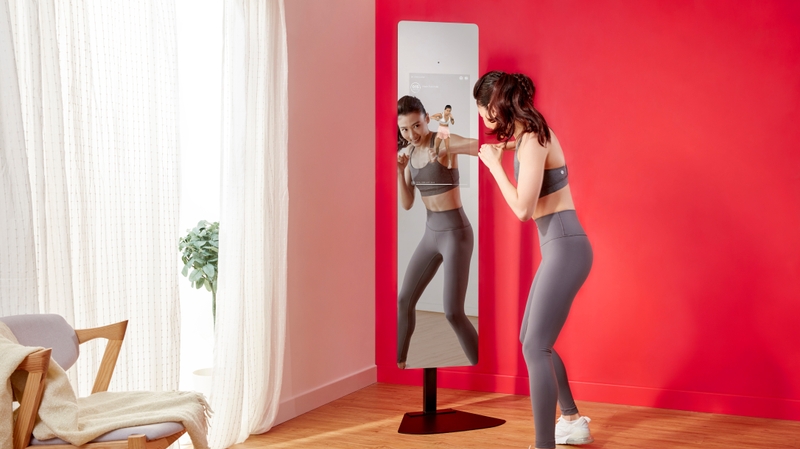 https://hkmb.hktdc.com/en/NTc3NDE1Njc4
Navigating Covid-19: A Smart Fitness App
The Covid-19 pandemic has thoroughly changed people's everyday lives. Many countries and regions have adopted strict quarantine and social-distancing measures and restricted or even banned the operation of high-risk premises susceptible to cluster infections, making it impossible for fitness buffs to visit gyms or other sports venues for their daily workouts. Amid the continuing and volatile pandemic conditions, some studies point out that consumers in various parts of the world have gradually developed the good habit of doing exercise at home and are increasingly adapting to the new norm of shopping for home-fitness products from e-commerce platforms and viewing and participating in online fitness courses.
Hong Kong Cyberport technology startup OliveX became a leading provider of home-fitness services after launching the KARA Mirror and KARA Smart Fitness in 2019. Based in Hong Kong, OliveX takes advantage of the Greater Bay Area's leading edge in the electronic machinery industry and the city's unique position as the logistics hub of Asia to promote KARA Mirror and the relevant apps to the Asia-Pacific region. OliveX has successfully listed on the National Stock Exchange of Australia recently in a bid to find working partners and further expand its business. In an interview with HKTDC Research, OliveX CEO Keith Rumjahn explained how OliveX provides home-fitness services by online remote instruction using AI technology as well as demonstrations in an increasingly popular 5G environment.
Using Technology to Promote Sports
Rumjahn has been active in the field of science and technology innovation since 2011. Taking advantage of the upsurge of health technology, he has launched several fitness and sports apps for smartphones in the past few years. Among these are 22 Pushups, Garfield Fit and CoachBase. The launch of KARA Mirror by the technology startup OliveX last year marked an important step in the development of personal-fitness products beyond the mobile platform.
KARA Mirror looks like a full-length mirror but is more like a large tablet computer. Users may tab on the mirror to watch fitness videos or take part in remote fitness courses. Its built-in high-definition (HD) touch screen display, speakers, camera, and Bluetooth and network receivers allow users to connect to mobile networks, activate the KARA Smart Fitness app and watch or play close to 200 online fitness videos at any time, with courses covering yoga, aerobics and boxing. The AI real-time analysis function of the app may help correct the users' movements and postures to improve the safety and effects of remote workouts.
Discussing why his company uses the mirror rather than other types of monitors, Rumjahn explained: "People tend to think of mirrors when they talk about workouts. Most gyms have lots of full-length mirrors for fitness buffs to see their movements and postures in real time. This makes it easier to learn and prevent injuries due to mistakes in movement. For the same reason, our fitness mirror allows users to enjoy the same experience as in the gym while doing their workout at home."
KARA Mirror encountered the Covid-19 pandemic a year after its launch. Surprisingly, this has had little negative impact on its sales, explained Rumjahn: "All gyms have been forced to suspend operations on account of the pandemic. Many instructors and students are looking for other means to continue their fitness service and training, which is why more and more fitness instructors and students are using our online platform. They are spending more time using KARA Mirror amid the epidemic. Apart from using it every other day or every three days, they are also spending more time on it per session, from 20 minutes before the pandemic to 30 minutes today.
"As opportunities for going out to exercise diminish, fitness buffs seem to be getting more aggressive when setting their online fitness-training goals. This greatly increases the number of people doing high-intensity aerobic fitness exercise. Gyms and other sports venues were the main users of KARA Mirror before Covid-19, but home workouts are gradually becoming the mainstream amid the pandemic. In addition to an increase in the number of home users, a wider scope of usage has also been seen. Users are gradually upgrading from leisure activities such as basic yoga and flexibility training to courses of higher intensity and a greater amount of exercise."
Rumjahn said content design and production is OliveX's most important business. Its multi-media studio at Cyberport produces new teaching videos for different instructors each day. The app has been launching new instruction videos on a weekly basis since its launch and so far has uploaded about 200 fitness training courses for users to view at home.
In its content management, KARA Smart Fitness has adopted a model with recording supplemented by live streaming out of consideration for users' daily schedules. As Rumjahn said: "We have tried using YouTube, mobile apps and KARA's smart mirror to stream our fitness courses live, but discovered that some viewers mistook our live streaming for commercials. Since different people have different schedules, our live streaming may not be able to accommodate all users. Many people have signed up for membership after watching our live streaming and start to watch our recorded videos after becoming members. Unlike other videos, fitness videos require watchers to follow the instructions of trainers and viewers seldom interact with instructors during live streaming. This makes recording particularly suitable for fitness-training programmes."
Crossover Co-operation and 5G Opportunities
Since the launch of KARA hardware and software in Hong Kong, OliveX has come across various opportunities for co-operation with other sectors, including hotels, residential gyms and shared workspaces. Explaining this relationship, Rumjahn said: "Some partners simply install our KARA Mirror, but some prefer to use other smart mirrors to run our KARA Smart Fitness app. KARA Mirror is mainly designed for the home environment and is a single person full-length mirror in size. However, we also customise our products and produce "white label" smart fitness mirrors for different companies and brands with supplied designs and trademarks."
Many international sporting and consumer-goods brands that have taken a fancy to OliveX's healthy image and customer base have proposed co-operation with the company. Rumjahn explained: "Many sporting apparel brands propose to use our platform to promote their fitness instructors and courses while showcasing sportswear designed for different workouts. With business at brick-and-mortar stores badly hit by the pandemic, our online fitness platform naturally becomes an important channel for sports-related businesses and brands to deepen the recognition and impression of fitness buffs of their products and services. Apart from gaining exposure, this also helps promote their online sales."
Among OliveX's numerous projects with other businesses, the most eye-grabbing is its partnership with CSL Mobile to promote 5G mobile network applications. Hong Kong's 5G network infrastructure development is actively underway, with CSL looking to complete 90% of its 5G network coverage by the third quarter of this year. Following the successive launch of 5G phones by major smartphone manufacturers in 2020, 5G applications are becoming a part of our daily life rather than mere castles in the air.
The commercial ecosystem of 5G networks is taking shape as their service coverage expands. Telecoms and network providers, electronic-product manufacturers and app developers are all poised for action. Many telecoms and network providers are actively partnering with providers of HD audio-visual, live streaming, virtual reality (VR) and augmented reality (AR) services to offer more diversified services to users of 5G networks, and KARA Smart Fitness, which is committed to promoting the fun of home workouts, is one of them.
By way of explanation, Rumjahn said: "The 5G mobile network is definitely very important for OliveX's future development. Our KARA Mirror can show 4K ultra-HD pictures and details and users can even see on the mirror every drop of their instructor's sweat. To facilitate live streaming and the recording of our courses, we provide our instructors with technical support tools so that even instructors living in remote areas or places with unstable Wi-Fi connections can conduct courses anytime, anywhere.
"Network speed is usually quite slow in remote areas such as the suburbs or outlying islands. Many public places such as hotels also have very limited network capacity. When large numbers of hotel guests use the internet at the same time, network speed may plummet to 2 megabits (Mb) [1] per second. Even in the urban areas, many housing estates and chain-operated gyms are not covered by high-speed networks. Many old buildings are not served by optical networks at all. However, as the coverage of 5G network services expands, we believe our users and instructors can easily connect to our KARA Smart Fitness app using a simple receiver.
"5G download speeds are 20 times faster than 4G and latency is less than one millisecond. Put simply, 5G networks can respond to every hit of the KARA Smart Fitness app in close to real-time no matter how large the volume of data transmission is in the background. Within the next six to 12 months, 5G smartphones supporting 4K or 2160p ultra-HD picture quality are expected to become increasingly popular and the public can expect the same shock they experienced more than a decade ago when analogue TV was upgraded to digital TV. The term 'downloading' will perhaps become a thing of the past."
Through partnership with CSL, OliveX can offer discounts for users of 5G network services to subscribe to KARA Smart Fitness at membership rates. It is also promoting this service on CSL's homepage and social platform and providing free trials and sales service at CSL stores in core consumer areas in a move to expand KARA Mirror sales.
Explaining how OliveX is also actively using its smart mirrors to serve the local community, Rumjahn said: "We have installed the KARA Smart Mirror in some nursing homes to help their residents develop the good habit of doing simple exercise on a daily basis. We are also using the smart mirror to provide schools for students with special education needs with an accommodating and safe environment for physical training."
Going Global
OliveX started off as a smartphone app and online marketing business, so is not bound by geographical limits in its development vision. For example, its most popular app, 22 Pushups, supports traditional Chinese, simplified Chinese, English, French, German, Japanese, Korean and other languages. It has registered more than a million downloads from different countries since its launch.
KARA Smart Fitness, however, focuses more on the provision of diversified content to suit the needs of different customer groups, which makes going global more difficult, explained Rumjahn: "The instructors of our fitness platforms come from different age groups and backgrounds and can serve the needs of different customer groups. For example, many new moms are eager to get back in shape after pregnancy and they tend to rely more on instructors with childbirth experience."
Explaining why OliveX chose Hong Kong as the starting point for KARA's internationalisation, Rumjahn said: "In general, Hong Kong people communicate in English and Chinese languages and spoken Cantonese and Putonghua. We have thus unknowingly amassed a large amount of Cantonese and English fitness course contents when serving the Hong Kong market, which will be of great help to our efforts to explore overseas Chinese markets and other English-speaking markets. In addition, thanks to our co-operation with many top-notch multi-media producers in Hong Kong, we have reached international standards in video recording, audio recording, lighting and other areas."
OliveX plans to officially launch KARA Mirror and KARA Smart Fitness in Singapore and Australia next year. KARA Mirror is produced in Shenzhen and is shipped to various parts of the world using Hong Kong as the logistics base. Overseas buyers can place orders on the company's official website, but delivery may take two to eight weeks. OliveX is actively looking for overseas partners to shorten the delivery time, which is also why the company chose to list in Australia.
OliveX was officially listed on the National Stock Exchange of Australia on 24 August 2020. This marked an important step in the company's full launch of its Asia-Pacific market promotion plan next year, explained Rumjahn: "We hope to raise more funds to expand our overseas business and intend to continue to allocate more resources on AI studies on body movement detection.
"What we need most now are partners in different countries and regions. To this end, we will take an active part in the trade promotions and business matching activities organised by the HKTDC and other trade promotion agencies."
---
[1] The smooth streaming of a 720p HD video generally requires a download speed of 4Mb per second or more while the smooth streaming of a 1080p HD video requires a speed of at least 16Mb per second.
Sports Goods
Electronics & Electrical Appliances
Education & Training
Sports Goods
Electronics & Electrical Appliances
Education & Training
Sports Goods
Electronics & Electrical Appliances
Education & Training
Sports Goods
Electronics & Electrical Appliances
Education & Training
Sports Goods
Electronics & Electrical Appliances
Sports Goods
Electronics & Electrical Appliances
Sports Goods
Electronics & Electrical Appliances
Hong Kong
Hong Kong
Hong Kong
Hong Kong
Hong Kong
Hong Kong