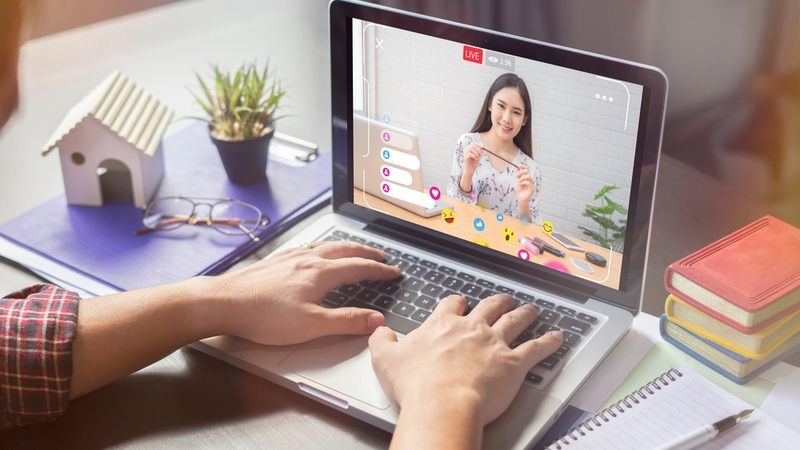 https://hkmb.hktdc.com/en/NTQ5NjQ5NzQ5
New Marketing Strategies in China: The Digital Fan Economy
The 'fan economy' refers to a business model in which economic and social benefits are generated based on the relationship between fans and the people they follow. In the past, those being followed were mainly movie stars and industry celebrities, but today, as the internet develops in leaps and bounds, network celebrities or key opinion leaders (KOLs) in various sectors have emerged on social media.
The fan economy is now ubiquitous in the cultural and entertainment industries, as well as in product sales, and the service sector. Industry players make use of social media platforms to attract large followings of fans by offering a wide range of personalised products and services appealing to them, eventually leading to sales conversion and profits.
ifensi.com, established in 2005, founded Beijing Fensi Network Technology Co Ltd in 2014 after acquiring venture capital funding. In an interview with HKTDC, Tenson Lin, Operations Manager of Fensi, explained how the company conducts social media marketing and provides online and offline promotion and advertising services for brand owners.
The Private & Public Traffic Marketing Strategy
Lin explained that ifensi.com uses platforms that generate private traffic (i.e. social media followers' visits to the official or personal accounts of stars, network celebrities or KOLs) to attract a massive number of fans. The greater the number of fans, the higher the number of views a brand owner's products/services get. These followers in turn help promote and sell the products/services via multiple channels.

ifensi.com also helps brand owners engage in online interaction and promotion by linking to other public traffic generating platforms (i.e. third-party platforms such as JD, Tmall and Pinduoduo where consumers enter a company's products/services webpage via search results). Lin explained the advantage of public traffic generation, saying: "Under this arrangement, even if a brand does not have any followers, it can still attract consumers by leveraging activities organised by third-party platforms and in the course of so doing convert these consumers into its fans.

"We mostly work with brand owners. In offline operations, we can gather fans together to build up momentum for brand promotion campaigns, and in online operations, we can provide custom-made promotion and advertising services in a multi-channel or targeted approach for the brand according to the brand owner's requirements."
Fensi's clients include fast-moving consumer goods brands, as well as products in service sectors such as finance. Lin emphasised the need to adapt the approach depending on client and product needs, saying: "Different clients have vastly different requirements. Take the finance sector as an example. We mainly help companies in this sector build a professional image that impresses consumers. This usually takes a long time and requires lots of exposure launched in several phases on major platforms, slowly but surely promoting the company's image, educating the users, and deepening consumers' impression.
"With fast-moving consumer goods, we have to focus more on grabbing consumers' attention and promoting hot-selling items, so much so that consumers will remember the brand and product in no time and even convert the impression to purchase."
Criteria for Matching Brands with Social Media Influencers
Before Fensi starts working with a client, the company conducts in-depth exchanges with the brand owner to gain a good understanding of its brand positioning, style and target customers. Then a plan will be devised according to the client's actual conditions and demands. After the overall plan framework has been formulated, proper communication and exchanges with the client with regard to execution details are a must.
Lin said: "For instance, when choosing a KOL that matches the brand, careful consideration and assessment will have to be made on the KOL's age, gender, style and social media traffic. Besides, the specific promotional direction and social media content to be published must be examined and approved by the brand owner.
"Timely creation of content and suitable choice of promotion channels should also be made for ad hoc marketing activities, such as new product launch, repackaging and promotional offers."
Fensi usually signs two-year contracts with brand owners, setting out KPIs (key performance indicators) and stipulating that data collection is conducted once every half year. Under this model, the company would, based on the requirements of the client, formulate a social media promotion and advertising plan, create social media advertising content, and help the client's brand and product reach target audiences. Lin said: "On the part of the brand owners, they would assess content quality, account maintenance, fans compatibility, and influencer performance in addition to market awareness."
Lin saw understanding each client's perspective, needs and objectives as vital to conducting successful activity, saying: "As we are in direct contact with clients, we can fully understand their demands. From the very beginning when we start to create the advertising content, we put ourselves in the client's shoes and give thought to: what should be done to link the audiences with the content, product and brand; what form of links should be used; and which platforms should be chosen to build the linkage?"
Lin pointed out that Fensi has long-term co-operation ties with various leading MCN (multi-channel network) companies, public relations agencies and social media platforms, and as such is able to help brand owners choose the most suitable third-party resources. He said: "Fensi has focused on advertising for many years and has developed its business from offline to online. Currently the ratio of the company's offline business to online business is one-to-four, with the share of online business growing bigger and bigger."
Live-Streaming Sales Promotion is No Sure Win
Different social media platforms attract different audiences. In terms of coverage, WeChat is the most extensive, attracting viewers of various age groups and registering the highest daily traffic. Trailing WeChat are short-video platforms such as Douyin and Kuaishou, which mainly attract people under the age of 40. Although the coverage of these short-video platforms is not as broad as WeChat, they are better for product sales.

In Lin's opinion, live-streaming sales promotion is more suitable for fast-moving consumer goods, which have a high purchase frequency but low unit price, such as gourmet food, beauty and cosmetic products, garments, and daily necessities. He said: "Live-streaming videos are ideal for creating hot-selling items and increasing sales. As a new e-commerce channel, live streaming is characterised by extensive coverage, real-time interaction, fast speed and high efficiency.

"Inevitably, it poses challenges to traditional businesses, such as what they should do to enhance product advantages and to better meet changes in consumer demand. Live streaming is not only an upgraded online sales channel, it also serves as a catalyst prompting traditional businesses to raise the efficiency of the industry chain.
"Fast-moving consumer goods business operators who partner with us usually launch new products every quarter and roll out promotional campaigns every two months."
Lin said it is worth noting that the product return rate of live-streaming sales is quite high and that the commission payable to the KOL is calculated at a certain percentage of sales (which do not take returned goods into consideration). Hence, if the product return rate is high, it is possible that the loss incurred could outweigh the profit gained. In view of this, brands entering the market for the first time, or which have low recognition must first devote more effort to building up brand awareness before live-streaming sales.
Hong Kong Companies Advised to Build Brand Awareness First
Fensi has worked with a number of Hong Kong companies. In Lin's views, Hong Kong companies attach importance to contract terms and conditions and are highly co-operative, yet they must continue improving their understanding of the mainland market, including knowledge about consumers as well as social media operations. He said: "Hong Kong companies should strengthen communication with mainland marketing and advertising agencies in a bid to understand the market more quickly."
According to Lin, the approaches to advertising and promotion in Hong Kong and the mainland are different, with great variance in rules and regulations, cultural background, consumption power and education level. Also, the difference in financial clout between big companies and small to medium-sized enterprises (SMEs) is not comparable and their promotion and advertising strategies also differ.
For SMEs in Hong Kong, defining their market positioning and target consumers is of prime importance, as it can help them invest in precisely the right place. Lin said: "For instance, Big Vs1 with high traffic volume normally demand high charges, so Hong Kong companies should look for accounts which have lower traffic volume but are a better match with their brand. Also, since live-streaming sales incur high cost, they should focus on brand building in live streaming. Promotion by using multiple channels and diverse forms, such as mini-program interactions and WeChat survey tools, requires relatively low resource input but is effective in gradually increasing consumer awareness and enhancing brand exposure."
---
1 Big Vs refer to influencers who have been verified by social media platforms and have a large following of fans. For example, Big Vs on Weibo are those with over 500,000 followers.
Media
Public Relations
Advertising Services
Media
Public Relations
Advertising Services
Media
Public Relations
Advertising Services
Media
Public Relations
Advertising Services
Media
Public Relations
Advertising Services
Media
Public Relations
Advertising Services
Advertising Services
Media
Public Relations
Advertising Services
Media
Public Relations
Advertising Services
Media
Public Relations
Advertising Services
Media
Public Relations
Advertising Services
Media
Public Relations
Advertising Services
Media
Public Relations
Mainland China
Hong Kong
Hong Kong
Mainland China
Hong Kong
Hong Kong
Mainland China
Hong Kong
Hong Kong
Mainland China
Hong Kong
Hong Kong
Mainland China
Hong Kong
Hong Kong
Mainland China
Hong Kong
Hong Kong
Mainland China
Hong Kong
Hong Kong
Mainland China
Hong Kong
Hong Kong
Mainland China
Hong Kong
Hong Kong
Mainland China
Hong Kong
Hong Kong
Mainland China
Hong Kong
Hong Kong
Mainland China
Hong Kong
Hong Kong