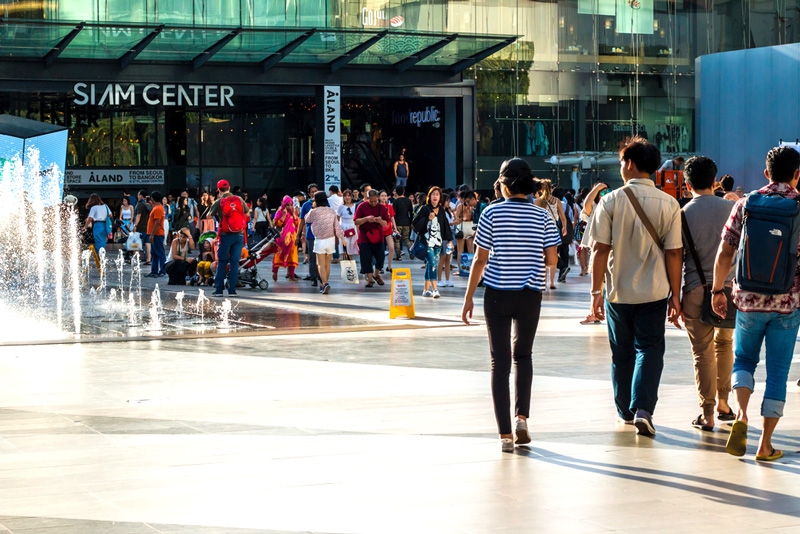 https://hkmb.hktdc.com/en/NTA4MTQ3Nzc0
Shopping in Thailand: Bangkok Consumer Characteristics
Thailand, with a per capita GDP of about US$7,000, is the second largest economy in ASEAN. Its booming economy has seen a rise in the number of middle-class households. These now comprise more than a quarter (26.4%) of the country's total. The capital Bangkok, which has the highest average household income and spending levels in the country, is home to a large proportion of Thailand's middle class, who generate a significant demand for goods and services. According to Euromonitor International, the value of the consumer market in Bangkok reached US$123 billion in 2018, 42.5% of the country's total.
HKTDC Research conducted a consumer study in Bangkok in January 2020, aiming to learn more about the shopping behaviour and characteristics of local consumers both online and offline, through a combination of focus groups and an online survey. The survey, which had 1,500 respondents, discovered that Bangkok consumers are frequent visitors to shopping malls. 70% of respondents visit shopping centres at least once a month. Shopping malls are where local consumers learn about new brands and products. On the other hand, mobile commerce is also booming, with 55% of local consumers mostly shop with their smartphones. Bangkok consumers spend on average as much as THB8,759 (US$279) a month. Many are sophisticated and active online shoppers who regularly go online in search of the best prices.
Frequent Visitors to Shopping Centres
Bangkok ranked number one in a 2018 survey of the most visited cities in the world carried out by MasterCard Global Destination Cities Index. Being a popular tourist destination, Bangkok offers a wide variety of shopping experiences, from street markets to luxury malls. But these are not just aimed at tourists. The study showed that local consumers regularly go to shopping centres after work and on weekends for shopping, meals and other social activities. Many of the focus group participants said that shopping centres are where they learn about new brands and new products.
In Bangkok, some local consumers opt for high-end malls, while others look for more down-market places. 11% of respondents said that the venue they visited most often was Terminal 21 at Watthana, which offers designer brands, international cuisine and more. Platinum Fashion Mall, a popular shopping location for 10% of the respondents, is a wholesale shopping mall filled with small outlets, while Siam Paragon (also named as a regular place to go by 10% in the survey) is one of the most luxurious malls, located at the heart of Bangkok. 7% of respondents preferred Icon Siam, a relative new shopping centre in the city.
Bangkok consumers visit shopping centres quite frequently, the study showed. A large majority (70%) of respondents visit shopping centres at least once a month, 22% go two or three times a month, while 16% visit as often as once a week.
Diversified Shopping Experiences
When asked about what they look for in a shopping centre, 25% of respondents said they will go to a place that has the stores they want to shop at, while 21% said they prefer to have a large range of shops. Places to eat are also considered important by 13%, while another 13% are attracted by the presence of entertainment facilities like cinemas and ice-skating rinks. Only 9%, however, considered convenience to be an important factor when looking for a destination to spend time shopping.
29% of respondents said they usually buy clothing and footwear in shopping centres. Other popular non-essential items include electronics (14% purchasing them at malls) and gifts (12%). Some Bangkok consumers also regard shopping centres as good places to source household items, such as kitchenware (8%) and home decor (6%).
On average, Bangkok shoppers spend THB8,759 (US$279) a month on non-essential items in shopping centres. Spending by female shoppers is slightly higher than that by males. Those with a monthly household income of more than THB120,000 (US$3,822) spent on average THB13,342 (US$425), as much as one-tenth of their income. In comparison, those with a household income of less than THB50,000 (US$1,593) spend on average only THB2,273 (US$72) a month in shopping centres.
A Booming Mobile Commerce Market
E-commerce in Thailand continues to show remarkable growth, with the country's online market reaching US$5 billion in gross merchandise value in 2019. According to e-Conomy SEA 2019 – a study produced jointly by Google, Temasek and Bain & Company – that represents an average annual growth of 54% over the past four years. The ASEAN Agreement on Electronic Commerce signed in November 2018, which was the first agreement to facilitate cross-border e-commerce transactions in ASEAN, is expected to increase the trust of ASEAN consumers in e-commerce and give a further boost to the growth of the online market in the region.
One market in particular that is booming in Thailand is the mobile commerce market. In 2019, 68% of the country's households possessed a smartphone. According to the survey, 55% of Bangkok consumers mostly shop with their smartphones, while 32% shop via personal computers, and another 13% tend to use a tablet. However, some groups – men and those aged between 40 and 44 – say they are more comfortable shopping on their own computers.
Online shopping is not new to Bangkok consumers. Around half of all the participants in the focus groups could be categorised as sophisticated and active online shoppers. These consumers shop online as well as visiting brick-and-mortar stores, in search of the best prices. This may explain why Bangkok consumers shop online as frequently as they visit shopping centres. In the survey, 62% of respondents said they shopped online at least once a month, while 70% said they visited shopping centres with the same regularity.
The online shopping platforms most used by Bangkok consumers are Lazada and Shopee. 16% of the survey's respondents said they usually shop on Lazada, and 14% on Shopee. Other shopping platforms popular with respondents were PowerBuy (12%), JD Central (9%), JIB (9%) and Central (8%).
Social Media as the Major Influencer
It is clear that many Bangkok consumers rely on social media for ideas of what to buy online. 27% of respondents said it had the most influence on their purchasing decisions. Among these respondents, more than half (54%) ranked Facebook as the top influencer, followed by Instagram (22%). Many consumers are now also comfortable buying from these social media platforms, rather than just using them as a source of information.
24% of consumers actively engage in internet searching. Some search online for the best prices or compare across a range of retailers, while more sophisticated online shoppers even look for exotic products being sold by overseas retailers.
Some consumers (about 10%) said they are more confident shopping online if they have previously purchased goods at bricks-and-mortar stores. During the focus groups, many participants said that their online shopping behaviour was actually influenced by what they had seen in shopping centres. In fact, the type of non-essential items that Bangkok consumers buy most often online is very similar to what they buy in shopping centres. Clothing and footwear top the list, with 32% of respondents saying they usually purchase such goods from online stores, followed by electronics (18%) and gifts (10%).
Bangkok consumers spend an average of THB3,392 (US$108) every month online on non-essential items, less than half the amount they spend in shopping centres. Consumers with a monthly household income of more than THB120,000 (US$3,822) spend an average of THB6,017 (US$192) monthly online, nearly six times the comparable figure for consumers with a monthly household income of less than THB50,000 (US$1,593).
Practical Approach to Eco-friendly Shopping
The study found evidence of rising environmental awareness among Bangkok consumers. For example, around 20% of the focus group participants had, in the past 12 months, considered buying an eco-friendly product when shopping for clothing and footwear. When buying presents for friends, many consumers consider giving an eco-friendly gift as "a way of showing their values".
However, Bangkok consumers do not in general insist that all the products they buy should be environmentally friendly. They tend to take into consideration the function of the product and whether it is suitable to be made in an eco-friendly way. According to participants in the focus groups, consumers consider simple products such as clothing and footwear to be the most suitable for manufacturing in an environmentally way and from recycled materials. They regarded it as less important for more complicated products, such as electronics, watches and jewellery, to be eco-friendly because of the nature of the product.
---
Appendix
The survey was carried out during January 2020 in Bangkok. A total of 1,500 consumers were polled by online questionnaire. Before conducting quantitative studies, consumer focus group discussions were held to better understand Bangkok consumers' preferences and shopping behaviour through qualitative analysis.
Age of Respondents (%)
| | | | | | |
| --- | --- | --- | --- | --- | --- |
| 18-20 | 20-24 | 25-29 | 30-34 | 35-39 | 40-44 |
| 9% | 17% | 18% | 18% | 19% | 19% |
Occupation of Respondents (%)
| | |
| --- | --- |
| Salaried Employee (Full-time) | 35% |
| Salaried Employee (Part-time / Casual) | 18% |
| Business Owner | 10% |
| Independent Professional | 6% |
| Self-employed | 8% |
| Student | 9% |
| Looking for Work / Unemployed | 5% |
| Responsible for Household Duties | 9% |
Monthly Household Income of Respondents (THB) (%)
| | |
| --- | --- |
| < ฿20,000 | 1% |
| ฿20,000 – ฿30,000 | 1% |
| ฿30,000 – ฿40,000 | 2% |
| ฿40,000 – ฿50,000 | 4% |
| ฿50,000 – ฿60,000 | 5% |
| ฿60,000 – ฿70,000 | 9% |
| ฿70,000 – ฿80,000 | 11% |
| ฿80,000 – ฿90,000 | 12% |
| ฿90,000 – ฿100,000 | 12% |
| ฿100,000 – ฿110,000 | 10% |
| ฿110,000 – ฿120,000 | 9% |
| ฿120,000 – ฿130,000 | 7% |
| ฿130,000 – ฿140,000 | 6% |
| ฿140,000 – ฿150,000 | 6% |
| > ฿150,000 | 5% |
ASEAN
Southeast Asia
Thailand
ASEAN
Southeast Asia
Thailand
ASEAN
Southeast Asia
Thailand
ASEAN
Southeast Asia
Thailand
ASEAN
Southeast Asia
Thailand
ASEAN
Southeast Asia
Thailand
ASEAN
Southeast Asia
Thailand
ASEAN
Southeast Asia
Thailand
ASEAN
Southeast Asia
Thailand
ASEAN
Southeast Asia
Thailand