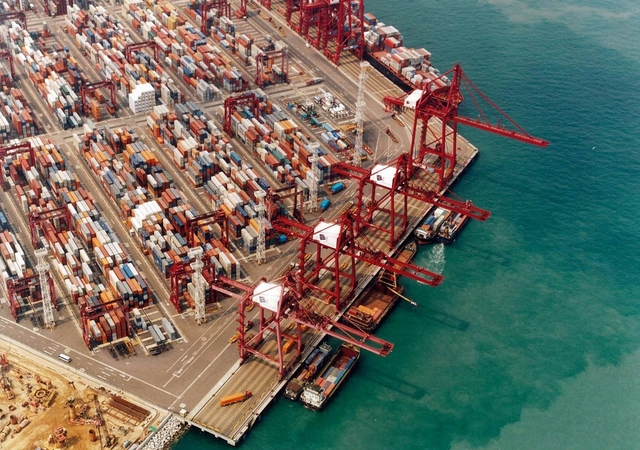 https://hkmb.hktdc.com/en/NDAwMTY4NzU1
The Greater Bay Area: Designed for Life
If the vision of a thriving and integrated Greater Bay Area (GBA) city cluster in the south of China is to be realised, substantial and resilient infrastructure must be put in place. This not only means building on existing infrastructure developments in the nine cities and two Special Administrative Regions (SARs) that make up the GBA, but also connecting the various areas of this diverse and complex region.
One company with a proven track record doing just that, locally, across China and internationally as well, is the infrastructure giant AECOM . The NYSE-listed firm employs 56,000 people in more than 150 countries and provides expertise at every stage of an infrastructure development project, including planning, design and construction.
Ian Chung, the company's Chief Executive for Greater China, believes the GBA – and its connection to China's global Belt and Road Initiative (BRI) – is an opportunity for Hong Kong to capitalise on the experience and expertise it has gained in the field of infrastructure and construction over the past four decades.
The GBA aims to develop close links between nine provincial cities in Guangdong province and the Hong Kong and Macao SARs, in order to create an economic zone which will form a key component in the next phase of China's economic development. The area covered by the initiative has a combined GDP of US$1.6 trillion.
Significant Role
AECOM has been operating in Hong Kong for more than 50 years and during that time, has played a significant role in its infrastructure projects, particularly in the areas of transport connectivity and social provision, such as tunnels, bridges, water and sewage treatment.
"We've done 80% of Hong Kong's new town developments, which house two million people. We have also worked on each and every one of the city's container terminals in the Kwai Chung-Tsing Yi basin," Chung said.
The infrastructure giant has also been doing business in mainland China for four decades and as a result has been intimately involved in the country's fast-paced development over that period of unprecedented reform and opening-up to the world. Chung believes this experience and the connections the company has made ideally place it to offer the expertise required to build the infrastructure at the heart of ensuring that the GBA initiative is a success.
Strategy Roll-out
Two years ago, AECOM rolled out a concept called 'Infrastructure-Orientated Development'. Explaining how this encompasses the planning, design and implementation of infrastructure that takes the social, cultural and political impacts they entail into consideration, Chung said: "There are developments in Hong Kong which can be of use to places not just across the GBA but the wider international community. Take Shatin new town, for example. It started as a village 40 years ago and to facilitate its development, the first infrastructure built was the railway which then led to residential developments based on the idea of liveable spaces."
More recently, AECOM was heavily involved in the construction of the Hong Kong-Zhuhai-Macao Bridge, the Guangzhou-Shenzhen-Hong Kong Express Rail Link and the Liantang-Heung Yuen Wai Boundary Control Point, all of which are already playing a significant role in making the GBA vision a reality.
Global Expertise, Local Presence
In Hong Kong and mainland China, AECOM's operational model is entitled 'Global expertise, local presence'. To deliver on this, it has a team of 4,000 people in the city and 2,000 in the mainland. Describing how it all works, Chung said, "These teams are connected to our global network in order to make use of the expertise we have gained on the projects we have worked on around the world, but might not necessarily have in Hong Kong or mainland China. Hence the 'Global expertise, local presence' model."
Utilising this model, the company has worked on numerous projects that aim to help improve cities and make them more liveable. In Hong Kong and in Mainland China, the company's focus is to provide consultancy services for the construction and development of bridges, tunnels, airports and metro systems, among others. Chung added that AECOM has been involved in the provision of key water supply and sewerage systems. "To that end we are involved in the creation of social and connectivity infrastructure," he said.
Chung believes that the strict urban planning, design and construction management systems which are in place in Hong Kong and the standards that the city has set over many years can provide a reference template for the development of a world-class bay area in Guangdong, Hong Kong, and Macao.
AECOM is also very keen to work with all stakeholders in the GBA initiative to come up with a streamlined and workable system of fees and regulations in the industry which transcend existing differences ― standards, codes of practice and expectations ― from city to city across the region.
"The rich pool of engineering talent that Hong Kong has and the international perspective and experience it brings to the table, coupled with its knowledge and technology resources, will be of significant value in making the GBA plan a success," Chung said.
Industry Respect
In his time with AECOM , Chung has also come to realize how much Hong Kong is respected for its expertise and experience in the infrastructure and construction industry. This is particularly evident in the more than seven years that AECOM has been involved with the Belt and Road Initiative, working with Chinese companies on their projects in countries along the Belt and Road development corridors.
A measure of how well Hong Kong is respected in the infrastructure and construction industry is exemplified in a global survey carried out by AECOM seeking residents' views of infrastructure development in several major cities around the world. The survey, entitled 'The Future of Infrastructure (FOI): Voice of the People', collected the views of more than 10,000 people – 1,000 of them in Hong Kong – on their general satisfaction with infrastructure in their city, its innovative qualities, resilience and safety. Among the cities surveyed were Chicago, London, Los Angeles, Mumbai, New York, Riyadh, Singapore, Sydney and Toronto.
Highlighting the results, Chung said: "One key finding of the survey was that Hong Kong scored highest in terms of satisfaction with the city's infrastructure. This is a great reflection of expertise in infrastructure development that goes beyond functionality. It is something that can be leveraged not only locally but as the GBA initiative unfolds, across the Belt and Road countries and even internationally."
Changes and Challenges
Chung acknowledged that plotting an infrastructure course across such a vast and heavily populated region like the GBA will not be without its challenges.
"In recent years the pace of development in Chinese cities has been extraordinarily fast and there have been issues as a result, including concerns around the resilience of certain infrastructure projects," he said.
He believes, however, that his company is well placed to tackle issues when they arise given their experience with projects in GBA cities, including Shenzhen's Line Six and a recently-won bid for another transport-oriented development (TOD) in Dongguan.
Chung notes that the current GBA population of 70 million is expected to grow to around 100 million in 15 years. This will offer an array of infrastructure-linked opportunities in areas such as healthcare. He points out that this is an area in which Hong Kong is very strong, noting that "With this explosive growth in population, connectivity in relation to healthcare and social provision will be critical. We see great opportunities in high-end hospitals and in the area of living spaces for seniors."

Chung hopes that clients see what value a global company with local expertise can bring in this area. He believes AECOM is able to offer something unique given its experience in the global market, adherence to global standards, coupled with its knowledge and familiarity with the local market. This is a combination that Chung believes will help make GBA into a distinguished world-class development area.
This is especially relevant in today's challenging environment with the ongoing U.S.-China trade war and the recent coronavirus outbreak. "AECOM has been resilient, due in large part to our organization's agility and ability to adapt as these situations evolve. This approach has ensured the continued safe and successful delivery of projects to our clients. Hong Kong, in particular, has much to offer in terms of experience and resources that could ultimately help to strengthen the resilience of the entire GBA," noted Chung.
A Learning Process
Knitting together the nine cities of Guangdong province and two SARs will be no easy task, especially when it comes to reaching agreements in areas like regulations, industry codes of practice and fee schedules.
However, Chung is hopeful that a combination of patience, understanding and mutual respect on all sides can bring about a positive outcome for all involved. "A lot of our projects are delivered through co-operation between our Hong Kong and mainland China teams. This collaboration is very important and is an example of how understanding different ways of thinking and doing things in different parts of the GBA will be crucial if we are to deliver on the GBA vision."
That vision, along with the possibilities it holds, were recently outlined by AECOM's Asia-Pacific President, Sean Chiao, when he predicted that US$10 trillion worth of goods and services would be imported to China in the next five years. Explaining what that might mean for the provision of infrastructure, Chiao told the channel: "China's opening-up strategy has switched its focus from high speed to high quality, and we believe the demand for premium services in infrastructure will soon emerge in the Chinese market."
Along with the increased openness envisaged in the GBA development blueprint, the recent tax-preferential policies regarding individual income tax (IIT) rebates offered to Hong Kong residents and relaxation on the counting method for days of residence adopted in the mainland (the so-called 183-day rule [1]) are particularly welcomed by the trade.
Welcoming the move, Chung said: "These changes have not only addressed some of the major concerns of those in Hong Kong wanting to work in all nine cities within the GBA but have also rolled out the red carpet for international infrastructure firms looking to enter into alliances and partnerships with mainland Chinese incumbents. They will now be able to work on projects beyond the GBA by offering full life-cycle services in a holistic approach to meet the growing expectations of final users and project owners."
---
[1] As of 2019, Mainland China taxes individuals who reside in the country for more than 183 days on worldwide earned income.
Architecture & Planning
Architecture & Planning
Architecture & Planning
Architecture & Planning
Architecture & Planning
Architecture & Planning
Architecture & Planning
Architecture & Planning
Hong Kong
Mainland China
North America
Hong Kong
Macau
USA
Hong Kong
Mainland China
North America
Hong Kong
Macau
USA
Hong Kong
Mainland China
North America
Hong Kong
Macau
USA
Hong Kong
Mainland China
North America
Hong Kong
Macau
USA
Hong Kong
Mainland China
North America
Hong Kong
Macau
USA
Hong Kong
Mainland China
North America
Hong Kong
Macau
USA
Hong Kong
Mainland China
North America
Hong Kong
Macau
USA
Hong Kong
Mainland China
North America
Hong Kong
Macau
USA