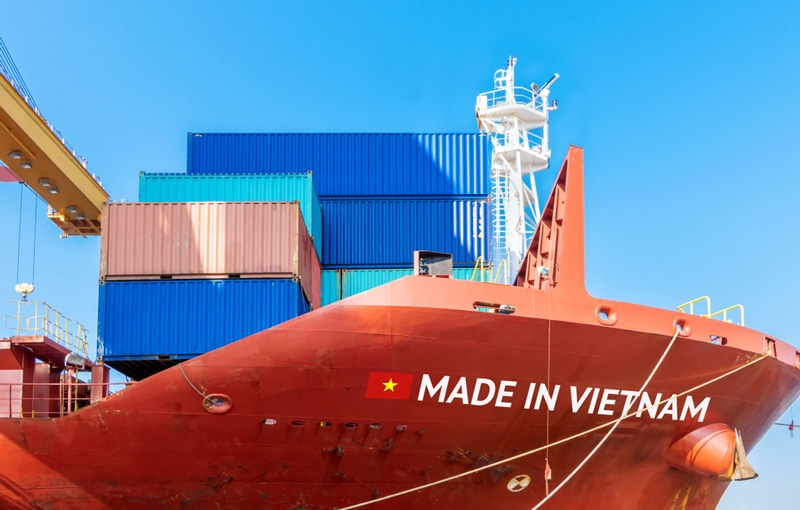 https://hkmb.hktdc.com/en/NDA1MzQxNDk5
Northern Vietnam: Location and Connectivity Advantages
There are good reasons why Northern Vietnam now stands out on the radar of global manufacturers looking for alternative production bases to China. In addition to the cost advantages Vietnam possesses as a manufacturing base, the region is close to China. This locational advantage, supported by an improving transport network, allows shipping of raw materials, and parts and components, from or to China in a timely and cost-effective manner, effectively a quasi-extension of China's well-established, sophisticated supply chain. The region also has good potential for industrial development, because it is fast upgrading the port and logistics facilities, which enable cargoes to be shipped directly to international markets.
.Proximity to Southern China
​​​​​​Northern Vietnam borders Southwest China. Quang Ninh is a province along the northeastern coast of Vietnam which borders China's Guangxi. Vietnam's capital Hanoi is just 330 km away from China's Nanning city in Guangxi province and 860 km from Shenzhen. Interestingly enough, Haiphong Road and Hanoi Road are two of the few roads in Hong Kong not named after Chinese or British but Vietnamese cities, probably reflecting close ties with Hong Kong since early times, due to the geographical proximity.
In recent years, the construction of expressways in Vietnam has accelerated, resulting in a well-developed road and railway network linking different parts of the country as well as connecting with China. The two countries have nine international transportation routes that cover major cities along the border including railways and highways linking Hanoi and Haiphong, in Vietnam, with China's Nanning and Kunming respectively.
Today the trucking time between Hai Phong, a major industrial and port city in Northern Vietnam, to Dongguan city in Southern China is only 12 hours, making the delivery of time-sensitive components highly feasible. In practice the delivery would still take two to three days, taking into account the extra time needed for customs clearance and change of trucks at the border. However, the industry anticipates that the authorities will introduce measures to shorten the clearance time if there is enough demand for shipping between the two regions.
Direct Sea Cargo to International Markets
The Port of Hai Phong and the Port of Cai Lan in Quang Ninh are the two major ports serving the Northern region of Vietnam. Before the Lach Huyen International Gateway Port in Hai Phong, the first deep seaport in the region, commenced operation in 2018, shipments from this region to Europe and the US had to transship, usually via Singapore or Hong Kong.
With a water depth of 14 meters, a 750-meter berthing area and two container cranes, the Lach Huyen port can now serve large-size container vessels up to 100,000 DWT. The new deep seaport, equipped with comprehensive infrastructure and handling technology, has increased the capacity of the Hai Phong Port to 30 million tonnes a year and reduced the shipping journey to Europe from 30 to 23 days, US East Coast from 35 to 27-30 days, and US West Coast from 20 to 13-15 days, a big leap in the region's seaborne transportation.
Improving Air Connectivity
With regard to air transportation in Northern Vietnam, Noi Bai International Airport, located some 35 km northeast of downtown Hanoi, has been the major airport serving the region. The airport is also close to some satellite cities of Hanoi such as Vinh Yen, Bac Ninh and Thai Nguyen. Its cargo terminal covers 44,000 sq metres with a capacity of 203,000 tonnes of cargo a year. The air cargo traffic has in recent years seen a rapid annual growth of 15% on average, while the airport has also suffered from overloading in terms of passengers. In 2018, it received some 26 million passengers, against its intended capacity of 21 million passengers. To cope with the rising demand for air traffic in the region, Noi Bai International Airport has expansion plan to deliver an expected capacity of 100 million passengers per year by 2050. Put in perspective, Hong Kong International Airport handled 71.5 million passengers and 4.8 million tonnes of cargo in 2019.
Before 2016, Noi Bai International Airport was the only international airport in the region. While expanding Noi Bai, the authority has also planned for the upgrade of Cat Bi Airport in Hai Phong and a new airport in Quang Ninh, amid the increasing presence of international manufacturers in the region.
Located 5 km southeast of Hai Phong, Cat Bi Airport serves not only this important industrial port city but also other Northern coastal provinces including Quang Ninh, Thai Binh, Nam Dinh, Hai Duong and Hung Yen. The upgrade, consisting of a 3 km runway, a passenger terminal building with eight aprons and an air traffic control tower, has turned Cat Bi Airport into an international airport since 2016 and increased its annual capacity to two million passengers and 20,000 tonnes of cargo. By 2025, following more expansion, its annual capacity is expected to hit eight million passengers and 250,000 tonnes of cargo.
Cat Bi International Airport, connected with the Port of Hai Phong via Tan Vu-Lach Huyen Bridge, Hanoi-Haiphong and Quang Ninh-Hai Phong expressways, is well-positioned to serve as a second pivoting point for Northern Vietnam.
In December 2018, a new airport located in the Van Don district in Quang Ninh commenced operations. Quang Ninh is home to Ha Long Bay, a UNESCO natural heritage site. Named "Asia's Leading New Airport 2019" at the World Travel Awards, Van Don International Airport is located roughly 50 km northeast of the world heritage site. It is the first private airport in Vietnam, built and operated by Sun Group. It has an annual capacity of 2.5 million passengers and is expected to grow to 5 million passengers by 2030 while a cargo terminal is expected to be built by 2030 with a capacity of 51,000 tonnes. This new airport is expected to boost tourism as well as open up new trade and investment opportunities for Quang Ninh.
A Complete Transport System
Complementing the improved external connectivity, a strong road network has been built in the Northern region of Vietnam linking the industrial zones with key transport nodes to form a complete transport system. The Hanoi-Haiphong expressway is a 105.5 km-long, six-lane highway which begins at the Belt Road 3 in Hanoi, runs through Hung Yen and Hai Duong, the two major provinces in northern Vietnam, and ends at Dinh Vu Port in Hai Phong; it has reduced the travelling time between Hanoi and Hai Phong from 2.5 hours to less than an hour. Halong-Haiphong Expressway and Bach Dang Bridge are another two critical pieces of infrastructure connecting Hai Phong and Quang Ninh which have shortened the distance between Ha Long and Hai Phong from 75 km to 25 km, between Hanoi and Ha Long from 180 km to 130 km, and between Hanoi and Quang Ninh from 175 km to 125 km. The completion of these infrastructure projects in recent years is supporting the further development of the region, offering opportunities for international manufacturers and investors.
Southeast Asia
ASEAN
Viet Nam