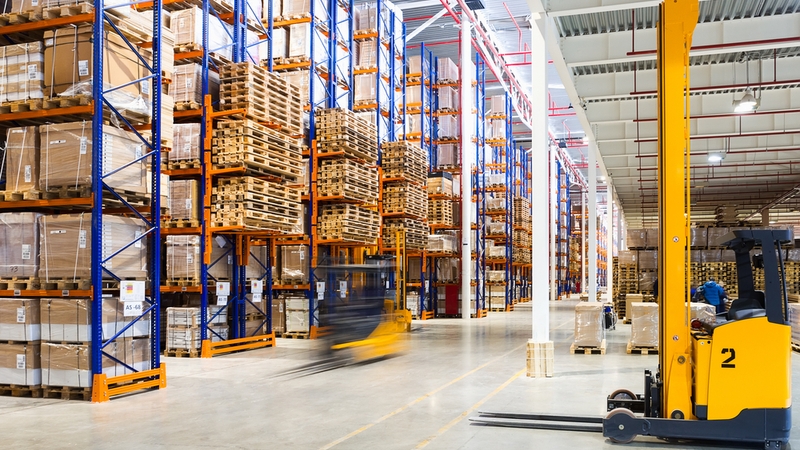 https://hkmb.hktdc.com/en/MzExMjkxOTgy
Logistics Industry in Hong Kong
Overview
In terms of both value added and number of employment, the trading and logistics industry is the largest among the four main economic pillars[1] in Hong Kong. Trading and logistics accounted for 21% of the city's GDP and provided some 718,600 jobs in 2018. Logistics industry alone contributed 3.1% of Hong Kong's GDP and 176,900 jobs in that year. Transport services made up 29.2% of Hong Kong's service exports in 2018.


Hong Kong International Airport (HKIA) has been ranked as the world's busiest airport for international cargo every year since 2006. In 2019, total cargo throughput (including airmail) of HKIA reached 4.8 million tonnes.


Hong Kong's port was ranked the eighth busiest container port in the world in 2019, trailing Shanghai, Singapore, Ningbo-Zhoushan, Shenzhen, Guangzhou, Busan and Qingdao.


In DHL's Global Connectedness Index (GCI) released in 2018, Hong Kong's ranking in terms of the depth of global connectedness in 2017 was second best in the world, after Singapore.


In the World Bank's 2018 Logistics Performance Index, Hong Kong scored 3.92 to rank the 12th among 160 regions and third in Asia.
Hong Kong's Advantages
Strategic Location and World-class Infrastructure
As one of the regional hubs for Asia, Hong Kong has good connections with most Asian urban centres and half of the world's population is within 5 hours' flight time. Currently, more than 120 airlines operate about 1,100 flights daily, linking the Hong Kong International Airport (HKIA) to about 220 destinations worldwide including about 50 destinations in Mainland China.


HKIA has five first-tier air cargo handling facilities, with over 7 million tonnes of annual handling capacity.


With the Hong Kong government's affirmation, construction of the Third Runway System (3RS) began in 2016 and is expected to be completed by 2024. The 3RS project will allow HKIA to handle future traffic demand of as much as 102 million passengers, 8.9 million tonnes of cargo and 607,000 aircraft movements annually by 2030, according to IATA Consulting.

Hong Kong has nine container terminals for sea transport, comprising 24 container berths capable of handling up to 20 million TEUs a year in total.
Intermodal Connectivity
Hong Kong's well-developed transportation infrastructure allows the city to interconnect with the world smoothly, especially Mainland China, and provides maximum flexibility.


Hong Kong-Zhuhai-Macao Bridge (HKZMB), the world's longest sea crossing, officially opened to traffic on 24 October 2018. Built to facilitate passenger and freight transport over land between Hong Kong, Mainland China and Macau, the bridge greatly reduces journey times between cities and forms a new passageway to connect the east and west banks of Pearl River Delta.


Endowed with a deep-water, silt-free natural harbour strategically located along a major sea route and with Mainland China providing a huge cargo base, Hong Kong has become a sea transport hub in Asia.


There are about 21,700 inward vehicle crossings and 180 arrivals of river cargo vessels from the Pearl River Delta (PRD) to Hong Kong daily.
​​​​​​​

Lok Ma Chau, Man Kam To, Sha Tau Kok, Shenzhen Bay and Hong Kong-Zhuha-Macao Bridge are the five land boundary crossing points in Hong Kong, with about 43,000 vehicles crossing daily. For goods vehicle and container only, the five cross-border points handle about 18,000 vehicle trips a day.
Industry Data
Number of Establishments in the Industry
| | |
| --- | --- |
|   | As at December 2019 |
|  Air transport services | 167 |
|  Air cargo forwarding services | 1,321 |
|  Sea cargo forwarding services | 2,396 |
Source: Quarterly Report of Employment and Vacancies Statistics (Fourth Quarter 2019), Census and Statistics Department

Air Transport
Hong Kong International Airport's Air Traffic
| | | | |
| --- | --- | --- | --- |
|   | 2017 | 2018 | 2019 |
| Air cargo throughput (million tonnes) | 4.94 | 5.12 | 4.81 |
|    YOY growth (%) | +9.2 | +3.6 | -6.1 |
| No. of passengers handled (million) | 72.9 | 74.7 | 71.5 |
|    YOY growth (%) | +3.3 | +2.5 | -4.2 |
Source: Hong Kong International Airport ​​​​​​​
Freight Forwarding
Total (Inward + Outward) Freight Movements
| | | | | | |
| --- | --- | --- | --- | --- | --- |
| (million tonnes) | 2015 | 2016 | 2017 | 2018 | 2019 |
| Seaborne | 168.6 | 164.1 | 176.9 | 164.6 | 161.3 |
| River | 88.0 | 92.6 | 104.7 | 94.0 | 102.0 |
| Road | 22.8 | 21.9 | 22.1 | 21.6 | 20.2 |
| Air* | 4.4 | 4.5 | 4.9 | 5.0 | 4.7 |
| Total | 283.8 | 283.1 | 308.6 | 285.2 | 288.2 |
Note: *The amount of freight excludes air mail.
Source: Summary Statistics on Port Traffic of Hong Kong, Hong Kong Maritime and Port Board
Sea Transport
Total Port Cargo Throughput
| | | | | | | |
| --- | --- | --- | --- | --- | --- | --- |
| (million tonnes) | 2017 | % of total | 2018 | % of total | 2019 | % of total |
| Seaborne cargo | 176.9 | 62.8 | 164.6 | 63.7 | 161.3 | 61.3 |
| Exports and imports | 73.0 | 41.3 | 68.6 | 41.7 | 71.2 | 44.1 |
| Transhipments | 103.9 | 58.7 | 95.5 | 58.3 | 90.1 | 55.9 |
| River cargo | 104.6 | 37.2 | 94.0 | 36.3 | 102.0 | 38.7 |
| Exports and imports | 65.3 | 62.4 | 56.5 | 60.1 | 65.8 | 64.5 |
| Transhipments | 39.3 | 37.6 | 37.4 | 39.9 | 36.2 | 35.5 |
| Total | 281.5 | 100 | 258.5 | 100 | 263.3 | 100 |
Source: Hong Kong Shipping Statistics, Census and Statistics Department
Total Container Traffic
| | | | | |
| --- | --- | --- | --- | --- |
| (million TEUs) | 2017 | 2018 | 2019 | 2019/18 Change (%) |
| Kwai Tsing Terminals | 16.2 | 15.5 | 14.2 | -8.1 |
| Ocean vessel | 13.3 | 12.7 | 11.7 | -7.6 |
| River cargo vessel | 2.9 | 2.8 | 2.5 | -10.5 |
| Mid-stream operation and other berths | 4.5 | 4.1 | 4.1 | -1.0 |
| Ocean vessel | 1.3 | 1.1 | 1.0 | -4.8 |
| River cargo vessel | 3.3 | 3.0 | 3.1 | 0.4 |
| Total | 20.8 | 19.6 | 18.3 | -6.6 |
Source: Summary Statistics on Port Traffic in Hong Kong, Hong Kong Maritime and Port Board
Range of Services
Air Transport
The air transport industry can be divided into the cargo and passenger sectors. There are scheduled and non-scheduled carriers operating in both sectors. More than half of Hong Kong's airfreight is carried in the holds of passenger aircraft rather than pure freighters. There are two major cargo types, express cargo and heavy-lift cargo.
Air transport has become more important for Hong Kong's trade over the last few decades. 39% of Hong Kong's total exports and 45% of its total imports were transported by air in 2019, compared with 26% of its exports and 19% of its imports in 1980. Hong Kong's efficiency in customs clearance and its status as a free port are among the main reasons for this increase. Mainland China is the largest export and import market for items carried by air. Simple customs clearance procedures and 24-hour operation of HKIA make it convenient for goods destined for Mainland China to go through Hong Kong.
Besides air cargo handling services, Hong Kong also provides airport management services, especially in air cargo terminal operations. This involves either investing directly in overseas air cargo terminals or providing consultant services. Hong Kong is well positioned to tap into this market, as more and more airports around the world, particularly on Mainland China, are either privatised or run as a commercial operation. A success story is the joint venture between Airport Authority Hong Kong (AAHK) and Hangzhou Xiaoshan International Airport (HXIA), under which AAHK has an equity share of 35% while the rest of ownership is retained by the Hangzhou government.
Freight Forwarding
The core business of a freight forwarder is to move a shipper's consignment to the consignee within the stipulated time, in perfect order and at the most competitive price. Responding to changing customer demands, many freight forwarders also provide more value-added services such as warehousing, distribution, total logistics and supply chain management solutions.
Larger freight forwarders offer a wide range of transportation and logistics services while small ones tend to provide more basic and economical services with higher flexibility and more personalised services. Services related to trade, including the preparation of shipping documents, customs clearance and logistics, may be undertaken by the import and export companies or their agents.
Sea Transport
The sea transport sector is vitally important in supporting Hong Kong's status as the world's seventh largest trading entity. Mainland China is the biggest source of and destination for Hong Kong's transhipment cargo.
Liner Shipping
Sea cargo to and from Hong Kong is carried both by liners and bulk vessels. Liner shipping is operated under a scheduled timetable with pre-announced rates and destinations. Many key routes operate under liner conferences (agreements by the main shipping lines on tariffs and sailings). Hong Kong is a major hub with about 340 container liner services per week, connecting to about 470 destinations worldwide.
The larger container lines have invested in advanced systems to provide cargo tracking information and improve efficiency. They often form alliances or merge with other transport providers to develop door-to-door multi-modal services. Many liners are also forming alliances amongst themselves to increase efficiency and reduce cost in a very competitive environment. Vessel sharing has enabled the liners to offer a more flexible service in terms of global coverage, higher frequency of departures and a greater choice of routes.
Port Facilities
Hong Kong's port facilities are financed, built, owned and operated by private firms. Hong Kong has nine existing container terminals with a total of 24 berths at Kwai Chung and Tsing Yi Island, operated by several private consortia.[2] Through various productivity enhancement measures, their combined throughput capacity is some 21 million TEUs per year.
To meet the development needs of the port and logistics industries, the Hong Kong government has been implementing a number of enhancement measures. The government took forward a project to dredge the Kwai Tsing Container Basin and its approach channel from the present navigable depth of 15 metres to 17 metres, to allow ultra-large container ships to access the container terminals at all tides. The dredging works were substantially completed in April 2016 and outstanding works is expected to be completed by 2020.
River Trade Terminal
The Pearl River links Hong Kong with many manufacturing centres in Southern China, with the PRD being the main cargo base for the territory. River trade has grown fast over the past three decades, rising from 9.3 million tonnes in 1990 to 102 million tonnes in 2019. To cater for this increasing river trade, a dedicated terminal, the River Trade Terminal (RTT), was established in 1996 and became operational in November 1998. The RTT is located in the west of Tuen Mun.
Service Providers
Air Transport
More than 120 international airlines provide about 1,100 scheduled passenger and all-cargo flights each day between Hong Kong and about 220 destinations worldwide, including about 50 mainland cities. There are also on average approximately 350 non-scheduled passenger and cargo flights each week. As of September 2018, Hong Kong has signed air services agreements with 68 aviation partners.
HKIA at Chek Lap Kok was opened with a single runway and facilities in July 1998, followed by the second runway and associated facilities in May 1999. To allow for long-term growth, AAHK has undertaken to construct a third runway system (3RS). Construction on the HK$141 billion project started in August 2016, with the new runway expected to be commissioned in 2022 and the entire 3RS project completed in 2024. Enhancement of the airport's capacity through the Midfield Development project, which created a new concourse of 20 parking stands, was completed in December 2015.
All air cargo terminals in the airport are privately-run. The largest one is known as the SuperTerminal 1 (ST1). To supplement the cargo terminals, there is an airfreight forwarding centre at HKIA, providing space for warehousing, loading platforms, truck parking bays and offices.
Freight Forwarding
In Hong Kong, larger sea freight forwarders tend to target big companies for exclusive deals. They provide value-added services and invest in information technology to ensure that they meet the changing needs of their customers. Some of them set up logistics subsidiaries to provide tailor-made and specialised services, which can become service partners for their customers. Generally, larger companies' well-established brands and far-reaching logistics networks have helped boost their significant market shares in the global export market. The smaller regional players, however, tend to have a better understanding of the business culture, a better knowledge of their markets and have established networks in the region.
Hong Kong has a pool of international and highly experienced logistics companies that enables smooth logistic flows. Many of them are represented in the Hong Kong Association of Freight Forwarding and Logistics (HAFFA). HAFFA, whose 300 members include DHL, UPS, Expeditors, Panalpina, Kerry Logistics and DB Schenker, aims to promote standardisation and professional conduct among industry players.
Hong Kong's forwarders offer competitive services and secure the confidence of international customers through their understanding of international practices, reliability and networks have proved their effectiveness over time. Kerry Logistics, a Hong Kong headquartered logistics service provider, was crowned the "Global Freight Solutions Provider of the Year" and "Global Logistics Provider of the Year" in 2017. It is also the logistics partner of many top brands across a wide spectrum of industries including food and beverage, fashion and lifestyle, and healthcare.
Sea Transport
Shipowners own ships to obtain an income. In the liner shipping market, ship owners rent ships to a shipping line. In the bulk shipping market, ships are rented on a time or voyage basis to a ship charterer or ship operator. Shipping lines use shipping agents to sell their freight space in a particular port. The shipping broker acts to match the supply of bulk vessels from operators/owners with the demand for bulk cargo shipments by the charterers.
As more countries seek to privatise their port operations and/or develop new ports run on a commercial basis, demand for exportable sea transport services is increasing. Hong Kong port operators are already active in this field, especially in mainland China and the wider region. Modern Terminals, a Hong Kong terminal operator, invests and operates several container terminals in Shenzhen, and has expanded its business to the Yangtze River Delta (YRD) since 2004. Hutchison Port Holdings (HPH) Group, another Hong Kong terminal operator, has a network of operations that comprises 52 ports in 27 countries, handling 86 million TEUs worldwide in 2019.
In 2019, 2,596 vessels were listed on the Hong Kong Shipping Register (HKSR), boasting a total of 127 million gross tonnes, making Hong Kong the fourth largest shipping register in the world, behind only Panama, Liberia and the Marshall Islands.
The Hong Kong Shipowners Association (HKSOA) is one of the biggest industry associations in the world. The total tonnage of ships owned, managed or operated by its members exceeded 182 million deadweight tonnes (DWT) as at December 2018. The Hong Kong Maritime and Port Board (HKMPB) was established in April 2016 as a platform for closer collaboration among the government, the industry and relevant stakeholders. HKMPB is charged with steering the long-term development of Hong Kong's ports and maritime services.  

Exports
| | | | | |
| --- | --- | --- | --- | --- |
| | 2015 | 2016 | 2017 | 2018 |
|   Sea transport services | | | | |
|    Exports (HK$ billion) | 115.3 | 107.3 | 117.2 | 127.3 |
|    YOY% growth | -12.3% | -6.9% | 9.2% | 8.6% |
|    Contribution to total transportation services | 49.9% | 49.1% | 49.3% | 49.2% |
| Air transport services | | | | |
|    Exports (HK$ billion) | 93.0 | 88.8 | 95.6 | 106.1 |
|    YOY% growth | 1.4% | -4.5% | 7.7% | 11.0% |
|    Contribution to total transportation services | 40.3% | 40.6% | 40.3% | 41.0% |
| Cargo forwarding services | | | | |
|    Exports (HK$ billion) | 14.5 | 14.0 | 15.2 | 15.4 |
|    YOY% growth | -10.5% | -3.2% | 8.3% | 1.7% |
|    Contribution to total transportation services | 6.3% | 6.4% | 6.4% | 6.0% |
| Postal and courier services | | | | |
|    Exports (HK$ billion)* | 3.94 | 4.47 | 5.2 | 5.2 |
|    YOY% growth | -0.2% | 13.4% | 16.6% | -0.4% |
|    Contribution to total transportation services | 1.7% | 2.0% | 2.2% | 2.0% |
| Total transport services | | | | |
|    Exports (HK$ billion) | 230.9 | 218.7 | 237.4 | 258.8 |
|    YOY% growth | -6.8% | -5.3% | 8.6% | 9.0% |
* Service exports by Hongkong Post are not included
Sources: Report on Hong Kong Trade in Services Statistics, Census and Statistics Department
Trade by Mode of Transport
(HK$ million)

2018

% share

2019

% share

2019/18 change (%)

Total Exports

Air

1,596,512

38.4

1,548,212

38.8

-3.0

Land

1,787,907

43.0

1,744,881

43.7

-2.4

Ocean

634,861

15.3

574,803

14.4

-9.5

River

113,166

2.7

98,838

2.5

-12.7

Others

25,660

0.6

21,952

0.6

-14.5

Total Imports

Air

2,112,042

44.7

2,001,349

45.3

-5.2

Land

1,763,573

37.4

1,668,130

37.8

-5.4

Ocean

704,530

14.9

611,819

13.9

-13.2

River

75,687

1.6

70,773

1.6

-6.5

Others

65,567

1.4

63,370

1.4

-3.4
Source: Hong Kong External Merchandise Trade, Census and Statistics Department
Industry Development and Market Outlook
International Outbound Travel and Chinese Tourists
Asia and the Pacific is the second most visited region in the world after Europe and has seen the fastest growth in visitor numbers in recent years. Asia has seen eight straight years of robust growth, with arrivals increasing at an average growth rate of 7%, compared to the world average of 5%.[3] This expansion was mainly fuelled by increasing market liberalisation, ongoing infrastructure development in the Asian region and the growth of the middle class, especially in Mainland China. The mainland continues to be the world's largest outbound travel market, accounting for over half of Asia's outbound travel expenditure. It also ranked top in terms of generated international trips, with Chinese tourists taking over 150 million trips abroad in 2018. Hong Kong's strategic location in Asia allows the city to capture this growing outbound travel demand and enables Hong Kong to maintain its position as the region's busiest aviation hub and to showcase its world-class transport services.
Guangdong-Hong Kong-Macao Greater Bay Area (Greater Bay Area) Development
The Greater Bay Area (GBA) development allows full integration of transport networks in the region, including air cargo, ground transportation and warehousing services. Not only Hong Kong, but the four neighbouring airports in the mainland have seen rapid growth in terms of air cargo logistics. Service providers can now work together more closely to seize opportunities and build a strategic co-operation platform for air transport. The Hong Kong-Zhuhai-Macau Bridge (HKZMB), a large-scale cross-border infrastructure linking the three places, officially opened to traffic on 24 October 2018. It is designed to improve connections between cities and make journeys between them quicker. Reduction in travel time from the direct overland connection will enable truck drivers to double the number of trips made per day and further enhance cargo movement between Hong Kong and western PRD. As of December 2019, more than 89,000 cross-boundary goods vehicles and containers have used HKZMB.[4]
Echoed with the Outline Development Plan for the GBA, the Transport and Housing Bureau and the Civil Aviation Administration of China agreed to expand its current air services arrangement in February 2019, which allows designated airlines of both sides to enter into code-sharing arrangements with operators of all types of land transport (including rail services, passenger vehicles and coaches) and sea transport between Hong Kong and the Pearl River Delta region. The new code-sharing arrangements are expected to bring convenience to tourists and business travellers taking different means of transport between the GBA and Hong Kong and further enhance Hong Kong's status as a transport hub.
E-commerce Opportunities
E-commerce represents a competitive pressure to traditional brick-and-mortar retailers but it has also created enormous opportunities for air cargo. Consumers demand for speed and reliability and air cargo services would have a significant advantage. Online retail currently accounts for less than 10% of total retail sales worldwide, which indicates that there is still huge potential for e-commerce as a future growth driver for the air cargo industry. Air cargo is also likely to be bolstered by the improvement in Asia's overall manufacturing capability and the continuing shift to Asia of the production of high-value goods. Goods such as telecom equipment and electronic devices and parts are always transported by air, as product life cycles shorten.
Technology Trends
New technologies play an increasingly important role for the logistics industry to improve its operational efficiency. The rise of the Internet of Things (IoT) will encourage the adoption of mobile apps among logistics service providers which can be used for tracking and customer service interactions. The emerging 5G technology will also enable the next generation of IoT deployment and offer a host of new and improved solutions to the logistic industry with its low latency and high speed. Supply chain efficiency and accuracy can be enhanced through real-time data sharing and asset tracking. JD Logistics, one of the leading Chinese logistics service providers, launched Asia's largest integrated smart logistics centre in Dongguan last December. Its self-developed warehouse software system leverages technologies such as algorithms to facilitate daily operations such as scheduling, coordination and data monitoring. The automatic sorting system and stereoscopic storage area help improve efficiency and better utilize warehouse spaces. JD Logistics will also set up its first 5G intelligent logistics demonstration park in Shanghai's Jiading district which features integrated application of smart technologies such as AI, autopilot and robots. Robotics will also be an important logistics technology trend in the near future. Amazon acquired Kiva Systems back in 2012 and it's now known as Amazon Robotics. This will result in increased usage of robots in logistics and warehouse operations such as parking and picking.
The Mainland and Hong Kong Closer Economic Partnership Arrangement (CEPA)
Under CEPA, Hong Kong services suppliers (HKSS) are given greater flexibility and in more preferential terms when trying to access the mainland's logistics market. The latest Agreement on Trade in Services consolidates and extends the liberalisation of services to the whole of Mainland China, with Hong Kong Services Suppliers (HKSS) granted national treatment to provide various transportation services across Mainland China. HKSS are allowed to establish contractual joint ventures, equity joint ventures or wholly-owned operations to provide airport operation services, computer reservation system services, sales and marketing services and other supporting services for air transport. HKSS can also form wholly owned agencies or enterprises to provide freight forwarding and maritime services. As of 31 March 2020, there were 1,402 approved HKSS in transport and logistics services and 303 in air transport services. Details of the preferential access agreement concerning the logistics services sector can be found at this website.
---
[1]  The pillars are the financial services industry, the tourism industry, the trading and logistics industry, and the professional services and other producer services industry.
[2]  Operators include Asia Container Terminal Ltd, COSCO-HIT Terminals (Hong Kong) Ltd, Goodman DP World, Hong Kong International Terminals and Modern Terminals Ltd.
[3] UNWTO/GTERC Asia Tourism Trends – 2019 Edition
[4] Hong Kong Transport Department
Hong Kong
Hong Kong
Hong Kong
Hong Kong
Hong Kong
Hong Kong
Hong Kong
Hong Kong
Hong Kong
Hong Kong
Hong Kong
Hong Kong
Hong Kong
Hong Kong
Hong Kong
Hong Kong