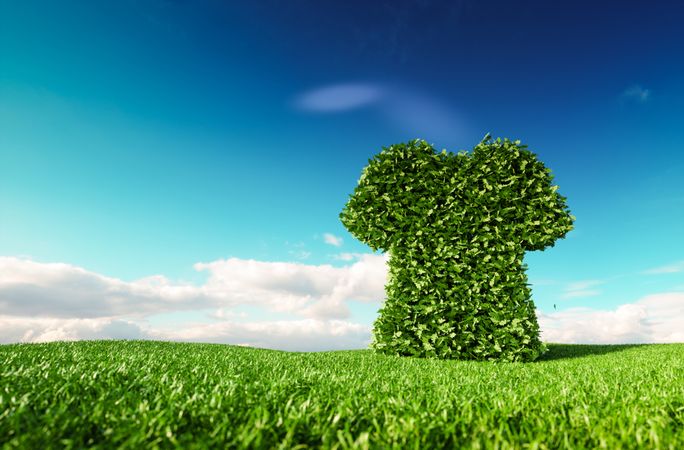 https://hkmb.hktdc.com/en/MTA4MjAwMTE5MA
Sustainable Fashion: Upcycling and the Rise of Recycled Fabrics
Louis Chan, Nicholas Fu
In May 2022 HKTDC Research hosted a webinar on Sustainable Fashion: Upcycling and the Rise of Recycled Fabrics to discuss issues around recycling textile waste, transforming and re-using discarded clothing, and encouraging brands to pursue sustainable development. Louis Chan, Principal Economist (Global Research) at HKTDC Research, explained that the webinar could help small and medium-sized enterprises (SMEs) gain a better understanding of environmental, social and governance (ESG) criteria, pursue sustainable development in their operations, and exploit business opportunities in the Greater Bay Area (GBA) by using innovative technology such as upcycling fabrics.
Upending Fast Fashion
The rise of fast fashion in the last 20 years has made it possible for consumers to purchase all kinds of garments and accessories at lower prices and has greatly boosted consumption. This has in turn driven the rapid growth of the fashion industry around the world. However, fast fashion has led to a series of environmental problems. Nicholas Fu, Economist (Global Research) at HKTDC Research, pointed out that the volume of garments produced worldwide has surged from 5 billion pieces in 2000 to 10 billion pieces in 2020. According to market estimates, the volume of garments purchased globally will shoot up from 6.2 billion metric tons at present to 17.5 billion metric tons by 2050.
"What is the impact of garment production on the environment? Let us take a look at the clothing manufacturing process. From the production of raw materials through the product life cycle to the disposal of used fabrics, the fashion industry worldwide consumes 215 trillion litres of water every year, accounting for one-fifth of global water consumption, and emits 3.3 billion metric tons of greenhouse gases. Meanwhile, the value of clothing discarded around the world reaches US$460 billion a year, and yet the recovery and recycling rate is only 13%." Fu added that in the process of fabric manufacturing, both dyeing and bleaching can lead to water pollution, and many man-made fibres are not biodegradable. All these issues have led to the fashion industry being labeled "not eco-friendly" or "unsustainable".
In order to change the public's negative impressions of the fashion industry, industry players the world over are attaching increasing importance to sustainability. Many respected international brands have led the way by using recycled or biodegradable materials such as fibres and casein extracted from seaweeds and milk to make fabrics. They have also invested in research and development to improve their products and production processes. Other companies transform plastic waste collected from the sea into usable materials. Fu said: "In recent years, the fashion industry has built relatively sound self-regulation mechanisms, which include the Furmark certification launched by the fur industry. These certification systems provide the trade with a set of standards for sustainable production and sourcing, while allowing the consumers to get a full picture of every process gone through by the garment by scanning the certification mark on the product. In addition, the United Nations has launched the Sustainability Pledge for garments and fashion products which allows the consumers to assess the sustainability of their production before making a purchase."
Fu pointed out that in addition to reducing carbon emissions at source, the industry should launch consumer education and publicity campaigns to encourage consumers to think twice about their needs before making purchases, take into consideration the carbon footprint of their consumption, and recycle and reuse old clothes and shoes to minimise wastage.
Award-winning Recycling System
In the face of fast changing fashion trends, is there any ecological end point for tons and tons of discarded garments and textile waste? According to Julie Wilkens, Head of Sales and Marketing at Novetex Textiles Ltd, Hong Kong currently ships textile waste to developing countries or dumps it directly into local landfills. Quoting figures from the Environmental Protection Department, she pointed out that as much as 343 metric tons of textile waste is dumped in Honk Kong landfills every day. In view of this, Novetex has developed The Billie System jointly with its R&D partner The Hong Kong Research Institute of Textiles and Apparel (HKRITA). The system, fully commissioned at the company's factory in Tai Po in 2019, aims to give a new life to textile waste and used textile products.
"This system combines existing and new technologies to transform textile waste and used textile products into high quality recycled fibres, which can produce unique upcycled yarns after mixing with other raw materials. The Billie System is unlike other mechanical recycling systems. After manually removing trims such as buttons, zips and overlocked edges, the system can automatically sort the colours of the used garments and discarded fabrics. It will then break down the fabrics mechanically into fibres, which go through two stages of UV light sanitisation. The sanitised fibres are then carded into slivers and finally spun into roving, which will be turned into raw materials for clothing.
The Billie System's most outstanding feature is that it does not consume water, does not discharge waste water, and does not release toxic chemicals. The system won a gold medal in the International Exhibition of Inventions of Geneva and a bronze prize in the Hong Kong Green Innovations Awards. The only chemical substance used in the recycling process is ozone, which is extracted from the air and is eventually converted back to oxygen and released into the atmosphere. We hope to promote the recycling concept of The Billie System to industries other than the textile and garment industry to help more enterprises upcycle used fabrics into new products and seize the opportunities arising from sustainability."
Operating in Hong Kong's woollen textiles sector for more than 40 years, Novetex is headquartered in Hong Kong, has manufacturing plants in Zhuhai, and supplies all kinds of quality yarns to fashion brands around the world. When the company identified opportunities stemming from sustainable sourcing and production years ago, it started to develop and manufacture several types of eco-friendly yarns which have won the favour of international brands. Wilkens said: "During Covid-19, the environmental awareness of both the public and the business sector increased significantly. For instance, at least 127 leading fashion brands in the world have pledged to completely switch to using sustainable cotton to produce garments by the year 2025. As sustainability becomes widely recognised across the globe, the demand of the market for eco-friendly yarns is bound to shoot up, generating enormous growth potential."
GBA Green Product Prospects
Wilkens reckoned that the series of ESG policies introduced by the GBA are creating a new round of green growth opportunities for the trade. These policies include proactively heightening green consumption awareness, encouraging the industry to use eco-friendly fibres, promoting development of the waste recycling industry, and gradually raising the textiles recovery rate of the mainland to 25%. All these boost the recycling industry in Hong Kong and the mainland as well as promote synergy. "There is a huge demand for textile products in the mainland garment industry and in the catering and hospitality sector. At the same time, there is a massive excess inventory of apparel produced by upmarket fashion brands. Enterprises in the GBA which are interested in promoting sustainable development can deliver recovered fibre to our Zhuhai factory for processing into recycled yarns, which can then be made into staff uniforms or other eco-friendly garments."
On the business-to-business (B2B) level, Wilkens believed that ESG has become an indispensable element in building corporate image. No enterprise can afford to overlook the subject of sustainability, and eco-friendly recycled yarns are a step towards sustainable development. On the business-to-consumer (B2C) level, as consumers all over the world become more aware of sustainability, there should be many new business opportunities. "We hope that through co-operation with different brands, we can meet the consumer demand for sustainability and can gradually heighten their ESG awareness. It is only through working together to change people's consumption patterns that we can really reduce fashion waste and its impact on the environment."
Garments, Textiles & Accessories
Hong Kong
Mainland China
Hong Kong