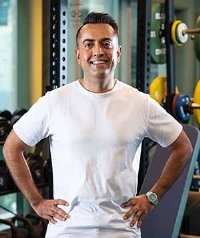 Two of the many issues created by the COVID-19 pandemic and the resulting control measures were limited opportunities for exercise, especially indoors, and idle space in commercial buildings. Hong Kong entrepreneur Dinesh Nihalchand has come up with what he believes is a future-proof solution for the fitness business that offers contactless personal training while optimising under-utilised real-estate assets at the same time.
The latest venture by Mr Nihalchand is a direct response to the pandemic. The co-founder of District 15, a boutique real estate developer, investor and asset manager, is branching out into the fitness industry with a new business, Palace Studios.
Tell us about your new business
Palace Studios opened in August this year as Hong Kong's first private on-demand fitness concept that provides personal trainers and their clients premium training spaces powered by a tech-enabled platform.
Leveraging technology and design, our aim is to redefine the way fitness and wellness spaces operate, making personalised sessions simple, flexible and sustainable for professionals and clients alike. Our model empowers fitness and wellness practitioners to take control of their businesses and serve their clients in convenient, easy-to-access and fully equipped fitness spaces.
Was COVID-19 the inspiration behind it?
COVID-19 accelerated a shift in the fitness industry we had been seeing for a few years. That is, a move away from the traditional big-box gym and membership model, with people expecting more flexible, hassle-free, on-demand workout spaces to achieve their fitness goals.
Then came the pandemic, and an unprecedented integration of where we live, work, and exercise. At the same time, landlords were witnessing increasing office vacancy rates because of the ongoing pandemic. By merging the digital with the physical, Palace Studios provides a solution to both. It enables personal trainers to start their own sustainable small business cost-effectively, and revolutionises how built spaces can be changed for the better.
How does it work?
Palace Studios are designed for enclosed self-workout by the multidisciplinary studio Editecture and fitted out with best-in-class fitness equipment from Atlantis and Eleiko.
Sessions are booked and paid for through our proprietary Palace App. We built this app to facilitate personal trainers to manage, streamline and grow their business. Once inside, via contactless entry, clients join their trainer for a pre-arranged, one-on-one or two-on-one training session, bringing a sense of privacy and safety to the workout.
We also care for user wellbeing, specifying construction materials free of volatile organic compounds in the fit-out, indoor air quality monitoring systems, and local organic skincare products in the showers.
The first two Palace Studios are located on Lyndhurst Terrace in Central. They come with changing facilities, individual showers and a waiting area with an Urban Spring water station and complimentary Clean Nutrition protein shakes.
What is in your business plan?
Moving forward, Palace Studios' mission is to team up with landlords in Hong Kong to uplift the value of their real estate by transforming underutilised physical spaces within their buildings into high-end, private fitness studios, and to become an innovative and sustainable real estate solution that benefits both landlords and end consumers in the long run.
What types of space are suitable?
Typically, we need 550 to 750 square feet (51 to 70 square metres) of net office space. There are no licensing requirements for a space of this size, as long as the structural load is sufficient. It has to have a shower, which we will clean to the highest hygiene standards. High ceilings are an attribute, along with MTR proximity. Convenience is key.
Initially, we are targeting to partner with landlords in office catchment areas, but we are also approaching serviced-apartment operators, hotel owners and commercial building owners. [We tell them that] if you can carve out one or two micro-gyms on site, you will likely command higher rent for the rest of your portfolio in that building. It will also draw more foot traffic to regular office buildings.
Are entrepreneurs well supported in Hong Kong?
We were fortunate to have been selected as a 2022 Hong Kong Cyberport Creative Micro Fund (CCMF) grant recipient. In addition to funding of HK$100,000 (US$12,700), we've received extensive support from Cyberport, including access to mentors, founders of start-ups we can reach out to, and working space if we need it. We've also raised a round of pre-seed private funding with a variety of investors who have demonstrated an interest in wellness, real-estate technology and sustainability.
Overall, the entrepreneur ecosystem in Hong Kong is incredibly well supported. There are at least 20 programmes covering enterprise support, innovation, research, cash rebates and more that we can apply for.
The government's latest injection of HK$10 billion into the Future Fund to support businesses with development potential [announced in February this year] is significant. Financial Secretary Paul Chan said funds will be available to improve branding and upgrade sales efforts and marketing programmes, which is exactly what Palace Studios will need as we grow.
Related link
Palace Studios