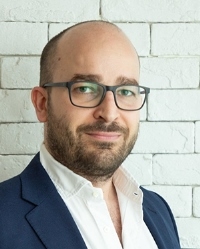 To introduce a technology brand well established in Europe, but new to Asia, Martino Criveller, Company Director, Passo Avanti Limited, made use of the shop window provided by Hong Kong Trade Development Council (HKTDC) trade fairs.
Participating in exhibitions helped him secure a number of significant deals for the company, specialising in innovative products and solutions from Italy to support the hotel and health-care sectors.
Expo solutions
Last year alone, exhibiting at the ICT Expo in October and the International Medical and Healthcare Fair in November resulted in significant new business for the advanced automated working clothes tracking and delivery system developed by Zucchetti Centro Sistemi, Mr Criveller's partner company.
A key deal with the Hospital Authority, awarded by public tender, involves the supply of Zucchetti management software and dispensers, to manage over 65,000 uniforms at a new hospital redevelopment in Yau Ma Tei, Kowloon. The HK$7 million (US$892,000) deal also includes a comprehensive multiple years maintenance plan.
"Our systems automate the daily handling of working clothes and uniforms to track the chain, from distribution to laundry to final users," Mr Criveller explained. "This enhances an organisation's efficiency by reducing the time spent on manual handling of clothing, providing visibility on the working cycle, reducing lost stock, and improving hygiene."
With a chip inside each garment, ultra-high frequency radio frequency identification (UHF RFID) tracking and inventory software provides data on who is using it, when, and where, with an alarm alert if the item goes missing – say during washing by an outsourced laundry. Mr Criveller, said having such detailed information may allow an organisation to halve its uniform stock, and disperse it more hygienically.
Such a powerful material asset management tool also helps reduce misuse and waste, making the operation more sustainable and allowing resources to be used on higher quality clothes, rather than larger quantities.
In Europe, he added, this type of technology is mature and stable, but Asia has room to catch up.
Mr Criveller believes the pandemic created the conditions for wider adoption of his company's solutions.
Higher standards
"In my view, the drivers of this change are the higher standards of hygiene and contamination tracking, and the shortage of workers in the healthcare industry," he said. "These two factors make manual handling of the working clothes no longer sustainable."
During the height of the pandemic, the company completed its biggest project for Zucchetti to date – the supply of a system to handle and track the uniforms of more than 13,000 employees at Universal Beijing Resort (main picture).
In Hong Kong, it has also inked a deal for uniform supply and management at the VIP club at Rosewood hotel, Victoria Dockside, Tsim Sha Tsui.
The Beijing project demonstrated another advantage of basing his business in Hong Kong, its hub for servicing the mainland, Macao, and wider regional markets such as Singapore, Vietnam and Oceania.
"The main challenge with this project, because of the pandemic, was not being able to obtain working visas for our Italian engineers to come and install the system," Mr Criveller said. "We solved this with a group of fantastic local Hong Kong engineers who demonstrated unparalleled flexibility and problem-solving capability. So once again, I realised the unbeatable advantage of Hong Kong as a network connector."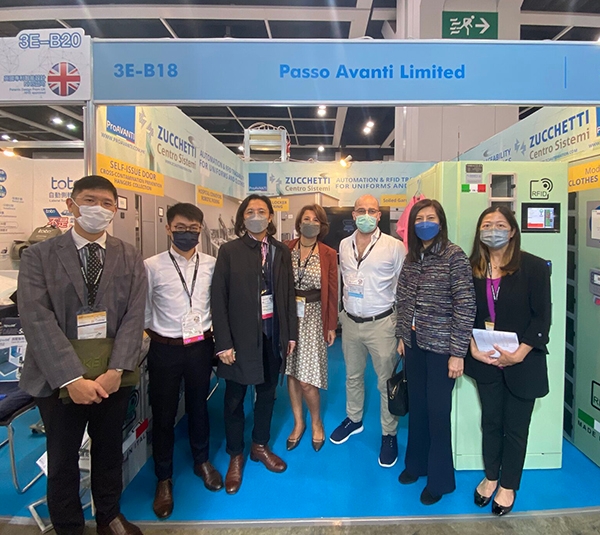 Trade fairs invaluable
"Our is not an off-the-shelf product – it requires an analysis of customer needs to ensure a successful integration with its operations," Mr Criveller explained. "To achieve this, it is important to involve not only the purchasing manager (of potential clients) but also the operation managers.
"Trade fairs provide one of the best opportunities for companies to learn about and touch new technologies. It is also of key importance for us to understand the demands and problems first-hand from the field, so we can keep improving our solutions to ensure customer success."
"The medical fair in November last year was wonderful," he added.
"We received lots of qualified visitors from the public and private healthcare sector, and also VIP visitors including the Chairman of the Hospital Authority, the Italian Consul General and representatives of the Italian Trade Agency.
"At both fairs we welcomed many overseas visitors, including from Thailand, the United States, Israel, and Turkey. The online platforms allow us to arrange virtual meetings, especially with Mainland e-visitors. We are very satisfied with the result."
Mr Criveller is already looking forward to this year's HKTDC trade fairs where he is planning to showcase more of Zuchetti's latest technologies, including the tracking of surgical tools.
Related links
Pro Avanti
HKTDC Hong Kong International Medical and Healthcare Fair
HKTDC International ICT Expo