More than 200 Thai business leaders joined a lunch seminar organised by the Hong Kong Trade Development Council (HKTDC) in Bangkok yesterday (21 November), affirming the Thai business community's confidence in Hong Kong's role to help businesses in the region grow and tap into opportunities in Hong Kong and Mainland China.
The seminar was a key closing event of a high-level business mission to Bangkok, led by John Lee, Chief Executive of the Hong Kong Special Administrative Region, and supported by the HKTDC.
Hong Kong springboard
Despite the pandemic, the Thai business community has shown keen interest in using Hong Kong as a springboard for business expansion, fundraising and forging investment partnerships.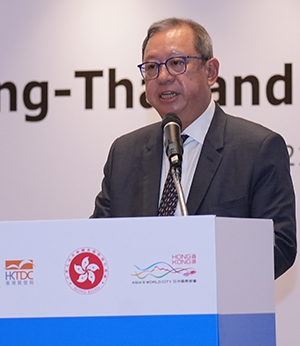 The business mission wrapped up a three-day programme of meetings and networking with leading Thai businesses to update them on Hong Kong prospects, including the city's strategic investment in innovation and technology, and its latest measures to attract overseas talent and enterprises. There were also fruitful exchanges about opportunities in the Guangdong-Hong Kong-Macao Greater Bay Area (GBA) and the development of the Northern Metropolis in Hong Kong.
HKTDC Chairman Dr Peter K N Lam said: "From this exchange, we can see that Thai businesses have full confidence in Hong Kong. They have keen interest in regards to, in particular, Hong Kong's role as an international financial centre and a springboard to the Guangdong-Hong Kong-Macao Greater Bay Area. Following the resumption of international travel connecting Hong Kong, we hope this mission will help Hong Kong businesses find more opportunities in Thailand and ASEAN."
Think Hong Kong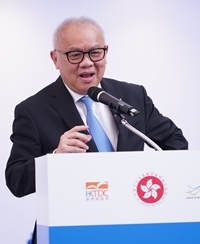 The HKTDC is planning a large-scale "Think Business, Think Hong Kong" business promotion campaign in Thailand in July next year, to showcase Hong Kong as a hub for connecting global businesses and to highlight the city's products and services to the Thai business community.
Through its worldwide network of 50 offices, the HKTDC continues to engage in overseas outreach through business missions and local events and activities in key markets.
Related link
Thailand Market Profile