For many years Hong Kong families have marked one date in high-summer on their calendars, that being a day in Book Fair week; and recently two more events – Sports and Leisure Expo and World of Snacks – have ensured that it is a triple mark.
The 33rd HKTDC Hong Kong Book Fair, organised by the Hong Kong Trade Development Council (HKTDC), opened on Wednesday at the Hong Kong Convention and Exhibition Centre (HKCEC) and will run until 25 July. The sixth Hong Kong Sports and Leisure Expo and the third World of Snacks run concurrently. Visitors can enjoy all three events with a single ticket, making it a must-visit summer attraction.
Mr Chan Kwok-ki, Chief Secretary for Administration of the Hong Kong Special Administrative Region (HKSAR), co-hosted the opening cocktail reception, with Dr Peter K N Lam, Chairman of the HKTDC, and Ms Margaret Fong, Executive Director of the HKTDC.
Dr Lam said: "The Hong Kong Book Fair, Hong Kong Sports and Leisure Expo and World of Snacks features close to 780 exhibitors from 36 countries and regions, serving as an important platform for the industry. They are also an ideal occasion for families to enjoy cultural and leisure activities. With the resumption of normal travel, renowned authors from Hong Kong, Mainland China, Taiwan and across the world will attend the Book Fair in-person to give talks. We hope many avid readers will attend the Fair and join us in promoting a culture and joy of reading."
Themed Children's and Young Adult Literature, with the tagline Reading the World: The Joy of Reading for Children and Youth, the fair aims to introduce visitors of all ages to authors and literary works from around the world in this genre, widening their horizons and igniting imaginations. More than 600 cultural activities and seminars take place on-site and off-site, featuring a plethora of distinguished authors sharing their many insights and stories.
Art Gallery
The Art Gallery this year features two major exhibitions – Children's and Young Adult Literature Writers and Treasures of Lingnan Culture. The exhibition showcases selected works and priceless collections of nine writers.
The Treasures of Lingnan Culture exhibition showcases calligraphy works, paintings of the Lingnan School and Canton porcelain. Partner organisations include the Ling Ngai Art Association and Hong Kong Calligraphers' Association.
World of Art & Culture zone
The newly established World of Art & Culture zone, sponsored by CreateHK and curated by a Hong Kong design team, depicts literature and cultural arts related to youth from close to 30 countries and regions, including France, Hungary, Korea, Kuwait, Mexico and Switzerland. Visitors can attend a variety of activities on-site, including A French rendezvous through a fun speak-dating game by representatives of Alliance Francaise de Hong Kong and The Little Prince handicraft workshop.
Seminar Series
The Eight Seminar Series once again returns to the Book Fair, covering a diverse range of topics, such as Renowned Writers, English and International Reading, Children and Youth Reading, and Personal Development and Spiritual.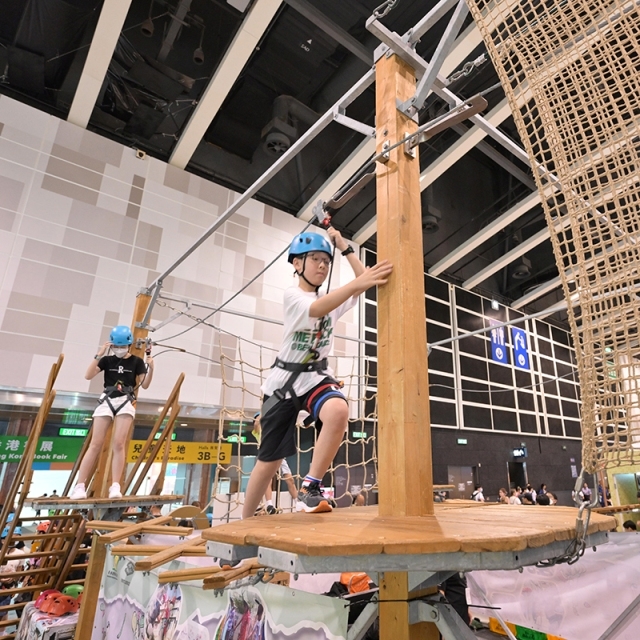 Fun experiences
The Hong Kong Sports and Leisure Expo features eight thematic zones including Sports Hub, Outdoor Adventure, Health & Fitness and Board Games to provide an exciting experience to visitors.
The Sports Hub zone offers fun activities free of charge, including a 1:1 "Golden Sixty" Horse Sculpture presented by the Hong Kong Jockey Club, with Ellis Wong Chi Wang sharing his journey of becoming an apprentice jockey. A 4-metre-high mobile rope net, interactive boxing sandbag, a VR rowing boat experience and skateboarding trial classes are among the other offerings.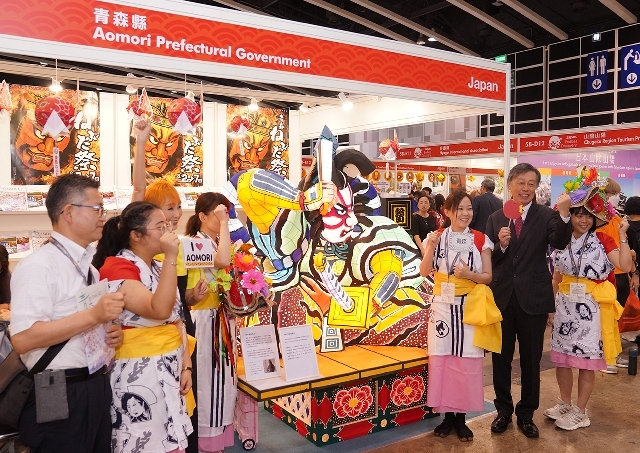 The Japan National Tourism Organization (JNTO) and 14 Japanese prefectures and cities have teamed up to form a Japan Pavilion promoting the country's attractions and culture.
In this video Tatsuya Higashijima of the Wakayama Tourism Bureau explains why his prefecture was eager to be featured in the pavilion.
Many consulates took part in the fair. The South American resources giant Brazil is promoting itself by publishing many informational books in Chinese. Brazil's Consul General in Hong Kong Alexandre Ribeiro explains how the Book Fair in Hong Kong is the ideal platform to promote his country.
Delicacies from around the world
The World of Snacks features six thematic zones – Travel Delights, Chocolate and Sweet Factory, Oldie Snacks, Yummy & Healthy, Party Time and Snack Bar – gathering more than 1,200 popular treats from across the globe. There are workshops and activities on-site, including tasting sessions, introduction of summer speciality ice pop and hand-brewed coffee with Zen concept combined with meditation.
Visitors can purchase e-tickets with Book Fair ticketing partner AlipayHK App and Alipay App or Octopus at the entrance's toll booths. To ensure an even flow of visitors throughout the day, morning admission tickets and a special re-entry promotion are available. All ticketing details can be found below.
Related links
HKTDC Hong Kong Book Fair
Hong Kong Sports and Leisure Expo
World of Snacks