The Hong Kong Trade Development Council (HKTDC) began running its SmartHK programme in major cities in Mainland China (including Guangzhou, Jinan, Chengdu, Fuzhou and Hangzhou) in 2011. This year's SmartHK is the first large-scale HKTDC in the mainland since border reopening with Mainland China. It is of special significance to connect enterprises from the two places.
The event, held in Guangzhou on 24 May at the Shangri-La, Guangzhou, will be dominated by forums, with service exhibitions and business matching services to introduce Hong Kong's high-quality professional services and role as an innovation platform to promote exchanges and economic and trade development between Hong Kong and cities across the Guangdong-Hong Kong-Macao Greater Bay Area.
Flagship event
Hong Kong Special Administrative Region Chief Executive John Lee will deliver the opening address at this year's event, themed Promoting High Quality Development‧Hong Kong Forum. SmartHK, co-hosted by the HKTDC and the Department of Commerce of Guangdong Province, is the flagship event in the Hong Kong-Guangdong Cooperation Week running from 24 May to 7 June and organised by the HKTDC.
SmartHK will focus on Hong Kong's international network and innovative professional services promoting the development and integration of the GBA under the national strategic background of high-quality development and implementation of the outline development plan for the GBA.
Previewing the event, Mr Stephen Liang, Assistant Executive Director of the Hong Kong Trade Development Council, and Mr Chen Yuehua, a first-level inspector of the Guangdong Provincial Department of Commerce, outlined details of SmartHK activities.
Strategic position
Mr Liang said SmartHK returned to Guangzhou after a three-year absence, and welcomed many well-known enterprises and speakers. The conference will also include exhibitions, start-up proposals and business matching meetings. The event is expected to help the Guangdong and Hong Kong business communities grasp the unlimited business opportunities under high-quality development opportunities."
Mr Chen said: "From January to March this year, Hong Kong established 2,099 new enterprises in Guangdong and Rmb35.9 billion (US$5.17 billion) of investment flowed in, a 5.3% year on year increase, accounting for 67.8% of investment in the province." This year the Guangdong Provincial Department of Commerce would continue to promote Guangdong trade across the world with 23 offline exhibitions expected to be held in Hong Kong, and the Hong Kong market would continue to be deeply cultivated.
The GBA Youth Entrepreneur Summit debuts this year, inviting scientific research entrepreneurs, new-generation GBA entrepreneurs and venture capital funds to discuss entrepreneurial opportunities and challenges.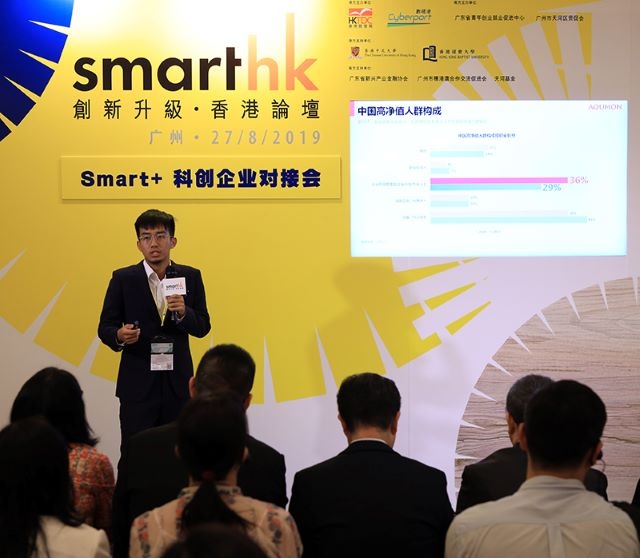 As well as the theme forum, the HKTDC will jointly hold thematic forums with Invest Hong Kong, the Hong Kong Monetary Authority, the Development Bureau of the HKSAR Government, and the Construction Industry Council to discuss cross-border financial management and family offices, environment, social and governance (ESG), green and sustainable finance.
The Smart+ start-up pitching event will hear proposals from more than 15 entrepreneurs at the Chinese University of Hong Kong, Hong Kong Cyberport, Sino Creative and candidates from the HKTDC's Startup Express, covering areas such as artificial intelligence and blockchain, new technologies and materials for environmental protection, medical and health.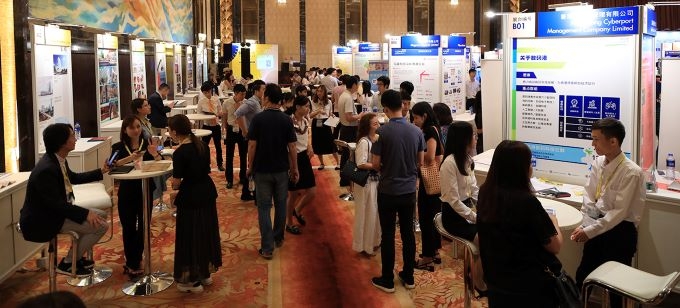 Exhibitions
The venue will also have five exhibition zones – promoting professional services, technological innovation, industry-university-research programmes, creative design and industry support. Representatives of nearly 70 Hong Kong companies will present services and solutions on-site to help companies in the Bay Area solve their operational pain points and expand their business.
Related links
SmartHK