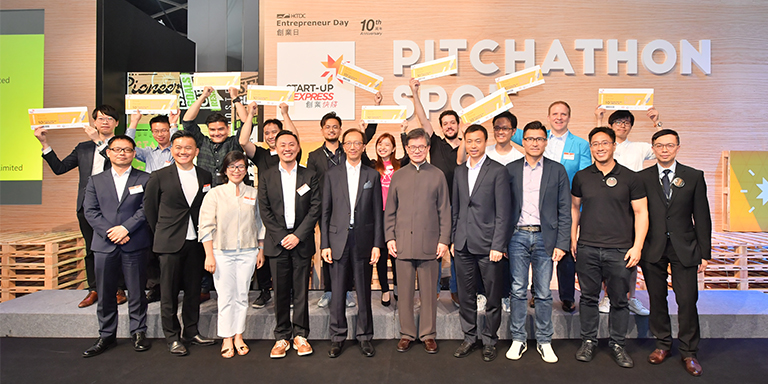 https://hkmb.hktdc.com/en/1X0AF6OU
Start-up Express Winners Build Networks
Business leaders give invaluable guidance to incubation programme laureates.
Talents are everywhere in Hong Kong, making it a place full of creativity and out-of-the-box ideas. But clearly not everyone possesses the knowledge, skills and experience to transform an idea into a business model and develop the business.

The Hong Kong Trade Development Council (HKTDC) launched a start-up incubation programme, Start-up Express, earlier this year to help entrepreneurs build networks, market business and attract investment. The inaugural edition included a pitching competition that yielded 10 winners, each of whom was entitled to meet top-notch business leaders and learn their secrets to success. The founders of four winning start-ups expressed their pleasure after inspiring meetups with HKTDC Chairman Vincent HS Lo and the contest's Head Judge Antony Leung, Group Chairman & CEO of Nan Fung Group. The 10 winners were selected from a pool of 100 entrants who vied for a spot on the Startup Express during Entrepreneur Day in May. On the day, 20 finalists presented their ideas to the panel of judges led by Mr Leung.

Other business leaders who met with the winners include Radiant Venture Capital co-founder & Managing Director Duncan Chiu, Sino Group Deputy Chairman Daryl Ng and Fung Group's Group Chairman Victor Fung – in small private settings to learn the secrets of their success.

The winners are also entitled to join a series of high-end marketing activities in Hong Kong and overseas, including study missions to Guangdong-Hong Kong-Macau Bay Area cities and important global exhibitions, outlays worth about HK$160,000, free of charge.
Resource Allocation
One of the winners, Film Players Limited founder and CEO Toby So, was amazed at meeting Mr Lo of the HKTDC. "I have never thought I would meet Mr Vincent HS Lo and learn from him directly," he said afterwards.

Describing his business, Mr So said "Smart Film" is 0.4mm thick and can be applied to glass or any surface. The surface then immediately becomes a "smart glass", serving as a monitor to display information. During the meet-up, he demonstrated the product's market potential to Mr Lo, who in turn shared with the winners about capital and resource management. Mr So found the sharing so inspiring that he is thinking of expanding his business in the future.

Another winner, RainsOptics Limited, is a start-up developing diagnostic and surgical technologies. Its current innovation, OphthoLens, is a revolutionary ultra-wide field smartphone ophthalmoscope which helps prevent blindness and promotes health by providing retina examinations that can be conducted by anyone, anywhere. CEO Rain Lee expressed her gratitude for the good opportunity to meet Mr Leung of Nan Fung. She said Mr Leung acknowledged the market potential of RainsOptics's product and suggested she work with artificial intelligence analysis corporations on the mainland for further product development.
Nan Fung Plans to Invest in Start-ups
During the same session with Mr Leung, Hong Kong Wowwoo Catering Services Co. Limited founder Li Hoi-wing introduced her company's mapped chain of franchised outlets in Guangzhou selling Hong Kong snacks. Together with the retail chain, Wowwoo developed an animated brand image which has become its intellectual property. Mr Leung appreciated the franchise-chain approach, animated brand and innovative retail model and said Nan Fung Group may cooperate with Wowwoo in expanding the business in Shanghai or London.

Dragon Creative Enterprise Solution Limited founder and CEO Jordan Cheng presented his company's locally invented augmented-reality (AR) smart glasses "MAD Gaze", along with a smart glasses app store and AR generation platform when meeting Mr Leung. He received much practical advice about marketing the products.
Start-up Express Helps Build Ecosystem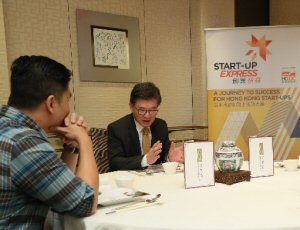 Mr Lo said: "The youth are the future of Hong Kong, so nurturing them and giving them opportunities is very important because they will be the new forces of economic growth in Hong Kong." Young entrepreneurs have their own aspirations and the determination to make an impact with what they are good at, he added. Mr Lo thinks they should listen to all the opinions from different people to improve their ideas which can better support growth of their business.

During the Pitching Final held at Entrepreneur Day 2018, Mr Leung said the high standard of pitching reflects a growing start-up ecosystem in Hong Kong and he is interested in investing in some of them.

After the meet-up with the start-ups, he added: "Start-up Express provides Hong Kong start-ups with a platform to showcase their products or services. The event promotes innovation, creativity and encourages people to start a business, which is much welcomed by the whole city. Start-ups, especially those I met, are always lacking resources such as networks and capital. I really hope that such events can bring together more people and create a start-up ecosystem."
Building Networks with Start-up Express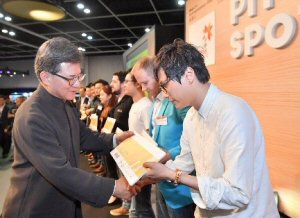 One attractive feature of Start-up Express is helping start-ups enter the business world and build their business networks in international events. This is like boarding a high-speed train to expand their business. The 10 winning start-ups have the opportunity to join a series of business interaction sessions, study missions and marketing activities to develop their business, free of charge.

These activities include participation in "Start-up" zones at HKTDC fairs and conferences such as the Asian Financial Forum, Hong Kong Electronics Fair (Spring Edition), International ICT Expo, Hong Kong Houseware Fair, Hong Kong Gifts and Premium Fair, Hong Kong International Medical Devices and Supplies Fair, Hong Kong Electronics Fair (Autumn Edition), Eco Expo Asia, SmartBiz Expo and overseas HKTDC events such as "In Style ‧ Hong Kong" in Ho Chi Minh City and Lifestyle Expo in Dubai. Start-ups can also exhibit at the Hong Kong Pavilion in massive international expos such as the International Consumer Electronics Show in Las Vegas, Gulf Information Technology Exhibition in Dubai and China Hi-Tech Fair in Shenzhen to obtain hands-on experience.

The HKTDC will launch more services especially for small and medium-sized enterprises (SMEs) and start-ups by providing them with opportunities to start or develop a business. This can help them develop international trade. Apart from Start-up Express, the HKTDC is building a website dedicated to start-ups, with online mentorship in group settings. Targeting start-ups that have been established for more than three years and have reached a certain size, the HKTDC offers the Startup-Plus special pricing package for participation in the Council's exhibition and promotional services.
Related Links
HKTDC Entrepreneur Day
HKTDC SME Start-up Portal
Electronics & Electrical Appliances
Event Organisation
Catering Services
Finance & Investment
Gifts & Premiums
Household Products
Information Technology
Toys & Games