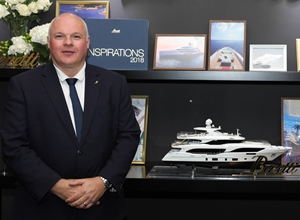 Leaf through any pictorial history book on Hong Kong and you cannot avoid noticing that the city has always been closely linked to the sea – pages will be full of images of tea clippers, junks, sampans, steamers and container freighters.
In play as well as work, Hong Kongers are at home on the water a point the many yacht clubs and marinas attest to. It comes as no surprise that leading Italian yacht maker Benetti Yachts decided to set up an office here.
Peter Mahony, General Manager at Benetti Yachts Asia, explains why the firm sought harbour in Hong Kong.
What was the motivation for Benetti Yachts to set up an office in Hong Kong?
Benetti Yachts set up the Hong Kong office with an aim of continued success. We first opened our office over 10 years ago due to the growing market demand in the region and our success in delivering a number of very large custom yachts into the region. The office allows us not only to operate within the time zone corridor of [Asia-Pacific] more efficiently to service our customers and work with our partners; but most importantly, it also allows us to fully absorb and integrate with the regional and local culture and attitudes to yachting which we could not achieve from the headquarters in Italy. This has proven to be extremely successful for us in finding synergy with our customers and partners in elevating our achievements in the region.
Despite the complexities caused by the global pandemic, Azimut/Benetti has put in a particularly good performance, reporting a 10% increase on the results posted for this area last season with Benetti alone nearly doubling the number of units sold.
I think this remarkable result demonstrates without question how seriously we consider this marketplace as a key region and our commitment to continue to explore the yachting business in the region.
A wide range of leisure industries are fast developing in Mainland China and nearby Hainan is seen as China's Hawaii. Is the mainland a key market for Benetti Yachts? How do you see the potential there, specifically in Hainan?
We have a proud history of working with Mainland Chinese clients and we adjusted our commercial approach many years ago as well as developing a strong understanding of the specific requirements of the yachts' functionality, desirability and style of ownership and operation to ensure success in this region. However, like all markets we respect that the sector is evolving rapidly and we see a lot of change in the type of yacht and use of yacht that new owners are considering. With Benetti's market-leading ability to accommodate these personal requests, I am pleased to say we are always very active in this market space.
Sanya, Hainan's southernmost city, became the focus of the global yachting industry in 2010 with the launch of the Hainan Rendezvous which attracted the world's biggest yachting brands. Since then, it has quietly gathered pace and already has a significant number of yachts home-berthed there. With its fantastic climate and accessibility to Mainland China, it is anticipated that the industry will see a strong growth curve in the coming years. Behind the scenes, there are a lot of activities going on for market development and the green shoots are starting to appear.
Southeast Asian countries – especially Malaysia, Singapore, Thailand and Indonesia - are intimately connected to the sea and have active yachting scenes. Is Benetti Yachts considering these countries as growing markets? What are the business development strategies deployed in these countries that contribute to growth?
These are long-standing popular cruising grounds and many yachts from Benetti have visited and cruised the region, however home berthing here is restricted mainly by berthing and local rules of operation. This market has been very strong for new yachts up to 30 metres and for larger yachts the market has been mainly focused on used boats available for immediate delivery but not new-builds. However, in the last few years, we have seen a steady move towards forward ordering as the yacht owners see more value in having a new yacht designed to suit both their taste but mostly their type of operation and use as well as benefiting from the support and infrastructure that comes with buying a new yacht from a world leading shipyard.
Benetti Yachts has production plants in Italy. Does Benetti have any plans to operate any new plants in East Asia?
Benetti has two shipyards, located quite closely by each other, around 45 minutes apart by car, on the north west Tuscan coast at Viareggio.
I think to fully understand why we have our shipyards here and not elsewhere it is necessary to visit and see the immense depth of experience, skill and knowledge that has evolved over so many years (Benetti is over 150 years old) in these areas. The capability of the people, the industry and the supply chain here are second to none in the world and this region is an absolute power-house of yachting excellence. Benetti is deservedly extremely proud of its heritage. Its timeless Italian craftmanship with style, charm and excellence is a cornerstone of our sales proposition.
Yet, for now, we do not have any plans on setting up plants in this region.
Are electric-diesel hybrids being installed on yachts from Benetti now? What are the advantages of using these?
Yes indeed. we offer this system on many of our yachts but in particular our new B.Yond 37 has been designed specifically to accommodate it. This is not new for us and our largest Benetti ever built "Luminosity" or "FB272" [main picture] is fitted with a pioneering hybrid propulsion system and Azipod propulsion with a special battery pack. One of the key benefits of this system is for total vibration-free navigation in absolute silence.
Is it feasible for yachts to run powered almost entirely by solar power as this new trend is being actively discussed in the automobile industry?
We have seen some concept yachts already running in this way. Yet, the power consumption on board to run large luxury yacht systems such as air-conditioning or heating, lighting, galley, washing machines, Nav systems, entertainment systems etc is far more than current technologies can produce from solar power.
Given that maritime high-technology is developing quickly. Does Benetti Yachts intend to incorporate a degree of autopilot into yachts?
Benetti Yachts works and implements all the latest proven technologies and often these are at the request of the buyers. However, there are many rules governing navigation and safety of life at sea and so in order to be compliant with the laws, these rules take precedence over our desire for a hi-tech solution.
Related link
Benetti Yachts