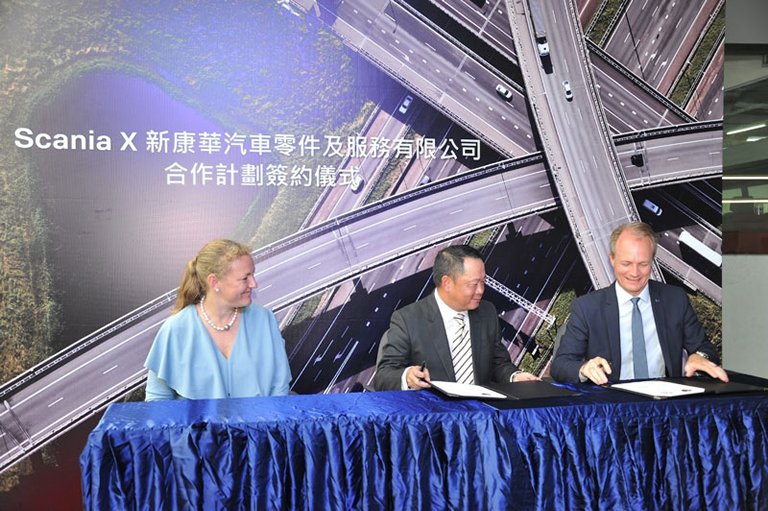 https://hkmb.hktdc.com/en/1X0AJA06
The Greater Bay Area: Driving Growth and Building Bridges
Global vehicle manufacturer on the road to a data-driven future in the GBA
As a major international commercial vehicles maker – principally trucks, buses and coaches – it could be argued that Scania embodies the essence of the Greater Bay Area (GBA) initiative – moving goods and people from marketplace to marketplace efficiently, sustainably and safely.
The Swedish global manufacturing giant, which offers sales and services in more than 100 countries, sold its first vehicle in Hong Kong in 1984. Through its wholly-owned subsidiary, Scania (Hong Kong) Limited – formed in 2008 – it has been dedicated to delivering those twin objectives by leveraging the benefits of being close to its customers. The company, which now employs 180 people and is a major player in the Hong Kong transportation sector, sees this strategy as key as the GBA initiative rolls out.
The GBA initiative aims to closely link nine major provincial cities in Guangdong province with the Hong Kong and Macao Special Administrative Regions (SARs) to create an economic zone, which will form a key component in the next phase of China's economic development. The area covered by the initiative has a combined GDP of US$1.6 trillion.
Mover and Shaper
Despite a recent hit to business due to the ongoing trade conflict between the US and mainland China, Carl-Fredrik Zachrisson, Managing Director of the company's Hong Kong and Macao operations, is upbeat about the long-term potential for business growth in the GBA. If sales of the company's vehicles to the local market are anything to go by, his confidence looks to be well-placed.
Zachrisson said: "Last year we delivered 700 vehicles – including a record 230 coaches – to Hong Kong and Macao, which gave us a market share of about 30% of the overall coach business. Despite the undoubted negative effect of the ongoing Sino-US trade conflict, we are confident about the future, especially given the potential we see in the GBA initiative. Yes, there has been a dip in the market recently, but that will come back.
"Our customers are constantly moving goods and people back and forth across the border, so we need to offer tailored solutions to them. If part of their business and revenue is made in the GBA, then obviously that has to be the context in which we shape our business in this region so that we can offer them ways of making their operations even more efficient and profitable."
Hong Kong-Mainland Synergy
Zachrisson said that crucial to this strategy is the ability of Scania (Hong Kong) to work in tandem with their sister company, Scania (China) to make sure that these solutions can be delivered to Scania customers wherever they may be in the GBA.
He said: "We are working closely with Scania (China), another wholly owned Scania subsidiary and it's very much a case of seeing how we can offer the best service and support to our customers. We see the GBA as good opportunity and are working closely with Scania (China) to develop services and support to customers across the region. It comes down to offering tailor-made solutions for our customers; that is how we will grow in the GBA."
Bridging the GBA Gap
In June this year, Scania took a significant step along the road to meeting those objectives when it inked a partnership with Xin Kang Hua Auto Parts and Motor Services Limited as its maintenance and repair service point in Macao.
A ceremony in the Macao Special Administrative Region saw Zachrisson sign a contract with the CEO of Xin Kang Heng Holdings Limited, witnessed by customers and suppliers as well as the Consul General of Sweden in Hong Kong and Macao. It is a partnership that Zachrisson believes will boost business as the number of travellers grows between Hong Kong, Macao and Zhuhai, thanks to the opening of the Hong Kong-Zhuhai-Macao Bridge, a key plank of the GBA initiative connecting three major cities in the Pearl River Delta.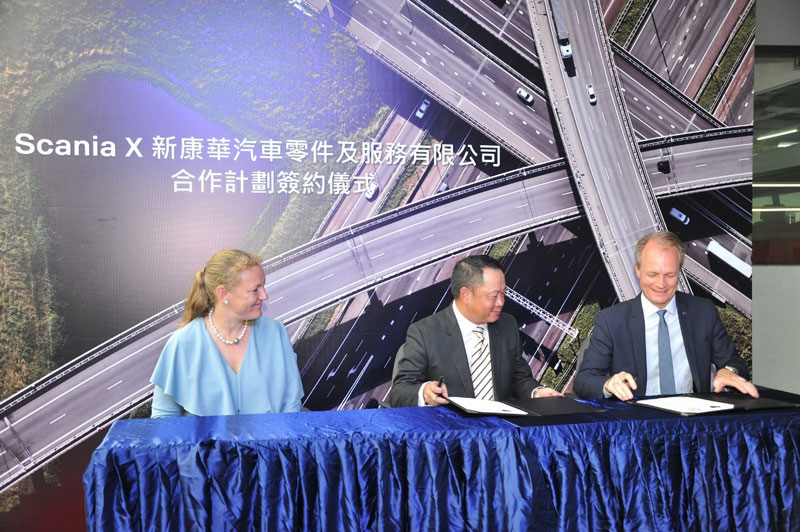 Scania believes it is a priority to preserve its high-quality repair and maintenance services for its growing base of new customers travelling between Hong Kong and Macao. In order to achieve its 'Customer First' core value, Scania (Hong Kong) is continuously striving to expand its business operations in Hong Kong and to enhance the experience of customers in the Macao area. Zachrisson said: "The Scania (Hong Kong) team will co-operate closely with Xin Kang Hua Auto Parts and Motor Services Limited to provide comprehensive, convenient and reliable repair and maintenance services for our Macao customers."
While container truck volumes still make up the bulk of Scania (Hong Kong) business, there are worrying statistics that indicate the importance of the city as a regional port may be on the decline. However, Zachrisson hopes Hong Kong's port facilities can remain competitive. He said: "Although there is a dip in port activity there will always be a need for transport and therefore demand for trucks, while our coach business also has a very positive future in the whole region.
Zachrisson was keen to emphasise the importance of providing more than just competitive commercial vehicles, saying: "It's not just about performance, reliability and economy: "It's about Scania's knowledge and care for clients' business needs and tailor-made service packages and applications for a wide range of industries. This knowledge enables us to continue building vehicles and developing service solutions that support our customers in building their businesses with sustained profitability. One good example is the coaches running the cross-border shuttle service on the Hong Kong-Zhuhai-Macao Bridge, the world's longest sea crossing."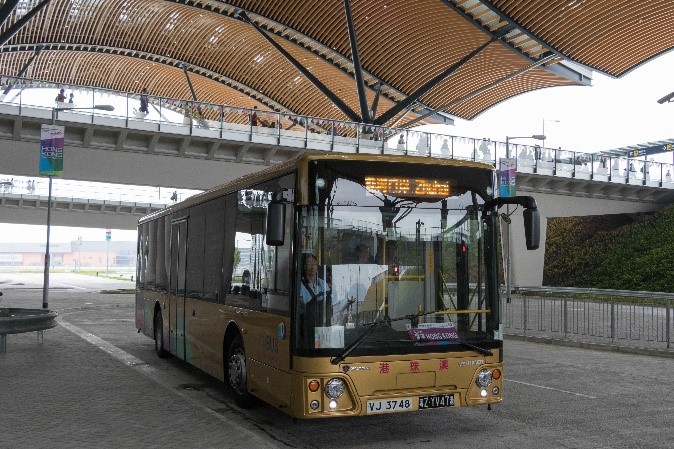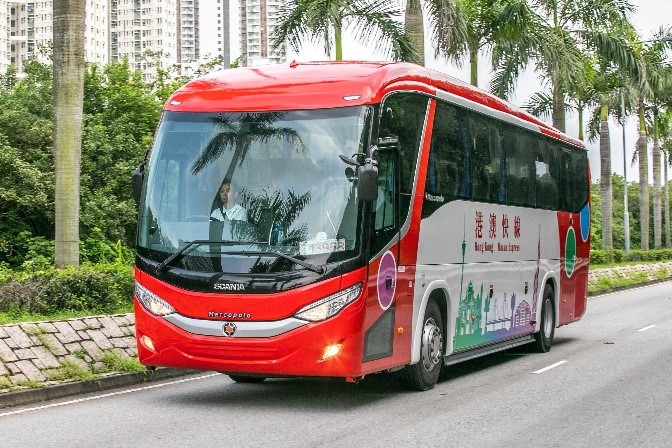 In particular, he also hopes the GBA will provide greater opportunities for the company to further develop its range of sustainable transport solutions. Since 2013, the Hong Kong operation has been selling vehicles that comply with the Euro 6 standard – the EU's most stringent commercial vehicles' low emission code. As of October 2018, all such new vehicles sold in Hong Kong have been obliged to comply with this stringent emission standard. Macao enacted a similar requirement in the summer of this year.
Data-driven Future

As with many other businesses, Scania is now very data-focussed. Based on the company's long experience of operating in Hong Kong, Zachrisson believes that the operational data gathered from its vehicles represent a key information source and one that can be harnessed as means of supporting customers in their own pursuit of enhanced efficiency. He also sees it as invaluable for Scania as it looks to develop new products and services. This data will also play a valuable role in helping develop the kind of smart-city infrastructure connectivity seen as essential for ensuring the sustained success of the GBA initiative.
Zachrisson said: "Historically, our biggest sector has been container traffic going across the border to mainland China. In fact, over recent years, every two out of three containers crossing the border into the mainland has been on a Scania truck." He believes the large amount of data gathered from this substantial traffic, plus that garnered from its coaches – which ply routes across Hong Kong and up into Guangdong, will be key to the development of the business.
Worldwide, Scania has 450,000 vehicles connected to its Fleet Management System (FMS), 3,000 of them in Hong Kong, and the company sees itself as being at the forefront of development in the area of smart mobility and sustainable cities.
The system, launched in Hong Kong in 2012, allows customers to monitor not only the positioning of their vehicles but also their performance, said Zachrisson. Scania believes that this, coupled with the research and development (R&D) work it is doing on autonomous and electric vehicles and alternative fuels, will give it a transportation edge in the GBA.
Acknowledging this, Zachrisson said: "Our autonomous and electric vehicles are already in service in a range of different environments, including mines. We believe by joining forces with local leaders and innovative stakeholders in the industry, we can reinforce Scania's preeminent role in driving the shift towards sustainable transport solutions. One example of just such a partnership in the region is Scania's co-operation with Shenzhen-based Haylion Technologies, a tactical alliance aimed at developing autonomous transport systems for public buses".
Logistics & Supply Chain
Auto Parts
Hong Kong
Sweden
Hong Kong
Mainland China
Scandinavia