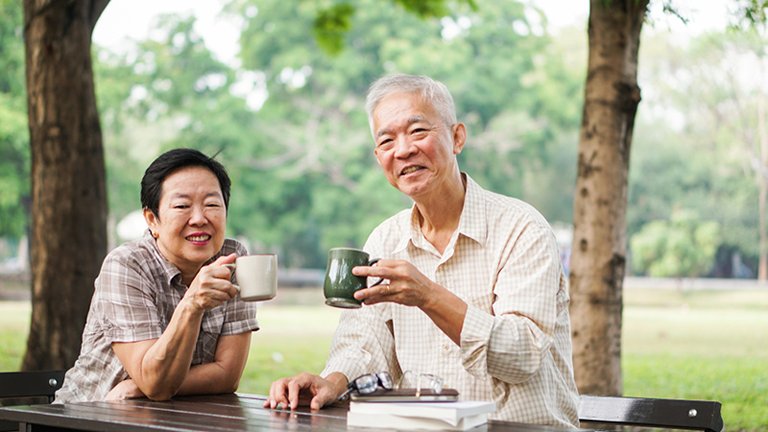 https://hkmb.hktdc.com/en/1X0AJ5RU
China's Elderly Market: Survey Summary and Recommendations
China has become an ageing society. According to the National Health Commission, China has 250 million people aged over 60, who make up 18% of the country's total population. The China National Committee on Ageing predicted last year that the numbers of those over 60 will reach a peak of 487 million by around 2050, accounting for over a third of the total population. The China Country Assessment Report on Ageing and Health, published by the World Health Organisation, pointed out that China is ageing much faster than other low- and middle-income countries.
With Chinese society becoming healthier and more prosperous, there is a growing demand among elderly people for senior-specific products and services. The China Report on the Development of the Silver Industry says that the spending potential of China's elderly population will soar from RMB4 trillion in 2014 to RMB106 trillion by 2050, comprising a third of China's GDP. This would make China the country with the world's largest 'silver' market.
In view of this, HKTDC Research has conducted a consumer survey on the mainland's 'silver' market [1] to try to learn more about the attitudes and preferences of elderly middle-class consumers with regard to senior-specific products and services. It also looks at the market's characteristics and development trends. The survey covers both seniors and those who need to take care of elderly parents. It hopes to provide market insights through an analysis of the views of people from two generations.
New Generation of Seniors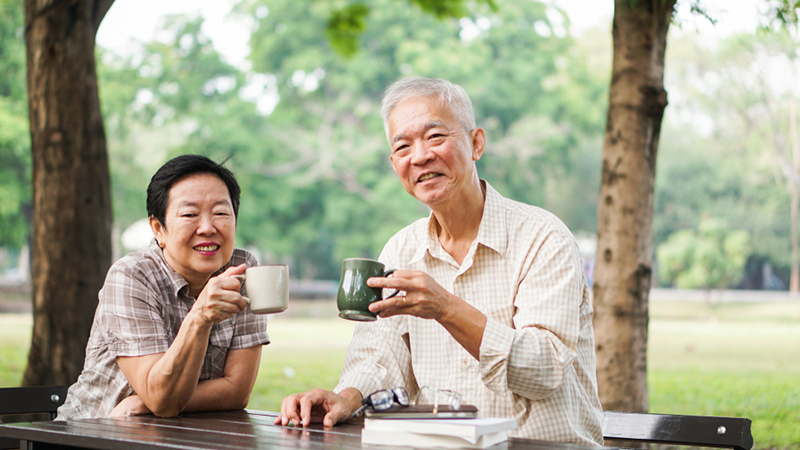 Traditionally, Chinese people set great store by family. Many of the elderly spend much of their time at home looking after their grandchildren. The HKTDC Research survey, however, discovered that the new generation of mainland seniors leads a more independent life than their predecessors did. The overwhelming majority of the respondents (93%) agreed with the proposition that children should have their own world while older people have their own living arrangements. One of the comments from some respondents in the focus groups was "Life after retirement is the beginning of another phase of a more wonderful life which we intend to enjoy." This reflects the hopes and expectations of this new generation of mainland seniors.
Online Activity Rising
The mainland's social environment has undergone drastic changes in the last few decades. Today's seniors live a life that is totally different from the ones their predecessors lived. The rise of social media platforms, such as WeChat for example, has greatly enriched the life of many elderly people. The survey found that 43% of respondents communicate online with friends and relatives at least once a day. On average respondents communicate online 3.81 times a week, more than double the 1.83 face-to-face contacts they make. Many mainland seniors have set up or joined WeChat chat groups of old school friends, colleagues and even hobby groups. They actively share information on WeChat. One of the respondents in the focus groups said: "If we come across something good, we will share it in the chat groups or when we meet." Although mainland seniors still do not shop online as much as younger generations do, their shopping patterns are changing as they become increasingly active in online communication via WeChat and other channels.
Growing Income and Spending
As the mainland's economy has grown, elderly people have seen a rise in their income and assets. As a result, many seniors living in retirement or semi-retirement are happy to spend more. 75% of the respondents in the survey said their pension had increased in the past few years, while 54% said their property had appreciated in value. The disposable income of the new generation of mainland seniors has greatly increased. The average price of products bought by survey respondents last year ranged from several hundred yuan to over RMB1,000. A few respondents even said they had spent over RMB10,000 on kitchen appliances and travelled abroad several times a year. In general, however, children are spending more on products and services bought for their parents than elderly people are spending on themselves.
Senior consumers' demand for higher quality products and services has risen. 84% of respondents said they were now using higher-standard products and services than they did before, making comments such as: "We are now looking for better quality in food, clothing and enjoyment. We are no longer satisfied with cheap things." As well as demanding higher quality, older people also like to try new things. 79% of respondents agreed that they need to keep up to date and try out new products and services.
"Trendy" and "Professional"
Seniors' increasingly active social lives appear to have triggered a rising desire to be trendier and care more about their image. However, senior consumers attach even greater importance to safety when choosing senior-specific products or services as their health deteriorates. According to the survey, 18% of senior respondents and 26% of their children said safety is their primary consideration when buying senior-specific products. The percentages increased to 24% and 30% when it came to choosing services for seniors.
Mainland seniors aspire for both "trendiness" and "professionalism" when buying products and services, qualities that can lead to conflicting choices. Although 71% of respondents agreed that senior-specific products are more "professional" than ordinary products, about 50% respondents considered this kind of product not trendy enough and worried that using them would make them look old.
"Travel Without Planning"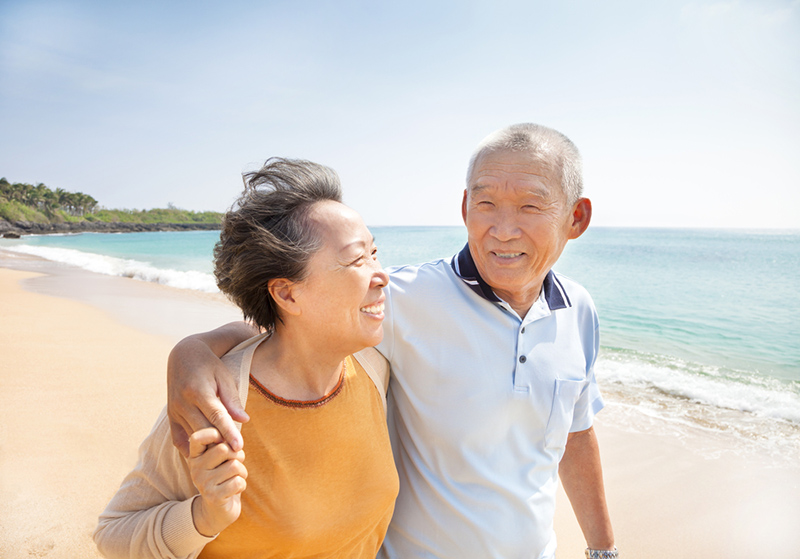 The concept of "travel without planning" – i.e. travelling where one wants without being bound by an itinerary or schedule – has become popular among young mainlanders in recent years. Now, new-generation seniors are also beginning to enjoy travelling around. 80% of senior respondents in the survey had paid for their own trips, while 86% of the children had made travel arrangements for their parents in the past year. One of the seniors in the focus groups said: "It seems there is no longer any place where old people like us cannot go."
Long trips, short trips, domestic tours and overseas tours are all becoming more popular among mainland seniors. The survey found that elderly people in China took an average of almost eight short trips and at least one overseas trip a year, spending between several thousand yuan and over RMB10,000 on each trip. Elderly people are also demanding more in terms of the quality and comfort of their travel. For example, they expect trips to include local cultural experiences and appropriate arrangements for shopping. They want hotel rooms to be clean and hygienic and deluxe coach transport to and from scenic spots.
Modern Concept of Elderly Care
In traditional Chinese society, having children is a safeguard against destitution in old age. Older generation mainlanders tended to depend on their children to earn enough money to provide for them. However, since the implementation of the "one-child policy" in the late 1970s, many of those having to look after their elderly parents are only children, and have no-one to share the burden with. As a result, new-generation seniors have begun to abandon the traditional concept of being looked after in their old age by their children, and instead are looking to make their own provisions for their care. This trend is changing the pattern of elderly care on the mainland. The views of older and younger generations on how elderly people should be cared for are converging. Only a quarter of respondents believed they would live with their children when they were elderly. Respondents were more likely to choose living patterns like "cuddling" (living with other elderly people), moving into nursing homes or wellness homes, or hiring helpers than they were to choose living with their children.
The survey also showed that there is a slowly growing acceptance among mainland consumers of institutionalised care for the elderly. 19% of senior respondents said going to nursing homes is inevitable when one's ability to care for oneself declines, while as much as 26% of children in the survey also agreed with this. This is partly because the children of seniors find it difficult to be constantly by their parents' side, but also because the quality of helpers often leaves much to be desired and the cost of employing them is rising. These factors are prompting consumers to consider other options, such as nursing homes.
Conclusion
An ageing population is an inevitable consequence of advances in medical technology and improvements in people's living conditions. However, as the HKTDC Research survey and focus group reveal, an ageing society does not necessarily lead to falling consumption. On the contrary, elderly people these days tend to be healthier than previous generations and buy more products and services. They also have a growing demand for better quality and are willing to pay a premium for better products and services.
However, in order to tap the mainland silver market, businesses must do more than simply try to make quantitative and qualitative improvements to what they are offering. Most new-generation seniors are young at heart and are keen to give new products and services a try. Innovative business ideas that can arouse the curiosity of senior consumers are more likely to win the favour of mainland seniors and out-perform their competitors.
---
[1] See Appendix for the background to this consumer survey.
Appendix:
1. Methodology
The survey was carried out during May 2019 in six mainland cities. A total of 1,320 consumers were polled by interview and online questionnaire. Before conducting quantitative studies, consumer focus group discussions were held in Shanghai, Guangzhou and Chengdu. The objective of the focus group discussions was to better understand mainland consumers' preferences and attitudes about senior-specific products/services through qualitative analysis.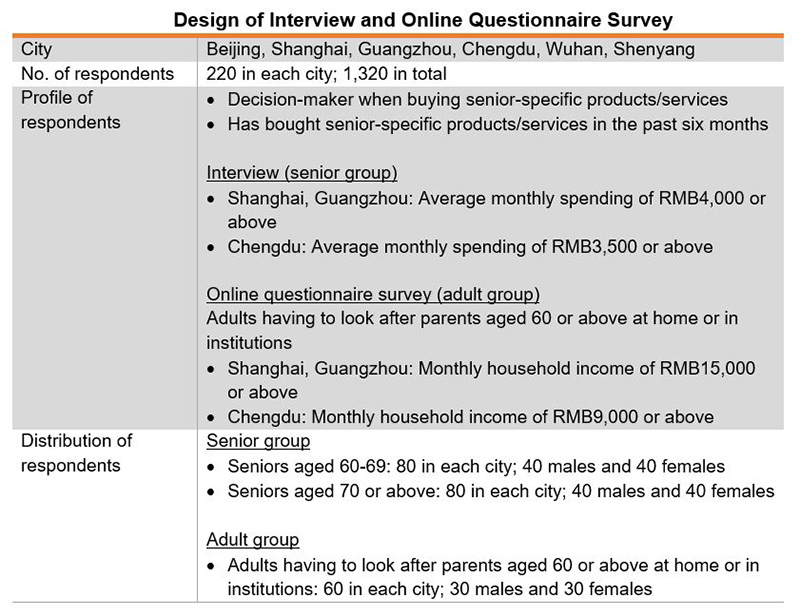 2. Background of Respondents