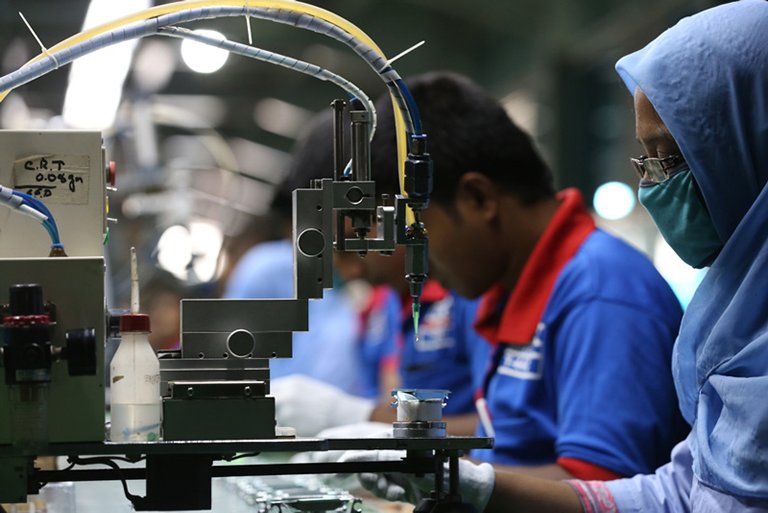 https://hkmb.hktdc.com/en/1X0AIMKM
Practical Tips for Manufacturing in Bangladesh
Bangladesh's population of 161 million is the eighth biggest in the world. Its large pool of low-cost labour makes it attractive as a production base for labour-intensive industries, like garments and textiles. Since the 1980s, the country has been a popular location for sourcing ready-made garments (RMGs) for global brands such as H&M, GAP and Adidas. At present, Bangladesh is home to more than 4,600 garment factories, most of which are concentrated in the country's two largest cities – the capital Dhaka and the port city Chattogram[1]. The RMG sector is responsible for about 80% of Bangladesh's total exports, making the country the world's second largest exporter of RMG products after China.
Along with the low cost of its labour, Bangladesh possesses several other attributes which make it a sensible choice for Hong Kong manufacturers looking to diversify their production base. Firstly, because it is one of the least-developed countries (LDCs), exports from Bangladesh enjoy duty-free access under the Generalised System of Preferences (GSP) schemes offered by many developed markets, including the EU, Japan and Canada. Secondly, having been under British colonial rule until 1947, Bangladesh has a legal system based on common law. Thirdly, it allows free movement of capital (or full repatriation of profit) and 100% foreign ownership of companies, which provides assurance for foreign investors. Having said that, there are underlying issues regarding labour, logistics and locations which manufacturers should not overlook.

Low-Cost Labour with High Turnover and Skill Shortage
Labour costs are rising in many economies across Asia, and Bangladesh is no exception. The minimum wage is set on an industry-by-industry basis, with different grade structures in each industry. For example, the RMG sector has a seven-grade wage structure in which the minimum wage of the lowest grade (entry-level workers[4]) was lifted to Tk 8,000 (US$95) in December 2018 - a 51% increase on the level the last time it was adjusted in 2013. Despite this substantial rise in the minimum wage, the country's average wage level remains competitive in the region. The average monthly salary for manufacturing workers in Bangladesh is US$109[5], far lower than that in Myanmar (US$162) and Cambodia (US$201), according to the Japan External Trade Organisation.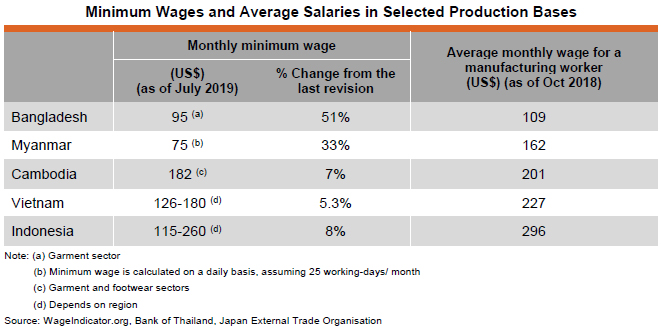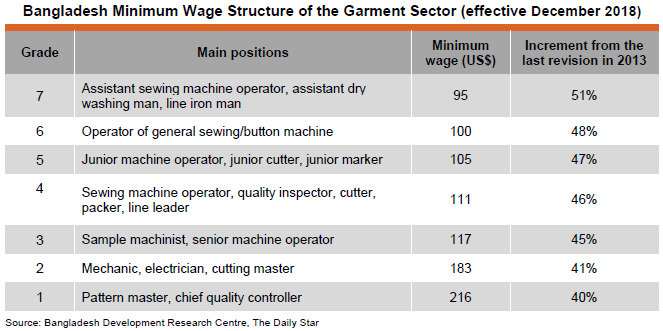 Despite having a large labour force of more than 68 million and relatively low wages, Bangladesh suffers from a skills shortage which restricts the productivity of its workforce. Although the overall education level has improved significantly in recent years, about 40% of the current workforce has received either no education or only primary level education. To boost the productivity of their workforce, it is essential for manufacturers to invest in training programmes for both newly hired and existing workers. Such a move not only increases workers' ability to adopt new production techniques, it can also help to retain experienced workers amid the high turnover rate among garment factories in Bangladesh. As well as wage levels and training opportunities, other factors which could significantly improve labour turnover rates include improving the regularity and punctuality of wage payments and making workplaces safer[6].
Underdeveloped Infrastructure Leads to Higher Logistics Costs
Bangladesh is located at the estuary of the Ganges Delta with floodplains occupying 80% of the land area. Given the low-lying topography and underdeveloped infrastructure, Bangladesh is susceptible to flooding which results in delays to imports and exports. With insufficient drainage facilities, some parts of the country are prone to flooding and waterlogging during the monsoon season (July to October), which can disrupt logistics and production activities. When selecting a production site in the country, manufacturers should avoid areas with inland rivers or those near the sea, which are the most vulnerable to flooding.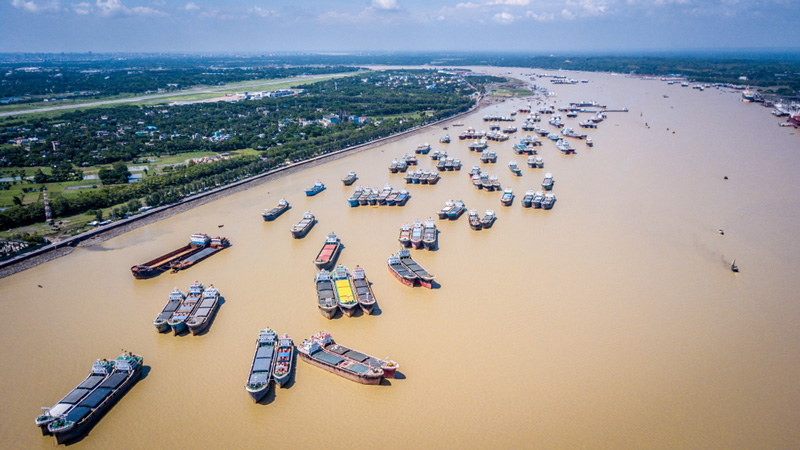 Chattogram Port is the largest seaport in Bangladesh, handling about 90% of the country's total trade. Despite continuous enhancement over the past few years, the port is still affected by congestion as the volume of cargo it handles has risen rapidly. In 2018, the port's throughput reached a record high of 2.9 million TEUs, up from 2.7 million TEUs in 2017 and far in excess of its designed annual capacity of 1.7 million TEUs. It takes about 15 days for a shipment of raw materials to reach Chattogram from mainland China, and another seven days to get it through customs, according to a Hong Kong manufacturer in Bangladesh.
Inefficient border clearance is another main challenge faced by manufacturers and exporters. The lengthy process of inspection, licensing and paying for the relevant charges often leads to delays and higher costs being associated with shipping and border compliance.

Export Processing Zones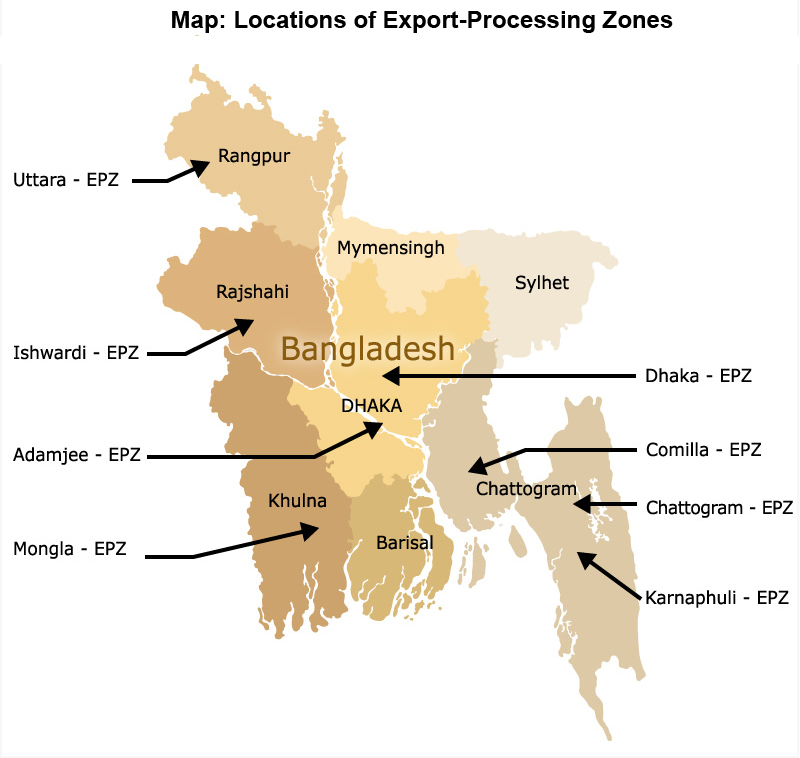 To boost industrialisation and facilitate foreign investment, the Bangladeshi government has established eight export-processing zones (EPZs) since 1983. Because they have better infrastructure and business support services, many foreign manufacturers prefer to locate their businesses in EPZs. EPZs also provide one-stop administration services, including customs clearance and the issue of import and export permits, which can be handled at the EPZ without having to deal separately with several different government agencies. Since they were launched, the EPZs have attracted about 500 enterprises, including many from South Korea, mainland China, Japan, Hong Kong and Taiwan. EPZs not only host many garment and textile product manufacturers, they are also home to companies producing footwear and leather goods, electronics, metal and plastic products. Together, they are responsible for about 20% of the country's total exports.
Since the eight EPZs were established at different times, they are currently at differing stages of development. The first two EPZs, Chattogram and Dhaka, are the two largest and have better-developed public facilities. As of 2018, the two were home to about 280 companies, accounting for more than 60% of the total investment in EPZs and almost 80% of their total exports. In a bid to decentralise industrial development, the government gives companies located in Uttara, Ishwardi and Mongla (the less developed EPZs furthest away from Chattogram and Dhaka) a longer tax holiday. Although land rent and wage levels are lower in these less developed EPZs, investors should bear in mind the lack of skilled or experienced workers, as well as the extra lead time required for transporting goods to and from the Chattogram port.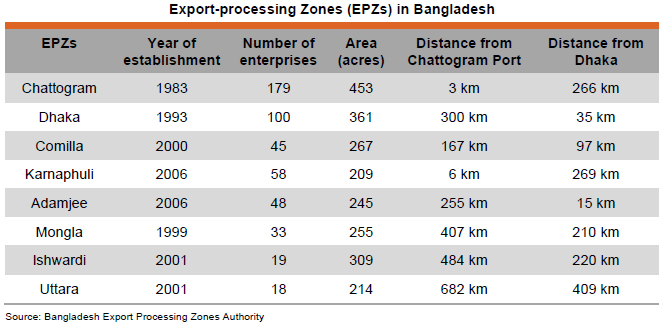 To reduce reliance on RMG exports and promote industrial diversification, the Bangladeshi government has approved more than 80 special economic zones (SEZs) across the country since 2015. The SEZs offer more generous incentives than the EPZs, to try to attract both export-oriented manufacturers and companies targeting the local market. With its abundant low-cost labour and rich agricultural resources, Bangladesh is well positioned to become a production base for labour-intensive industries other than RMG, such as leather goods and food processing.
Looking ahead, the future of industrial diversification in Bangladesh will largely depend on the pace of infrastructure development. This is not currently keeping up with the industrial demand for accessible land and utilities. The Bangladeshi government has been receiving development assistance and loans from Japan, India, China and multinational institutions. To provide more reliable and flexible source of funding, the government is setting up its first sovereign wealth fund which is aimed at providing further support for infrastructure projects. However, it is likely to take years before any significant progress is made. Until then, in the short to medium term, foreign manufacturers will need to adapt to the country's challenging operational environment.
---
[1] Previously called Chittagong. The English name of Chittagong was officially changed to Chattogram on 10 September 2018.
[2] Following developments highlighted in UN reports about human rights violations in Myanmar, a monitoring mission from the EU visited the country in October 2018. The findings of this mission will feed into the analysis on whether to remove trade preferences via a temporary EBA withdrawal procedure. The EU is now analysing the information gathered during the mission, before considering its next steps. For details, see "Myanmar: EU mission assesses human rights and labour rights situation"
[3]In January 2019, the US Senate introduced the Cambodia Trade Act of 2019, which would require the US government to review preferential trade privileges given to Cambodia under the GSP. For details, see "Cambodia Trade Act of 2019"
[4] The pay scale of garment workers consists of 7 grades, based on the type of work and seniority.
[5] Salary excluding benefits for a regular general worker with 3 years of work experience, not including contract-based and probationary workers, as of October 2018. Based on the results of JETRO's 2018 Survey on Business Conditions of Japanese Companies in Asia and Oceania.
[6] Hossain, G., & Mahmood, M. (2018). Employee Turnover in the Garment Industry in Bangladesh: An Organization-level Perspective. South Asian Journal of Human Resources Management, 5(2), 129–149.
Garments, Textiles & Accessories
Bangladesh
Other Asian Countries