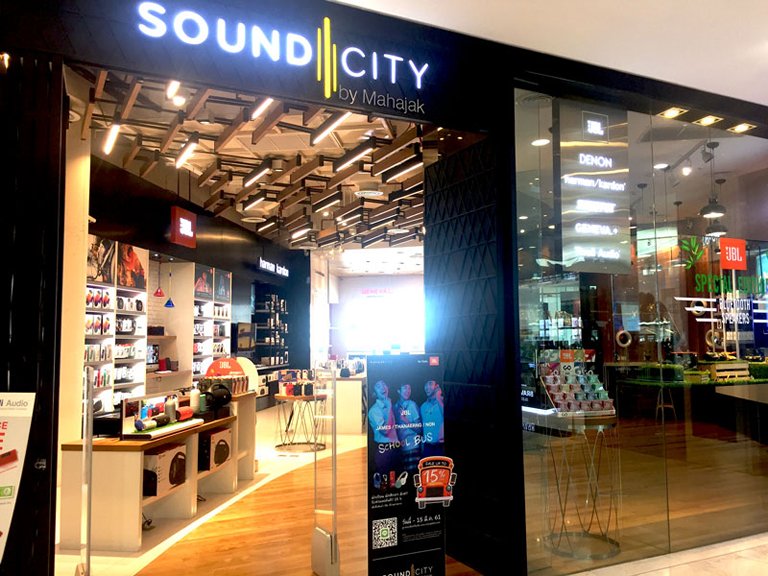 https://hkmb.hktdc.com/en/1X0AIBJK
Accessing the ASEAN Consumer Market: Electronic Accessories (Distribution Channels)
The rapidly evolving technology and the growth of e-commerce have changed the competitive landscape for consumer electronics retailers in ASEAN. The wide variety of electronic accessories available on the Internet and the ubiquity of mobile devices have contributed to the rising popularity of online shopping for electronic accessories. Nonetheless, bricks-and-mortar stores are still the main distribution channel, as consumer regard purchasing at a physical store as more secure than buying online.
Consumer Electronics Specialist Stores
Electronics specialist stores are still the dominant distribution channel for consumer electronics and accessories in ASEAN. These stores have stepped up in-store promotional activities by offering discounts, allocating reward points and distributing vouchers for future purchases. In addition, many chains have introduced or expanded instalment payment schemes in conjunction with banking partners.
Today, customers are no longer limited to a single channel to purchase. Consumer electronics shoppers usually search on the Internet to obtain product information and to do price comparison before visiting the physical store for hands-on experience with the product. Only then do they decide where to make the purchase. To adapt to the changing consumer behaviour, major electronics specialist stores have created online shops over the past couple of years. Retailers are integrating both offline and online channels to offer consumers a seamless shopping experience.
Notable Examples of Consumer Electronics Specialist Stores
Indonesia
AGIS Electronics – The company is a distributor and retailer of consumer electronics with its product portfolio consisting of Sony, Samsung, LG, Panasonic etc. It also operates a wide after-sales service network.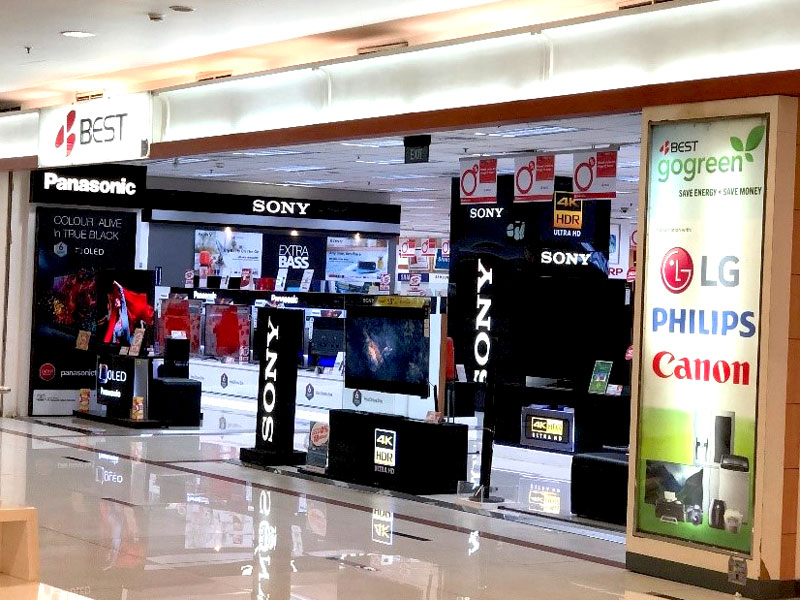 BEST DENKI – BEST DENKI is Japan's largest electrical and electronics retailer, first established in 1953. It carries a huge range of household appliances and audio-visual products. To date, BEST DENKI has more than 357 retail stores worldwide, with 313 in Japan, 24 in Indonesia, 11 in Singapore, and 9 stores in Malaysia.
Electronic City – Established in 2001, Electronic City specialises in mid-segment electronic brands, with a chain of more than 60 stores across the country.
Urbanlife – Established in 2012, Urbanlife focuses on audio, travel accessories and wearable gadgets. It offers a wide range of products from international and local brands. The chain has more than 10 stores in Jakarta and Bali. It also operates online retailing with a larger product selection.
Erajaya – Erajaya is one of largest distributors and retailers of mobile telecommunications equipment in Indonesia, managing over 770 retail outlets across the country.
Trikomsel Oke – Apart from telecommunication devices, Trikomsel Oke sells computers, multimedia devices and accessories from international brands, such as Hewlett-Packard (HP) and Lenovo.
Malaysia
ALL IT Hypermarket – Founded in 2003, the IT specialist store chain has 13 retail outlets in Klang Valley. It has also set up online shops and listed on Lazada, Shopee, and 11 Street. Its bestsellers include portable hard drives, USB mice, power banks, Bluetooth headsets, wireless speakers, activity trackers and flash drives.
Connect – Located at Mid Valley Megamall, Connect is a retail outlet offering various premium accessories for smartphone and tablets. Consumers can hook up their devices on various demo accessories.
Viewnet Hyperstore – Founded in 1999 and expanding to over six stores nationwide, Viewnet Computer System has become one of the leading IT stores in Malaysia, offering a wide range of IT products, such as hardware, genuine software, printers, LCD monitor, networking, accessories, etc.
Fresh Gadgets/ Foto Flash – Established in 1992, Foto Flash's core business is digital cameras, video camcorders, audio/visual gadgets, photo printers and photography accessories. Aside from its home brand, Foto Flash is also the authorised retailer for international brands, such as Olympus and Sony.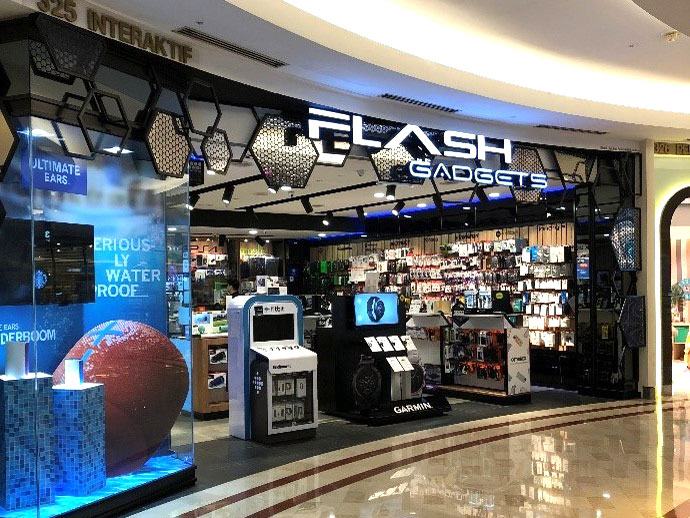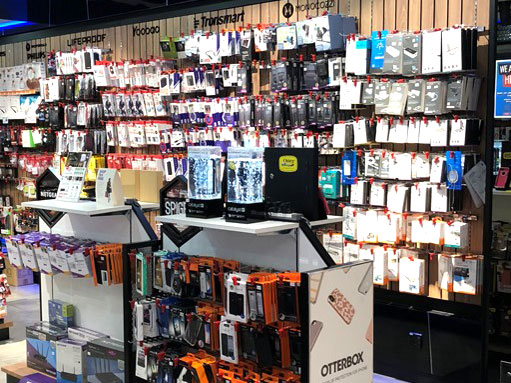 Digi Store Express – Digi is a mobile connectivity and internet services provider with over 11.7 million subscribers in Malaysia. Digi Store Express is a chain of convenience stores established in major Malaysian cities where customers can purchase various mobile phones, enrol for mobile phone or internet services and get roaming service around the world as they travel.
Infinity Phone Accessories – A wholesaler and retailer for all kinds of mobile phone accessories, such as headphones, cables, chargers, screen protectors, selfie sticks and tripods, Bluetooth headsets, and many more.
3C Utopia – 3C Utopia offers comprehensive selection of ICT products covering smartphones, cameras as well as a wide range of electronic gadgets.
Thailand
Power Buy – Power Buy, owned by Central Group, is Thailand's leading electronic retailer and can be found in major malls such as Emporium and Siam Paragon. It stocks electronics across a range of categories, including cameras, mobiles, laptops, wearables and accessories from a variety of international brands. It also provides online shopping with various payment options, such as cash on delivery, credit or debit card and bank transfer.
IT City – IT City is a retail chain of more than 100 branches across the country, offering smartphones, tablets, gaming and mobile accessories.
Jaymart – Jaymart is a listed company with over 200 retail shops nationwide. It also operates the first Samsung experience store in Thailand.
Banana IT – With more than 300 stores across the country, the chain provides a wide range of digital devices and computer products, as well as smart watches and accessories, which are also available in its online shop.
Jedi Cool – Jedi operates a physical and online shop stocking modding accessories. Its product offerings include LED strips, coolers, memory accessories, fan controllers, Thermaltake sleeve cables, e-sports gaming and much more.
True Branding Shop – This lifestyle concept store offers the latest gizmos and gadgets. It also features a virtual reality café and organises business workshops.
BIG Camera – With more than 300 branches, BIG Camera is a specialist chain that offers one of the largest ranges of camera equipment and accessories in Thailand.
Opportunities Presented by Consumer Electronics Specialist Stores
Although consumers tend to search online for product information and price comparison, they still visit consumer electronics specialist stores for product testing and purchase. While consumers are still seeking value for money, the younger generation tends to pay more attention to innovation and product guarantees.
Leading retailers have invested in improving the in-store experience to adapt to these changes, for instance, demo products for trials and in-store recommendations. Physical stores are not just a place for making purchases, but also where consumers can explore innovative products.
While most consumer electronics specialist stores in ASEAN offer a full range of products, some just focus on a specific category, such as mobile phones accessories or audio/video appliances accessories. These shops become the destination for that particular category for a certain group of customers. Hong Kong electronic manufacturers who can identify shops or chains that carry the same type of products, target the same customer segments, and have similar positioning as their brand, will have a much greater chance to win consumer favour.
Department Stores
While department stores are suffering severe declines in the West, they are still thriving in ASEAN. Thailand's Central Department Store, The EmQuartier, and Siam Paragon are all packed with shoppers during weekends and holiday seasons.
To boost customer traffic, some department stores are experimenting with curated lifestyle assortments across traditional categories, bringing together cosmetics, fashion, consumer electronics and home products, etc. Major department stores in ASEAN offer a wide variety of consumer electronics, from smartphones, tablets, laptops and various game consoles, to electronic accessories, such as chargers, cables and converters, power banks, headphones, tripod stands, and selfie sticks, etc.
Department stores' biggest asset is their card members. Through customer loyalty programmes and good after-sale service, department stores cultivate and maintain strong relationships with these VIP members. For instance, the Mall Group, the top shopping mall developer and department store operator in Thailand, is sitting on a 'gold mine' of more than 3 million members.
Major Department Stores in ASEAN
Indonesia
Traditional department stores in Indonesia are facing stiff competition. There are a wide variety of department stores, all catering to a different target market. Metro, SOGO, and SEIBU target middle- and upper-class consumers, while local department stores like Matahari and Ramayana serve the mass market.
Matahari Department Store, the nation's largest chain, is operating over 150 stores across Indonesia. Another prominent department store, Ramayana, has over 110 branches. Indonesia continues to attract foreign department store players, notable examples include Lotte Department Store (South Korea), Parkson (Malaysia) and Central (Thailand).
Malaysia
Department stores remain an important shopping destination for Malaysian families, as most shopping malls in the country still have a department store as the primary anchor tenant.
Metrojaya Department Stores operate a chain of eight department stores and over 100 specialty stores offering items at medium-to-high price points. It currently has five outlets in Peninsular Malaysia, namely Mid Valley Megamall, Plaza Pelangi, Island Plaza, Bukit Bintang Plaza, The Curve and Mutiara Damansara.
Parkson Department Store comprises a network of 69 stores across Southeast Asia, with 45 outlets in Malaysia and 16 branches in Indonesia.
ISETAN is one of Malaysia's trendiest department stores, it is also the biggest ISETAN store outside Japan. There are three stores in Klang Valley.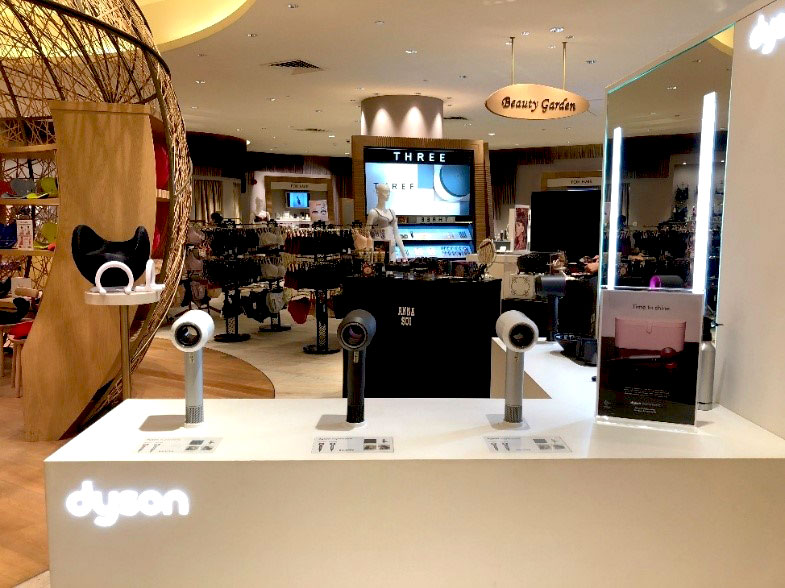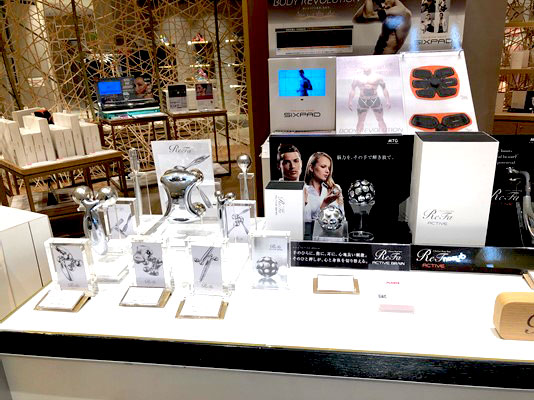 Thailand
In Thailand, the department store is a focal point for social gatherings, dining and recreational activities. Department stores are also key venues for events, such as new product launches, festive and holiday events, and small concerts, etc.
The competition between department stores in Thailand is very fierce, with numerous brands. Most high-end department stores are clustered in the Siam, Chidlom, and Phrom Pong areas. Examples of luxury department stores are Siam Paragon, Central Embassy and The EmQuartier.
Central Department Stores Group runs many leading department store brands in Thailand, including Central Department Store, Robinson Department Store and Zen. Central Department Store is positioned in the mid- to high-end market, whereas Robinson Department Store offers good value for money merchandise for the entire family.
In 2006, Zen Department Store was acquired by Central Retail Corporation and re-launched as the edgy lifestyle concept store it is today. Zen Department Store itself is an amalgamation of all that is modern in today's multi-brand and multi-product retailing. Part of the sixth floor of Zen is the showcase for the latest digital gadgets, among health and fitness equipment.
The Mall Group operates Siam Paragon, The Emporium and The EmQuartier. In its future development plan, the company will focus more on young consumers and tourists, representing plenty of opportunities for overseas suppliers of electronic accessories and gadgets.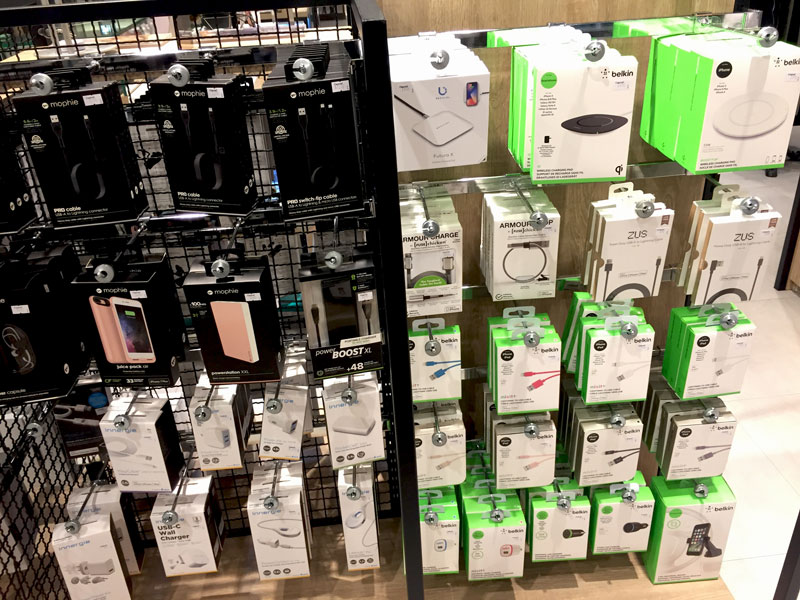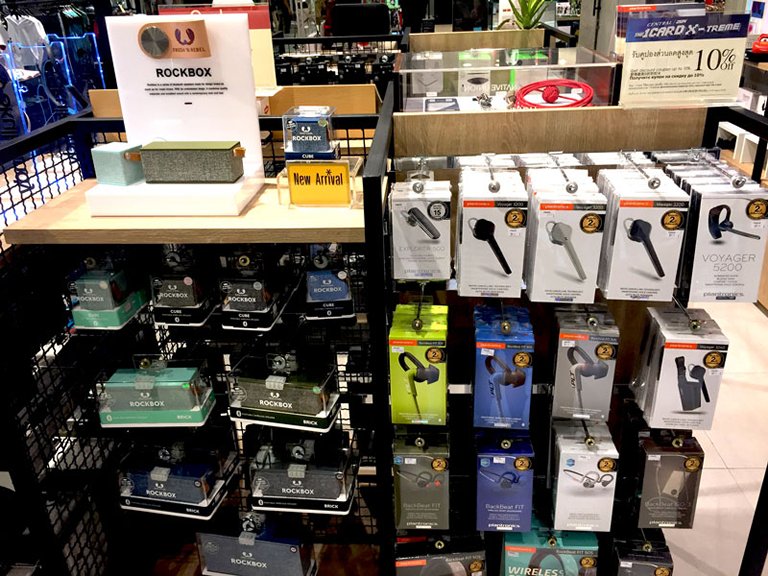 Opportunities Presented by Department Stores
Department stores are the top distribution channel for many foreign brands and suppliers due to high customer traffic. Non-branded products are less suitable for this channel for several reasons. First, they are less likely to be selected by department stores. Even if they get a foot in the door, they may need to pay high space rentals and ratio of profit sharing. Department stores take a cut of 20-40% on sales, depending on product category and brand strength, but the norm is around 35%. Non-branded products are expected to pay a higher commission.
As it becomes easier for brands to directly communicate with consumers – both through the brand's own website and their own stores – the role of department stores is changing. Instead of relying solely on supplies from established brands, department stores now are more open to work with emerging brands to bring in innovation and excitement to the product assortments and shopping environment. These collaborations between retailers and brands usually runs a limited assortment in limited numbers of stores for a certain period. This gives both parties a chance to test the market and see whether these short-term collaborations can be extended to a long-term relationship.
In recent years, some major department stores in ASEAN have expanded its electronic department and increased the amount of shelf space given to electronic accessories and gadgets. For one, these items are essentials for millennials who are always on the move and need the right tech gadgets to get connected and have fun. Also, presentation of the latest electronic accessories and eye-catching gadgets, coupled with demo zones, will draw customers in the store.
Department stores may source electronic accessories by attending trade shows or by referral. Hong Kong electronic accessories brands and vendors can also approach target retailers to present their portfolio. However, before knocking on the door, vendors have to do their due diligence to understand the positioning, target consumers, and sourcing habits of each department store.
Many department stores in ASEAN prefer working with distributors for the following reasons:
Distributors can purchase outright from suppliers. (Department stores work on consignment)
Distributors can supply small orders of a wider selection of products to department stores.
Distributors take care of importing and customs clearance of goods from the overseas supplier.
Distributors can warehouse and deliver the goods to department stores.
Many department stores buy foreign goods from a local importer, who operates like a domestic distributor or wholesaler. This will lower the freight costs and delivery time in comparison with international freight.
Some distributors assist in retail display and merchandising.
Some offer marketing materials and co-marketing opportunities.
There are also department stores that prefer buying direct from the manufacturer or brand owner, as it guarantees the lowest price. However, without the distributor in between, the overseas supplier must take up a large amount of follow-up work. No matter whether a supplier is selling direct to department stores or through a distributor, it is imperative that it keeps a close customer relationship with the department store and understands the needs and requirements of the retailing business. An emphasis should be placed on product sourcing, merchandising display, inventory management, and distribution in each local market.
Pros and Cons of Selling to Department Stores
The Pros
Greater brand awareness and validation
Higher visibility to other buyers
The Cons
Department stores do not purchase wholesale
Department stores require a higher commission rate
Production capabilities need to be able to handle big orders
Hypermarkets
With the notion of "everything under the same roof", hypermarkets are one of the most popular sales channels for consumer electronics, as these outlets offer a large assortment of products and – at times – heavily discounted prices.
Indonesia
In Indonesia, the hypermarket industry is dominated by Carrefour, Hypermart and Giant, as well as Lotte Mart from South Korea.
Carrefour – Carrefour Indonesia is managed by Trans Retail, the retail arm of a local conglomerate, CT Corp. There are more than 100 Carrefour hypermarkets and supermarkets across the country under four brands, namely Carrefour, Transmart Carrefour, Transmart, and Groserindo Carrefour.
Lotte Mart – Lotte Mart, part of the Korean conglomerate Lotte, currently runs more than 10 hypermarket outlets in Indonesia.
Malaysia
Tesco – Tesco opened its first store in Malaysia in 2002, a hypermarket in Puchong, Selangor. In 2007, Tesco acquired the Malaysian operation of wholesaler, Makro, which was then rebranded as Tesco Extra, providing products for local retailers. Tesco, which currently operates about 70 outlets in Malaysia, offers an array of electronic accessories, such as cable, chargers, Bluetooth speaker and headphones.
AEON – AEON operates about 20 AEON BIG hypermarkets in Malaysia, where the company's Southeast Asian headquarters is located.
Giant – Giant was founded in 1944 in Kuala Lumpur. In 1999, Dairy Farm International Holdings bought a 90% interest in the chain. The chain operates more than 80 hypermarkets in Malaysia and eight branches in Singapore. It offers basic electronic essentials, like adaptors and USB chargers.
Thailand
In Thailand, the hypermarket sector is mainly dominated by Tesco and Big C. With more than 2,000 Tesco Lotus stores across the country, Thailand is Tesco's largest market outside the UK.
BIG C – Founded in 1993, Big C is the second largest hypermarket chain in Thailand. The Big C Supercenter targets the mid-to-low market segment, with more than 100 stores as of end-2017. Big C Extra, catering to mid-to-high income customers, offers a wider range of premium food items and imported products, including electronic gadgets.
Opportunities Presented by Hypermarkets
The hypermarket is an effective channel to reach the large sub-urban population in Indonesia, Malaysia, and Thailand. However, this business model is under threat from online shopping. In response, key players such as Tesco, AEON, and Lotte have been transforming their business model and start to embrace e-commerce.
In addition, hypermarkets continue to improve product assortments in line with market demand, which means continuous merchandising growth of non-food lines to satisfy consumers' multiple needs in one shopping trip. The hypermarket is a suitable distribution channel for basic electronics accessories that every family needs. Some of the bestsellers in hypermarkets are game accessories, car accessories, cell phone accessories, PC and tablet accessories.
That said, customers shopping at hypermarkets are more price-sensitive than other distribution channels in ASEAN. Also, this channel requires very large stock from its suppliers. Smaller suppliers may not be able to ramp up their production capabilities to meet hypermarkets' requirements. Also, the profit margin offered is a determinant factor for the hypermarket on whether or not to stock a product.
Travel Retailers/Duty-Free Operators
The travel retail space offers a unique retail environment: 1) Travellers at airports are a captive audience; 2) Travellers often shop to pamper themselves on holiday; 3) It is a last chance to shop for gifts, and 4) The satisfying feeling shoppers have when buying duty-free (DF).
With the advent of increasing tourist arrivals in Thailand, Indonesia and Malaysia, the growth in travel retail is expected to be spectacular in coming years. DF shops can be found in airports, onboard airliners and ferries, as well as in downtown areas.
Airport shops are the major contributors to the DF market. For many travellers, shopping for duty-free products, including consumer electronics, is a part of their trips overseas. As travel retailing has grown in ASEAN, many international electronic brands also regard airport shops as an important touchpoint to tap into tourism shopping, which has become a favourite activity among middle class travellers in ASEAN.
Recently, the challenge facing travel retailers has been that the time available for shopping at an airport has been reduced. Because airport processes, such as security and check-in, have become quicker, travellers tend to arrive at the airport closer to the boarding time. There may be sufficient time to shop for pre-planned purchases, but not enough to maximise the potential for impulse sales, the most lucrative opportunity for travel retailing. In addition, today's travellers are far savvier and demanding about price and quality. They expect travel retailers to deliver extra value through product design and customer service.
Today, airport passengers are likely to carry at least one mobile phone and/or tablet and they wish to stay connected, synced, fully charged while on the road. To satisfy their needs, airport shops feature a broad assortment of the latest and hottest gadgets and accessories sourced from leading brands around the world. Special digital products, such global pocket wi-fi and a wide selection of SIM cards are most welcomed by business travellers and holiday-makers alike. Recently, the price advantage of travel retailers has been diminished due to the rise of e-commerce, which offers cross-border fulfilment and price transparency.
Major Travel Retailers/Duty-Free Operators in ASEAN
LOTTE Duty Free – South Korea's Lotte Duty Free has seven overseas locations, including Indonesia, Vietnam and Japan.[1] The DF store in Indonesia is located in Jakarta, which spans 5,500 sq m and offers wide range of products from more than 170 brands. LOTTE Duty Free has also opened a downtown store at SHOW DC Mega Complex in Bangkok, featuring Korean pop culture.
Heinemann Asia Pacific – Established in 2010, Heinemann Asia Pacific is a subsidiary of Gebr. Heinemann. It provides comprehensive travel retail solutions with its headquarters in Singapore and an extensive network spanning from Indonesia to Thailand and Myanmar.
iShopChangi – The duty-free shop at the Singapore Changi Airport offers travel exclusive deals, with buyers also able to shop online (www.iShopChangi.com) in advance. The online shop offers 8,000 products from over 500 brands. Categories include electronics, beauty, fashion and timepieces. Travellers can pick up their purchases at the departing terminal or duty-free stores.
E-Gadget Mini – E-Gadget Mini at Changi Airport carries a variety of electronics products from international brands like Canon, Sony, GoPro and Philips.
King Power – King Power is one of the leading Thai duty-free retailers with presence at major international airports and city locations throughout Thailand. Its stores offer a diverse mix of products from over 1,500 international and local brands. Apart from electronics, it also sells fashion, watches and cosmetics. Electronic brands featured by King Power include Apple, Canon, Nikon, Samsung, Sony, Philips, Go Pro, LifeProof, Moshi and iHome.
DFS Group – DFS Group is the world's leading luxury travel retailer. Established in Hong Kong in 1960, it offers products from over 700 brands through 420 boutiques on four continents.[2] Its network consists of duty-free stores located in 11 major global airports and 20 downtown locations, as well as affiliate and resort locations. Headquartered in Hong Kong, DFS operates over 10 DSF and T Galleria shops in Cambodia, Indonesia, Singapore, and Vietnam.
The Shilla Duty Free – Founded in 1986, The Shilla Duty Free is a leading Korean travel retailer offering merchandise from over 500 brands in fashion, cosmetics, perfumes, watches, etc. It also operates a downtown duty-free store in Phuket, Thailand as a joint venture with local Thai companies.[3]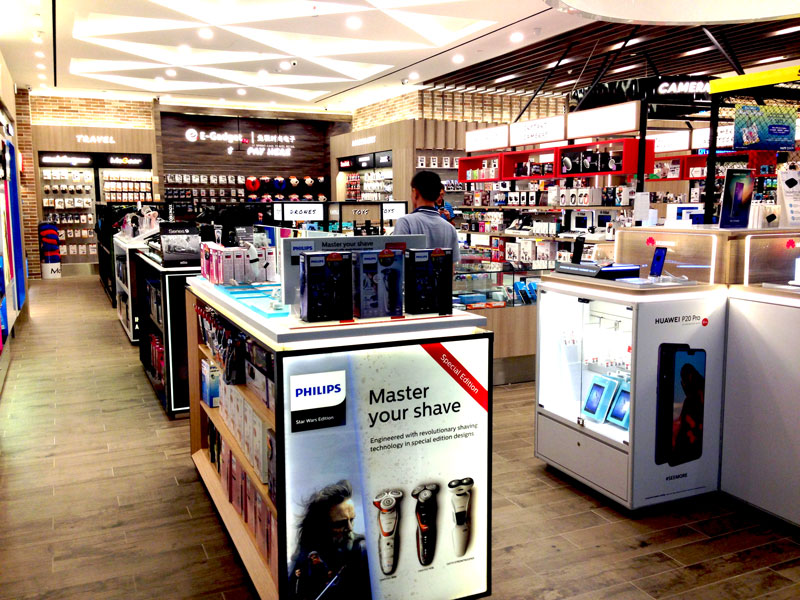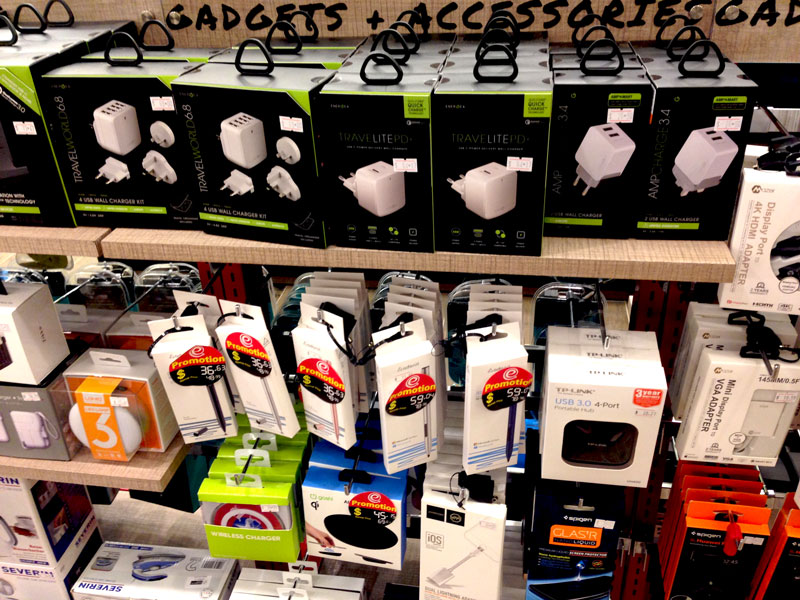 Opportunities Presented by Travel Retailers/Duty-Free Operators
Endowed with beautiful natural landscapes and numerous heritage sites, many countries in Southeast Asia, such as Thailand, Indonesia and Malaysia, have become tourism hotspots. The most remarkable growth has seen in tourists from mainland China; over the past decade, the number of mainland Chinese travelling to the region has increased fivefold. The continued rise in tourist arrivals and passenger spend at busy ASEAN airports explains why airport shops might be the perfect retail environment for items like electronic accessories to achieve sales growth and face-to-face brand engagement.
That said, travellers are becoming more discerning when shopping at airport stores. Consumption behaviour is chang­ing from a 'herding' effect to the pursuit of personal style. More luxury consumers are looking for less flashy and more understated goods, as well as subdued statements of luxury.
In response, travel retailers are increasingly focus on brand and assortment enrichment. Many duty-free companies complement point-of-sale strategies with high-impact marketing tactics, such as innovative product displays, 'travel exclusive' offers to stimulate purchase, as well as enhancing the in-store experience by combining the store environment, merchandise mix and customer service. These retailers prioritised seeking exclusive products for their shops to drive sales. This drive for more exclusivity within the travel retail channel offers an exceptional opportunity for electronic accessories with original design concepts.
The brand and DF operator normally work on profit sharing basis. If the product does not sell, the DF operator will return it to the seller. Sales commission is the major consideration for a DF operator, generally between 60% and 70%. In high-cost locations like Hong Kong or Singapore, DF operators' share is closer to 70% as the they need to pay high rent to the airport, plus a share of their profits.
However, this does not mean that the supplier gets to keep the remaining 30%. First, they have to pay for the agent who helped access the DF operator. Then there may be costs incurred for the sales persons, cashiers, and stock management personnel. Before the deal is signed, suppliers must carefully calculate the price structure to make it profitable.
---
[1] Lotte official website http://en.lottedfs.com/about/lottedfs
[2] DFS official website: https://www.dfs.com/en/about-dfs
[3] The Shilla Duty Free official website: http://sg.shilladutyfree.com/en/about/
Please click here to download the full research report.
Electronics & Electrical Appliances
Malaysia
Thailand
Indonesia
Southeast Asia
ASEAN