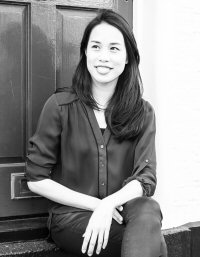 Inspired by Vitruvius, a Roman architect with revolutionary ideas about proportions, balance and beauty, Vitruvian Man was established in 2018 after founder Vivian Lau – with a background in pharmaceuticals – received requests from male friends for skincare advice. Upon researching men's skincare market, the entrepreneur discovered there wasn't a great selection. Spotting a market niche, she set about developing her own natural organic line from scratch. Ms Lau was simply well-placed to enter the market -- having studied fine arts and chemistry. She worked in the pharmaceutical industry in Hong Kong for Jacobson Medical (now Jacobson Pharma Corporation Limited) in OTC import, New Product Development and CSR. She was also employed by ADA Cosmetics International GmbH, which is headquartered in Germany and Hong Kong, as Head of Asia-Pacific Marketing Liaison.The entrepreneur visited different trade shows in Europe, including the Indie Beauty Expo in London, to find potential partners and eventually returned to Germany – where she had contacts and could access high-quality ingredients and the right pricing. The brand currently has two products – an anti-pollution cleanser-and-toner, and a resurrection cream which is a moisturiser with built-in sun-protection factor (SPF). Formulated in Hamburg, and manufactured and packaged in Baden-Baden, the products are currently available at The Hub Medical Centre and anti-aging clinic Medical Arts in Hong Kong, as well as boutiques in London, Amsterdam and Barbados, in addition to the brand's website.

The brand was one of the finalists for Best New Male Grooming Products at the Natural & Organic Products Europe show in 2019 and was shortlisted for the GQ Grooming Awards this year in the Best Sustainable Product Category.
Universal appeal
The range has impressed Ms Lau's male friends but women have also given favourable feedback on the products. With no harsh ingredients, the cleanser and toner don't dry out skin, according to the brand. "I was determined to develop a cleanser and toner that was gentle on skin," she said. The all-day moisturiser, meanwhile, is easy to apply and contains a mineral sunscreen made from zinc oxide that is eco certified, said Ms Lau, adding she uses the moisturiser herself as a primer. "Women like the scent,' she explained "It's an essential oil mix and if you use it in the shower, it's like going to a spa." In autumn, Ms Lau plans to launch an all-day moisturiser without SPF that will be lighter and more fast-absorbing, along with an overnight cream and eye cream. With new products to launch, Ms Lau is currently focused on preparing marketing materials for their debut. Online marketing will be crucial to her campaign. "For a new brand like myself, people need constant reminders of where they can find me; they need [regular exposure to] the brand, and the products."
A timely launch
Ms Lau feels her products have been launched at the right time, with the natural, organic skincare market expanding rapidly at present, and men generally more aware of skincare rituals. "Men do want to take better care of their skin, and they understand [the importance of] maintenance, wearing sun screen every day," she said. Asian men are generally more aware of their skin than their European counterparts, Ms Lau said, with millennials in particular seeing the need for solid skincare routines. "There's a better understanding about what healthy skin means, and what terms like skin tone, lifting or brightening mean. But Asian men have long been exposed to K-beauty and J-beauty, and items like face masks. In Europe, that's only just happening." Nevertheless, in Europe, there is a big demand for natural, organic skincare products and more understanding of the benefits of using organic products, she said.
Business expansion
Ms Lau enjoys most aspects of being an entrepreneur but for her scaling up and maintaining the production timeline have proved challenging, as has finding the right people to join the start-up. "I like being able to create things from scratch, design products and find creative ways of explaining the product to customers, then learning how to put it all together to make a profitable business."Like many young Hong Kong brands, Ms Lau is keen to expand in the Mainland China market. Currently, mainland consumers can purchase her products on social e-commerce platforms including WeChat and The Little Red Book. She is considering working with spas in the mainland, and is also in talks with potential business partners in markets that understand spas well, such as Austria and Switzerland.Ms Lau said Hong Kong is an attractive place to set up a grooming business as the skincare industry in the city has fairly relaxed regulations, and it's easier to set things up financially than in Europe. "Doing business in Hong Kong is relatively easy, because the city is relaxed on things like taxation. All things considered, it was straightforward to set up the brand, and you can see why the city is a hub for business."The entrepreneur will boost her brand's profile by attending skincare trade show Cosmoprof Asia in Hong Kong in November, where she hopes to look for distribution partners for the mainland and other Asian markets. Given that her products have gone down so well with women, Ms Lau is also considering launching a unisex line next year. Cosmetics makers wishing to enter the mainland market can join the Hong Kong Trade Development Council at the Chic HK, Guangzhou show in the Guangdong capital in January 2020.
Related link
Vitruvian Man