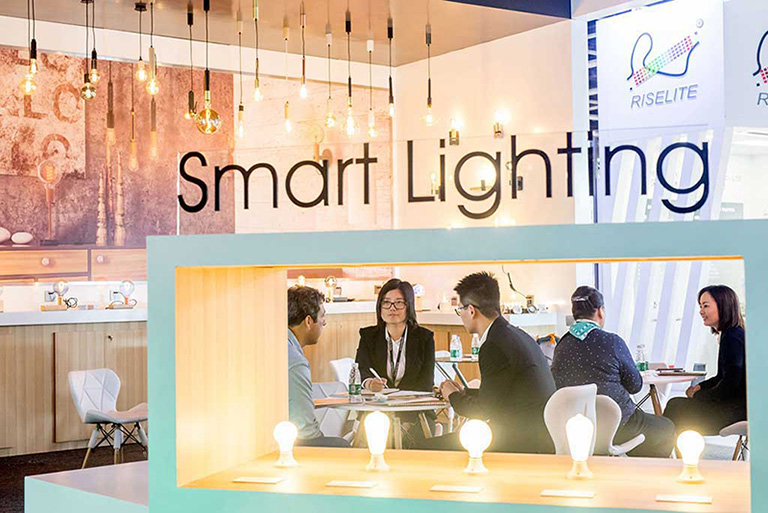 https://hkmb.hktdc.com/en/1X0AHGH7
HKTDC Hong Kong International Lighting Fair Survey Spring 2019: A Brighter Outlook
Overall, the lighting industry is reasonably optimistic about its immediate prospects, according to the findings of survey conducted during the course of the 2019 HKTDC Hong Kong International Lighting Fair (Spring Edition) held from 6-9 April. This indicated that both buyers and exhibitors were cautiously upbeat about the near-term prospects for lighting products, with more than half of all respondents anticipating positive sales growth for the remainder of 2019. In particular, strong demand from the Asia-Pacific region was seen as likely to buoy the lighting industry over the next two years.
Overall, for 2019, commercial lighting was seen as the area where demand is likely to be the strongest, while it is also thought that the market potential of smart lighting – particularly with regard to home automation and control systems – remains considerable. It is also thought that sales of sensor-integrated lighting systems with automatic dimming functions will similarly pick up.
Cautiously Optimistic
Although the US-imposed Section 301 tariffs cover a broad range of lighting products, some 47% of respondents reported that, to date, their exports have yet to be negatively affected by the on-going China-US trade dispute. Looked at less optimistically, virtually exactly the same percentage of those surveyed, however, indicated that they had already suffered a downturn on account of those same tariffs.
Typically, exhibitors seemed more vulnerable to the tariffs, with 59% of them reporting an adverse effect, compared to just 40% of buyers.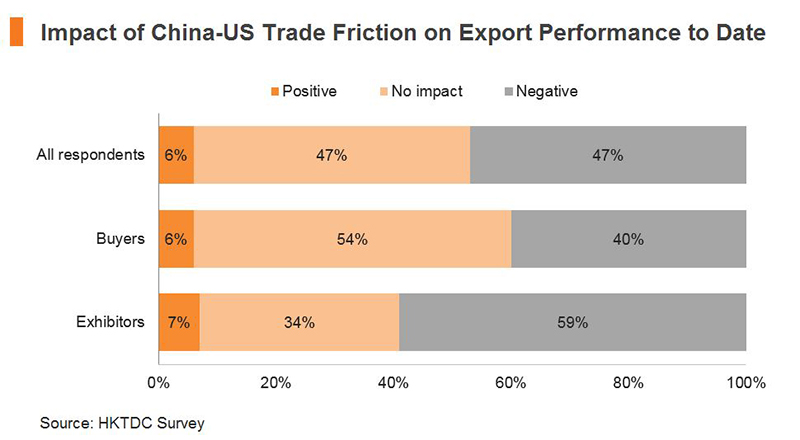 Despite that the trade dispute might ultimately have a negative impact on lighting exports, many industry players were more positive that the dispute would be resolved over the near-term.

In total, 46% of respondents believed the China-US trade dispute would not negatively impact on the overall level of lighting exports, an increase of 17% on the 29% recorded when a similar survey was conducted during the previous HKTDC Lighting Fair in October 2018. In line with this, 47% of respondents remained concerned about a possible negative impact, down from 53% in the previous survey.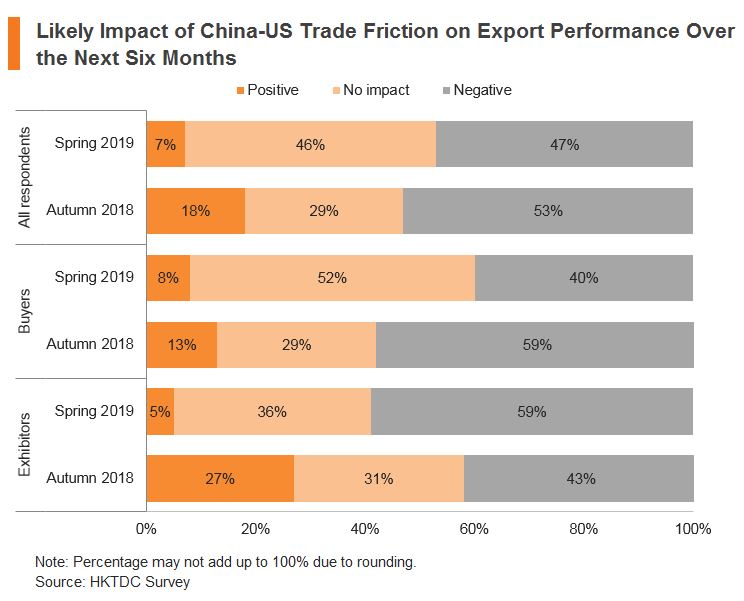 Evaluating the market prospects of lighting items for 2019 as a whole, respondents were more positive with regard to a likely increase in sales, again this is evidence of an overall improvement in sentiment since the previous Fair. In total, more than half of all respondents (54%) anticipated positive sales growth – a 16% increase on the October 2018 figure – while only 9% of respondents expected their sales to decline.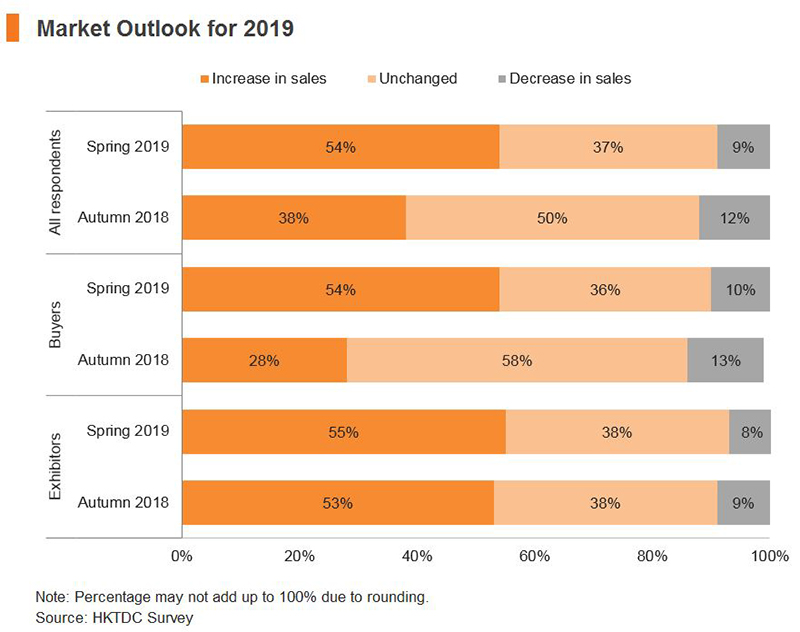 According to the majority of industry players, the Asia-Pacific region will remain the key market for lighting products. Of the region's traditional markets, South Korea was seen as likely be the most promising over the next two years, with a score of 3.9 (based on a 1-5 scale, with "1" being "very unpromising" and "5" equating to "very promising"). Close behind were Japan, Australia / the Pacific Islands and Taiwan, all of which recorded a score of 3.87.
This time round, there was notably less optimism with regard to the markets of North America and Western Europe than for their Asia-Pacific counterpart. Despite this, the industry had more confidence in the North American market than it had in October last year, with its rating rebounding strongly to 3.75, well up on the 3.11 recorded previously.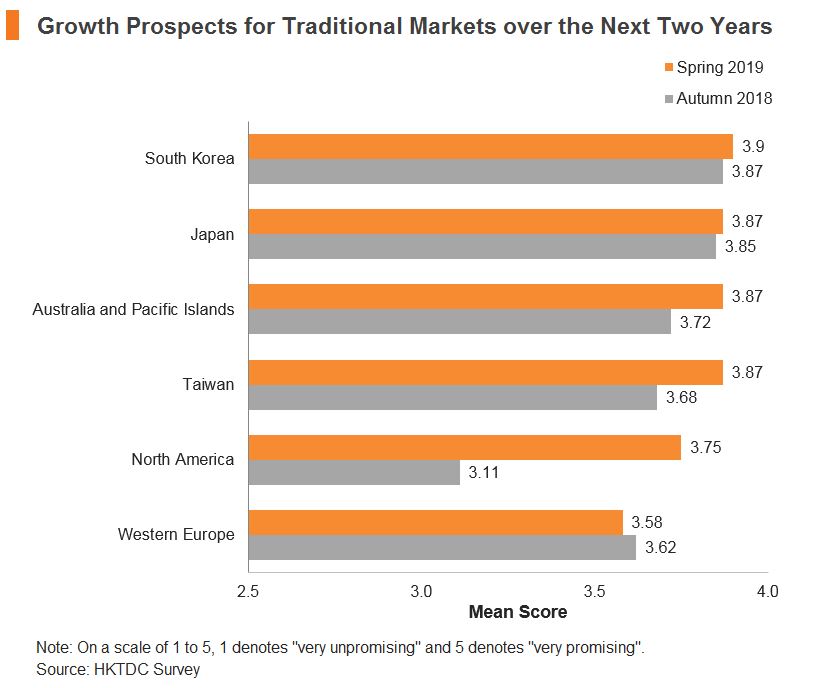 Turning to the emerging markets, industry players anticipated particularly strong demand for lighting products from the Middle East, with its score of 4.06 the highest accorded any of the overseas markets. Among the other markets viewed positively were mainland China (4.01), the ASEAN bloc (3.97) and Latin America (3.73).

Smart Lighting

Product-wise, commercial lighting products were seen as those most likely to shine in 2019, with about a quarter of respondents (24%) seeing them as set to be the year's most sought-out items (up from 9% in October 2018). Commercial lighting aside, sales of smart lighting / solutions (22%) and residential lighting (22%) were also tipped to rise throughout the course of the year.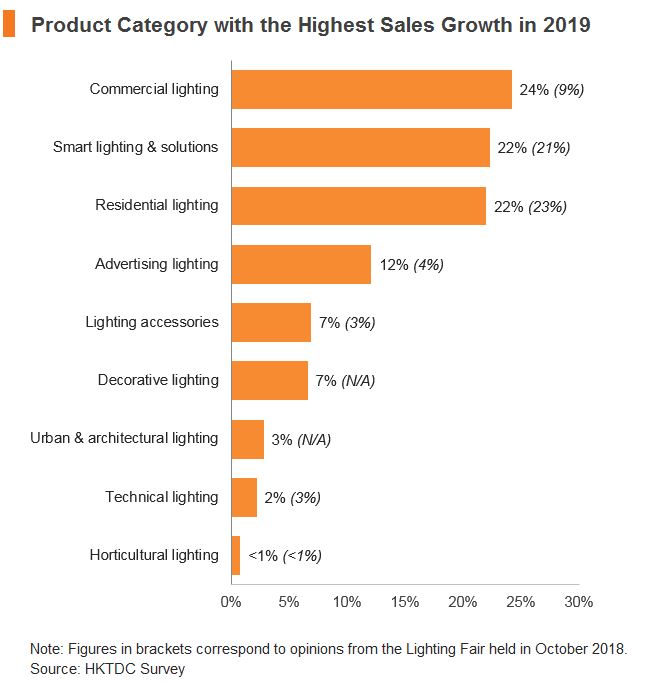 Looking further forward, smart lighting was seen as likely to remain the focus of the industry for some time to come, with the vast majority of respondents (89%) convinced of its market potential for the next two years. As for the areas with the greatest potential for development within than smart lighting sector, more than one-third of all respondents (38%) singled out home automation / smart lighting control systems, while outdoor smart security lighting systems (21%) and energy-efficient lighting control solutions (15%) also received significant endorsement.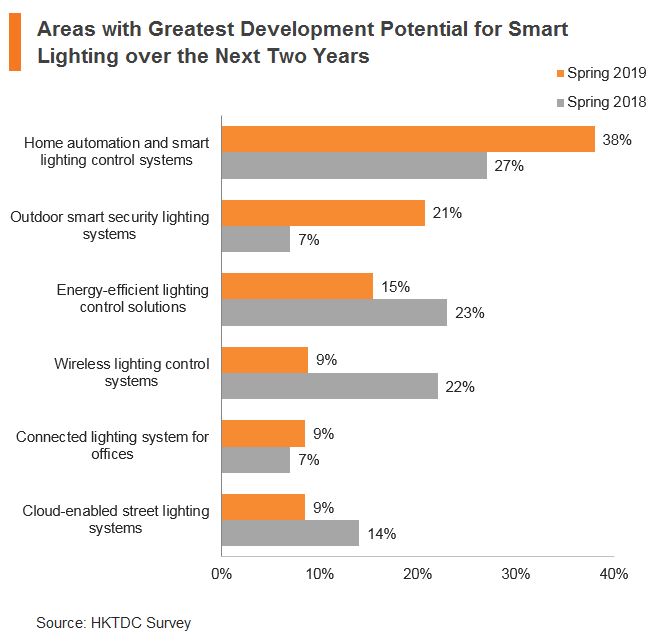 With regard to the rapid development of smart lighting, industry players were also confident that such intelligent technologies could be usefully integrated into a range of lighting products. Overall, sensors / automatic dimming was still seen as the smart lighting application most likely to appeal to consumers, with more than one-third (37%) of all respondents endorsing it. Other usages seen as likely to do well included remote control / voice control (27%), wireless technology (16%) and a variety of ancillary functions (13%).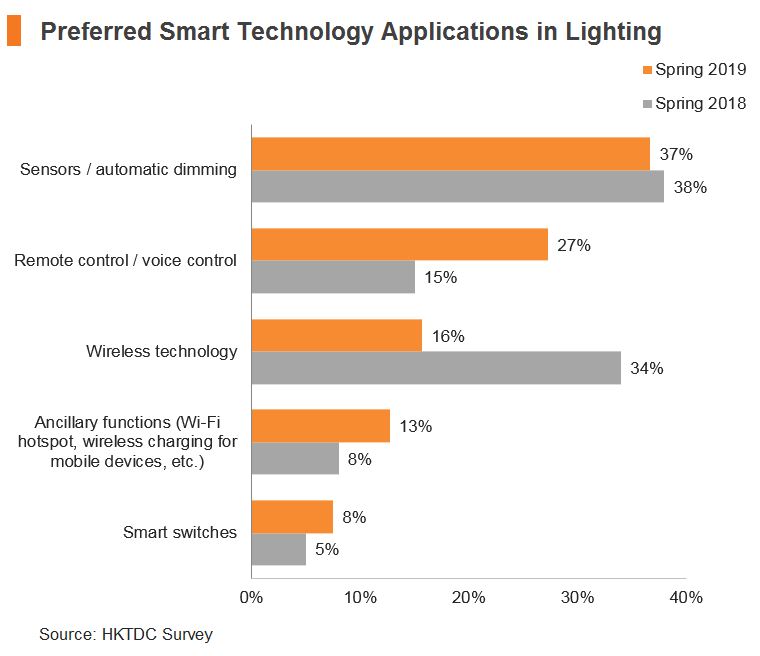 Respondents' Profile

The HKTDC Hong Kong International Lighting Fair 2019 (Spring Edition) took place from 6-9 April. During the course of the four-day event, HKTDC Research interviewed 363 industry players – 226 buyers and 137 exhibitors – in order to determine their views on the lighting sector's prospects and the product trends likely to prove significant over the coming year.

Of the 226 buyers canvassed, 34% were based in Hong Kong, while the remainder were based overseas. Their primary sales markets were identified as Asia (outside Mainland China) 44%, mainland China 38%, and Western Europe 25%.

Of the 137 exhibitors surveyed, 15% were based in Hong Kong, while the remainder were based overseas. Their primary export markets were identified as Asia (outside mainland China) 66%, mainland China 45%, Western Europe 34%, and North America 23%.
Electronics & Electrical Appliances
Lighting Products