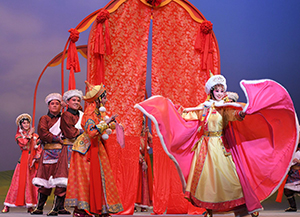 Hong Kong became the global champion for Cantonese opera with the January opening of the Xiqu Centre in the new West Kowloon Cultural District (WKCD) arts hub.Six years in the making, the Xiqu Centre is a world-class performing arts venue dedicated to the conservation, promotion and development of traditional Chinese operatic theatre known as
xiqu
. The centre aims to foster the discovery and appreciation of this unique art form among new generations of Hong Kong people and international visitors, advancing cultural exchange and unleashing the artistic potential of fresh young local talent.
The HK$2.7 billion (US$346 million) Xiqu Centre is the first major building completed at WKCD, the largest cultural initiative of its kind in the world.At the centre's opening, Carrie Lam, Chief Executive of the Hong Kong Special Administrative Region, said this new home for the art form's development "shoulders an important mission to preserve and promote
xiqu
culture"."I hope that different community groups will come together to promote xiqu development and showcase the true essence of Cantonese opera and other genres of
xiqu
to the world through the Xiqu Centre," she said.Henry Tang, Chairman of the Board of the West Kowloon Cultural District Authority (WKCDA), expects that the venue will bring together different
xiqu
genres from Mainland China, of which there are more than 300.The design of the Xiqu Centre was a joint venture project won by Canada- and Hong Kong-based Revery Architecture (formerly Bing Thom Architects) and local firm Ronald Lu & Partners, in an international design competition. According to the design statement, the centre seeks to "embrace the cultural richness of East and West by creating a contemporary expression that allows this most ancient art form of Chinese cultural heritage to continue its trajectory as it evolves with contemporary technology".The centre will feature on the new HK$100 banknote, emphasising its social and cultural significance to the Hong Kong spirit.
Innovative design approach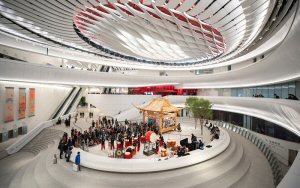 The Xiqu Centre houses the 1,000-seat Grand Theatre, uniquely situated at the top of the building and flanked by two outdoor sky gardens overlooking Victoria Harbour and the city beyond. The innovative design decision to suspend the main theatre 27 metres above the ground strategically isolates the auditorium from the vibration and high ambient noise levels of the building's urban surroundings.Elevating the theatre also creates space for the multi-level atrium and plaza comprising rehearsal spaces, the 200-seat Tea House Theatre, as well as education and administrative spaces.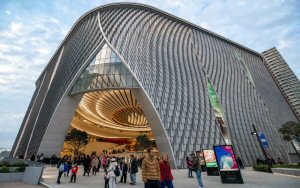 Qi (flow) is expressed throughout the complex with curvilinear paths and forms designed around a vast circular atrium.
An iconic landmark on the vibrant Hong Kong waterfront, Xiqu's dramatic glowing curvilinear facade reimagines theatre drapes and the swaying folds of the performers' costumes. Made from precision-cut untreated marine-grade aluminium pipe, the woven metal panels are gently pulled back at all four corner entrances to the building, radiating light to the exterior while revealing the vibrant flow of visitors through the interior courtyard. Opening up into a circular atrium, this naturally ventilated courtyard plaza invites the public to enjoy the exhibitions, browse shops, listen to music or watch xiqu demonstrations, making this most traditional Chinese art form accessible to new audiences and future generations.
Inspiration lives on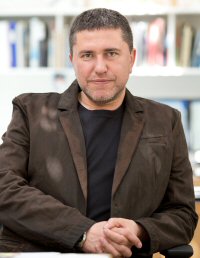 Venelin Kokalov, Design Principal at Revery Architecture, said the acoustics and sightlines designed specifically for the Xiqu Centre, along with motorised rigging systems and the latest theatre technology, "allow the xiqu art form to remain relevant for another 1,000 years".Much of the design inspiration came from the late architect, Bing Thom, who was born in Hong Kong. After his sudden death in October 2016, the rest of the architecture teams were left to complete the project.Mr Kokalov had been working alongside Thom from the beginning of the project.
"I was shocked and saddened by the loss of Thom, but with the support of our client for the work that we were doing as a team we were able to seamlessly carry on with the project to its successful opening this year," he said. Mr Kokalov believes the architectural team have created a space "that will be active day and night, in any season".Louis Yu, Executive Director, Performing Arts of the WKCDA, emphasises the centre's diverse appeal."Xiqu Centre is a new landmark in Hong Kong for the public and tourists to experience and enjoy traditional Chinese xiqu," he said. "It will showcase outstanding programmes, promote the development of new repertory, reach new audiences, foster cultural exchange, and provide opportunities to nurture young talent." In addition to its role as a performance venue, Mr Yu added, the Xiqu Centre "is committed to promoting and developing the art of xiqu. A series of educational and promotional events will be organised to attract audiences of all ages to appreciate Chinese xiqu."
Related links
Revery Architecture
Ronald Lu & Partners
Xiqu Centre