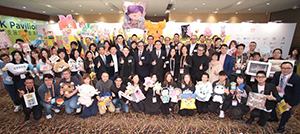 Despite being 83 years old Peter Tse has painted more than 50 watercolours and created greeting cards with the theme "Impression of Hong Kong". He has turned his attention to technology, launching smart paintings with augmented reality features.In January this year, Mr Tse took part in the HKTDC Hong Kong International Licensing Show hosted by the Hong Kong Trade Development Council. At the exhibition, he reached an agreement with a local technology company Digital Oasis to use his watercolour painting series "Impression of Hong Kong˙The Night is Still Young – The Bank of China Tower Glows in the Dark" in VisualSonic, an ultra-thin speaker equipped with augmented reality (AR) features. The technology showcased for the first time at the HKTDC Hong Kong Electronics Fair (Spring Edition) held in April.
Combining Visual & Audio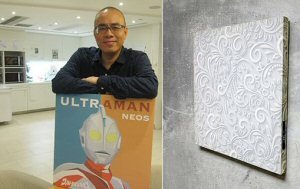 Digital Oasis managing director Stephen Lam said the wall-mounted music device, VisualSonic, uses a patented resonance canvas along with special paints to deliver high-fidelity sound and images. The images and audio sources such as music or movie sound-tracks can be delivered to the speakers over Bluetooth within a 20-metre range. VisualSonic can play songs consecutively for up to 30 hours when it's fully charged. Pairing up two devices will create perfectly synchronised stereo speakers.
"VisualSonic is a clever gadget marrying music and design to provide an arty, delightful experience for your eyes and ears," said Mr Lam. "We're working with different artists and designers around the world to offer a wide variety of modern artworks to match any home decor or personality."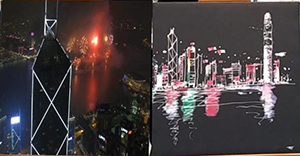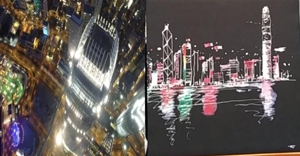 The AR technology, integrating digital information with the user's environment in real time, makes the ultra-thin (3cm) VisualSonic speaker even more interesting. The images printed on the canvas are AR-enabled and allow new information to be added. Users may download a mobile application and watch a related short movie on a phone.
Architect by training
Mr Tse is one of 50 artists to win the Excellence Award in the Circle Foundation's Artists of the Year Award in France in 2018/19. He would like to share the beauty and vibrancy of Hong Kong with people in the city and abroad through his paintings. Mr Tse graduated from the University of Tianjin (formerly known as Peiyang University) in 1962 where he learnt the sketching and watercolour drawing from Professor Yang Huaguang, who had studied in Paris. An award-winning architect, interior designer and landscape architect, Mr Tse established Sum Art Design Engineering Company in 1988 and participated in many large-scale architectural design and landscape design projects in such cities as Warsaw and Bangkok. He is also an inventor who has developed patented waterproof technologies including steel glue and light wall panel.
Western style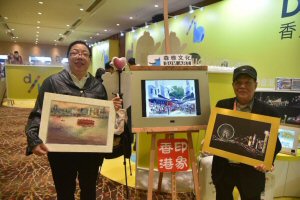 In 2009, Mr Tse's friends introduced him to Sandy Lau who is engaged in the textile industry and later became the chief designer, curator and director of SUM ART. "I know that Mr Tse is good at watercolours and pen sketches and paintings. His work is solid. Because he is an architect, his paintings are particularly meticulous, and his Western style is different," Ms Lau said. Her role in textiles has given her a strong sense of colour. "Especially in the early years, when we did woven fabrics and often went into the dyeing factory. We are interested in fashion and have an appreciation for beauty."Ms Lau has worked extensively in Europe and the United States, and knows foreigners are very interested in Eastern culture. She encouraged Mr Tse to paint on the theme of "Impressions of Hong Kong". The paintings include the Hong Kong "Cosmopolitan Series" - depicting many landmarks in the city such as Temple Street, the Bank of China Tower and the Kowloon Mosque. The works showcase the diverse cultural characteristics of Hong Kong's traditions and modernity. "The Kowloon Walled City Park Series" depicts buildings with traditional Chinese architecture in the park. The "Customs Series" shows Hong Kong people's lives through Hong Kong festivals.Other themed painting series include "the Chi Lin Nunnery and Nan Lian Garden", and "Hong Kong Coastline". Mr Tse established SUM ART Culture in 2017 and transformed the paintings into postcards and greeting cards. Ms Lau said the greeting cards and postcards were placed at Hong Kong's tourist spots for sale and drew a good response."As long as you look at the paintings, you can see the distinct layers and rich colours. And Mr Tse is good at painting buildings with meticulous observation. I also like to add characters to embellish and add a touch of character to the paintings," she said. "Mr Tse loves Chinese poetry and poetry, and will add his favourite poems in paintings, and then match the Western style, bringing out the poetry of Chinese and Western culture."
Calligraphic poetry
Modern communications technology meant urban people now seldom write postcards and greeting cards, Ms Lau said. "Imagine foreign tourists, buying postcards and greeting cards with the theme of Hong Kong and sending them back to their countries and friends. It is very interesting way to introduce Hong Kong's history and culture." She admitted they had limited scope to deploy their work through this channel. However, by authorising use of the watercolour paintings in a variety of goods, they could enrich the product line so more people could know more about Hong Kong.In addition to flat paintings, Ms Lau also thought about using innovative technology to make 3D or even AR versions of Mr Tse's paintings, or multimedia versions with matching music. She said the Digital Oasis innovations will bring the paintings into smart homes.She said the Digital Oasis technology displayed the paintings on speakers and connected the speakers to a mobile app, allowing control of music and movie playback. "The current version is an AR short film that promotes Hong Kong tourism as the theme, but there are many choices for short films. Other options include music playback, voice commands and lighting control. Integrated with the smart-home concept, this opens up the international market," she continued. Other innovative creative uses of technology can include putting QR codes on postcards or bookmarks to promote Hong Kong short films.
Art-tech journey
Ms Lau is one of the speakers at the HKTDC Entrepreneur Day. She will share her entrepreneurship journey, which combines art and technology, at the "Entrepreneurship Explorer" seminar at 3pm on 17 May (Friday). For more details: http://m.hktdc.com/fair/eday-en/HKTDC-Entrepreneur-Day.html Date: 17 May (Friday)
Time: 3pm
Venue: Demo Area, Hall 1E, Hong Kong Convention and Exhibition Centre
Topic: The Entrepreneurship Journey of Combination of Art and Technology
Speaker: Sandy Lau, chief designer, curator and director of SUM ART
Related link
SUM ART