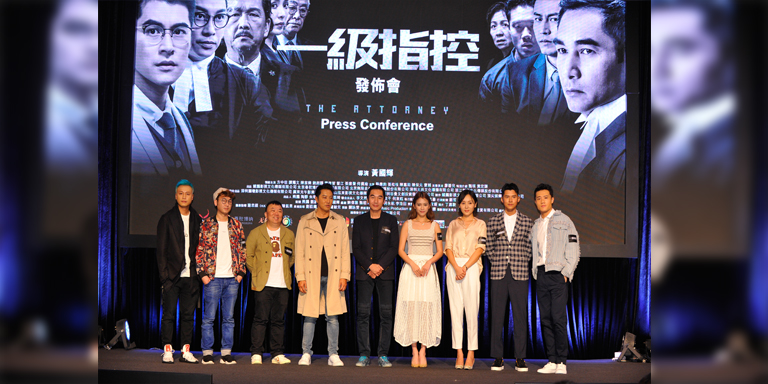 https://hkmb.hktdc.com/en/1X0AGU6C
FILMART brings in Tinseltown
Spotlight is on OTT as the digital revolution transforms the silver screen.
The world of showbusiness came to Asia's world city in March as nearly 9,000 media buyers flocked to the 23rd edition of the HKTDC Hong Kong International Film and TV Market (FILMART), which transformed the Hong Kong Convention and Exhibition Centre into Tinseltown.
Over the top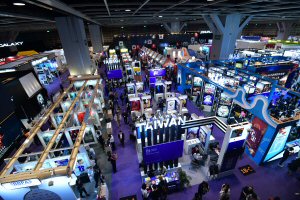 The rapid emergence of over the top (OTT) platforms in recent years was a hot topic of discussion at FILMART. Jonathan Spink, CEO of HBO Asia, said despite the challenges, the future is looking very healthy for OTT services. "You will see people not just selecting and paying for one platform, but for two or three, and people are watching more content than ever before."

Sean Park, Marketing Director of YouTube International Markets, said YouTube has become part of everyday life, with 500 hours of YouTube content being uploaded every minute. "Some 70 per cent of views are on phones, for an average of an hour a day – about the time many spend commuting."

At this year's FILMART, more than 60 scheduled events – including professional seminars, new film launches and networking activities – facilitated exchanges and business matching. Major film and TV production companies announced new projects on-site. There were also more than 300 screenings, including over 100 world or Asia premieres and numerous award-winning productions. FILMART featured the Online Catch-Up Screening facility for the first time this year, enabling buyers and visitors to view exhibitors' works at any time.

Many feature-film makers sealed distribution deals at FILMART, with Acort International of the US reaching a distribution agreement for World W4R with buyers in Korea, Vietnam and India. Mainland-based China Central Television (CCTV) said many new-media platforms, including Facebook, in addition to TV stations, negotiated with them at FILMART this year.

FILMART's thematic seminars featured an impressive line-up of nearly 60 leading industry representatives from the film, digital entertainment, animation and other sectors. The 14 seminars organised by the HKTDC solely or in conjunction with other institutions attracted more than 3,000 attendees.
Film finance
FILMART is the anchor event for Entertainment Expo Hong Kong and includes the Hong Kong - Asia Film Financing Forum (HAF), widely recognised as one of the most important film-financing platforms in the region. The 17th HAF showcased 42 shortlisted projects, including 19 "Work-in-Progress" projects. This year also marked the third edition of the WIP programme in which, for the first time, a separate section for documentary projects was organised. The programme offers a great opportunity for fiction and documentary filmmakers to secure post-production funds, sales agents and film festival support. Hong Kong International Film Festival Society Curator and HAF Director Jacob Wong called this year's HAF "a resounding success". "Both the number and total value of this year's awards have set new records, affording more resources and opportunities for filmmakers to realise their dreams. As a mission, HAF will continue to support the robust development of emerging talents in Hong Kong and Asia by seeking out promising filmmakers with interesting film projects," Mr Wong said.
Young filmmakers pitch
HAF also offered the fifth Operation Greenlight, which introduced new film directors identified through the First Feature Film Initiative (FFFI) to international producers and investors. Operation Greenlight was introduced in 2015.

"The results are encouraging as a significant number of film projects have in the past been realised through this pitching platform," Victor Tsang, head of Create Hong Kong, said.

"With the [Hong Kong Special Administrative Region] Government's proposed injection of HK$1 billion into the Film Development Fund, the FFFI will be enhanced to attract more candidates with creativity and potential, and the coming Operation Greenlight will also be strengthened to provide stronger support to emerging film talents," he said in the run-up to the event.

The young filmmakers' proposed productions included a drama about a tattoo artist, a mystery about an unclaimed body, a thriller about flatmates sharing a coffin home and a drama about a taxi driver-turned chauffeur.
Greater Bay Area focus
FILMART this year focused on the development of film and TV in the Guangdong-Hong Kong-Macau Greater Bay Area. Leading industry representatives in the Greater Bay Area explored the cooperation opportunities and future development for Guangdong, Hong Kong and Macau film, TV and music in events including the TV World 2019 Opening Ceremony and International Forum, "Cantonese Movies Opportunities in the Greater Bay Area Forum" and "Hong Kong Asian-Pop Music Festival Business Forum: Greater Bay Area – New Business Opportunities for Cantopop". Allan Zeman, Chairman of Lan Kwai Fong Group, believes the film and TV industries in the Greater Bay Area need to understand each other and how everyone can work together to grasp those opportunities. Sin Kwok-lam, Honorary Chairman and founder of National Arts Entertainment and Culture Group Ltd, hopes the mainland could further relax the restrictions and quotas on Hong Kong films, allowing them to be released directly in the Greater Bay Area, which has a population of about 70 million.

Related links
Entertainment Expo
FILMART
Film & Audio-Visual Production