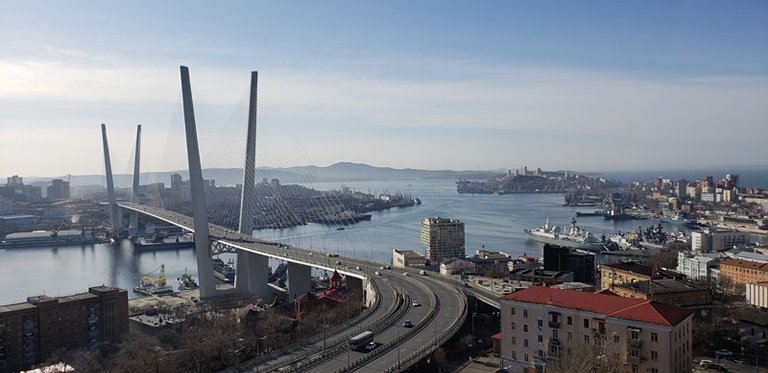 https://hkmb.hktdc.com/en/1X0AGOR9
Russian Far East Opportunities: Manufacturing Investment
The rise of the Russian Far East District (FEFD) as an attractive destination for investment in manufacturing is down to several factors - rich natural resources, abundant land, an upgraded infrastructure, unfettered access to the markets of the Eurasian European Union (EAEU[1]), and the availability of generous tax incentives. It is proving especially attractive to resource-intensive manufacturing industries, both upstream ones such as agriculture, aquaculture, forestry, petrochemicals and chemicals, and downstream like food processing, paper and pulp, rubber and plastics, electrical equipment, medicine and jewellery.
Expanding with Strategic Investment Vehicles
The FEFD is a Russian federal district which shares borders with Mongolia, China and North Korea. Since a recent restructuring, which saw its administrative capital move from Khabarovsk to Vladivostok, it has expanded to cover 11 so-called "subjects" (a collective name for areas variously labelled regions, territories and republics).[2]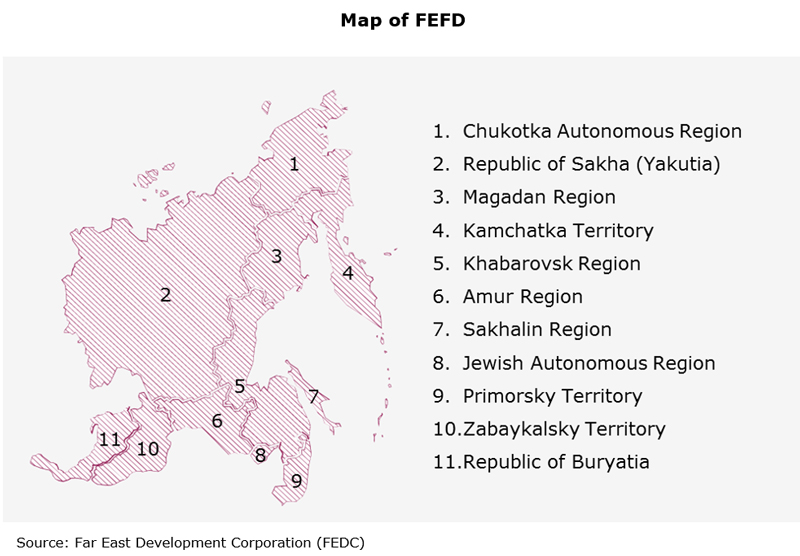 Although it is home to less than seven million people, just 5% of Russia's total population, it comprises one-third of the country's land mass and contains major deposits of diamonds, oil and gas, gold, coal and polymetals. Its population enjoys a relatively high average monthly salary – in November 2018, it stood at RUB54,000 (US$810), 27% higher than the national average. This is largely down to the blossoming of the mining industry in Sakha and Sakhalin, and the flourishing of the logistics industry in Primorsky and Khabarovsk.
However, its development has suffered somewhat because of the rapid economic growth of western (or European) Russia, and in particular that of cities like Moscow and St Petersburg. That has led to a sustained migration of labour away from the FEFD, and an increasing dearth of infrastructure investment across the vast territory. These, in turn, have meant that the costs of labour and living in FEFD are higher than they might otherwise have been.
The Russian government has taken action to try to arrest this and make FEFD more attractive to both local and overseas investors. In the past five years, it has introduced more than 180 pieces of legislation and set up a ministry – the Ministry for the Development of Russian Far East – and four government agencies to accelerate infrastructure improvements and increase industrial capability in the FEFD. One of the most important initiatives was the establishment of the Far East Development Corporation (FEDC) which oversees the district's Advanced Special Economic Zones (ASEZs) and Free Ports of Vladivostok (FPVs).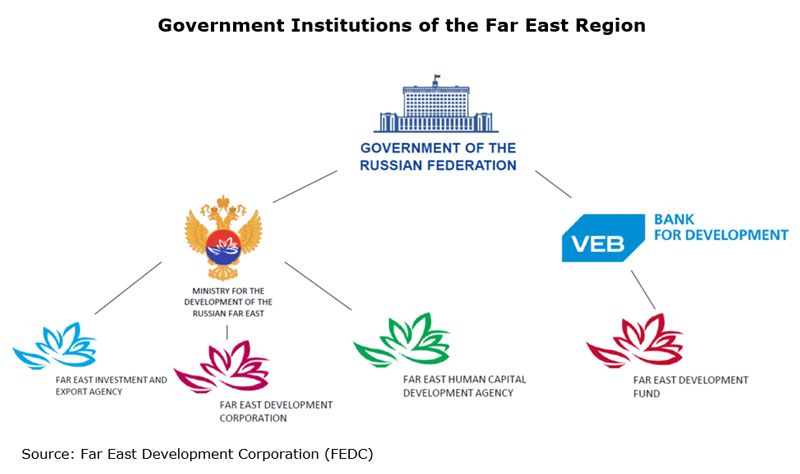 The ASEZs and FPVs offer generous tax perks and other preferential treatments, ranging from land use rights to administrative procedures, to try to encourage manufacturing investment.
Currently, there are 22 FPV municipals operating in five sub-regions across FEFD and 18 ASEZ areas in nine of its 11 subjects. FPVs involve preferential status being given to companies within a municipal boundary, while an ASEZ is a designated plot (or plots) of land given over to a specific industrial specialisation, ranging from the processing of mineral, agriculture and aquaculture resources to services such as logistics and tourism.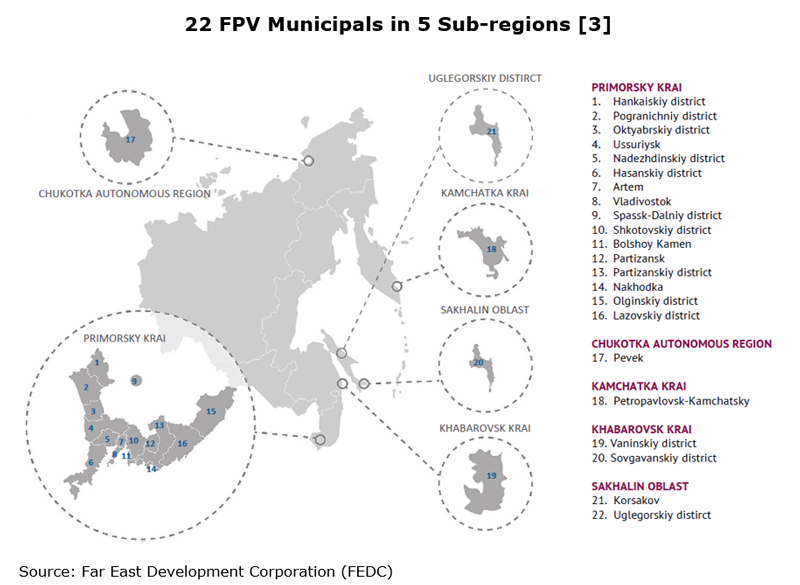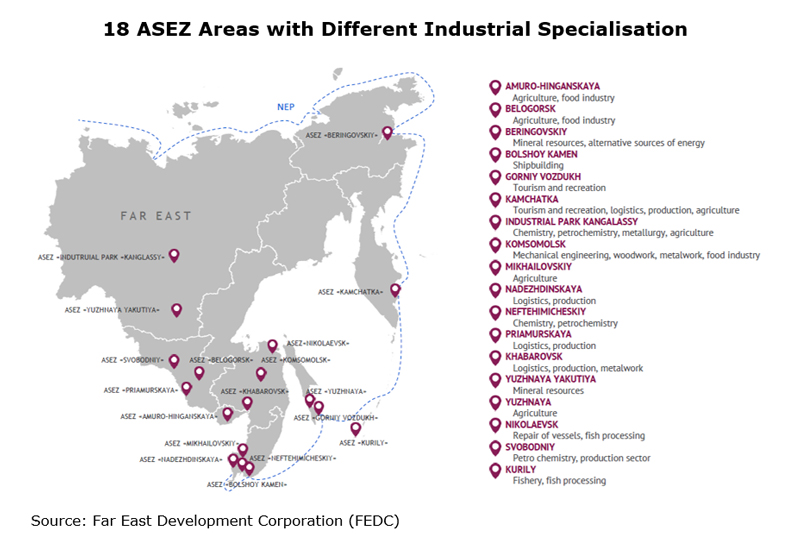 These FPVs and ASEZs have so far concluded more than 1,200 agreements involving committed investment worth US$118 billion. About 10% of the businesses which have signed agreements are backed by foreign shareholders, more than half of which are Chinese. Japanese companies account for 13% of foreign shareholders, while South Korean businesses make up 12%. Real estate is the most popular sector for FPV businesses with a foreign shareholder, accounting for 23% of the total, followed by services (14%) and construction (11%). ASEZ investors, on the other hand, favour food, agriculture and construction.
More recently, amid the lingering Sino-US trade tension, the FPVs and ASEZs in FEFD have come to be considered not only as emerging manufacturing investment spots offering unfettered access to EAEU markets, but also as alternative sources of agricultural products affected by US tariffs. Some Chinese and Russian investors have, for example, already started soybean processing in the FEFD's Amur Region and Jewish Autonomous Region, in order to supply the Chinese mainland market. They are also targeting the booming ASEAN demand for agricultural products, which is estimated to have been on a par with China's since 2016.
In an early sign of the success of the FPVs and ASEZs, the FEFD is estimated to have accounted for 25% of the nation's FDI flows between 2012 and 2017. In 2017 alone, the region received the second highest amount of net FDI inflows, behind only the Central Federal District where Moscow acts as a powerful magnet for foreign investment and businesses.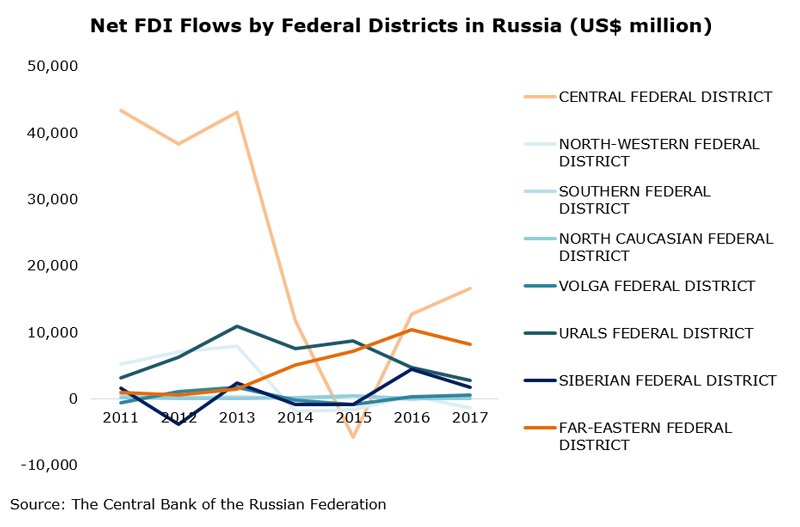 Nurturing Homegrown R&D Talent
Because the FEFD has a small labour force, it is a suitable location for developing industries that rely on technology rather than cheap labour. Examples include manufacturers which can use technological advances in cloud computing, big data analytics, AI, the Internet of things (IoT) and robotics to develop smart factories or automated manufacturing.
It's not just companies that are looking to adopt technology to take advantage of their presence in the FEFD. Local universities have been working hand-in-hand with the public and private sectors to develop talent. Leading examples include Rosatom State Atomic Energy Corporation (nuclear energy), Gazprom (oil and gas), Progress Arsenyev Aviation Company (military helicopters) and MAZDA SOLLERS (a Russian-Japanese car-making joint venture) which are already partnering with the Far East Federal University (FEFU).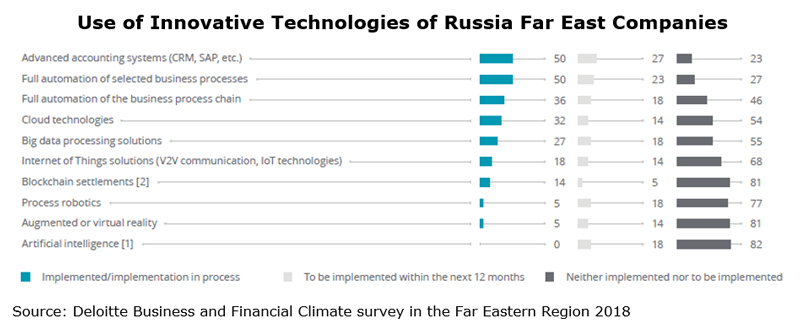 To facilitate technology R&D and cultivate a start-up ecosystem, the Russian government has recently set up a Russky Technopark in the FEFU campus, which provides start-ups with subsidised office space and business-matching sessions with prospective investors.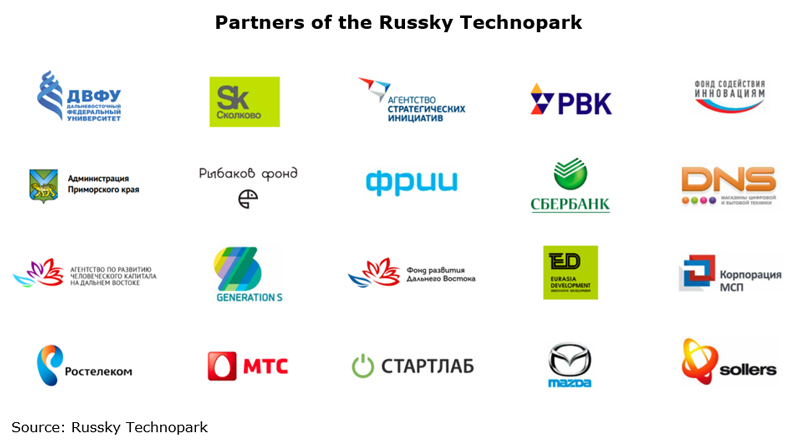 In addition to developing local talent, Russia is looking for support from overseas to provide funding for R&D. With little sign of an immediate easing of Western sanctions, Russian technology owners may well have to increase their growing reliance on the Asian capital pool and financial market.
An example of this is the leading Russian petrochemical company, Gazprom Neftekhim Salavat, which showcased its manufacturing projects at the Asian Financial Forum 2019 (AFF). It sees Hong Kong as an ideal platform for bringing Asian investors and Russian project owners together to turn visions of collaboration into action.
As the Belt and Road Initiative (BRI) develops, more Russian companies and/or regional development agencies may turn to Asia for investment roadshows, while Hong Kong's success as a free port and special administration region (SAR) could allow it to contribute to Russia's own programme of SAR development. With Hong Kong on course to becoming a major innovation and technology hub under the Guangdong-Hong Kong-Macao Greater Bay Area (GHKM Bay Area) project, the territory is also ready for further partnerships with tech start-ups looking to grow their Asian market and/or reach out to Asian sources of funding.
---
[1] EAEU currently comprises five member states – Armenia, Belarus, Kazakhstan, Kyrgyzstan and Russia.
[2] The terms territory, region, area and republic are inherited from the Soviet Union and are now generally called "subjects" under the Ministry for the Development of the Russian Far East.
[3] The Russian terms "krai" and "oblast" can be loosely translated as "territory" and "region".