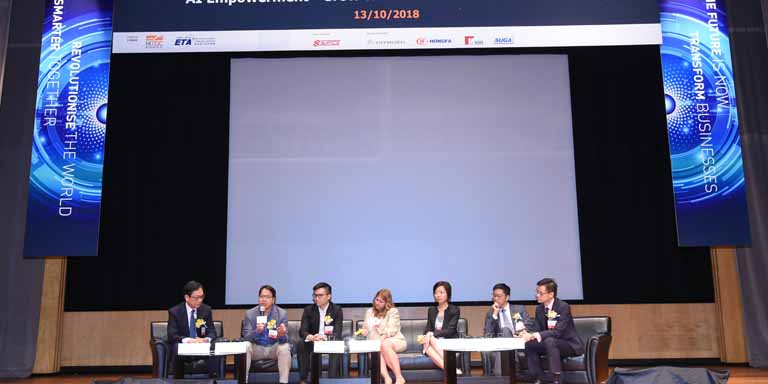 https://hkmb.hktdc.com/en/1X0AFG4K
AI Transformation Surges Ahead
The disruptive family of artificial intelligence technologies has moved decisively on to roads and into factories, offices and homes.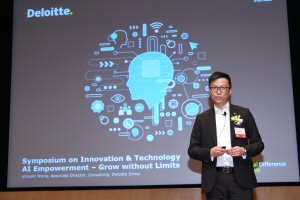 Discussions on artificial intelligence (AI) often turn into face-offs between the pros – who come up with pithy quotes of the "knowledge is power" or "data is the new oil" variety – and the cons who point to job losses and the danger of Terminator machines.

Those attending this year's Symposium on Innovation and Technology – themed "AI Empowerment – Grow without Limits" – heard neither cheerleading nor fearmongering, however. They heard hard facts and solid, near-term projections on the impact AI already has, and is about to have, on everyone's lives and businesses.

AI and the closely related technology sets of machine learning (ML) and deep learning (DL) were set to shake up businesses across the board, speakers told the symposium, organised by the Hong Kong Trade Development Council (HKTDC) and the Hong Kong Electronics & Technologies Association. The symposium was held during the 38th HKTDC Hong Kong Electronics Fair (Autumn Edition).

Vincent Wong, Associate Director, Consulting, Deloitte China, discussed why enterprises around the world will adopt AI and how senior executives view AI in their companies now and in the future. Deloitte has three fintech labs, one of which is in Hong Kong, where the firm helps companies develop AI strategies, such as natural language processing (NLP) chatbots and other analytical tools.
Transforming Technology
"AI is becoming part of our daily lives," Mr Wong said. "And it is going to transform industries." A survey of 250 senior executives showed that about 87% of respondents said AI is important or very important for enhancing their product and service offerings, 92% said it was helping their internal processes, and 57% said AI will help their companies run and transform faster than their competitors in the next two to three years.

Companies deploy AI in a wide range of industries, he said. In back-office operations, they use robot processing automation for record keeping and matching work in finance and accounting, and in the legal field to help review contracts and to assist with compliance and fraud issues. In human resources, companies use AI to source the best candidate for a position. AI is used in information systems to predict hardware malfunctions and plan preventive maintenance, and it is used in the supply chain to identify patterns and show how the supply chain can be adjusted for maximum efficiency. AI is used in sales operations and in customer service, from chatbots handling simple enquiries to those that identify high-risk or high-potential conversations.

On concerns over employment, Mr Wong said: "AI will reduce the workload, but it will help business productivity, which will lead to hiring more people."

He also focused on how to develop an AI culture within the organisation. "Learn about it. Use it. Learn from experts. Focus on change, not just cost-cutting."

In deciding who should lead the AI programmes, he said it depended on the company's priorities: the chief financial officer is often the ideal choice for leadership and vision but programmes could be led by the chief technical officer if the focus is on creating new services for clients, by the chief information officer if improving processes internally is key, or by the chief operating officer if what is required is a strong sense of data and relationships, and resource allocation.

Interestingly, only 17% of senior executives in Deloitte's survey said they understood the concepts and application of AI in their company, but 83% said they immediately saw substantial benefits when applying AI projects and said the financial benefits grew with experience.
Hands-on Approach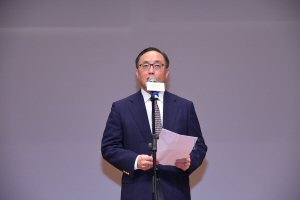 Mr Wong concluded with three key pieces of advice – jump in now, take a hands-on approach and be an early adopter of AI; focus on change, not just cost-cutting; and learn about AI and work with an expert.

Nicholas Yang, Secretary for Innovation and Technology of the Hong Kong Special Administrative Region, also addressed the development issue when opening the symposium.

The Ministry of Science and Technology (MOST) had entrusted the home-grown SenseTime Group Limited to establish the "National Open Innovation Platform for Next Generation Artificial Intelligence on Intelligent Vision", he said.

"The company, founded by a number of local scholars in 2014, has emerged as China's biggest AI unicorn in recent years. Its leading position in AI has now been further recognised along with its coming participation in the national development and planning for the next generation of AI, which is definitely a vote of confidence in Hong Kong's strengths in I&T [innovation and technology]," Mr Yang said.
The Government will devote more resources to enhance Hong Kong's R&D and application capabilities in the AI field, train relevant talents and support technology enterprises.

"We will also adopt more AI technologies in our public services and city management, spanning cyber security, customs inspection and transport. For example, we will introduce AI and chatbot functions to the GovHK [Government of the Hong Kong Special Administrative Region] portal in 2019 to facilitate searching and access of e-Government services by the general public; and pilot the use of chatbot to handle 1823 public enquiries. A new big-data analytics platform will be built by 2020 to enable real-time data sharing among government departments, encouraging further development of AI applications and big data analytics."
Laggards Punished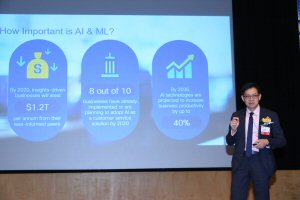 Garrick Ng, CTO of Cisco Hong Kong, Macau and Taiwan, foresees AI profoundly disrupting the competitive playing field for businesses.

"By 2020, insights-driven businesses will steal US$1.2 trillion per annum from their less-informed peers," Mr Ng predicted.

He said there were three reasons for the rapid recent progress in ML – data storage costs are lower, central processing unit speeds are much higher and algorithms are mature and work more efficiently. ML is the present focus since it is the recent explosive increase in data that allows machines to learn. But the neural network in DL is a powerful and diverse tool used at Cisco.

Cisco is involved in cognitive collaboration, applying it in the form of bots and virtual assistants, computer vision (CV) and audio and visual technology.

In CV, computers are trained to do tasks better and faster than humans. "But we will not see Terminator-type capability in robots," he said. "CV can be used to do only very specific tasks that can't be transferred to other functions."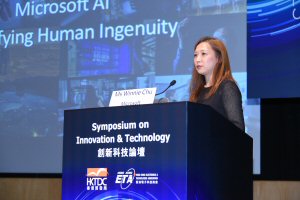 Cyber-security is being improved through AI, said Mr Ng. Cisco blocks 20 billion threats per day. By looking at initial data packets and the sequence of packet lengths and times, Cisco can map the entire Internet in a three-dimensional flow, "identifying the good guys and the bad guys".

Software giant Microsoft uses AI for a wide range of purposes, from helping people with visual impairments and hearing disabilities to preventing the extinction of rare species and growing better crops, according to Winnie Chu, Cloud and Enterprise Business Group Lead of Microsoft Hong Kong.

"Microsoft is leveraging technology and putting it into applications to make work more efficient," she said. For example, Microsoft has incorporated an AI-powered presentation translator in PowerPoint that allows users to save hours and can translate slides into 60 languages. Microsoft also combines ML and natural language processing (NLP) to provide examples to improve writing, while Microsoft Word understands the user's language and suggests more appropriate words and expressions.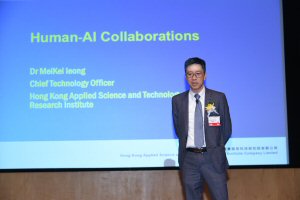 Some other examples of Microsoft's AI breakthroughs include object recognition (96% human parity), speech recognition (96% human parity), machine translation (69.9% human parity), and machine reading comprehension (88.5% human parity).

"The possible applications of AI are almost limitless," said MeiKei Ieong, Chief Technology Officer of the Hong Kong Applied Science and Technology Research Institute (ASTRI), adding that Hong Kong was at the forefront in many areas. For example, the Hong Kong University of Science and Technology (HKUST) and University of Hong Kong (HKU) are frequent winners of the ImageNet Challenge, in which software programs compete to correctly classify and detect objects and scenes. A breakthrough in 2012 in solving the challenges presented in the contest was considered to be the beginning of the DL revolution, he said.
Limiting Factors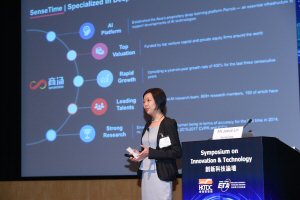 AI competitiveness depends on talent, which in most cases comes from universities, and computational power for machine learning and inferences, said Mr Ieong. The top three barriers for leaders in adopting AI are the need to attract, acquire and develop the right AI talent, competition from other investment priorities for resources, and security concerns about AI adoption. The top three barriers for passive users are limited or lack of general technology capability, lack of leadership and lack of opportunities, he said.

Regarding the impact of AI, Mr Ieong referred to two job reports: one by Oxford University, which concluded that up to 47% of current jobs were at risk from automation, and one by the Organisation for Economic Co-operation and Development (OECD), which concluded the number was only 9%. He listed possible reasons for the huge discrepancy: firstly, adopting new technology is normally a slow process (although on the Chinese mainland it is much faster); secondly workers can adjust to changing technology by retraining and retooling to do other tasks; and thirdly technology change generates more jobs, although this has resulted in a shortage of AI and data specialists.

To develop the talent needed to support AI in Hong Kong, Mr Ieong suggested training young people, attracting skilled immigrants, and retraining people whose jobs are replaced by AI. He pointed out that cities such as Paris and San Francisco provide free coding universities and even free housing for students, and work with companies to supply tech workers.

"AI will take over a lot of tasks, but will free humans to adopt more value-added, personalised and analytical roles," Mr Ieong said, adding that a massive amount of tech talent is needed to implement AI in industry.

"AI is used in virtually every industry," remarked Jessie Lin, Vice President of SenseTime, reputedly the world's most-valued AI start-up. "It (AI) is becoming a general-purpose technology."

She noted that computers were developed about 80 years ago, and neural networks about 30 years ago. In contrast, DL was first applied to facial recognition only in 2014. DL depends on three key elements – algorithms, computer power and data.

Founded in 2014 by the head of the Multimedia Lab at The Chinese University of Hong Kong, SenseTime focuses on basic research, specialising in DL and computer vision.