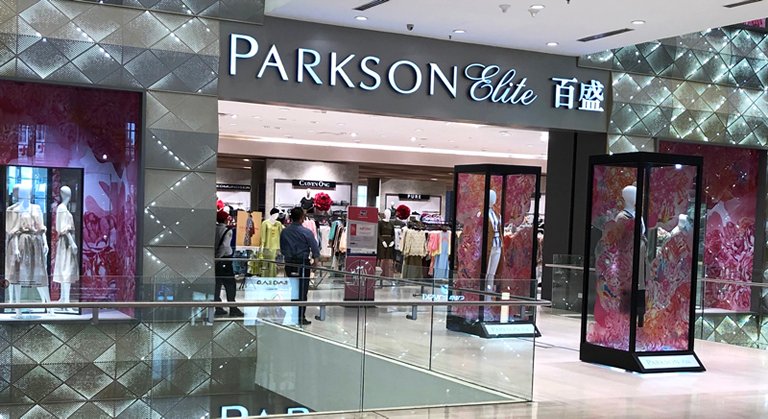 https://hkmb.hktdc.com/en/1X0AF0AQ
Accessing the ASEAN Consumer Market: Fashion and Accessories (Distribution Channels 2)
Concept stores, multi-brand stores and department stores, are the dominant distribution channels for fashion and accessories in major cities of ASEAN. Hong Kong fashion brands, designers and exporters may find the right distribution channels which match their product positioning to tap the opportunities in the region. For details of other distribution channels, please refer to "Accessing the ASEAN Consumer Market: Fashion and Accessories (Distribution Channels 1)".
Department Stores
ASEAN consumers have become more sophisticated and they demand unique products that resonate with their lifestyle. This has drawn consumers away from traditional department stores. Luxury fashion brands have taken matters into their own hand by opening their single-brand stores and limiting their wholesale offering to specialty retailers. This has further forced department stores to rethink their role and strategies amid the shift in fashion retail.
Department stores' biggest asset is their card members. Through customer loyalty programmes and good after-sale service, department stores cultivate and maintain strong relationship with these VIP members. For instance, the Mall Group, the top shopping malls developer and department store operator in Thailand, has more than 3 million members, of which 70% are active customers.
Central also invites customers to join The 1 Card. This loyalty card programme offers a vast array of benefits, such as points for shopping, special promotions and offers that are dedicated to The 1 Card members. In addition, Central presents the exclusive Diamond Society Club for its loyal patrons. Diamond Society members have privileged services dedicated to them, with access to the Premiere Lounge, reserved parking, a personal assistant in-store, home and hotel delivery and exclusive invitations to special Central Department Store Indonesia events.
Department stores also know how to provide additional reasons for consumers to visit stores – sales events are powerful tools to stimulate consumption. Apart from traditional holidays, November 11th (Single's Day) has also become a special festival in ASEAN in recent years, presenting a huge promotion opportunity for major department stores to offer coupons and deep discounts to their patrons.
Today, consumers may have the choice to buy online, yet they still like to see what is on offer in person. People visit department stores not just for shopping, but also to get a good snapshot of current fashion trends. Successful department stores can transform shopping to recreation and amusement, and an escape from the routine.
Major Department Stores in ASEAN
Indonesia
Traditional department stores in Indonesia are facing stiff competition. There are many department stores in the major first-tier and second-tier cities, both within and outside Java. The Thai department store sector could be seen as saturated.
Matahari Department Store, the nation's largest chain, focuses on lower-income and middle-income consumers, operates over 150 stores across Indonesia. In September 2017, Matahari announced that it would close two department stores in Jakarta, but at the same time open new department stores in other parts of Indonesia as the company remains optimistic about the prospects of the department store sector in Indonesia.[1]
Amid the Indonesian consumers' changing shopping habits, Ramayana Department Store also announced in August 2017 the closure of eight stores (in Surabaya, Banjarmasin, Bulukumba, Bogor, Pontianak and Sabang) as part of a transformation of its retail strategy in response to global retail trend changes.[2]
Moreover, retail giant, PT Mitra Adiperkasa (MAP), announced the closure of Lotus and Debenhams in Indonesia by the end of 2017. MAP is consolidating its department store business and focusing on its SOGO, SEIBU and Galeries Lafayette outlets. Fetty Kwartati, Corporate Secretary and Head of Investor Relations for MAP, said the shopping trends of the millennial generation in Indonesia have shifted from department stores to specialty outlets.[3]
Metro is a Singapore and Indonesia-based chain department store selling cosmetics, apparel and fashion accessories. The department store currently has 13 outlets located across Singapore and Indonesia offering merchandise from international labels and famous local brands.
While old players are consolidating, new players continue to enter the country, notable examples include South Korean Lotte Department Store, Parkson from Malaysia, and Thai retailer, Central. Exclusive brands that are only sold at Central Department Store Indonesia include Scotch & Soda from The Netherlands, Vivienne Tam from Hong Kong, Maison Margiela from France, COCCINELLE from Italy, and EVISU from Japan. These premium department stores usually target affluent consumers living in the country's major cities, especially Jakarta.
Facing a high influx of foreign players, Indonesia's conventional department store industry needs to come up with a new strategy or shopping concept to stay competitive.
Malaysia
Department stores remain an important fashion distribution channel in Malaysia, as most shopping malls in the country still have a department store as the primary anchor tenant.
Metrojaya has grown to operate a chain of eight department stores since the opening of its first store in 1976. The department store seeks out the newest lines and wide selection in fashion and lifestyle, including international brands.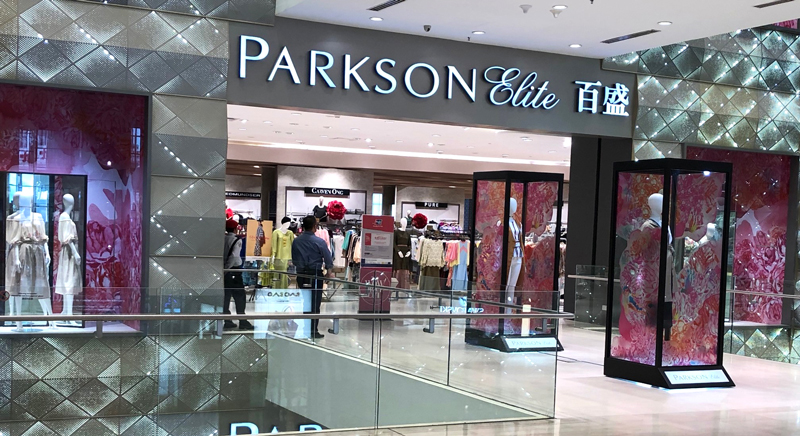 Both Parkson and Metrojaya have started to upgrade their product portfolios to include a wider selection of brands to target middle- and high-income consumers. However, these retailers are still some distance from becoming luxury department stores, as most products still have to be affordable for the mass market.
ISETAN in Kuala Lumpur is a high-end department store providing unique Japanese products and offering plenty of experiences that showcase the 'real Japan'. It is also the biggest ISETAN store outside Japan.
The Singapore-based Robinsons Department Store is positioned at the mid-to high-end segment, with a focus on Kuala Lumpur. It emphasises high-quality customer services and brands that are exclusive to Robinsons. Sprawled across four floors, its new flagship store offers a wide range of international fashion brands catering to young consumers.
British department stores, like Debenhams and Marks & Spencer can be found in key shopping malls. Marks & Spencer targets mid-aged female customers rather than millennials. As such, it focuses on fashion items with classic designs and high quality fabrics, while keeping prices at the mid-range. Debenhams promises to give Malaysians the best of British fashion at great prices. However, they both need to wean themselves off constant promotions, as customers have got used to buying on sale.
Thailand
In Thailand, the department store is a landmark building and a focal point for the local community. Department stores are places where family and friends can gather together, enjoy food and other recreational activities. Department stores are also key places to organise indoor events, such as new product launch, festive and holiday events, and small concerts, etc.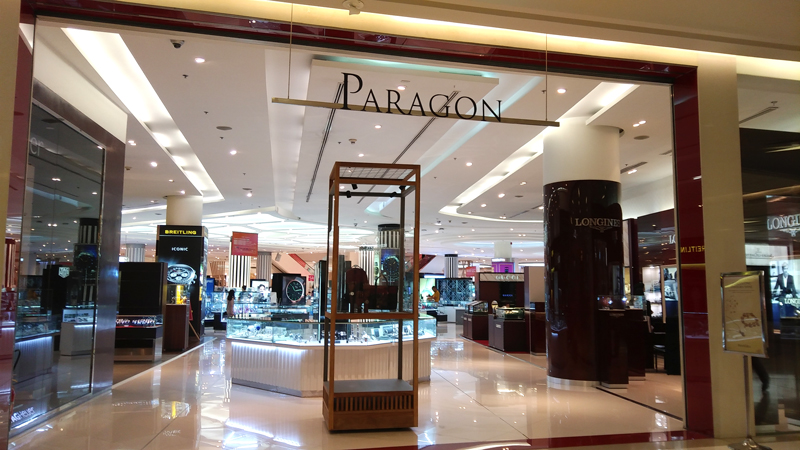 Department store competition in Thailand is very fierce, as the country is crowded with numerous brands. Most high-end department stores are clustered in the Siam, Chidlom, and Phrom Pong areas. Examples of luxury department stores are Siam Paragon, Central Embassy and The EmQuartier.
Central Group is the leading mall developer, keeping various department stores brands within its portfolio, including Central Department Store, Robinson Department Store and Zen, as well as managing Marks & Spencer and MUJI. Its various brands are targeted towards different segments. Central Department Store is positioned in the mid- to high-end market, whereas Robinson Department Store serves lower- to middle-income consumers.
The main Central Group rival is The Mall Group. The Mall Group operates The Mall department stores, Siam Paragon, The Emporium, and The EmQuartier. The company aims to focus more on young consumers and tourists in the future. Building a large shopping centre in Phuket is part of its development plan.
Some department stores have introduced fun parks and water parks for children to enjoy while their parents shop inside. Music and language education centres and entertainment halls are also located in key department stores, such as Siam Paragon and Central World.
Opportunities Presented by Department Stores
Department stores are many brands or suppliers' top distribution channel due to high customer traffic. Non-branded products are less suitable for this channel, however. Unbranded goods are less likely to be selected by department stores and even if they get a foot in the door they must pay high space rentals and ratio of gross profit sharing. Department stores take a cut of 20-40% on sales, depending on product category and brand strength, but the norm is around 35%. Non-branded products are expected to pay a higher sales commission.
In recent years, department stores that sell popular global brands also face challenges. Firstly, selling the latest Nike sneakers no longer creates a point of differentiation. Secondly, they have to accept a lower commission rate for well-known brands. Thirdly, more and more global brands prefer opening their own branded stores to control the total brand image.
As such, forward-looking department stores have repositioned themselves to attract a wider customer base by offering a broader brand and product offering. They seek to introduce their own concepts and product varieties by ramping up private-label brands, which are designed by an in-house team, and bringing in special brands or exclusive products that cannot be found anywhere else. In so doing, department stores hope to introduce innovation and excitement to their product mix, especially in fashion and accessories, in order to break up the sea of sameness.
Department stores may source fashion and accessories items by attending overseas trade shows or by referral. They may also travel abroad to look at the goods and discuss direct with the overseas suppliers, but department stores will usually not place orders with suppliers directly. Many department stores in ASEAN prefer working with distributors for the following reasons:
Distributors can buy in quantity from suppliers, while department stores work on consignment.
Distributors can supply small orders of a wider selection of products.
Distributors take care of importing and customs clearance from the overseas supplier.
Distributors can warehouse and deliver the goods to department stores.
Many department stores buy foreign goods from a domestic importer, who operates much like a domestic distributor or wholesaler. This lowers the freight costs and delivery time in comparison with international freight.
Some distributors also assist in retail display and merchandising.
Some offer marketing materials and co-marketing opportunities.
There are some department stores that prefer buying direct from the manufacturer or brand owner, as it guarantees the lowest price. However, without the distributor in between, the overseas supplier must take up a large amount of work, dedication and time.
No matter whether a fashion brand or supplier is selling direct to department stores or through a distributor, it is imperative that it keeps a close customer relationship with the department store and understands the fast-changing needs and requirements of the fashion retailing business, with an emphasis on product sourcing, merchandising display, inventory management, and distribution of fashion and accessories items in each local market.
Pros and Cons of Selling to Department Stores
The Pros
Bigger volume and/or sales turnover; buyers have higher purchasing power
Greater brand awareness and validation
More store opportunities and visibility to other buyers
The Cons
Department stores do not purchase wholesale
Lower margins – department stores require a higher commission rate
Production capabilities need to be able to handle big orders
Not easy to develop a long-term strong relationship – department stores have thousands of suppliers
Extended payment terms up to 60 days can be a huge burden for suppliers
---
[1] Indonesia Investments: "Battle of the Retailers: Department Stores vs. E-Commerce Platforms", 25 October 2017
[2] Indonesia Investments: "Indonesian Department Stores in Focus: Ramayana Lestari Sentosa", 27 January 2018
[3] The Jakarta Post: "Lotus, Debenhams in Indonesia to close down by year's end", 26 October 2017
Please click here to purchase the full research report.
Garments, Textiles & Accessories
Indonesia
Malaysia
Thailand
Southeast Asia
ASEAN