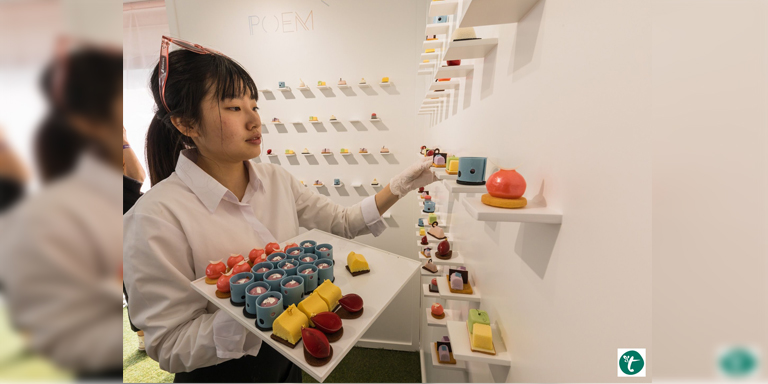 https://hkmb.hktdc.com/en/1X0ADI0I
Foods of the Future
Innovative foodpreneurs dish up innovative ideas to feed future diners.
Foodie alert: cricket pasta is a thing. So, too, are cookies made from fruit, home-grown super-greens, and a platform that knows what restaurant diners are likely to eat – before they have even decided.

These innovative products were among the finalists at a Future Food pitch competition held at the gourmet event, Taste of Hong Kong 2018.

Held on the Central Harbourfront in March, the aim was to drive home the need to seek out new alternatives to the existing norms of food production and consumption. So among the food and wine pavilions hosted by many of the city's top fine-dining establishments, such as One Harbour Road at the Grand Hyatt, Haku, Frantzen's Kitchen, Tate and Caprice, aspiring food innovators strutted their stuff as well.

Organised by www.afoodieworld.com, a premium food media platform in Hong Kong, the pitch event drew entries from Hong Kong and around the region. Some were established businesses, others young start-ups, and a few looking for venture partners to get their ideas off the ground.
Tasting World-class Cuisine
The organisers "couldn't be happier" with the result of the 2018 Taste of Hong Kong presented by Standard Chartered, which attracted almost double the attendance of the previous year.

Simon Wilson, Senior Director, IMG Culinary Asia, said the record-breaking attendance of 24,000 visitors enjoying the 22-25 March gourmet event on the Central harbourfront was 10,000 more than the 2017 festival.

"It was wonderful to see so many chefs, restaurants, brands and visitors come together in one truly iconic location to embrace world-class attractions and to celebrate what we Hongkongers love most – food!" Mr Wilson said. "The food and beverage community in Hong Kong continues to thrive and it is clear that there is a definite hunger for world-class cuisine."

The 75 per cent new line-up welcomed a selection of Hong Kong's latest, greatest and hottest restaurants, including BlackSalt, Bo Innovation, Caprice, Chachawan, Duddell's, Forbidden Duck, Frantzen's Kitchen, HAKU, Little Bao, New Punjab Club, Okra, One Harbour Road, Pici, Poem Patisserie, Yardbird and Zuma, where guests sampled more than 60 signature and festival-exclusive dishes. Gourmands also had the rare chance to taste gourmet hotdogs from London's Bubbledogs and cake from Sydney's Black Star Pastry.


Edible Alternatives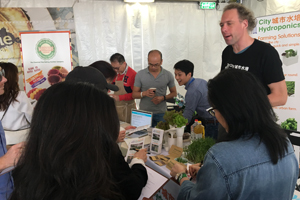 Among them was finalist Bugsolutely from Thailand, a company making pasta from edible insects. The crickets, which are ground up for the pasta's flour content, are raised for human consumption in controlled farms, resulting in a distinctive colour and texture that the founders say "is often compared to whole-wheat pasta and roasted almonds and of "great nutritional value." Already being sold in Thailand, the company is seeking a distributor in Hong Kong.

Another finalist, Morris Cookies, is run by Malaysian baker Morris Ong, who has created fruit-infused artisan baked goods made without chemical additives. Mr Ong says his "salad cookies" recipes were "founded on the principle that delicious food should not be polluted with unnecessary ingredients that are potentially harmful to the body."
Dutch-born Hong Kong entrepreneur Wouter van Marle entered with his indoor and outdoor hydroponics systems, which allow city-dwellers to grow their own food (under the brand name City Hydroponics), while Lecker Labs, a Food-X-backed start-up, showed its first product, Yomee, described as "like Nespresso for making yoghurt."

A family-run Hong Kong business, Magic Season Organics, impressed with its model of home-delivered organic produce, based on a zero-waste system.
Smart Thinking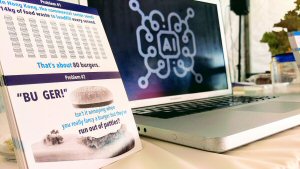 After judging by a panel of industry peers, Blue Dot Thinking was announced the winner for its innovative platform developed to improve restaurant profits by reducing food waste.

The UK start-up, which recently launched in Hong Kong, sends daily recommendations to frontline restaurant staff, so they prepare the right amount of each item required for the day. These recommendations are based on a proprietary machine-learning algorithm gleaned from sales data, accounting for seasonality, weather and local events. It claims to cut food waste costs by up to 60 per cent.

Will Ng, business lead for Blue Dot Thinking in Hong Kong and APAC, said the service is available to restaurants large and small on a monthly subscription basis, with no up-front set-up costs.

The People's Choice Award went to Little Sweetness, a student project from the Hong Kong Polytechnic University's School of Hotel & Tourism Management, providing information on low-glycemic index food options on an online platform.
More, Please
Lily Ng, CEO of www.afoodieworld.com (Foodie), says the idea to run the pitch competition stemmed from the "overwhelming feedback" the media company received after organising last August's inaugural Food's Future Summit, a first-ever low-waste food conference dedicated to exploring trends, trajectories and threats related to food's future; as well as championing future-forward individuals and businesses.

"After the ​2017 summit,​ people wanted more – more information and more follow-up related events – so we decided to introduce the topic and themes to a wider audience," Ms Ng said. "Our pavilion at Taste of Hong Kong 2018 was the perfect opportunity to do so."

The pitch competition was designed to flesh out products and ideas that could make a positive impact on food's future, and the organisers were "heartened" by the diversity and range of responses received.

"Interested applicants ranged from student groups to early-stage start-ups, to more seasoned companies planning new product ranges or business offerings, both from Hong Kong as well as the region," Ms Ng said. "We were also very encouraged by the positive feedback and interest from the attendees at Taste of Hong Kong – many can't wait for the next summit and more access to the products being showcased."

While Hong Kong is regarded as Asia's culinary capital, the ample and readily-available supply and variety of food in the city belies what is projected to happen to its food supplies in the coming decades.
Need for Change
"Having been part of Hong Kong's food scene since 2012, Foodie has witnessed and participated in the city's dining evolution and recognises the need for further discussion and change," said Ms Ng.

"Foodie will continue to drive the conversation about our culinary futures. We're pleased to announce that our next Food's Future Summit will take place on 21-22 September 2018, and we look forward to using our platform to grow awareness and discussion about this critical cause amongst both businesses and consumers."
Related Links
Food's Future Summit
Foodie
Taste of Hong Kong 2018