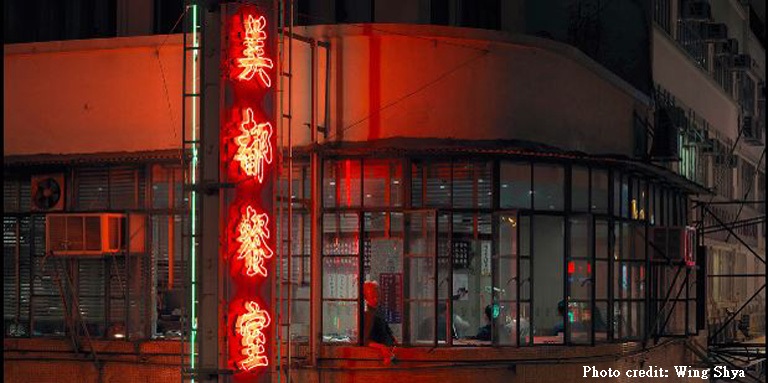 https://hkmb.hktdc.com/en/1X0ACC6U
Under Hong Kong's Neon Lights
Hong Kong's fading neon signs are sparking a collective celebration of the city's iconic scene.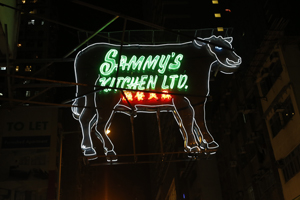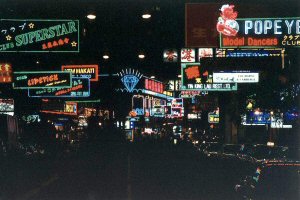 In August 2016, a giant cow-shaped neon sign was taken down from above Sammy's Kitchen, after 37 years suspended over the restaurant in Hong Kong's Sai Ying Pun district. The three-metre long iconic fixture was among thousands of neon signs that have been dismantled over the years for safety reasons, and as businesses increasingly turn to more energy-efficient LED lighting.

In their heyday, neon lights became so closely linked with Hong Kong and its famed night life, that even today many still associate neon street scenes with the "real" Hong Kong. The gradual but inevitable disappearance of the lights has sparked a slew of retrospectives to pay homage to neon's cultural significance. The latest was the 23-25 November light festival, Lumieres Hong Kong – which, among other things, celebrated Hong Kong's neon lights.

"Neons are such compelling living artifacts of visual culture, especially in Hong Kong, which really lend themselves to being examined from many different angles," said Aric Chan, Lead Curator of Neonsigns.hk, an interactive online exhibition by M+, Hong Kong's visual culture museum under construction in the West Kowloon Cultural District.
Hong Kong Collective Memory
Launched in 2014, the permanent online exhibition enlisted the wider community to reflect on neon's contribution to Hong Kong's visual culture. The main public engagement involved a three-month photo campaign, which generated more than 4,000 photographs from the public. "They were mostly through Instagram, from young people," said Chloe Chow, Assistant Curator of Neonsigns.hk.

"But we also received photos and DVDs from the older generation. So it was interesting to see a project that can involve the public from different ages. We also held workshops, which became sharing forums of people's experiences and iconic neon signs they remember from their past," said Ms Chow.

"We have LEDs and other types of bulbs for lighting projects, but somehow neon will sustain in a certain way because of its own aesthetic that's irreplaceable," she added.
Neon Craftsmanship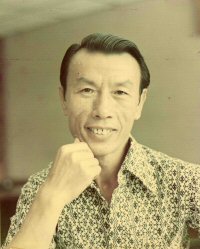 According to Ms Chow, there are only a handful of neon craftsmen left in the city, many of whom are in their seventies and eighties. Among the few remaining Hong Kong neon manufacturers is Ming Wah Neon Light.

"My father learned his craft in Guangzhou in the 1940s and immigrated to Hong Kong to continue his work there," recalled David Tong, who now runs the company set up by his late father in 1960. "My father sent my eldest brother, Tony, for training in the UK to become a qualified neon-glass bender before he returned to Hong Kong to work in the family business."
Neon signs are considered a form of graphic design. According to Ms Chow, the sign's typography often reflected the business nature of the establishment, whether it's the more formal kai shu style of Chinese font for restaurants or medical shops, or a running script for gambling or mahjong establishments.
"It's a type of craftsmanship," said Ms Chow. "When you bend it, you need to be skillfull – then you need to control the gas and the temperature enough that you can bend the tubes without breaking them."

To produce the signs, glass tubing must be manipulated under high temperatures, with electrodes installed before air is pumped out to create a vacuum that removes impurities. Finally, colours are introduced by pumping in neon gas, which glows red, or argon gas for blue, when charged with electricity.
Sunset Industry
"Most of the big neon signs along Victoria Harbour were constructed by my father's company," said Mr Tong. Now, neon lights represent only about 10 to 15 per cent of Ming Wah's business, which not surprisingly, has also branched into LED-sign creation.

"Hong Kong's neon-light industry is a sunset industry," said Mr Tong. "It is losing favour in the market and being replaced by new lighting technology such as LED or Big LED Vision Panels. As a result, people will find it hard to find neon lighting products or will have to pay more, and neon will eventually be only found in museums."

Indeed, several neon signs have already ended up in the M+ collection, while the online interactive exhibition will help preserve the memory and significance of neon culture on Hong Kong's streetscapes.
Left Behind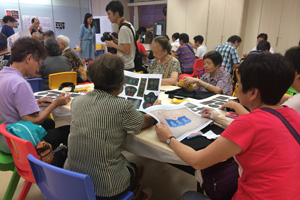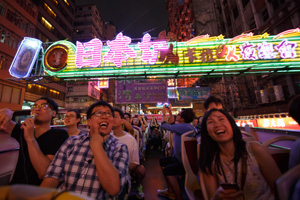 Among local artists that contributed to the NeonSign Exhibition is celebrated Hong Kong photographer Wing Shya, with his photo essay "Left Behind."

"Neon lights are a signature of Hong Kong," said Wing Shya. "There are stories that go with each light that is here. Those people are related to those lights, whether they are owners of a business or customers or tenants of a place. After all, the lights are only meant for human consumption and it was interesting to look at the subject matter in relation to people."

For some, nostalgia for neon is tinged with a sense of Hong Kong's past.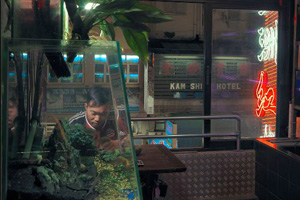 "In my view, neon signs and neon lighting have provided a unique image for our city in the past," said Ming Wah owner Mr Tong. "Tourists who came to Hong Kong would see colourful and bright neon signs along the harbour front, on our main streets and roads. All these lights have contributed to the city's reputation as a 'Pearl of the Orient'."

And for many, including photographer Wing Shya, it has become part of Hong Kong' collective memory, and even cinematography, through images captured, especially in films by Hong Kong auteur Wong Kar-Wai.

"The lights have been a major part of the night sky of Hong Kong, as they have been portrayed in many old movies," said photographer Wing Shya. "They represent an era that's long gone but always stays fresh in most people's minds."
Related Link
Neon Signs