https://hkmb.hktdc.com/en/1X0AB5ZM
Global Production Strategy: Midea Group
The intense competition facing the global home appliance market has prompted Midea Group, a well-known industry player, to speed up its transformation and upgrade process in recent years. Emphasising the importance of "leading products" in its strategy, Midea has strengthened its scientific research and innovation capability to enhance its competitiveness. It is also striving to expand its international sales network, and "go out" to set up overseas production bases in order to capitalise on local resources and advantages with a view to producing high-quality products that meet market demands. The ultimate aim of such a strategy is to promote the long-term development of its operation.
Active Implementation of Scientific Research and Production Strategy
A representative of Midea told HKTDC Research that the group undertook to design advanced home appliances that cater to consumer needs, such as smart home products and solutions. It has set up a number of R&D centres on the Chinese mainland as well as in Europe, America, India, Singapore and Japan, to conduct technological R&D activities on home appliances and smart home products, and also on robotics and related application. Over the past five years, Midea Group has invested a total of RMB20 billion (3.8% of the Group's operating income) in technological R&D endeavours, ranking first in the home appliance industry of China. It has also filed 32,000 patent applications, more than any other enterprise in the world.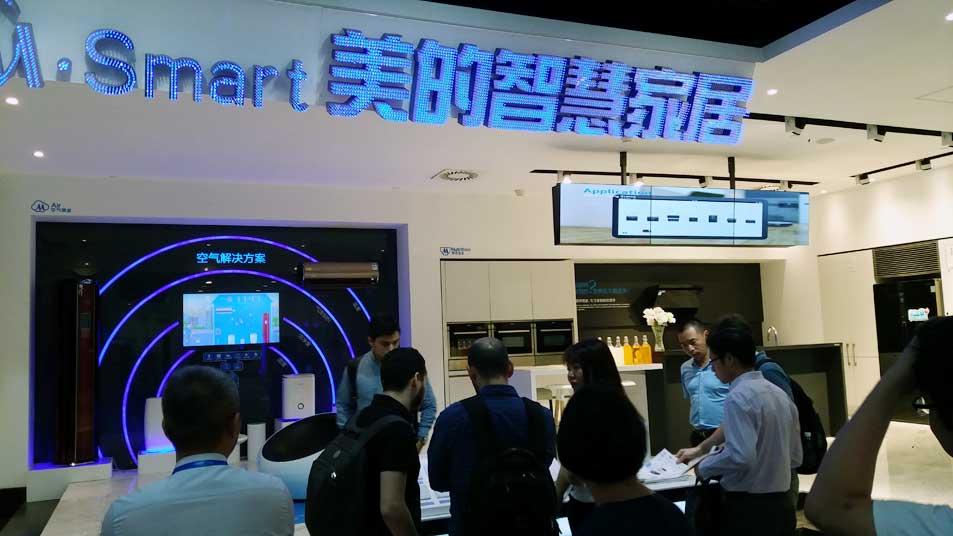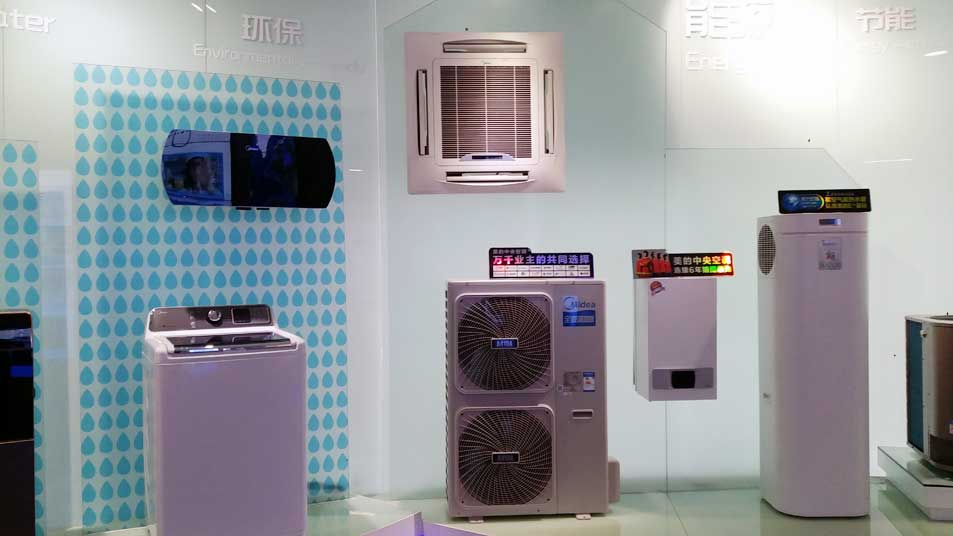 To make the best use of its scientific research findings, Midea has been actively devising its global production network to make high-quality products. On top of Guangdong Province, it has also set up a number of production bases in the coastal and inland areas on the Chinese mainland so as to capitalise on the advantages of local supply chains and production resources with a view to increasing productivity. While expanding its international markets in recent years, Midea has invested actively overseas to set up production network in various regions so as to support its global sales operation. At present, Midea's production bases can be found in nine overseas countries - Vietnam, Belarus, Egypt, India, Brazil, Argentina, Thailand, Italy and Japan.
In terms of global management, Midea's overseas production practices are not only localised to accommodate the differences of various localities, but also closely follow the product standards as well as the production process and operation of the group to ensure that the quality of the finished products meet requirements. Production bases set up in various mainland areas and overseas are different in production cost and conditions. In devising its production plan, Midea has to take into account the development of local supply chains and traffic or transport facilities. Consideration is also given as to whether the local production can tie in with the marketing strategy of the group.
Marketing Strategy
For example, through its acquisition of Toshiba's production lines in Thailand, Midea can now turn out higher-end products in Thailand for the more demanding Japanese market. Meanwhile, production plants set up in less advanced regions are devoted to the production of lower-end products. As for mid-range to high-end products for the higher-end markets on the Chinese mainland and overseas, they are still entrusted to the production lines in China. Midea's representative pointed out that the Chinese mainland has already built up mature supply chains with ample supply of parts and raw materials. Coupled with its efficient logistics services, it has outshone other overseas regions as production base. Since the group has, to a large extent, employed the use of automated production equipment in recent years, the labour shortage problem on the mainland can basically be resolved.
As some overseas production bases have the merits of lower labour and production cost, and no import tariff is involved in local sales, they offer strategic advantages in opening up the local markets. Using some overseas production lines to tap into other international markets can also forestall possible trade barriers such as the levy of anti-dumping duties on China's home appliances by some advanced countries or South American regions. That said, the production bases selected must offer supply chains that have been developed to a certain extent. If not, convenient transport networks must be available so that the group can arrange for the transportation of key parts from South China to support local production.
Midea is a leading technology enterprise engaged in the production of consumer appliances and industrial systems. It provides a wide range of products and services including kitchen appliances, refrigerators, washing machines and various types of small consumer appliances. It is also engaged in the air-conditioning business, which mainly includes residential air-conditioning, central air-conditioning systems, heating and ventilation systems, as well as robotics and industrial automation systems. Midea was set up in Guangdong Province of China in 1968. It moved to the realm of home appliances in 1980 and has since been focusing on white appliances. It has developed into a major player in the home appliance manufacturing industry with more than 10 brands, including Midea, Little Swan, Welling, Hualing, Annto, Kuka and Toshiba. Listed in Shenzhen Stock Exchange, Midea has set up some 200 subsidiaries and over 60 overseas branches around the world, with a staff of 130,000. As of 2016, the annual aggregate income of Midea was RMB159.8 billion while its annual overseas income was RMB64 billion. Among its overseas sales receipts, 55% (US$5.5 billion) came from its sales in countries along the Belt and Road routes.
(Remark: The above is among the case studies of a research project jointly undertaken by HKTDC Research and the Department of Commerce of Guangdong Province: Shift of Global Supply Chain and Guangdong-Hong Kong Industrial Development. Please refer to the research report of the aforementioned project for more details.)
Electronics & Electrical Appliances
Mainland China
Hong Kong
Mainland China
Hong Kong