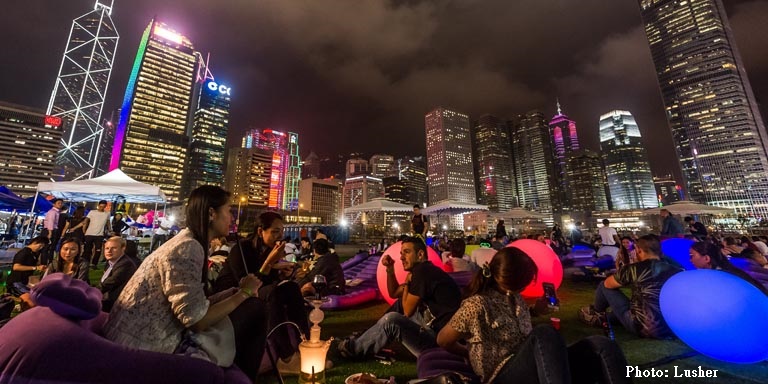 https://hkmb.hktdc.com/en/1X0A9DT4
Craft Beer Takes Off
The first-ever in-flight ale, brewed in Hong Kong, highlights the strong market for craft beers in the city.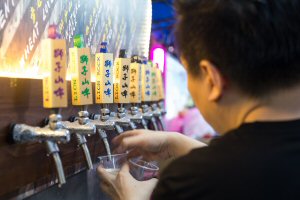 This month, Hong Kong flagship carrier Cathay Pacific launched the world's first ale catering to high-altitude drinking. Developed in collaboration with local craft brewery Hong Kong Beer Co, the unfiltered wheat beer has 10 per cent more carbonation than traditional beers to counter the dulled taste buds of air passengers.

Named after Cathay's first airplane, Betsy, the mile-high ale underscores the growing popularity of craft beer in Hong Kong. With more than 20 local breweries jostling for market space – just a couple of years ago there were only two – the market has expanded rapidly and shows no signs of slowing.

The expansion of the craft beer scene in the past two years has caught the attention of overseas craft-beer makers. Last year, Japan's Hitachino Nest set up its first international outpost in the New Territories, while Australia's Little Creatures opened its first overseas brew pub in Hong Kong.

Hong Kong's craft beer festival Beertopia, meanwhile, enjoyed its biggest turnout yet last November, attracting more than 14,000 revellers with 14 local breweries participating alongside craft beers from around the world. "We had a lot of visitors from overseas this year, including Taiwan, Singapore and China, which proves Beertopia is becoming better known across the region," says festival founder Jonathan So.
Mile High Pub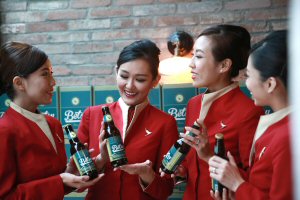 Currently served in first- and business-class cabins until 30 April on routes between Hong Kong and the United Kingdom, the Cathay Pacific ale may eventually be rolled out to other classes and routes, according to Priscilla Chok, Cathay Pacific Marketing Manager, Social and Content, who noted the importance of choosing a Hong Kong-based brewer.

"As the Hong Kong Beer Co was the first craft ale brewery in Hong Kong, we knew the team's expertise and its commitment to quality from ingredient-sourcing to bottling. The ingredients we selected – honey, longan fruit and fuggle hops – blended really well together and at the same time gave us very good layers of flavour and scents."
Going Global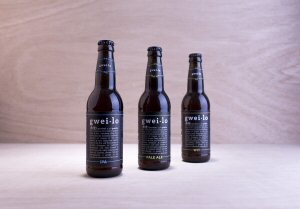 Hong Kong's most visible craft-beer brand, Gweilo Beer, has come a long way since launching in 2015. Named after the Cantonese slang for "foreigner," the brand produces a pale ale, IPA and a wheat beer, with plans to double its range by the end of the year by adding a pilsner, double IPA and a stout.

"The supermarkets have been really supportive: within three weeks of talking to Park N Shop and Wellcome, we were on the shelves, and we do in-store promotions with [Wellcome owners] Dairy Farm on Thursdays and Saturdays," says co-founder Ian Jebbitt, who gave up his job as a trademark lawyer to focus on expanding into the Chinese mainland, across Asia, even in the UK.

There has already been interest from mainland distributors looking to supply retailers, restaurants and bars, but Mr Jebbitt says they don't want to chase a quick buck. "If we'd wanted to, we could have sent a container of beer to Singapore by now. But we said no, as we want to find people who live and breathe the brand and become an extension of us. I'd rather wait two years to enter any market and find a person fully bought into Gweilo and what we're trying to achieve."

It regularly holds promotional giveaways on tricycle at places with high footfall, such as the Star Ferry Pier. Mr Jebbitt says it doesn't make much of a margin on the beer but is going for volume. "In 10 years' time, I'd love to be the most widely distributed craft beer in Asia and put Hong Kong on the map for being a beer-producing city," says Mr Jebbitt.

There are also plans to open a Gweilo Beer bar by the end of the year, possibly in the popular Wan Chai nightspot and the upscale neighbourhood of Happy Valley.
Homegrown Bars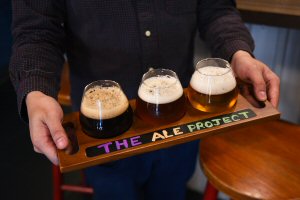 Founded by beer aficionados, including local brewer Young Master Ales, The Ale Project has its own bar in Mong Kok and recently opened a second location, Second Draft, at the Little Tai Hang development near Causeway Bay, where beers are kept at three different temperatures to maximise their flavour profile. Both places serve a mix of local and international beers, and pale ales and sour beers sell particularly well at the Mong Kok bar, says General Manager James Ling. A fermented tofu dip and XO butter served with sourdough bread add local flavour to the menu and pair well with craft ales, he adds.

Mr Ling believes craft beers represent an affordable luxury. "If you go to Central, it costs HK$130 for a decent cocktail, while a craft beer is usually around HK$70 even though a lot of thought goes into it." Another reason for craft beer's success is the trend towards homegrown, locally crafted products in the region, he adds.
"Hong Kong is a window to Asia and a place to test new trends before launching across the region."
Mr Ling says that Taiwanese beer brand ZhangMen opening its first international flagship pub in Tsim Sha Tsui this month proves there's plenty of overseas interest in setting up craft beer establishments in the city. "Hong Kong is a window to Asia and a place to test new trends before launching across the region," he adds.
Exports Enter the Market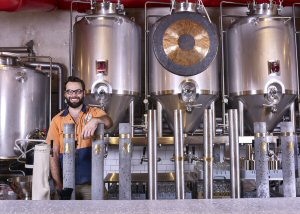 Australian brewer Little Creatures opened its first brew pub in the city last year in Kennedy Town, where its best-seller is its signature pale ale, a refreshing hop-driven brew that works well in Hong Kong's hot and humid climate and serves as a good introduction to the craft-beer world.

"Since I've been here, the number of local brewers has doubled," says Brew Master Tom Champion, who moved to Hong Kong last February. "That's definitely a market you want to be involved in early. Being here has enabled us to get a feel for other Asian countries without worrying too much about the language barrier or cultural differences, given that the city is already influenced by Western culture."

Having just teamed up with Gweilo to create a farmhouse ale made with kumquat peel to mark the Lunar New Year, the spirit of collaboration continues with another ale to be launched with New Zealand-owned Seven Brews, in time for next month's Hong Kong Rugby Sevens.

Little Creatures is now focused on raising its profile among Hong Kong's competitive F&B industry. One of its beers is available on tap at the Grand Hyatt hotel. "We have a craft beer ambassador going around talking to people about our beer, so hopefully people won't just be able to drink it at our venue but at taps and in bottles across Hong Kong."

Beertopia's Mr So is confident a bright future is ahead for the Hong Kong craft-beer scene. "We're still at the very beginning, as the craft beer scene is still under three years old in Hong Kong, but there's already much more interest in and awareness around craft beer."
Related Links
Ale Project
Beertopia
Cathay Pacific
Gweilo Beer
Little Creatures