https://hkmb.hktdc.com/en/1X0A94DB
Malaysia: Online Retailing Opportunities
E-tailing Gaining Popularity
Offering convenience and a wide selection of goods, online shopping is fast gaining popularity in Malaysia. In April 2015, the Malaysian government implemented a Goods and Services Tax (GST) of 6%. As a result, a number of Malaysian consumers have switched to online shopping in order to seek for value-for-money and affordable luxury products. These consumers are receptive to new brands and new products and, as such, they represent a rich source of potential customers for Hong Kong companies.
Alongside online shopping, online marketing is also gaining traction with Malaysian consumers. When shopping in physical stores, many Malaysians want to read comments from other users about goods they are interested in buying, typically via online platforms and social media. As a result, some Malaysian entrepreneurs have built their businesses and developed the reputation of their brands via social media platforms. Hong Kong companies interested in tapping into the Malaysian consumer market, therefore, should not underestimate the potential of online retailing and of social media marketing.
Online Sales Driving Retail Growth
Malaysia's e-commerce market has been growing steadily over the past few years, thanks particularly to the increased penetration of smartphone use and more affordable internet services. Out of a total population of 31 million, around one-third of all Malaysians currently shop online. Although online sales only account for around 1-2% of Malaysia's total retail sales, the growth rate of online sales is significantly higher than that for store-based retail.
According to Euromonitor, online retail sales increased from MYR1.0 billion in 2011 to MYR2.4 billion in 2016, with an average annual growth rate of 18.5%. During the same period, store-based retail sales (retailers selling to customers through physical retail outlets) achieved an average annual growth rate of only 3.2%, increasing from MYR148 billion in 2011 to MYR174 billion in 2016. During the forecast period 2017-2020, it is predicted that the growth rate of online retail sales will continue to outpace that of store-based retail sales.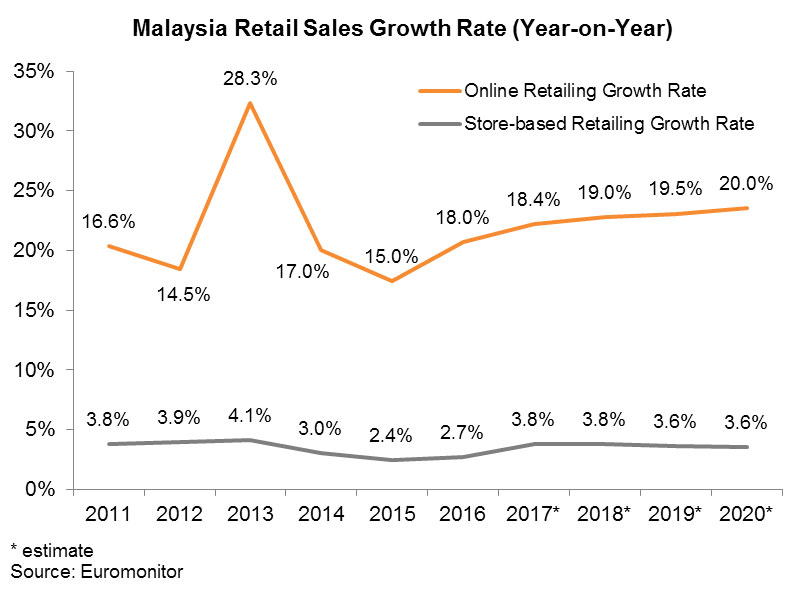 In April 2015, the Malaysian government implemented a Goods and Services Tax (GST) of 6%. This has led to a number of Malaysian consumers switching over to online sales platforms in their search for value-for-money products. With just a few clicks of the keyboard, consumers can easily compare prices and search for promotional discounts from a range of online platforms. According to the results of one recent survey, 48% of Malaysian respondents shop online more than once a month[1]. It is generally expected that, over time, online shopping will become increasingly popular among Malaysian consumers.
Most Common Online Purchases
Apparel and footwear are the items most commonly bought online by Malaysian shoppers. In 2016, apparel and footwear accounted for 28% of online sales in Malaysia, followed by media products (20%) and consumer electronics (14%). According to the eBusiness Association Malaysia, online products with a price range between MYR200-300 are those most commonly purchased by Malaysian consumers. Conversely, products such as luxury jewellery and watches have struggled to attract online shoppers.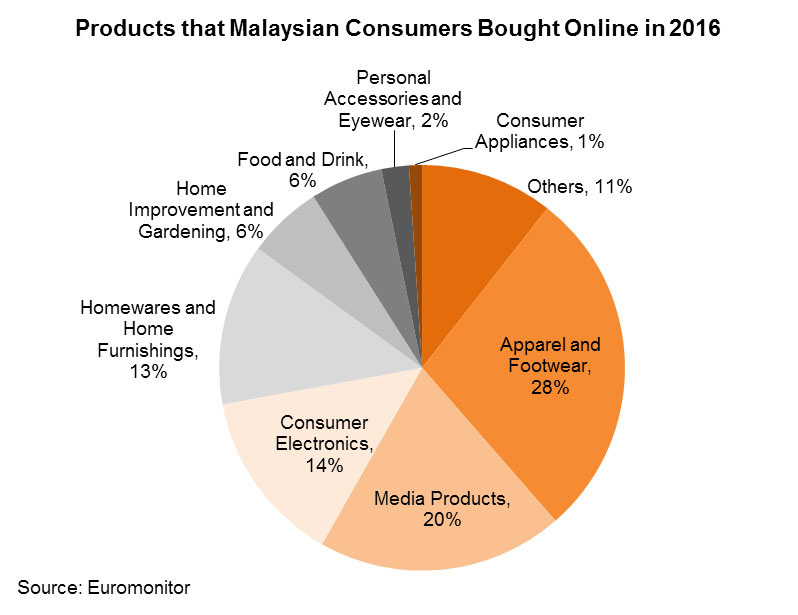 Mobile Retailing Gains Popularity
As well as online shopping via desktop or laptop computers, an increasing number of Malaysian consumers are using mobile devices to do their online shopping. During 2016, 17.9 million Malaysians accessed the internet via their mobile phones. By 2020, this figure is expected to reach 21.1 million mobile phone internet users[2]. The increasing penetration rate of the smartphone has made it more convenient for consumers to shop anywhere and at any time. According to Euromonitor estimates, retail sales via mobile devices (including smartphones and tablets) accounted for 15% of all online sales in 2016. It is predicted that, by 2020, retail sales via mobile devices will account for 22% of the total value of online sales.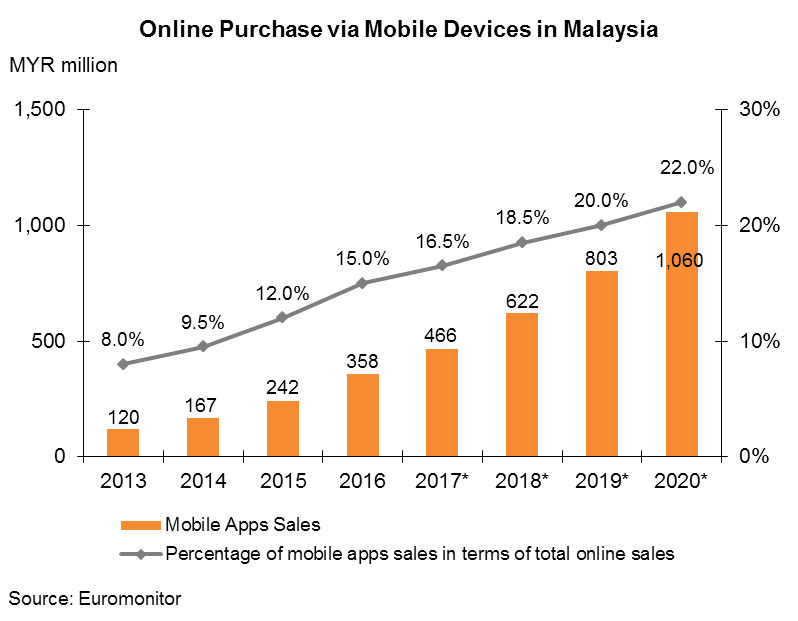 Social Media: The New Information Channel
Today, social media has become one of the most popular and powerful communication tools. Young people in particular like to connect and share with their friends through social media platforms. As a consequence, many retail businesses make use of social media to communicate with their customers and promote their products. In Malaysia, the most active social media platforms include Facebook (which has 7.4 million active users in Malaysia), Google+ (4.1 million active users), Instagram (4 million active users), Twitter (2.9 million active users) and LinkedIn (2 million active users)[3].
One survey has shown that many Malaysians use their smartphones to find additional product information while they are shopping in physical stores. Once they have found the products they are interested in, 74% of them search for related promotions offered on social media platforms and 69% read user reviews[4]. As such, social media has come to complement the in-store shopping experience for many consumers.
Incubating New Brands
As well as acting as a source of information and a promotional platform, social media channels have become incubators for new brands. In Malaysia, it is reported that 74% of e-commerce stores first started life on social media. For 51% of online shoppers, their first online shopping experience was via Facebook[5]. Facebook is Malaysia's most popular social media platform and many young entrepreneurs have started up their businesses via this channel.
CHRISTY NG Sdn. Bhd.
With only a limited amount of capital, Christy Ng, a young Malaysian woman, started selling her own designed ladies fashion shoes under the brand name CHRISTY NG. In 2010, Ng uploaded a few unique shoe designs onto Facebook. They were well received by Malaysian consumers and orders began to pour in. At present, CHRISTY NG has more than 400,000 fans on its Facebook page and has developed an independent online e-commerce platform, www.christyng.com. In addition, CHRISTY NG has set up a showroom in Damansara Utama and opened another four physical stores in Malaysia.
In 2014, with the brand continuing to grow, CHRISTY NG launched a new 3D shoe design service through its independent e-commerce platform. Customers are now able to choose a body style for their shoes (e.g. double-strap open toe, one-sided criss-cross open peep toe or ribbon flats), heel type (e.g. classic, chunky or curvy), heel height, and insole / sole colour. All the shoes are handmade in Malaysia. As well as shoes, CHRISTY NG now also sells women's clothing and handbags. Its online business now extends to the US, Australia, Singapore, Canada and Europe.
In addition to selling their products through social media channels, some companies also use them as marketing and communications platforms. For example, a brand can set up a Facebook account and invite existing customers to become 'fans'. The brand can then announce its new products and promotional events on Facebook and 'fans' can share this information with their friends. Customers are also able to leave comments and feedback, thereby creating a direct communication platform between customers and businesses, a development that helps boost word-of-mouth and brand loyalty.
Fatbaby ice cream
In 2013, after working in London for several years, Ng Hui Ming returned home to Malaysia and started her own ice cream business – Fatbaby – from her mother's kitchen. Fatbaby ice cream is home-made with all-natural ingredients and it comes in a variety of flavours, including salted caramel, apple crumble and coconut candy. Fatbaby ice cream is only available in cafes and restaurants. In 2014 in Subang Jaya, Fatbaby opened its first eat-in store.
Fatbaby has opened a Facebook account in order to communicate with its customers directly. Currently, the company has more than 7,000 Facebook fans. When new ice cream flavours and products become available, Fatbaby announces them on Facebook. Fatbaby's fans can then leave comments and share news of Fatbaby products with their friends via Facebook.
Mature Online Platform Operators
Although online retailing in Malaysia is still at a relatively early stage, a number of major e-commerce players have already come to dominate the market. The most popular online platforms in Malaysia include Lazada, GEMFIVE, 11 Street, Lelong.my and Mudah. Not unlike department stores, these platform operators offer thousands of different types of products for sale, but in an easy-to-access online format. In order to attract online customers, these platforms often organise promotional activities, most notably Singles' Day and 12.12.
Hong Kong companies which are new to the Malaysian online retailing market might consider partnering with these online platform operators. They can handle all the logistics delivery and payment transactions on behalf of Hong Kong companies, so that the companies themselves can focus on their core businesses. It is worth noting that, all online traders which operate businesses for the supply of goods or services through websites (e.g. webpages, blogs, and social media) or online platforms (e.g. Lelong.my and ebay) must comply with the Consumer Protection (Electronic Trade Transactions) Regulations 2012. (For details, please visit www.kpdnkk.gov.my).
Tapping into Malaysian Online Retailing
At present, Malaysian online retailing is still at the early stages of development and competition is far from intense, creating a real business opportunity for Hong Kong companies. Currently, one-third of Malaysia's population shops online and almost half of all such shoppers make online purchases at least once a month. Gradually, then, online shopping is becoming a way of life amongst Malaysia consumers.
Many of these would-be purchasers are looking for value-for-money products and are willing to buy new brands. Hong Kong brands and companies with a suitable market position should grasp the opportunity to establish and develop their brands in Malaysia. The commonly accepted price range for online products is around the MYR200-300 mark, so online sales may not be a suitable channel for the more expensive luxury products.
Hong Kong companies are advised to partner with e-commerce platform operators that have already been successful in drawing online traffic. These operators can handle logistics delivery and payment arrangement on behalf of Hong Kong companies. As such, Hong Kong companies that lack online retailing experience can instead focus on their core businesses, product development and brand building.
Social media clearly has a huge role to play in marketing and communication. Essentially, Hong Kong companies can now communicate directly with their Malaysian customers through social media platforms, with user comments and feedback likely to help companies improve their products. Social media can also help companies build their brand reputation through word-of-mouth. With more and more Malaysian consumers starting to buy online, Hong Kong companies should take note of this when looking to access the Malaysian market.
---
[1] Source: They say they want a revolution – Total Retail 2016, PwC
[2] Source: www.statista.com
[3] Source: How many Instagram users in Malaysia?
[4] Source: They say they want a revolution – Total Retail 2016, PwC
[5] Source: Malaysia's eCommerce Market: 12 Things You Need To Know
Malaysia
Southeast Asia