https://hkmb.hktdc.com/en/1X0A7OPB
Western China: The Route to Success along the Belt and Road
China's 13th Five-Year Plan (2016-2020) emphasises optimising the spatial development, accelerating development of the western region, and balancing regional development. Since the central government implemented the Go West policy, economic development of the western region has been making good progress, with the economic level of some areas gradually moving close to that of the coastal region. Worth noting in particular is the Chengdu-Chongqing district formed by Chengdu, the capital of Sichuan province, and the nearby Chongqing municipality. This has developed into a commercial and financial centre as well as a transport hub of China's western region. It is also developing into the bridgehead for the western region in establishing economic co-operation with the outside world under the Belt and Road Initiative.
The western region's abundant supply of land, labour and technology talent, as well as lower production costs than the coastal region, attracted the attention of many companies some years ago. As a result, a number of domestic and foreign enterprises have relocated part of their production activities to places such as Sichuan and Chongqing, which have higher degrees of industrialisation. Many of these production activities involve high-tech and high value-added industries. As such, this shift has not only turned the region into a base for production relocation from the coastal region, but has also helped places such as Sichuan and Chongqing to evolve into modern manufacturing centres of the western region.
Owing to these changes, the whole industry chain in the western region is moving towards maturity while production, business and commercial activities are expanding, directly stimulating demand for all kinds of industrial and production materials as well as related business services. This in turn can bring about extra market opportunities for Hong Kong's upstream materials suppliers and service providers. Moreover, companies in the western region are actively seeking to "go out" to make investments abroad. They hope to establish sales channels in overseas markets and to acquire technologies and other resources in order to increase their competitiveness and further expand the domestic and overseas businesses.
The western region has always been an important gateway through which China connects with countries in Central Asia, South Asia and West Asia. In recent years, cities such as Chengdu and Chongqing have quickened their pace in launching China-Europe freight-train services. They have also strengthened external multimodal transport services by air, sea and land and enhanced external transport and logistics links in order to further promote economic growth. Under the government's efforts to implement the Going Out and Belt and Road development strategies, enterprises in Sichuan, Chongqing and other parts of the western region are expected to seek more foreign investment and trade opportunities. In doing so, their demand for various types of support services will be strong.
Hong Kong has long served as a foreign business and trade centre for the Chinese mainland. It is also the preferred service platform for mainland enterprises that are "going out" to make investments overseas. Hong Kong has rich experience in serving mainland enterprises, providing them with services related to supply chain, production and international trade. It also offers a full range of professional services such as financial, legal and risk management to mainland enterprises that are "going out". As enterprises in the western region accelerate their pace of "going out" and "bringing in", and the mainland authorities continue to unfold the Belt and Road development strategy, Hong Kong companies in related fields stand to benefit from the resulting opportunities.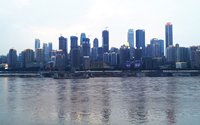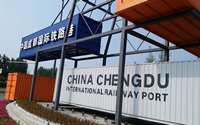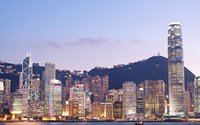 Westward Shift of Economic Development
In recent years, China's economy has faced a number of challenges like lacklustre export markets and rising labour and land costs. This has inevitably constrained the development of many coastal provinces, which have strong economic clout but rely heavily on foreign trade. By comparison, the western region's economy has been growing steadily, at a rate surpassing the national average. Blessed with abundant land and labour supply as well as lower operating costs, the western region is gradually attracting the attention of companies operating in the coastal region, as well as foreign firms. Thanks to the continuous development of industries in the western region and the constant inflow of foreign investment in recent years, provinces and cities in the region, such as Sichuan and Chongqing, have become new bright spots in China's economic development.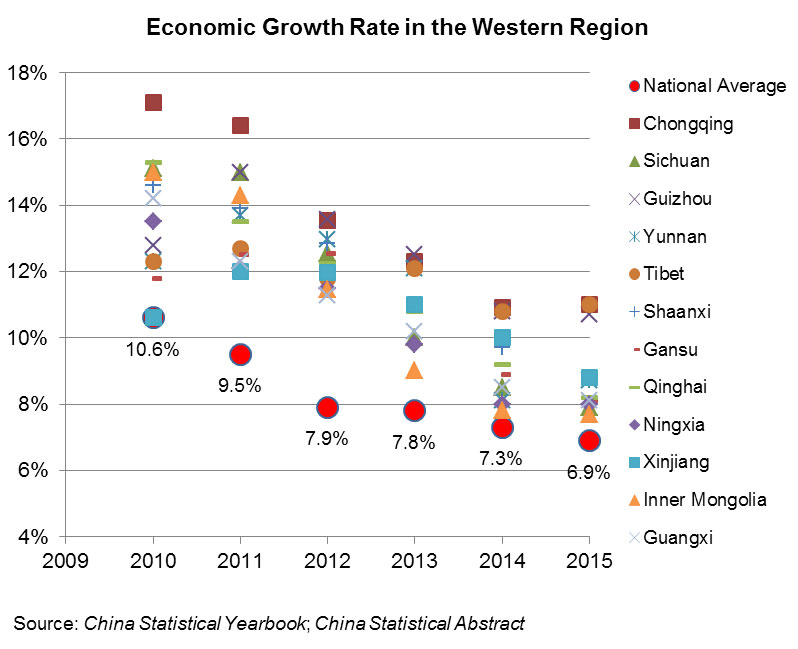 Meanwhile, the Chinese government is actively aligning the pace of development in the coastal and inland regions. In particular, under the Go West policy[1], continuous efforts have been made to strengthen connectivity between the eastern and western regions in terms of construction of infrastructural facilities such as transport and communications. A range of preferential policies has also been introduced to encourage industrial development in the western region[2]. Under the 13th Five-Year Plan unveiled by the government in early 2016, emphasis is given to promoting development of the western region under the Go West strategy, including optimising urban development planning in the context of regional development, advancing regional transport integration, and improving regional environmental planning[3].
Moreover, in January 2016 the State Council issued its Several Opinions on Promoting the Innovative Development of Processing Trade, proposing that action will be taken to further optimise the regional distribution of industry and gradually co-ordinate development of the eastern, central and western regions, including giving support to inland and border regions to serve as industrial relocation bases as well as advancing co-ordinated regional development.
In May 2016, the State Council issued its Several Opinions on Promoting Stabilisation and Recovery of Foreign Trade, which stresses that efforts will be made to integrate fiscal and financial policies in support of relocating processing trade to the central and western regions. Steps will also be taken to implement the policy of lowering social insurance premium rates, encourage financial institutions to give financial assistance to processing trade relocation projects, and extend the "one-window" policy[4], which aims to enhance customs clearance facilitation in international trade, from the coastal region to central and western regions with the right conditions. With the government's efforts, coupled with such advantages as land and labour supply, the western region has been rapidly developing in recent years and currently makes up a significant share of China's overall economy.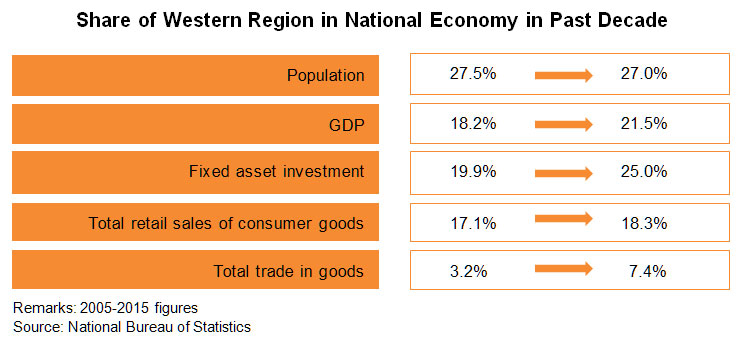 Sichuan and Chongqing: Economic Hubs in the Western Region
Sichuan's economy is the largest among the 12 provinces and municipalities in the western region. The Sichuan-Chongqing region, comprising Sichuan province and its neighbouring Chongqing municipality, has become the western region's largest economic and trade centre. While the income and spending power of Sichuan and Chongqing residents have been rising rapidly in recent years, commercial and infrastructural facilities there have also continually improved, quickly catching up with the development pace of coastal cities. At the same time, conscientious efforts by the local authorities to attract business and investment, as well as the continual inflow of investment funds from other parts of China and foreign countries, have also directly stimulated local industrial and commercial activities.
Not only has the western region been an important gateway connecting China with countries to the south and west, but it has also been a hub for commerce, trade, external logistics and transport. Taking advantage of the country's "going out" and Belt and Road development strategies, companies in Sichuan and Chongqing are actively exploring opportunities arising from foreign investment and trade. As the Sichuan-Chongqing region is gradually developing into the bridgehead of China's western region in establishing foreign economic and trade co-operation, its growth potential should not be underestimated.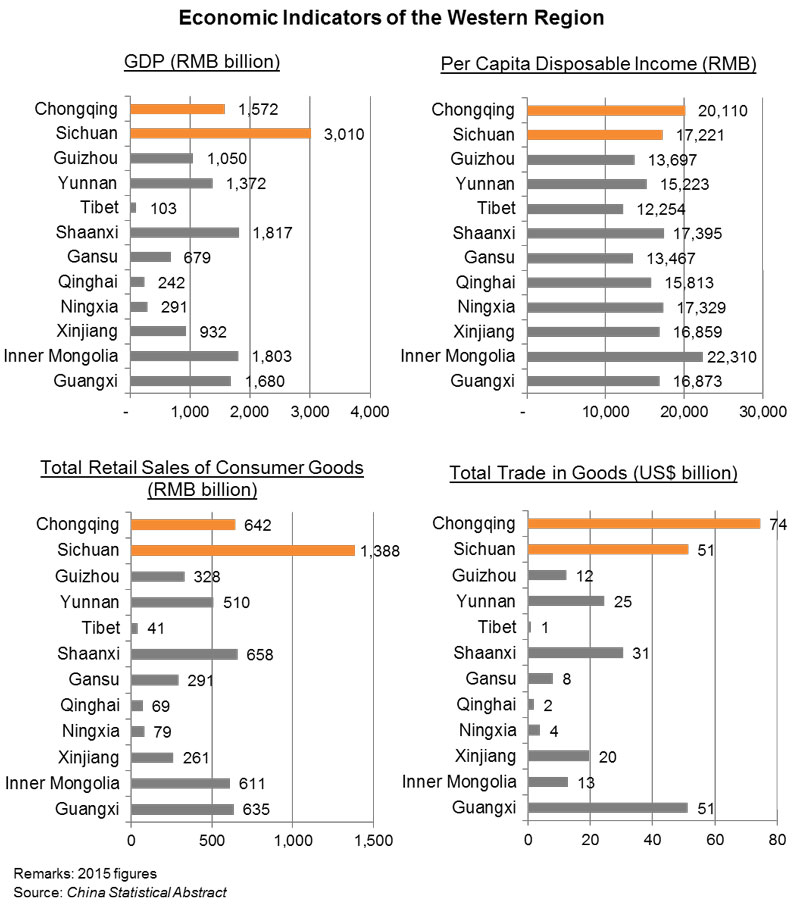 Currently, Sichuan province and Chongqing municipality together form the most highly industrialised area in China's western region. In Sichuan, heavy industries such as coal, energy and metallurgy are the leading sectors, accounting for 67% of total industrial output in 2014[5]. Chongqing is one of the oldest industrial bases in China, focusing on automobiles, defence, iron and steel. In 2014, heavy industry accounted for 74% of the municipality's total industrial output[6].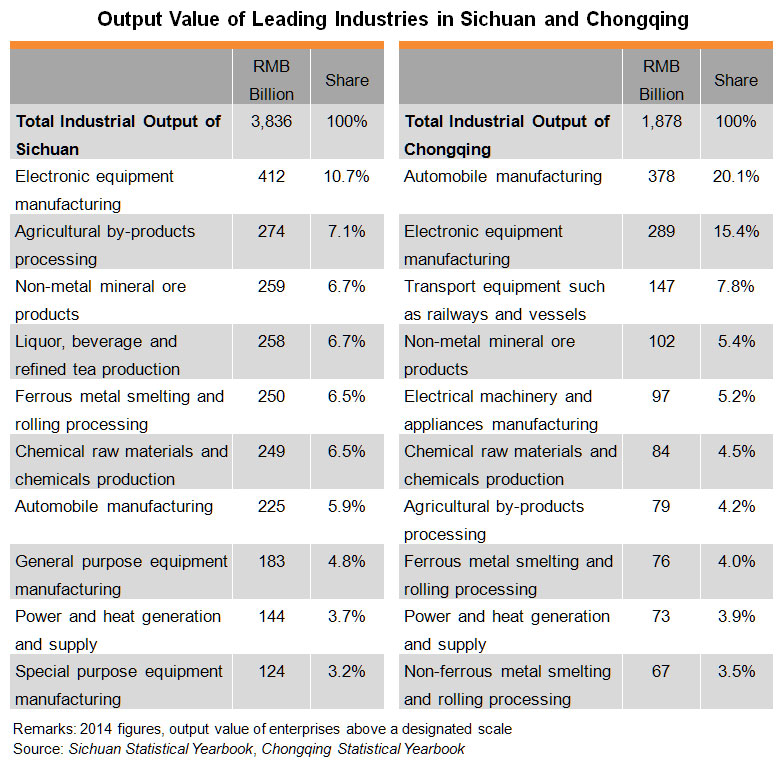 The Sichuan-Chongqing region has also been devoting a lot of effort to diversifying its industries. A large number of strong local enterprises have emerged which have helped to propel the development of the local economy. These range from enterprises in light industries such as food, Chinese medicine, liquor and silk processing, to high-tech industries including micro-electronics, computers, mobile phones, communications equipment and other electronic products, electrical appliances, and machinery. At the same time, positive steps are being taken to develop industries such as building materials, wood processing, natural gas, power, and chemical fibres. The output of some of these industries is among the highest in quantity terms in the western region.
Sichuan province has the largest industry cluster in the western region. Among the top 100 enterprises in the province are Sichuan Changhong Electric Co Ltd (electronic products), New Hope Group (food / dairy products / fast-moving consumer goods), Sichuan Yibin Wuliangye Group Co Ltd (liquor), Panzhihua Iron & Steel (Group) Co Ltd (mineral ore resources), and Tongwei Group Co Ltd (agricultural products / new energy / chemicals / pet food).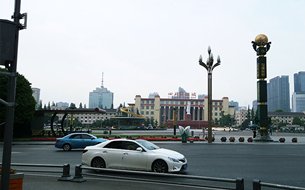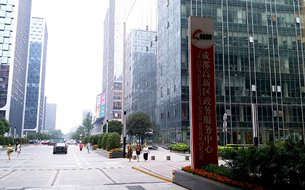 On the other hand, Chongqing municipality is also gradually evolving from an old industrial region to an important modern manufacturing base and a regional economic centre. The top 100 enterprises in Chongqing include Chongqing Changan Automobile Co Ltd, Chongqing Lifan Industry (Group) Co Ltd (automobile / motorcycle), Chongqing Chemical and Pharmaceutical Holding (Group) Co (chemicals / pharmaceuticals), Chongqing Energy Investment Group (energy investment / development / construction), Chongqing Machinery and Electronic Holding (Group) Co Ltd (electrical and mechanical equipment), and Chongqing Light Industry & Textile Holding Group Co (light industry / textile / building materials / property development). Among the well-known Sichuan and Chongqing enterprises, many are state-owned groups.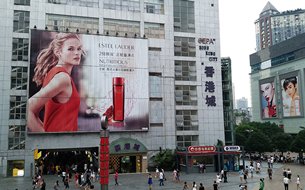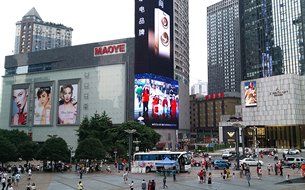 Formed by Chengdu city and Chongqing municipality, the Chengdu-Chongqing district is not only the focus of development and opening-up in the western region, but is also a regional commercial and financial centre, a transportation and communications hub, and a technology centre of the southwestern region. In 2015, Chengdu's GDP reached RMB1,080.1 billion, with real growth of 7.9%. In particular, tertiary industry – led by services such as commodity circulation, transport, post and communications, finance and insurance, real estate, technology services, and tourism – is developing rapidly, accounting for 52.8% of the city's GDP in 2015 and surpassing the share of secondary industry (43.7%). Chongqing is also gradually developing modern services to support its economic growth, including the rapidly expanding transport and logistics sectors. In 2015, tertiary industry accounted for 47.7% of Chongqing's economy, surpassing the share of secondary industry (45%).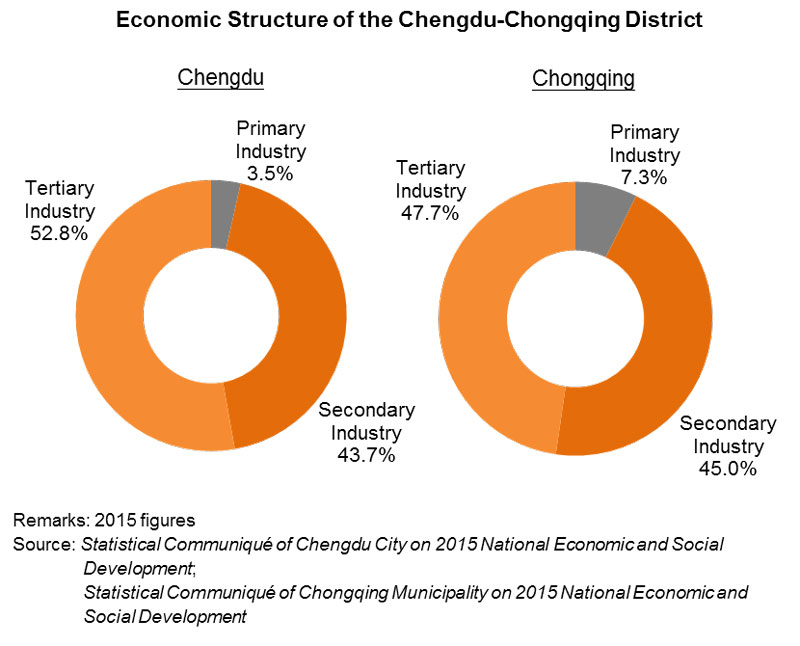 Foreign Firms Tapping Sichuan and Chongqing Opportunities
Increasingly, domestic enterprises from coastal regions, as well as multinationals, are setting up operations in the western region in a bid to leverage the various advantages there to meet their business needs. In addition to the availability of land and natural resources, these outside enterprises are lured by the more abundant supply of labour and the pool of technology talent in western China. By establishing a presence in the western region, they hope to further tap the potential of the mainland market and also develop their export businesses. In recent years, in the wake of constant investment inflows from outside enterprises, industries in Sichuan and Chongqing have been gradually moving towards high value-added and high-tech areas.
Chengdu, in addition to being a popular city for investments in central and western China for foreign companies, is also favoured by foreign-invested enterprises as a location for the headquarters of their businesses in the region. As of March 2016, among Fortune Global 500 companies, 271 corporations, including Intel, IBM, GE, Microsoft, Cisco, Siemens, Bayer and Volkswagen[7], have established a presence in Chengdu. These companies are involved in scores of industries including semiconductors, electronic information, automobiles, aviation manufacturing, new materials, finance, insurance, retailing and logistics. In fact, Chengdu is first among all cities in central and western China in terms of the number of Global 500 companies with a presence, the total investment amount and the diversity of industries invested.
Meanwhile, a considerable number of technology firms, including some electronics and automobile-related multinationals, have chosen to set up and establish factories in Chongqing. These include HP, Inventec, Tech-Front (of Quanta Group), Hongfujin (of Foxconn), Pegatron (of Pegatron / ASUSTeK Group) and Acer, helping to create the world's largest computer-industry cluster in the municipality. Chongqing also boasts one of the biggest complete-car/motorcycle industries in the Chinese mainland, including such Sino-foreign joint ventures as Changan Ford, SGMW and Beijing Hyundai. It has also attracted foreign firms such as Honeywell, which has set up an automobile materials factory there.
As industry chains become increasingly developed, industrial and production activities in western China are expanding and diversifying into industries of more sophisticated technologies. This has triggered not only a rapid increase in demand for an extensive array of industrial materials, but also a strong demand for various types of support services, including product design and technology solutions, brand and market promotion services, as well as business services including international logistics. This has provided considerable market opportunities to Hong Kong's upstream industrial-materials suppliers and services providers.
(For more information, please see Western China's High-Tech Potential Woos the Multinationals)
Boosting Logistics Services to Connect Mainland and Overseas Markets
The expansion of production and economic activities in Sichuan and Chongqing has also directly driven demand for all kinds of logistics services from companies operating there. Indeed, the freight volumes of Sichuan and Chongqing have been constantly increasing in recent years. As a result, the respective local governments are now upgrading local and regional transportation networks in order to set up efficient logistics systems to further link local industries with supply chains in the coastal regions. It will also strengthen passenger and cargo transportation services, helping to better facilitate access to external markets.
During a recent visit to the Chengdu-Chongqing district, HKTDC Research was told by some local manufacturers and companies relocated from elsewhere that currently, overland freight services to and from the Pearl River Delta (PRD) and other coastal regions are very convenient. For example, from Chengdu, it takes only about two days to reach the PRD. If the starting point is in Chongqing, there is a further option of using waterway transportation to move goods from the upper Yangtze to the Yangtze River Delta (YRD) region. The growing demand for freight services from local manufacturers has been met by logistics services suppliers increasing efficiency, and by offering multimodal transportation services involving motorway, railway, waterway and air transportation.

Minsheng Logistics Co Ltd of Chongqing, which mainly handles products such as electronics, automobiles and fast-moving consumer goods, told HKTDC Research that it was offering customers in the Sichuan-Chongqing region regular container liner services and could help them to export their goods directly via Shanghai or other ports. Its customers could also choose to ship goods to and from the PRD via motorways or railways – the journey would take about 53 hours via the Chongqing-Shenzhen Railway.
(For more information on the logistics sector, please see Relocating to Chengdu and Chongqing: The Implications for the High-tech Sector).
Meanwhile, local governments are actively building new road networks. Major projects in Chengdu include the scheduled completion by 2020 of an expressway network consisting of three ring roads and 13 spoke roads; an inter-provincial expressway system allowing vehicles to reach Guiyang, Kunming, Xi'an and Wuhan in eight hours; and another to the Beijing-Tianjin-Hebei, PRD and YRD regions with journey times within 20 hours. Chengdu is also building an additional airport, Tianfu International Airport, in order to meet the increasing demands of the international air-cargo services. It is expected to be in service by 2020.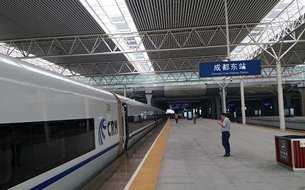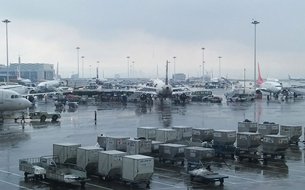 In fact, Chengdu is already a key air logistics hub in western China. The existing Shuangliu International Airport ranks first among airports in central and western China in terms of passenger numbers, cargo throughput and the number of international flight routes. In 2015, the airport recorded a passenger throughput of 42.24 million (an annual growth rate of 12%) and a cargo/mail throughput of 557,000 tons (annual growth of 1.6%)[8]. It connected to 194 cities through 252 international and domestic routes, of which 85 were international (or regional)[9]. Chengdu's second airport is expected to further boost air-freight logistics services in Sichuan and even across the whole of western China.
To help businesses further expand into Europe and to tap inland market opportunities along the Belt and Road routes in Asia and Europe, both Chengdu and Chongqing have recently strengthened the China-Europe freight-train services. Furthermore, China is planning to step up communication with ASEAN member states in a bid to access transportation routes in countries such as Vietnam, Myanmar and Laos via the highway and railway networks in southwest China, and also to promote bilateral import-export trade.
(For more information on the China-Europe freight-train services, please see China-Europe Express Trains: On Track to Access Belt and Road Businesses).
Against such a backdrop, Hong Kong's logistics services companies can enhance their advantages by strengthening their logistics and transportation networks linking western China and Hong Kong. One example is how the Chongqing branch of Kerry EAS Logistics Limited (Kerry EAS), which has its origin in Hong Kong, is using its logistics park facilities in Chengdu and Chongqing to serve businesses in Sichuan, Chongqing and peripheral areas. Most of its customer demands are currently for overland logistics transportation services between western China and eastern and southern China, and the goods carried include car parts, pharmaceuticals, electronics, and products related to e-commerce/cross-border e-commerce.
A Kerry EAS representative told HKTDC Research that as business opportunities emerged under the Belt and Road Initiative, and as China's economic and trade relations with Southeast Asian countries got ever closer, Kerry Group was using its transportation and logistics networks in southwest China and ASEAN countries to provide customers with one-stop services and comprehensive logistics solutions to help them tap Belt and Road opportunities. In doing so, Kerry was taking advantage of the overland logistics routes that lead from the Chengdu-Chongqing district to the ASEAN markets via Yunnan province and other places, as well as its warehousing, logistics and customs clearance facilities in ASEAN countries.
Enterprises in Western China "Going Out" to Tap "Belt and Road" Opportunities
While capital inflows to western China are growing at an accelerated pace in order to tap local economic and market potential, enterprises from western China are also stepping up efforts to "go out" and seek various resources to raise competitiveness while developing overseas markets further. During 2010-2015, outbound direct investment (ODI) from Sichuan increased about 72%, while that from Chongqing rose more than 300%. The main destinations for Sichuan's outbound investments are Hong Kong, the United States and Australia, while Chongqing's investments go mostly to Hong Kong, Pakistan and Malaysia[10]. As well as "going out" to expand their sales networks, enterprises from Sichuan and Chongqing also go overseas to look for resources to support their business development on the mainland.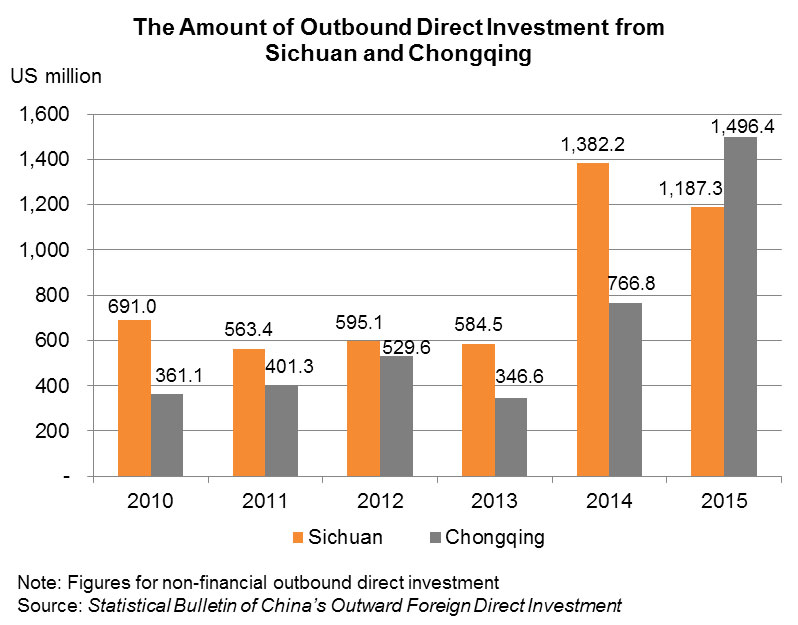 One example is New Hope Dairy Holdings Co Ltd, a well-known mainland Chinese dairy enterprise headquartered in Chengdu. During a 2016 HKTDC-led visit to the company by a Hong Kong design and market promotion industry delegation, a New Hope Dairy representative explained that it was always on the lookout for sources of fresh milk in western China and elsewhere in the country. To establish itself as the "No. 1 fresh-milk brand in China", the company imports premium milk from Europe and, at the same time, develops a number of innovative technologies to ensure the freshness of its products and compliance with stringent quality requirements. In 2015, New Hope Dairy was active in "going out" to set up an Australian joint venture with its overseas partners to invest in upstream and downstream sectors of Australia's milk-supply chain so that Australia's superior resources can be used to support the company's business development on the mainland.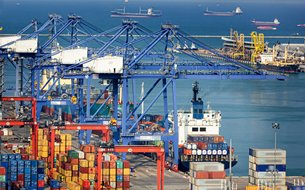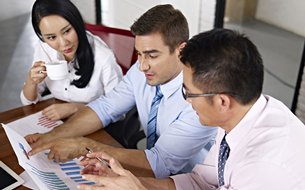 A recent survey conducted by the HKTDC revealed that, to address the challenges resulting from the slowing down of the market and other changes in the business environment, enterprises in western China are actively seeking professional services from outside, such as brand design and promotion strategies; marketing; product design and development; finance; and law, in order to help their transformation and upgrading. Furthermore, most enterprises surveyed indicated that they would consider further "going out" to tap business opportunities in countries along the Belt and Road routes, ASEAN countries in particular. Other than trying to sell more industrial and light-industrial products to Belt and Road markets, these enterprises also wanted to go to countries along the Belt and Road routes to carry out investment activities, including sourcing and setting up production plants.
(For detailed findings of the HKTDC survey, please see China's "Going Out" Initiative: Service Demand of Western China to Tap Belt and Road Opportunities.)
In the course of "going out", most of the enterprises surveyed indicated that they would like to go to Hong Kong to seek professional services and to look for business partners. In fact, Hong Kong is the preferred services platform for enterprises in western China as well as the coastal regions when they seek to "go out". As western China enterprises step up their pace of "going out" – in particular, those operating in economically more developed places such as Chengdu and Chongqing that are actively expanding their overseas businesses – an unending stream of opportunities will emerge for Hong Kong's services providers.
(For more "going out" examples of enterprises from Chengdu and Chongqing, please see Western China: Access Belt and Road Markets via Hong Kong).
---
[1] In November 1999, the Central Committee of the Communist Party of China and State Council convened a central economic work conference confirming implementation of the Go West strategy. In January 2000 the State Council Western Region Development Steering Group convened a meeting fully unfolding work of the Go West strategy. Since then, the Go West strategy has been included in the medium- to long-term plans for national economic and social development to become one of the important strategies of China in building a moderately prosperous society, implementing modernisation, and co-ordinating regional economic development.
[2] Examples include: enterprise income tax at the reduced rate of 15% for companies meeting requirements set out in policies related to the Go West strategy.
[3] For more details on the 13th Five-Year Plan, please see Opportunities Arising from China's 13th Five-Year Plan: An Overview
[4] Under the "one-window" policy, parties participating in international trade and transport may submit standardised information and documentations via a single platform in order to comply with relevant laws, regulations and administration requirements. Companies only have to submit once to the supervisory trade department the relevant information and documentations, which are processed by a unified platform. Under integrated cross-region customs clearance, companies that have handled customs clearance procedures in one location are not required to make customs declaration again in other locations. This policy can help companies save customs clearance time, costs and relevant storage fees.
[5] Source: Sichuan Statistical Yearbook
[6] Source: Chongqing Statistical Yearbook
[7] Source: Chengdu Investment Promotion Commission
[8] Source: Shuangliu International Airport, Chengdu
[9] As of March 2016. Source: Chengdu Investment Promotion Commission
[10] Sources: Sichuan Provincial Department of Commerce; Chongqing Foreign Trade and Economic Relations Commission
Logistics & Supply Chain
Technology
Mainland China
Hong Kong
Mainland China
Hong Kong