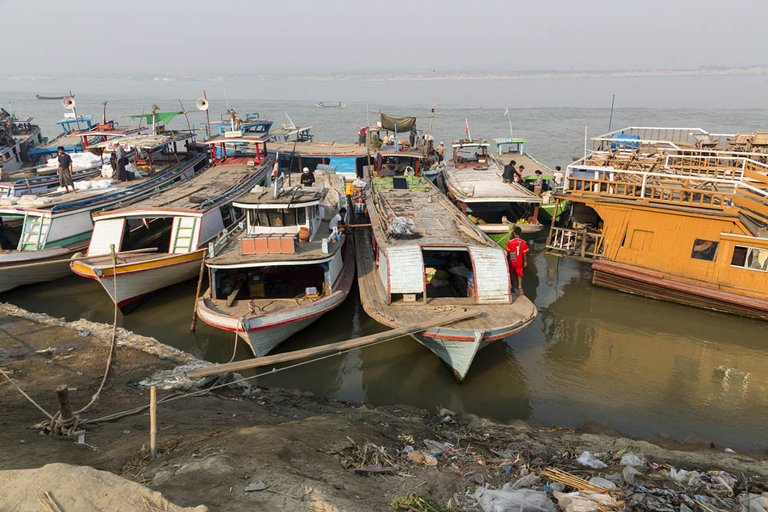 https://hkmb.hktdc.com/en/1X0A6RN4
Myanmar Rising: The Mandalay Opportunity
Mandalay is stepping up efforts to enhance its appeal as a trading, production and logistics hub in Upper Myanmar.
Myanmar, a medium-size ASEAN country by population with a good supply of young workers, has gained increasing attention as one of the alternative production bases in Southeast Asia. Driven by an increase in investment, the International Monetary Fund (IMF) recently projected that Myanmar would achieve 8.6% GDP growth in 2016, leading other fast-growing neighbouring countries such as Cambodia (7%), Laos (7.4%), Vietnam (6.3%) and Bangladesh (6.6%).

In a recent field trip to Myanmar, just prior to the formation of a new Myanmar government in April 2016, HKTDC Research set out to assess the suitability of the country for factory relocation. While all eyes are fixated on Yangon, the country's economic centre and largest city, we also visited Mandalay, its second-most populous city, to gain an informed understanding of the business and investment environment there.

Investors Seeking Opportunities Beyond Yangon

While Yangon is still the primary focus of foreign direct investment (FDI), overseas investors are increasingly paying attention to other locations, in particular the core regional cities such as Mandalay – another growth pole of the country identified under Myanmar's National Comprehensive Development Plan 2010-2030.

Mandalay, the capital of Mandalay Region, is a main economic centre in central and northern Myanmar. In the fiscal year ending March 2015, Mandalay Region contributed 11.4% to the country's GDP, trailing Yangon Region's 22% and Sagaing Region's 11.6%.

In Mandalay, as in Yangon, government departments and private companies invariably expressed optimism over the future economic and business prospects of the country, despite a slowdown in economic growth[1] linked to the general election held in November 2015, which had been widely expected before the poll and turned out to be temporary. Business investment in Myanmar, in the infrastructure sector in particular, has gradually regained momentum in the wake of the smooth political transition in April 2016, sending a signal to investors that Myanmar remains committed to the on-going economic and political reform agenda.
Centrally Located Mandalay Currently a Trade Hub in Myanmar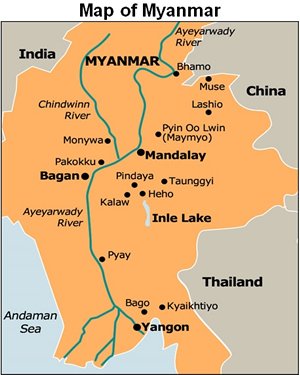 Mandalay is a thriving trade hub thanks to its central geographical location in Myanmar, with a major highway from the border with China running through the region and onwards to Yangon. Along this route, which serves as one of the country's primary trade arteries, agricultural products as well as jade and gemstones are exported to nearby countries, while manufacturing imports, mostly from China, are transported to Myanmar.

Situated on the east bank of Ayeyarwady River, Myanmar's most important commercial waterway that flows through the country from north to south, Mandalay is also well connected with other major cities including Yangon and Bagan via an intricate network of canals transporting passengers and cargos using small vessels, and making it a key distribution centre for local markets.

To boost its trade and logistics hub prospects, Mandalay has set its sight on further industrialisation and enhancement of its economic agglomeration along four main Greater Mekong Sub-region (GMS) Economic Corridors (the Northern Corridor, the Western Corridor, the East-West Corridor and the Southern Corridor, detailed below), which provide external connections between Myanmar and ASEAN countries on the Indochina Peninsula including Thailand, Laos, Cambodia and Vietnam, as well as internal connections within the country.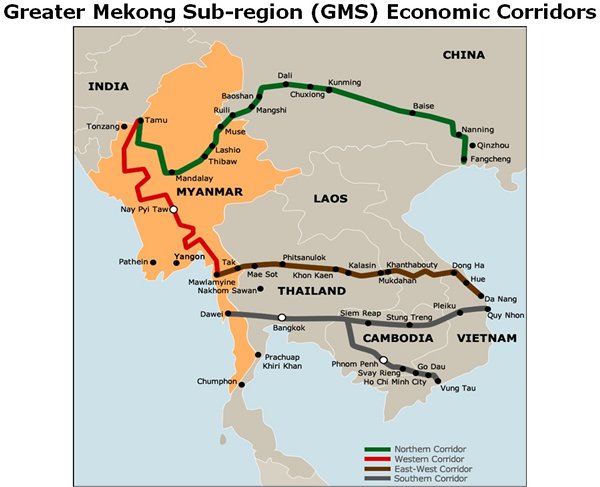 Mandalay Opportunities Arising from the BCIM Economic Corridor

Apart from collaborating with other ASEAN peers along the GMS economic corridors, Myanmar designates a major role to Mandalay in the development of the Bangladesh-China-India-Myanmar (BCIM) economic corridor, a route proposed under China's Belt and Road Initiative (BRI) that links India's Kolkata with China's Kunming (K2K), with Myanmar's Mandalay and Bangladesh's Dhaka among the key points along the K2K highway. To this end, Mandalay is set to benefit from the improvement of infrastructure and industrial zones creation along the BCIM economic corridor.
Currently, most of the infrastructure and logistics companies in Mandalay focus on the domestic market and face a challenge in providing services that meet international standards. Construction of the BCIM economic corridor, which will comprise not just roads and power lines, but also industrial cities along the way, will create ample opportunities for overseas service providers with technical and expert knowledge in areas such as infrastructure construction and project management to enter the Myanmar market. In due course, this will facilitate knowledge sharing and technological transfer through partnerships between local and international companies, and will help to enhance the overall trading and logistics capability of Mandalay in the longer term.

Opportunities in Light Manufacturing, Agro and Food Processing

In terms of industrial production, most of the manufacturers in Mandalay Region are involved in agro/food processing, machinery and the production of a limited range of consumer goods. Apart from showing the potential to further develop its trading and logistics sector, opportunities also exist for companies to engage in light manufacturing in Mandalay, where land is cheaper than in Yangon.

According to a recent survey report[2] released by the Myanmar Investment Commission (MIC), the investment climate in Mandalay is promising with 56% of the survey respondents rating the business prospects of their industries in Mandalay as good for the coming three years, citing growing market demand, better infrastructure and improved government services.

While highlighting the region's potential, the MIC survey recognises that Mandalay faces institutional and infrastructure limitations that may hinder its further development. To enhance Mandalay's competitiveness, especially in the medium term, the MIC report suggests certain courses of action, such as upgrading the existing dilapidated transport infrastructure and increasing the availability of electricity supply and usable land.

On the heels of notable efforts made under reforms initiated by former President Thein Sein, the new NLD government under President Htin Kyaw is also committed to further liberalising Myanmar in order to attract foreign investment. However, it will take some time for Mandalay to gradually build up its economic capacity. Until then, investors seeking to take advantage of the array of opportunities presented have to carefully weigh up the benefits and challenges associated with an early entry into Mandalay.

Infrastructure Capacity Building

Mandalay's favourable geographical location provides it with a unique opportunity to develop itself into a key regional transport hub. However, the country's transport infrastructure on the whole requires a significant upgrade. In the 2016 World Bank's Logistics Performance Index (LPI), Myanmar ranked number 113 out of 160 countries, trailing the other ASEAN countries. In terms of the quality of infrastructure, one of the LPI components relates to trade- and transport-related infrastructure (e.g. ports, rail, and information technology): Myanmar was ranked 105th.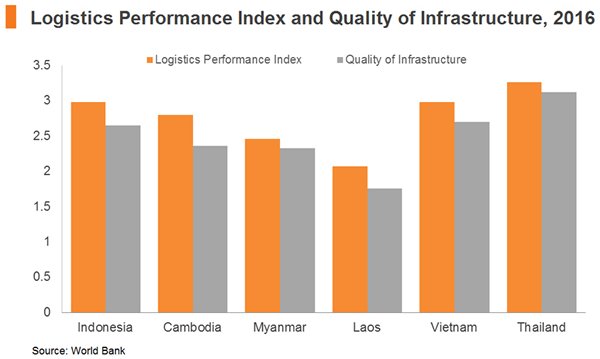 In HKTDC Research's recent trip to Myanmar, nearly all of the private-sector interviewees whom we met pointed to the country's poor transport infrastructure, notably bad roads and insufficient port facilities, as a main obstacle to doing business. Upon our inspection of the road and transportation conditions in the two cities, Yangon is evidently better than Mandalay, where there appears to be proportionally fewer paved roads, numerous unpaved ones and even dirt trails, causing dust to hamper views during a typical dry and windy day.

While HKTDC Research found that new roads are being built in Mandalay, along with some newly completely routes such as those leading to the new airport, road infrastructure generally appears to be outdated with a pressing need to be upgraded, something urgently required in order to improve the efficiency of the country's logistics links.

In the 2014-2015 financial year, FDI inflow to Myanmar was more than US$8 billion (MIC approved basis), with Yangon Region accounting for 47% of the FDI total. In comparison, Mandalay Region received just over 8% of the overall FDI. Admittedly, most foreign investors remain focused on Yangon and its nearby areas for the time being, where infrastructure is relatively more advanced, in part reflecting their concern about Mandalay's transport infrastructure and other shortfalls.

That said, Mandalay authorities also recognise the need to modernise its underdeveloped transport network in order to keep pace with the country's rapid development. A number of projects are now in process, which hopefully will enhance Mandalay's overall environment for doing businesses in the longer term.

As the authorities roll out more new projects, many business opportunities will arise for foreign investors in the infrastructure and logistics sectors. The following section highlights some of the latest developments in Mandalay, giving potential investors a better picture of the region's future prospects.

Transport Infrastructure – Road

As a growing economy, Myanmar has experienced a surge in demand for roads, with the total number of registered motor vehicles rising beyond five millions in 2014 from less than one million in 2004. However, only 40% of Myanmar's road network is paved and at least 60% of its highways need maintenance, according to the ADB's Asian Development Outlook 2016.

To improve land connectivity and to foster national and regional integration, major highways in Myanmar are being extended or upgraded. For example, the Mandalay-Muse Highway is the main route for border trade through Myanmar's Shan State to China. An increase in border-trade activities between the two countries since 2012 has led to regular traffic jams and frequent road accidents, given an estimate of about 1,500 trucks using this road every day.

To relieve traffic congestion and increase safety, it was announced in early 2016 that the existing two-lane highway will be updated to a four-lane asphalt road with a US$300 million investment by the Oriental Highway Company, a former subsidiary of Asia World Group that is managing the highway under a Build-Operation-Transfer (BOT) agreement with the government. Two 16-kilometre sections of the Yangon-Mandalay Highway will also be upgraded along with the repair of roads and bridges within the Mandalay Region as part of a 100-day project launched by the local Road Transportation Administration Department (RTAD).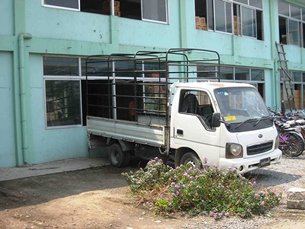 Transport Infrastructure – Railway

Myanmar has an extensive rail network, with about 6,000 kilometres of tracks connecting the country's main cities. The Yangon-Mandalay route is one of the busiest in Myanmar and many commodities imported from China are transported to freight stations in Mandalay and forwarded to Yangon by rail. Like the country's road system, the railway is severely under invested. As a result, a train from Yangon to Mandalay could take up to 16 hours to complete this 622-kilometre journey.

To reinvigorate the aged railway, a US$2.2 billion project is scheduled to commence in 2017, upgrading the railway under a three-phase programme and shortening the total travel time to eight hours upon completion in 2025. A tender for private companies to work on this railway upgrade project is expected by the end of 2016.

Transport Infrastructure – Port

Anticipating container-port traffic to build up over time, a new river port called the Semeikhon Port (SMP), located along the Ayeyarwady River about 70 kilometres from the city of Mandalay, is being built by the Mandalay Myotha Industrial Development Public Co. (MMID), the same company responsible for the nearby 4,400-hectare Myotha Industrial Park project, which is also under development.

The SMP, covering 152-hectares with a quay length of 1.5 kilometres, will be developed in phases. The first phase is designed with a floating berth, barges and cranes that allow the loading of cargo regardless of the differences in water levels in the wet and dry seasons. It is reported that the port will have the capacity to handle an estimated 200,000 tonnes of general cargo, containers and roll-on-roll-off (Ro-Ro) cargo once phase one is completed. As of March 2016, basic port infrastructure had been completed, according to MMID.

Transport Infrastructure – Air

In terms of air transport, Mandalay Region has two airports, including Mandalay International Airport (MIA), one of the only three international airports in the country alongside Yangon and Naypyidaw, the capital of Myanmar. At present, there are many international airlines and domestic airlines operating in Mandalay. Myanmar National Airlines, the national flag carrier, has the most extensive route network within the country. It has operated direct flights from Yangon to Hong Kong since December 2015, but has yet to provide a direct service to Hong Kong from Mandalay.

To meet the increased demand brought about by the accelerated business activities, the MIA will carry out a US$13.5 million upgrade plan, capitalising on the city's existing road and river transport networks to facilitate trade links. This project aims to raise the airport's annual passenger-handling capacity to 15 million from its current three million, while boosting its cargo-handling capacity in three phases, from 4,000 tonnes in Phase 1 to 12,000 tonnes in Phase 3. In addition to international contracting of construction, there will also be opportunities for Hong Kong companies with experience in airport management to benefit from the expansion project.
Electricity Supply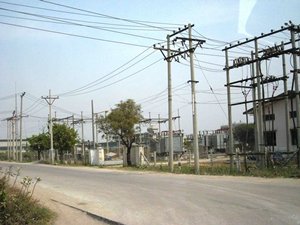 Apart from transport infrastructure, a lack of access to reliable electricity is considered to be another major shortcoming to investing in Mandalay. While the situation has improved compared to two or three years ago, as pointed out by many businessmen and government officials interviewed by HKTDC Research, it is worth noting that about 30% of some 4,780 villages in Mandalay Region are still not connected to the public electricity grid, according to the Mandalay Electricity Supply Corporation.

In an effort to boost electricity supply, an agreement was signed in 2015 by Singapore-listed Sembcorp Industries and the Myanmar government to build a 225-megawatt gas-fired power plant in Mandalay. The plant, with a total investment of US$300 million, is expected to be operational by 2018.

To reduce the country's dependence on hydropower, the Myanmar government signed a US$480 million deal with United States-based ACO Investment Group in 2014 to construct two solar plants in Mandalay Region. All these developments will be conducive to creating a more stable electricity supply for Mandalay Region.
Land Supply – Industrial Zones in Mandalay

Apart from taking into account infrastructure development, the ease of finding a location to establish production plants will also be crucial for manufacturers considering investing in Mandalay, along with the availability of labour. As the country's second-most populous city, the land locked Mandalay is centrally located and able to attract workers from the surrounding provinces, thus ensuring a good supply of workers over the short-to-medium term.

While land cost is generally lower compared to the country's largest commercial centre Yangon, there are only a limited number of industrial zones available in Mandalay. At present, Mandalay Region has three industrial zones, namely the Mandalay Industrial Zone, Myingyan Industrial Zone and Meiktila Industrial Zone.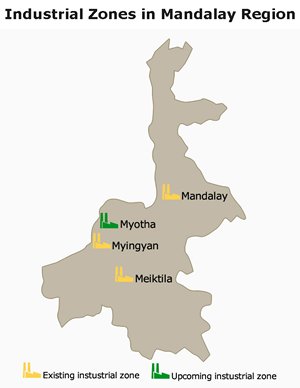 The Mandalay Industrial Zone, located in the city of Mandalay, was reported to have more than 1,200 factories in operation at the end of 2015, with its focus on production of consumer and household goods, agricultural and machinery. The zone also handles some export-oriented products from certain wood-based industries, with major markets including France, Italy, Japan, China and Thailand.

Most of the factories located in the Mandalay Industrial Zone are locally owned or run as joint ventures with companies from Southeast Asia, such as Singapore or Thailand. According to the Mandalay Industrial Zone Management Committee, plans to upgrade the zone include improving basic infrastructure as well as human resources development in order to attract FDI.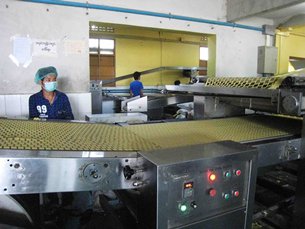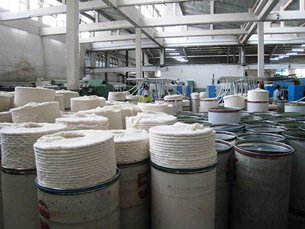 In addition to the three existing industrial zones, the Mandalay Myotha Industrial Park (MIP), located about 58 kilometres from the city of Mandalay and 45 kilometres from Mandalay International Airport, is also being developed under a joint venture between the Mandalay city government and the MMID.

According to the MMID, this new industrial park will be developed in three phases: Phase 1 during 2013-2017, Phase 2 during 2017-2022 and Phase 3 during 2022-2025. The park will include areas for industrial development, warehouse and logistics development, residential development, road transportation development, and the development of commercial facilities, with five target industry group being highlighted, as shown below. The MIP is expected to create a new industrial and logistic hub in upper Myanmar, enhancing the overall competitiveness of Mandalay in the future.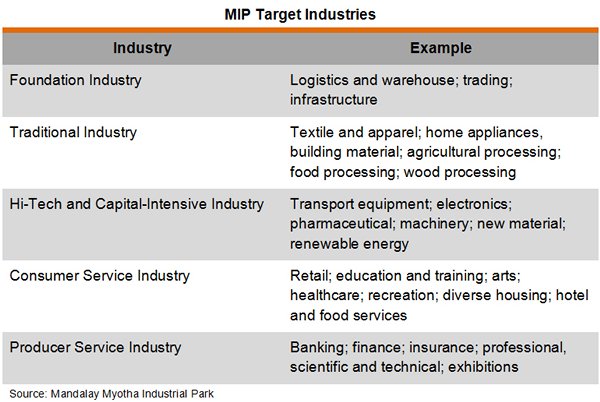 Summary

As Myanmar regains economic vigour, Mandalay is expected to thrive as the economic hub in the central and northern parts of the country under the new Myanmar government led by President Htin Kyaw, creating trading, light manufacturing and logistics opportunities. Meanwhile, an upgrade of the poor infrastructure is badly needed, with the government taking practical measures to tackle the problem with private-sector participation, thus creating opportunities for related services companies. Hong Kong investors seeking to go beyond Yangon to tap into the Mandalay opportunities, however, should carefully weigh up the benefits and the challenges in making an early entry there.
---
[1] According to the IMF, Myanmar's real GDP growth slowed to 7.0% in 2015, from 8.7% in 2014.
[2] Myanmar Investment Commission : Mandalay Investment Opportunity Survey Report, October 2015
Logistics & Supply Chain
Building & Construction
Myanmar
Southeast Asia
ASEAN