https://hkmb.hktdc.com/en/1X0A1XRI
Chinese Mainland Production Costs: March 2015 Update
Guangdong will raise the minimum wage levels
In 2014, 19 provinces/regions across China raised their minimum wage levels by an average of 14.1%. This was lower than the 18% average seen in 2013. According to official figures, in the first three quarters of 2014, the average wage of employees in Guangdong increased by 6%. This compares with average national growth across China of 10.2%.
In Guangdong, the minimum wage level will be raised again, as of 1 May 2015, by an average of 19%. The city of Shenzhen continues to have the highest minimum wage level in China.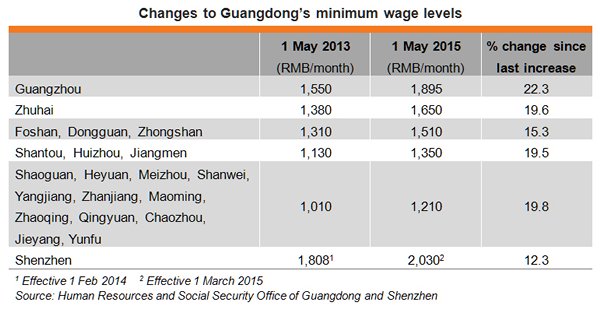 According to an HKTDC survey, carried out in the first quarter of 2015, 64% of responding Hong Kong companies experienced a rise in labour costs on the mainland compared to the previous quarter. Of those respondents who experienced higher labour costs, 18.8% said the increase was more than 10%, while 59.4% said the increase ranged between 5% and 10%.

Slowdown in rate of China's food price increases
With the majority of Hong Kong manufacturers operating on the mainland - especially in the Pearl River Delta (PRD) - obliged to provide dormitory accommodation and meals to migrant workers, higher food prices inevitably have an impact on overall operating costs. China's average increase in food prices fell from 4.1% in May 2014 to 2.9% in December. In the first two months of 2015, the consumer price index (CPI) increased by 1.1%, with food prices rising 1.7% on average.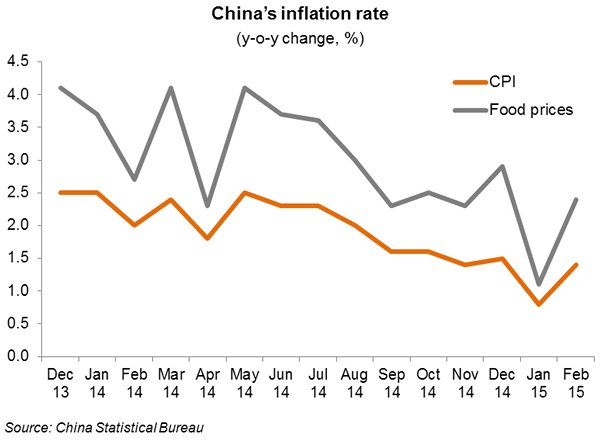 Mainland gasoline prices adjusted downward
The mainland adjusted its mechanism for determining the retail prices of gasoline and diesel in April 2013. As a result, retail prices have been adjusted with increased frequency and have stayed more in line with world oil price movements. Since June 2014, the retail prices of gasoline and diesel in China had been adjusted downward 12 times, in line with global market trends, before adjusting upward again in February 2015. The retail price of gasoline in Guangdong, for instance, was down 28% in January 2015, compared to June 2014, but went up again by 9.7% in February 2015.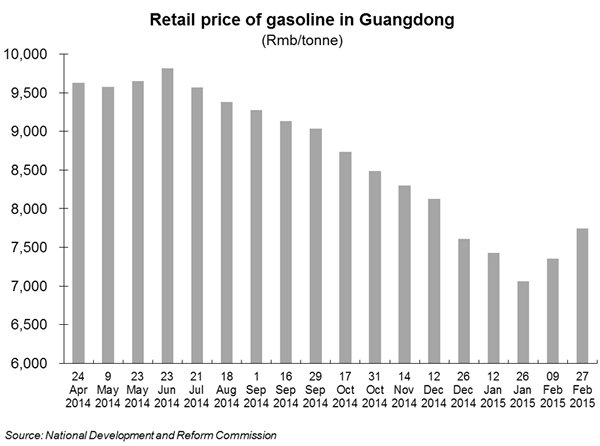 World metal and commodity prices moving downward
The average price of metals has generally been on a downward trend since September 2014. According to The Economist Metal Price Index, the general price level of metals dropped by 18.5% in mid-March 2015 compared to the peak recorded in August 2014. The Economist all-items commodity price index also dropped by 20% in mid-March 2015 compared to its peak at the end of April 2014.
The prices of different metal types have also exhibited individual variations. While aluminium alloy has generally remained in a downward trend since September 2014, copper prices edged up by about 10% in mid-March 2015 compared to end-January, though still about 15% lower than the peak seen in mid-July 2014. Crude oil prices dropped by 55% by mid-March 2015 compared to mid-June 2014, though were still 15% up on the recent trough of January 2015. The price of polypropylene (PP) in mid-March 2015 was about 20% higher than in mid-January.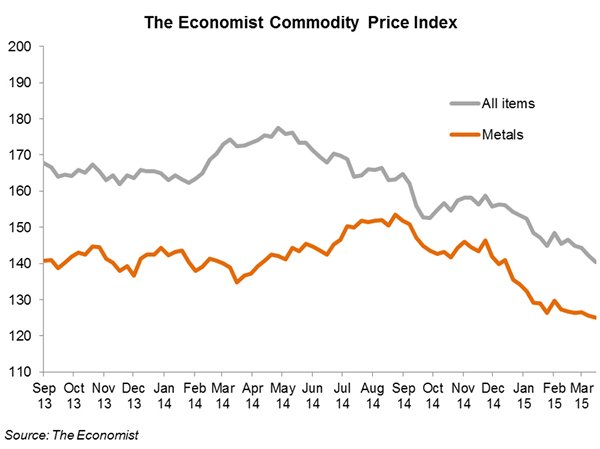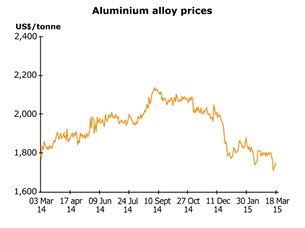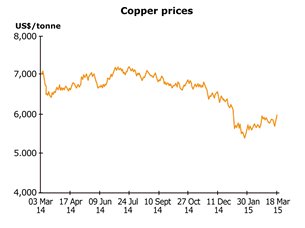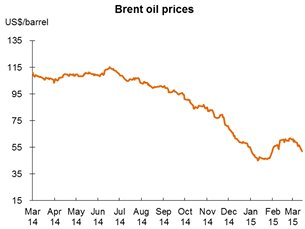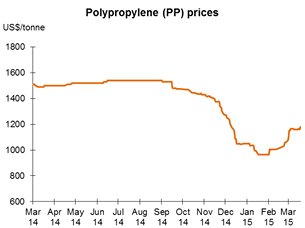 Source: London Metal Exchange, China Plastic Information Web, Pacific Exchange Rate Services of the University of British Columbia
While the general metal price level has come down in recent months, the price level of agricultural commodities (such as wheat and soya beans,) have also continued to show a generally downward trend. The average price of cotton has remained relatively stable over the last few months, but was still 26% lower in February 2015 than in March 2014. The average price of pulp in February 2015 was about 2% lower than in April 2014.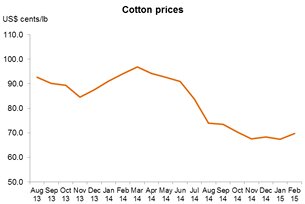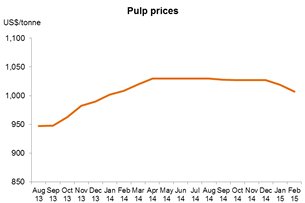 Source: IMF, Royal Bank of Canada
The Rmb exchange rate shows fluctuations
From February to May 2014, the RMB depreciated against the US dollar by about 3%. From the start of June 2014 to end of October, the RMB reversed its downward trend and appreciated by 2.2% over that period. By early March 2015, however, the Rmb had depreciated by about 2.6% against the US dollar when compared to end-October 2014. It then shot up again around mid-March 2015. While Rmb appreciation had long been a major challenge for those Hong Kong manufacturers operating on the mainland, these volatile fluctuations in the Rmb exchange rate may also pose a threat.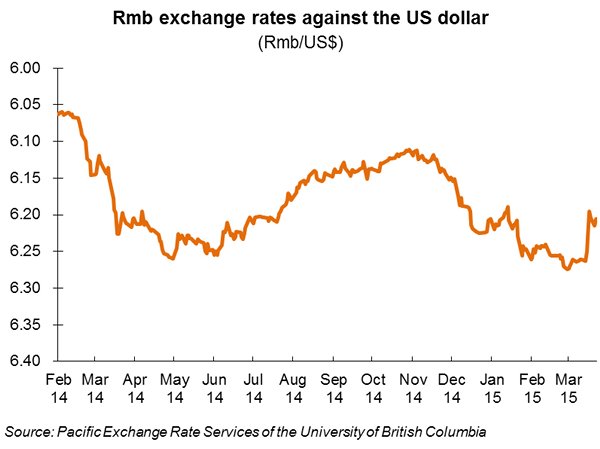 Mainland China
Mainland China