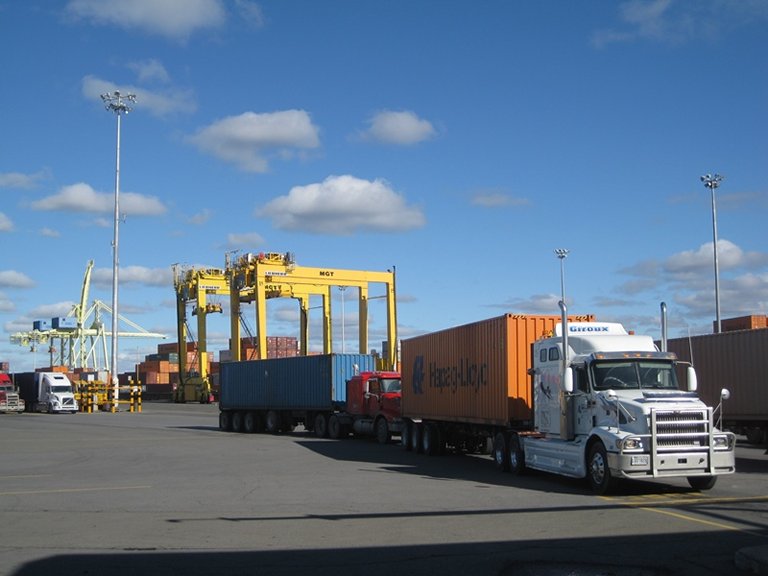 https://hkmb.hktdc.com/en/1X0A12IC
Canadian Logistics: The Hong Kong Link
As a strategic gateway to Southern China situated at the heart of Asia, Hong Kong provides the ideal import/export platform for Canadian logistics and distribution companies, allowing them to save on transportation costs, while helping them to capitalise on the ever-growing volume of Canada-Asia trade. The state-of-the-art infrastructure and superior connectivity of Hong Kong have enabled Canadian companies along the global supply chain – including port operators, nationwide distributors and the more far-sighted businesses – to make the most of the opportunities on offer.

From the West Coast to the East Coast

As a sure sign of these burgeoning trade ties, Asia is now Canada's second-largest trading partner, accounting for 12% of the nation's exports and 20% of its imports in 2013. With one in eight Canadians having an Asian connection, this increasingly important bilateral trade flow has engendered considerable logistics service demand for local and international logistic players. It has also prompted many Canadian and Asian companies along the global supply chain, including both traders and retailers, to consider new logistics options.


Home to Canada's largest and most diversified port, Port Metro Vancouver (PMV), the province of British Columbia (BC) has proved highly committed to capitalising on its advantageous position as Canada's Pacific gateway, a development that began with the launch of the Asian-Pacific Initiative in 2007. As the first province in Canada to adopt an "Asia Strategy", BC has moved quickly to strengthen its trade and investment links with the Asia-Pacific region. Between 2000 and 2013, BC's exports to Asia, for example, almost doubled, reaching 44% (compared to Ontario's 6%). PMV is also said to handle nearly all of the Asian imports destined for the Canadian market.

In terms of developing a world-class supply chain and gateway infrastructure, PMV is Canada's largest container port. It is also the third-largest container port on the West Coast of North America, after Los Angeles (LA)-Long Beach (LB) and New York-New Jersey. It has now established itself as the business bridge for those companies involved in Canada-Asia trade. In 2013, PMV handled 135 million tonnes of cargo, 2.8 million twenty-foot equivalent unit containers (TEUs) and more than C$180 billion in goods. This saw it working with more than 160 economies around the world. Topping the list were its Asian trading partners, including China, Japan, South Korea, India, Taiwan and Indonesia, with Hong Kong also among PMV's leading destinations for inbound cargo.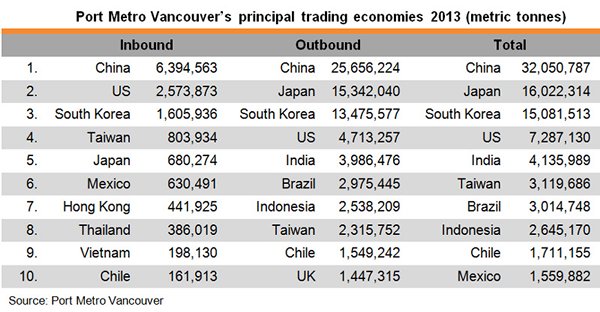 As one of the most geographically convenient gateways for Asian cargo bound for the Canadian and Midwestern US markets, PMV attracts nearly all of the world's key container carriers as customers for its regular services to and from Asia's ports. Supported by a well-established network of transload and warehousing facilities, the port offers a variety of intermodal connections, including expansive rail services (provided by Canadian National (CN) and Canadian Pacific (CP) railways), and extensive road connections.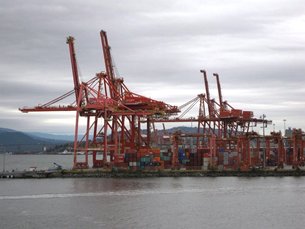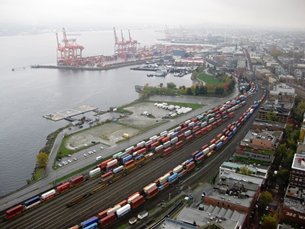 Against this backdrop, many Canadian companies, including Loblaw, the country's largest retailer, have based their nationwide distribution facilities in BC. According to Robert Wiebe, Senior Vice-President of Supply Chain for Loblaw, shipments coming from Hong Kong or Southern China can arrive at PMV in less than 14 days. After customs clearance and consolidation at its distribution centre in BC, the store-specific containers can be sent out, either by road or rail, and arrive at Canada's major consumer market on the East Coast in around eight days. Taken together, this land-and-sea model can save as much as a week on transportation time when compared to using all-water services to call directly at the ports along Canada's East Coast.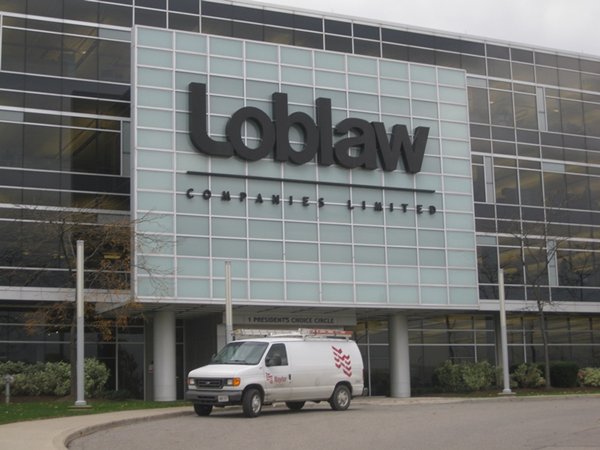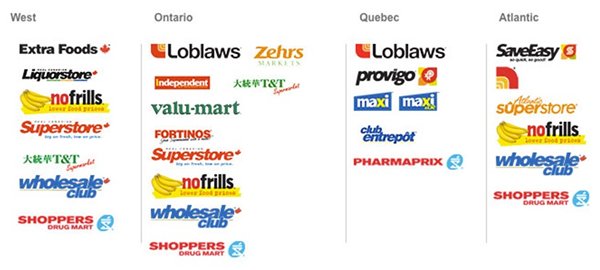 Despite ongoing expansion, however, PMV has been subject to traffic congestion and delays since early 2014, largely as a consequence of the West Coast port strife in the US and the problematic subsequent labour negotiations. In addition to diverting their business to other West Coast ports, such as the Port of Prince Rupert (North America's deepest natural harbour and the closest container facility to Asia in Canada), many retailers now opting to bring merchandise into Canada and the US from ports on the East Coast. This is being done to avoid any possible problems caused by further potential West Coast port disruptions and has resulted in wave of cargo diversions from the West to the East.

While it can be costly to change shipping patterns – and realignment is to be expected when normal service is resumed – this cargo diversion has created new momentum for logistics players along the East Coast. A particular beneficiary has been the Port of Montreal, which is now aiming to serve Asian shipments bound for the North American East Coast via the Suez Canal and the Mediterranean Sea.

The Port of Montreal is the country's second-largest container port and the leading container port in East Canada. The port's strategic location, as the shortest direct route from Europe and the Mediterranean to North America's industrial heartland (Chicago, Detroit, Quebec and Toronto), allows traders to reach 40 million consumers within one trucking day and a further 70 million consumers within two rail days. Last year, the Port of Montreal handled more than 28 million tonnes of cargo, 1.3 million TEUs or C$40 billion in goods in 2013. In total, it served 98% and 93% of the importers and exporters in Quebec and Ontario respectively.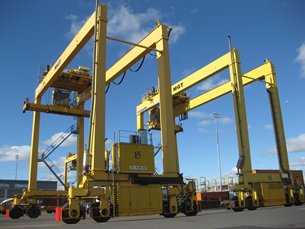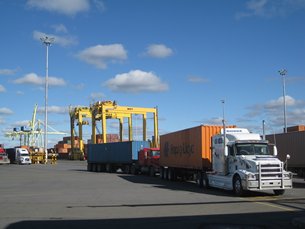 Daniel Oliver, Business Intelligence and Innovation Director of Montreal Port Authority, believes the option of all-water services is being increasingly considered by those Asian exporters targetting the East Canada consumer market, especially in terms of non-seasonal items. Although the Port of Montreal remains largely an export port for Canadian commodities and forestry products, it is positioned far enough inland for Asian traders to be able to maximise transportment by ship – making it a far more economical way to move goods than by road and rail.

While the shipping time from Hong Kong or Southern Asia to the East Coast ports is typically twice as long as that of to the West Coast ports, East Canada is home to more than 70% of the country's population. The proximity to this major consumer market is another reason that makes the East Coast ports, such as Montreal, ever more competitive and an increasingly busy part of the Asia-Canada trade route. The Port of Montreal's readily available capacity and on-the-ground services have also proved attractive.

How can the Hong Kong logistics platform come into play?

To cash in on this ever-growing Canada-Asia trade and logistics demand, several Canadian logistics and distributor players have recalibrated their operations and expansion strategies in order to use Hong Kong as an import/export platform. The examples of first-movers here include the Port of Montreal and Loblaw, as well as several other e-commerce and food and beverage enterprises.

As part of its business development strategy, in 2013 the Port of Montreal added a Hong Kong-based Asia representative to its presence in the US and Europe. Jeremy Masters, the founder of Shipping Masters (HK) Limited, has been appointed to help the port develop its markets in Southeast Asia and India, as well as to promote all-water services from Asia to East Canada. Masters says that many Asian traders are not very familiar with Quebec or the St Lawrence River, where the Port of Montreal is situated. One of his tasks has been to market the port as a gateway to both the populous East Canadian consumer market and North America's industrial heartland.

As Asia's premier trading and logistics hub, Hong Kong – home to more than 14,000 logistics companies – can offer superior connectivity and highly flexible supply networks, together with a significant pool of logistics professionals. It is also a favoured meeting place for international shippers and traders. This makes it the ideal location for the Port of Montreal to showcase its all-water services to those companies looking for alternative routes in order to bypass the labour disputes affecting the West Coast of North America.

Other developments have seen Loblaw, a Canadian retail giant always looking for innovative ways to save on its transport costs, look to use Hong Kong as a consolidation hub for all the products it sources from Asia. Instead of shipping containers from a variety of Asian destinations, such as Bangladesh, China and Vietnam, to its British Columbia distribution facility, the firm is looking to implement store-specific consolidation in Hong Kong prior to shipment to Canada. By doing so, a great deal of time and money may well be saved. Double handling (after landing in Canada) can be avoided, as the containers can be sent direct from the port to their final destinations, without any further loading and unloading processes.

Aside from port operators and nationwide retailers, several small- and medium-sized Canadian enterprises have also looked to Hong Kong, seeing it as the ideal location to trial their domestically-produced products. In 2013, seeing few entry barriers, Antoine Valin, Co-founder and Chief Operating Officer of Canada Mall Ltd (formerly Quebec Mall Ltd), opened a one-stop online shopping mall for high-end Quebec products in Hong Kong. With the intent of establishing the "Canada (Quebec) Mall" brand as an exclusive dealer in a selection of high-quality Canadian gourmet foods and cosmetics across Asia, Valin rented a warehouse in Hong Kong's Quarry Bay district as a warehousing hub for his online orders.

Although Canada (Quebec) Mall initially targetted Canadian expats living in Hong Kong, Valin has since been working through various marketing channels, notably social media and the Canadian Chamber of Commerce, to reach out to the wider local community. Apart from seeking out reliable business partners and/or long-term third-party logistics service providers in Hong Kong (in order to help with warehousing, marketing and delivery arrangements), Valin is now looking to expand his current range of 50 items from 25 Quebec suppliers. He hopes to include products from several other Canadian provinces, while also exploring a number of other promising Asian markets in Asia, notably the Chinese mainland.
Canada
North America
Hong Kong