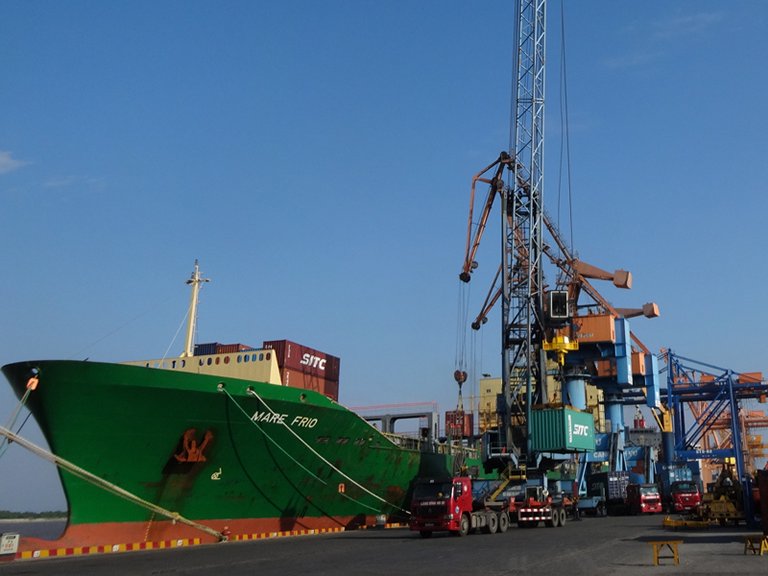 https://hkmb.hktdc.com/en/1X0A12CI
Vietnam's Logistics Market: Overcoming the Challenges
Enhancing customs and infrastructure is seen as conducive for relieving the concerns of logistics companies operating in Vietnam
Vietnam's Regional Clusters of Seaborne Trade Activities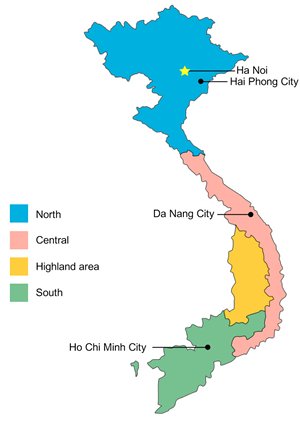 With a coastline stretching 3,200 kilometres along the South China Sea, Vietnam has a particularly advantageous geographical location, one that gives it access to the world's major seaborne trade routes. Not surprisingly, maritime transport is the predominant mode of facilitating trade, with cargo mainly handled by the shipping hubs situated at either ends of the country. Currently, the bulk of sea cargo throughput is concentrated at the ports of Ho Chi Minh City (e.g. Saigon New Port) in the south, and the Haiphong Port in the north. Together, they account for more than 70% of the country's total cargo throughput.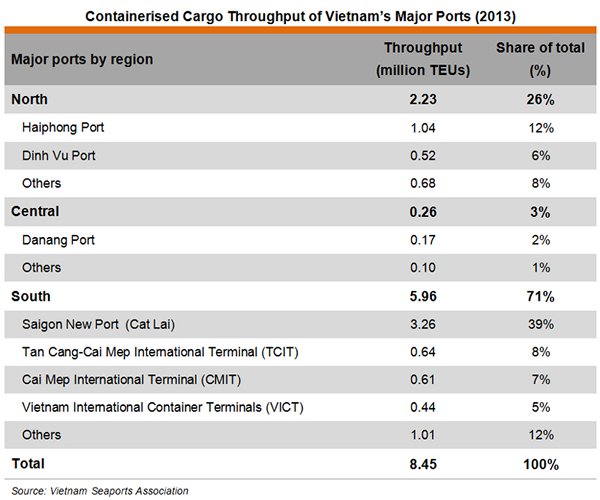 The traditional centre of manufacturing and trade, the south is home to Vietnam's major container ports. Over the past decade, however, the northern region has increasingly become a popular destination for foreign manufacturers looking to diversify their production bases amid the rising costs of operating in China. The China-plus-one strategy adopted by a number of Japanese companies has also contributed to this development. Their close proximity to China has seen the container throughput of the northern ports growing fast, a development fuelled by a surge in foreign-invested manufacturing activities in the region. From 2000 to 2013, throughput at the northern ports grew at compound annual growth rate (CAGR) of 20%, faster than that of the southern ports (17%) and the central ports (15%).
Industrial Expansion Creating Opportunities in the North
In recent years, Vietnam's northern centres - notably Hanoi, Haiphong and the Bac Ninh province - have become popular production bases for several Japanese and South Korean manufacturers, including Samsung, Panasonic and Bridgestone. A combination of a variety of tax incentives and lower labour costs than in the south have made the northern provinces more attractive to foreign manufacturers, as well as their associated suppliers and supporting industries. In turn, this has boosted the export of finished products and the import of parts and components.
Samsung, for example, has established a number of manufacturing plants in the northern provinces of Thai Nguyen and Bac Ninh. The localisation rate at these Samsung electronics plants - measured by the proportion of production materials and parts that can be locally sourced - is estimated at about 39%. Most of these 'local' supplies, however, are from foreign suppliers based in Vietnam, as comparatively few Vietnamese companies have the capability to supply the parts Samsung requires. According to a survey conducted by the Japan External Trade Organisation (JETRO), the localisation rate of Japanese enterprises in Vietnam was 32% in 2013, markedly lower than the respective rates of China (64%) and Thailand (53%). As a result, many of these parts and components, such as chargers and USB cables, have to be imported from other Asian countries, including China and South Korea.
Foreign logistics companies expanding to Northern Vietnam
In order to capitalise on the rapid industrial growth in northern Vietnam, many foreign logistics services providers are strengthening their presence in the region. Japan's Yusen Logistics, for example, set up a new logistics complex in Haiphong in November 2014, comprising a 12,000 square metre (sqm) warehouse and a 23,800 sqm container depot with 3,000 TEUs storage capacity.
In July 2014, C.Steinweg from the Netherlands began construction of its "Bonded Logistics Hub" in Haiphong. Targeted for completion in August 2015, it includes three warehouses with a total storage area of 30,000 sqm.
Major Challenges in Vietnam's Logistics Sector
a) Lengthy Customs Processes
According to a number of local and foreign logistics companies interviewed during a recent HKTDC Research trip to Vietnam, the country's customs and regulatory practices act to increase the operational costs of many logistics companies servicing the region. Although Vietnam's customs procedures are currently being modernised– a new electronic customs clearance system ('e Customs') was launched in April 2014 – delays are still common. These have largely been attributed to a number of inefficient, manual customs processes, including cargo inspections that have attracted criticism for lacking in both transparency and consistency. According to a number of leading logistics companies, Vietnam's customs requirements are more stringent and cumbersome than those in many other Asian countries. Its customs practices are also seen as unpredictable and bureaucratic. It takes, for example, 21 days to export a cargo shipment from Vietnam, compared to 14 days for Thailand and 11 days for Malaysia.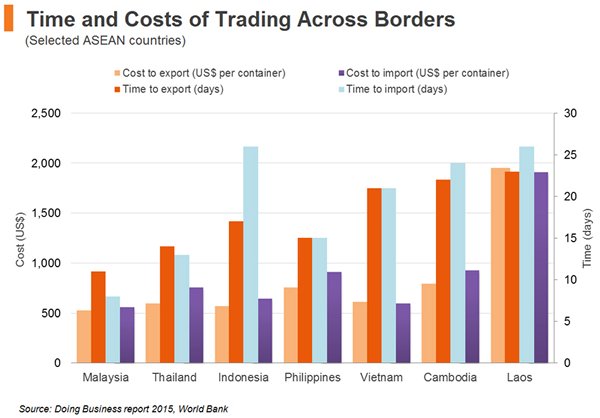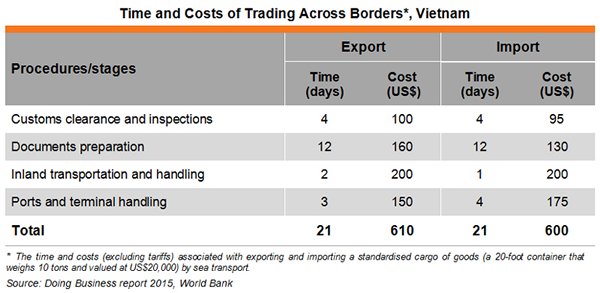 b) Inadequacy of Transport Infrastructure
Both local and foreign logistics companies often cite its relatively underdeveloped transport infrastructure as a major challenge for business development in Vietnam. In particular, logistics facilities, such as warehouses and container freight stations, are not user-friendly, as they are often standalone and located far from either ports or manufacturing plants. Congestion is another major problem, causing delivery delays that increase transportation costs. As of June 2014, there were about 290 industrial parks in Vietnam, 33 of which had been operating for just over three years. The fast growth of the number of industrial parks has outpaced infrastructural development. In particular, many of the highways linking the ports with industrial parks or city centres, as well as the port terminals, are highly congested. The problem is most severe in the northern provinces, where the infrastructure is less developed when compared with the south. Traffic and port congestion often leads to delays in transporting cargo from the factories to ocean carriers and can impede the delivery of imported parts and components, resulting in higher inventory carrying costs for manufacturers.
Infrastructure inadequacies aside, there is also a need for quality logistics facilities of an international standard, including a stable supply of utilities, efficient warehouse management systems and security. Although several modern facilities have been built recently, largely by foreign-invested logistics companies, the majority of the older ones are sub-standard. Significantly, many of the logistics parks in Vietnam have been planned and developed by private companies, rather than by the government, thereby depriving Vietnam's logistics sector of the benefits of comprehensive planning and the subsequent emergence of an efficient logistics network.
Several port development projects have failed to take into account the need for infrastructure and support facilities, including the importance of highway access to container terminals. Inevitably, this has hindered the efficient movement of cargo to and from the ports. It is not unusual to find stretches of highway in Vietnam that consist of less than four lanes, making them unsuitable for rapid transit. In light of Vietnam's deficient transportation infrastructure, many multinationals are increasingly keen to deploy third-party logistics services (3PLs) and supply-chain management services to ensure an efficient logistics process in support their production activities, especially in the case of time-sensitive products.
To ensure a reliable service, many logistics companies have established strong ties with local agencies that specialise in various aspects of the logistics process, such as customs brokerage, documentation and warehousing services. This is often cited by leading logistics companies as a key element in the smooth running of transportation operations in Vietnam. Hong Kong companies looking for a partner in the Vietnamese logistics market are advised to assess the local networks and operating experience of the potential partnering company. (See also "Vietnam's Logistics Market: Explore the Opportunities")
In recent years, Official Development Assistance (ODA) [1] loans have played a significant role in developing the transport infrastructure in Vietnam. Along with the continued inflow of foreign direct investment (FDI), transport infrastructure development is supported by ODA from the FDI originating country, such as Japan or Korea. For example, apart from being the largest source of cumulative FDI in Vietnam, Japan has also been its biggest source of ODA since 1995, providing US$20 billion worth of ODA (as of end-2013) for a range of infrastructure projects, including highways, ports and power plants.
Infrastructure projects recently funded by Japan's ODA
Kicking off in April 2013, the Lach Huyen Port Infrastructure Construction Project includes a deepwater port suitable for accommodating large vessels in Haiphong. Scheduled for completion by 2016, the project will enhance the Lach Huyen Port's capacity and develop the surrounding infrastructure to serve the growing capacity of container ships.
Opening in January 2015, the Nhat Tan Bridge (also known as the Vietnam-Japan Friendship Bridge) links Hanoi's Noi Bai International Airport with the downtown district, creating a new, shorter route to the airport that cuts the travelling time by half, as well as easing the traffic congestion on other bridges.
In the World Bank's Logistics Performance Index (LPI) 2014, Vietnam ranked 48th among 160 countries, an improvement on its previous ranking of 53rd for the past three LPIs [2]. From a regional perspective, Vietnam was ranked fourth among ASEAN members, lagging behind Singapore, Malaysia and Thailand, while outperforming Cambodia, Laos and Myanmar. As reflected in the LPI indicator scores, Vietnam's logistics performance has been improving steadily since 2007 in terms of infrastructure, ease of arranging international shipments and the logistics competence of service providers.
---
[1] ODA consists of disbursements of loans made on concessional terms and grants by official agencies, multilateral institutions (e.g. World Bank) and more developed countries. ODA recipients consist of the developing countries.
[2] LPI is based on a worldwide survey of logistics operators, including global freight forwarders and express carriers, who provide feedback on the logistics environment of the countries in which they operate and those with which they trade.
Logistics & Supply Chain
Logistics & Supply Chain
Vietnam
Southeast Asia
ASEAN