https://hkmb.hktdc.com/en/1X09Y0ND
Diversifying Abu Dhabi: FDI opportunities in its non-oil economy
The largest emirate of the United Arab Emirates (UAE), Abu Dhabi contributes more than half of its GDP, largely as it is home to more than 90% of the country's oil reserves. In order to reduce its economic vulnerability to global oil price volatility and develop a more sustainable economy, the UAE government is committed to diversifying the Abu Dhabi economy and is looking to inward foreign investment to as the key means of achieving this.
Investment confidence in Abu Dhabi has revived following the global economic recovery. This has been further boosted by an influx of foreign capital to the emirate, spurred by unrest elsewhere in the Middle East and North Africa (MENA) region. This has resulted in the accelerated development of Abu Dhabi's non-oil sectors. As a consequence, the emirate's non-oil economy expanded at a compound annual growth rate (CAGR) of 7.5% a year during the period 2008-2012, registering 10% growth in 2013 and surpassing the average growth rate of 5% posted by the overall economy.
Traditionally more conservative than Dubai, its near neighbour, Abu Dhabi has taken a prudent approach to economic development. Its long-term plan for economic diversification – The Abu Dhabi Economic Vision 2030 Strategy – has seen the emirate committed to transforming its resources-based economy into a knowledge-based one. The 2030 plan aims to increase the non-oil share of the economy (currently standing at 45%) to at least 60% by 2030. The emirate's major non-oil sectors include construction, manufacturing, finance, retail and the wholesale trade.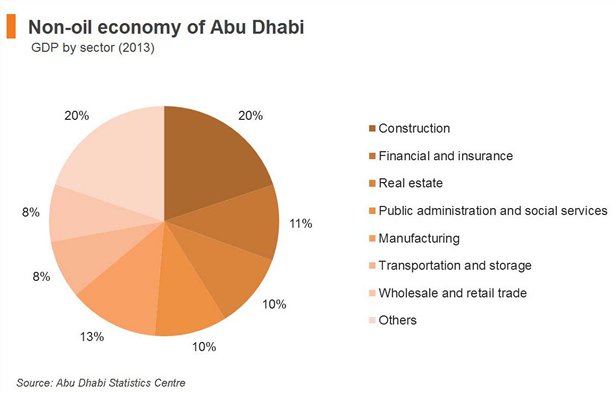 Diversified non-oil activities in Abu Dhabi

As part of the move to diversify its economy, Abu Dhabi has prioritised the development of high value added industries through inward foreign investment. In addition to providing an essentially tax-free jurisdiction,[1] foreign companies in Abu Dhabi can take advantage of the unrestricted free repatriation of capital and profit.
Abu Dhabi has also established a number of free zones providing additional incentives designed to appeal to foreign investors, as well as upgraded infrastructure and business-friendly institutions. Companies based in these free zones, for instance, can be 100% foreign-owned and exempt from import or re-export taxes, as well as having no restrictions on hiring foreign employees (see section below, Free zones: the preferred destination for foreign investment).
Foreign direct investment (FDI) in Abu Dhabi expanded by a CAGR of 10% between 2008 2011, driven by the real estate, business services and manufacturing sectors. The major investors included companies from Australia, the United Kingdom, France and Japan.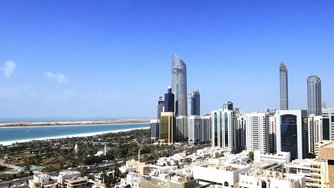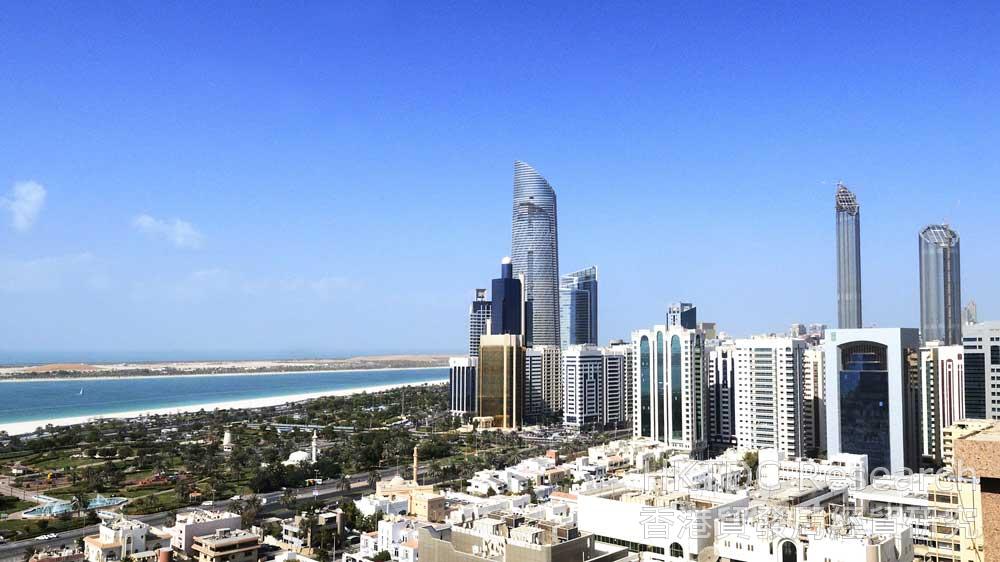 A view of central Abu Dhabi city
Abu Dhabi: one of the world's top cities
Abu Dhabi's efforts to build a more liberalised and business-friendly environment have also enhanced its appeal as a global city. In the Top Cities Index 2013[2], Abu Dhabi ranked as the world's fourth best city for living, business and tourism, behind only Sydney, Zurich and Tokyo.
In recent years, the economic and business connections between Abu Dhabi and Hong Kong have developed substantially, with bilateral investment flows in a variety of sectors, including property development, retailing, architecture and construction services. DFS, a Hong Kong-based duty-free luxury retailer, for instance, opened its first Abu Dhabi International Airport outlet in 2009.
In recognition of the rise in business and leisure travel, Hong Kong's Cathay Pacific launched direct flights to Abu Dhabi in 2011. In light of their renowned professional services capabilities, Hong Kong companies should be able to identify a number of other business opportunities in the rapidly diversifying emirate. Areas of particular interest include manufacturing services, logistics, green technology and financial services.
Building a sophisticated industrial sector and nurturing a range of high-value added industries is a key priority in Abu Dhabi's diversification strategy. The aim here is to attract foreign manufacturers, industrial and professional services providers – including engineering, logistics, information technology and financial services – in order to bring in advanced technologies and management techniques. Since 2010, the GDP contribution of Abu Dhabi's manufacturing sector has increased by more than 50%, reaching US$15 billion in 2013.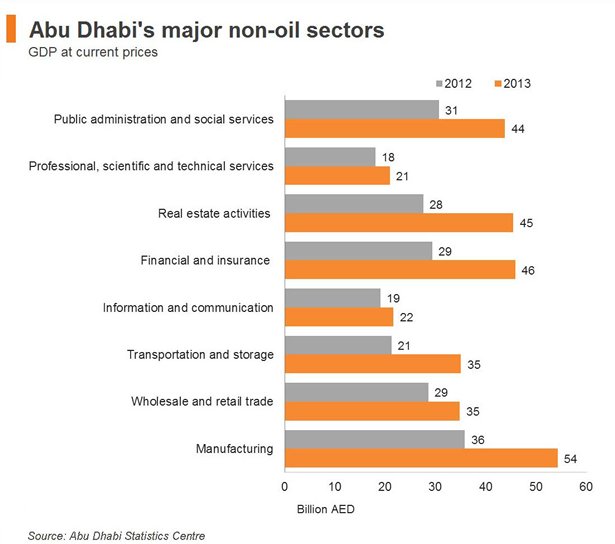 Significant growth in various non-oil sectors

Free zones: the preferred destination for foreign investment
Following the April 2013 introduction of the Abu Dhabi Global Market (ADGM) as a new free zone, Abu Dhabi now has a total of five free zones, each of them focussing on a specific group of industries, including logistics, manufacturing, media, green technology and financial services (see section below, Free zones focussed on specific industries).
A key part of the emirate's policy of economic diversification, Abu Dhabi's free zones have been set up to attract those foreign investors who wish to participate in its non-oil economy. In an attempt to develop business clusters with high-technology industries, innovation and R&D activities, the Abu Dhabi government has provided strong support to the free zones, particularly in terms of large-scale infrastructure investment, as well as business-friendly trade and investment measures.
In addition to providing a business-friendly regulatory regime, the free zones simplify the administrative procedures required to establish businesses. In January 2013, the Abu Dhabi Department of Economic Development launched the Abu Dhabi Business Centre as a "one stop shop" to facilitate foreign investors looking to obtain permits, licences, approvals and clearances from the relevant authorities.
| | |
| --- | --- |
| Abu Dhabi Business Centre, Department of Economic Development (1) | Abu Dhabi Business Centre, Department of Economic Development (2) |
Free zones focussed on specific industries
Currently there are four free zones in operation – the Abu Dhabi Airport Free Zone, the Khalifa Industrial Zone, Masdar City and Twofour54 - with each free zone entitled to formulate its own investment regime. ADGM will be the fifth free zone and is intended to attract international financial institutions, including commercial and investment banks, foreign exchange and commodity trading institutions, as well as brokerage, investment funds and consultancy firms. Each of the free zones is governed by an independent free zone authority, entitled to issue operating licences and facilitate the establishment of new companies.
For Hong Kong services providers, setting up in one of Abu Dhabi's free zones is a good option when seeking to explore the UAE market. Specifically, Hong Kong logistics service providers may consider operating in the logistics parks of either the Airport Free Zone and Khalifa Industrial Zone; while Hong Kong construction and engineering firms are best advised to seek renewable and green technology opportunities in Masdar City.
| | |
| --- | --- |
| Khalifa Industrial Zone | Khalifa Port |
Abu Dhabi Airport Free Zone
Target industries
Aviation, aerospace, airport services, cargo, freight logistics
Established
2009
Operator
Skycity, a subsidiary of Abu Dhabi Airports Company
Area
7 million sq metres within Abu Dhabi International Airport
Facilities
Warehouses, furnished and fully-serviced commercial offices
Tenants (example)
DHL, TNT, FedEx
Khalifa Industrial Zone (Kizad)
Target industries
Manufacturing sectors: steel, aluminium, metal products, paper, food processing, pharmaceuticals, healthcare equipment
Supporting services include logistics, printing and packaging
Established
2012
Operator
Abu Dhabi Ports Company
Area
417 sq kilometres
Transport infrastructure
Adjacent to Khalifa Port, highway network links Abu Dhabi International Airport and Al Maktoum International Airport (Dubai) within 30 minutes
Tenants (example)
Brasil Foods, Bauer, Emirates Aluminium
Twofour54
Target industries
Media sectors including film, broadcast, digital, publishing and music
Established
2008
Operator
Abu Dhabi Media Zone Authority
Area
200,000 sq metres
Facilities
Production studios, digital archiving and broadcast facilities. Serviced offices for start-up companies
Tenants (example)
BBC, Financial Times, CNN, Thomson Reuters, JCDecaux
Masdar City
Target industries
Renewable energy, green technologies, waste management and related services
Established
2006 (construction started in 2008)
Operator
Abu Dhabi Future Energy Company (Masdar), a subsidiary of Mubadala Development Company
Area
6 sq kilometres
Facilities
Offices and retail space, research laboratories, testing facilities
Tenants (example)
Siemens, General Electric, Mitsubishi
Abu Dhabi Global Market (ADGM)
Target industries
Financial services including private banking, asset management, foreign exchange and commodities trading
Established
Legislation to establish ADGM issued in 2013[3] (to be launched)
Governing bodies
Independent authorities: Financial Services Regulations Bureau, Global Market's Registration Bureau, Global Market's Courts
Area
1.6 million sq metres
Location
Al Maryah Island, Abu Dhabi's Central Business District, a 114-hectare investment zone[4] with mixed-use developments
Foreign companies can establish wholly-owned business in one of three forms – a Free Zone Establishment (FZE), a branch or a representative offices of the parent company. The licence categories, requirements and fees vary according to individual statutes of each free trade zone, with corresponding rules applying to the targeted industries and entity types. It should be noted that companies operating inside the free zone may only carry out the activities specified in their licence.
Useful contacts
Related information: United Arab Emirates infographics
---
[1] There are no corporate, personal tax and withholding taxes in the UAE, except oil and gas companies and branches of foreign banks.
[2] Published by Ipsos, an international market research consultancy.
[3] The Federal Decree to establish the Global Market: www.adgm.com/docs/ADGM-English-Law-no-4-of-2013.pdf
[4] In Abu Dhabi investment zones, foreigners are permitted to own properties on a freehold basis. Outside the investment zones, foreign investors in Abu Dhabi are limited to leasehold arrangements with 99-year leases on properties
Architecture & Planning
Building & Construction
Banking Services
Engineering
Finance & Investment
Logistics & Supply Chain
Logistics & Supply Chain
Media
Technology
Real Estate Services
United Arab Emirates
Middle East