https://hkmb.hktdc.com/en/1X09XLHS
Exporting to Indonesia: negotiating the regulatory regime
Indonesian imports surge in line with growing economic affluence
Rapid economic growth has fuelled Indonesia's rising consumerism and created an ever-expanding rank of middle-class consumers. It has also unleashed increased demand for imported products and created a number of opportunities for international exporters and retailers. During the period 2009-2013, Indonesia's imports of consumer goods increased at a compound annual growth rate (CAGR) of 18%, reaching US$13 billion. With substantially more foreign companies investing in Indonesia, hefty inward FDI, over recent years, has been accompanied by a rise in the import levels of intermediate and capital goods.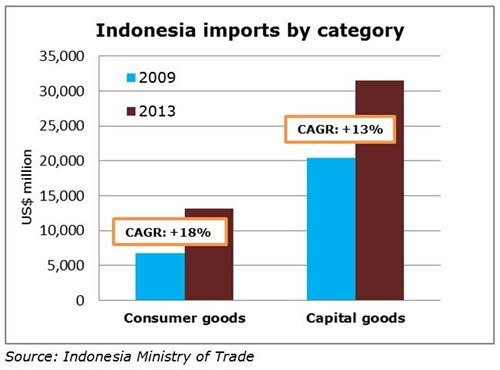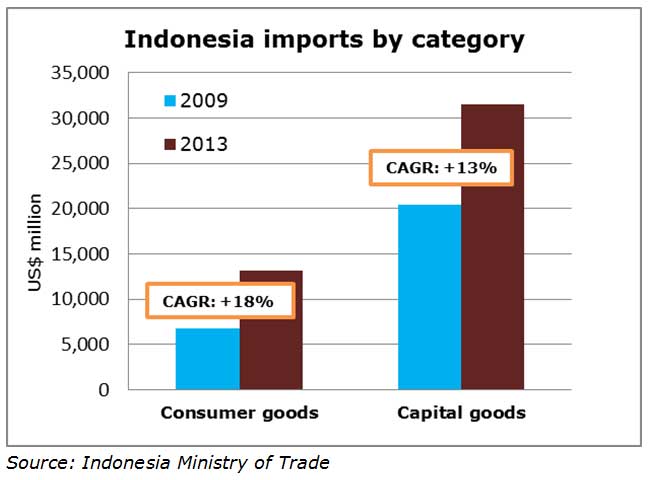 Growth in imports of consumer goods and capital goods in Indonesia

Since joining the World Trade Organization (WTO) in 1995, almost two decades ago, Indonesia has been gradually liberalising its trade and investment regime, reducing import tariffs and lowering investment barriers in order to create a more business-friendly environment. Liberalisation measures have also been introduced under several of the bilateral and regional free trade agreements (FTAs) that the country has entered into, including those related to Indonesia's membership of the 10 nation ASEAN bloc.
Indonesian trade regulation initiatives
Despite this, Indonesia has seen its balance of trade rapidly deteriorate in recent year. Its first trade deficit (US$1.7 billion) was recorded in 2012. This has widened to US$4.1 billion by 2013, putting increasing pressure on the depreciating Rupiah. In order to reduce its trade deficits and promote its domestic industries, Indonesia has introduced a number of measures aimed at protecting local companies from overseas competition. In February 2014, Indonesia's parliament passed into country's first trade bill enabling the government to impose trade restrictions designed to promote local industries and improve the trade balance. While the legislation is yet to be formally enacted, it is a sure sign that that government is taking an increasingly proactive stance when it comes to regulating external trade.
In a further more – one designed to help support the local electronics manufacturing sector – in April 2014, Indonesia's Ministry of Industry and Trade proposed to impose a 20% luxury goods sales tax on all imported mobile phones. It had previously indicated that the new tax would only apply to mobile phones priced above IDR 5 million (about US$430). The tax is due to be adopted after the new government takes office in October 2014.
Apart from attempts to raise sales tax and ambitious legislation designed to restrict both imports and exports, the Indonesian government has enacted several non tariff import restrictions. The one chief concern to foreign exporters relate to import licensing, pre-shipment inspection requirements and the widening adoption of Indonesia-specific standards (Indonesian National Standard, SNI) on imports.
These stricter Indonesian regulations particularly affect foreign exporters of textiles, electrical products, and electronic parts and components, Hong Kong's major export items to Indonesia. In this regard, exporting to Indonesia has now become an increasingly onerous and complex process for many Hong Kong companies. To more effectively capitalise on Indonesia's growing import demand, Hong Kong companies are advised to keep up-to-date with the latest changes to Indonesia's regulatory regime with regard to import protocols.
Major Hong Kong exports to Indonesia
Value
(US$ mln)

Share
(%)

2012/13 Change (%)

Telecommunications, audio & video equipment

587

23.5

-16

Textiles

416

16.7

-3.3

Electrical machinery, appliances and parts

331

13.3

+0.8

Office machines and computers

296

11.9

-15.7

Miscellaneous manufactured articles

221

8.9

+8

Clothing and clothing accessories

83

3.3

-20

Watches and clocks, and optical products

52

2.1

-2

Medicinal and pharmaceutical products

41

1.6

-27

Total exports

2,494

100

-6.2
Source: Hong Kong Census & Statistics Department

Knowing different types of import licences
Merchandise importation in Indonesia is governed by the Ministry of Trade (MOT), which manages the regulations relating to import licensing requirements. At the most basic level, importing goods into Indonesia requires the appropriate documentation and verification from the Directorate-General of Customs and Excise (DGCE). A physical inspection of the goods may also be required. All imported goods must be, additionally, declared to the Customs Authority via the requisite Import Declaration Form. In order to comply with customs obligations, an importer must obtain a Customs Identification Number (NIK) from the DGCE. To become eligible to import goods into Indonesia, an importer must obtain an Importer Identification number (API) from the MOT or the Investment Coordinating Board (BKPM).
Hong Kong companies intending to export to Indonesia for trading or production purposes can appoint an Indonesian agent with an import licence. It is important to identify a local agent in possession of the appropriate import licence (API). These licences come in two varieties - the General API (API-U) and the Producer API (API P). As an alternative, Hong Kong companies could also consider becoming an importer and acquiring the appropriate import licence.
A company is allowed to obtain only one type of API. The holder of the API-U is permitted to import goods for trading or distribution, while a company holding an API-P licence is only entitled to import goods for its own use, such as capital goods and raw materials used in the manufacturing process. In addition, a special import licence (NPIK) must be obtained to import certain types of goods, such as electronics, footwear or textiles. An API or NPIK also has to be renewed every five years. Details of the different types of import licences are summarised below:
Types
Details
General API (API-U)

Granted for imports that are used for trading and transfer to other parties
Imported products are classified into 21 different categories based on the Indonesian Goods Classification System (GCS). An API-U holder can only import goods from within the same category[1]
An API-U holder is allowed to import goods in more than one category of the GCS if:[2]

goods are imported from overseas companies which have a "special relationship" with the API-U holder; or
the company holding the API-U is wholly or majority-owned by the state

An API-U is issued by the MoT
Producer API (API-P)

Granted for imports that are only for the company's own use, such as capital goods, raw materials, supporting materials, and/or for supporting the production process. These are prohibited from being transferred to other parties[3]
Transfers are allowed if: [4]

the imported goods are exempt from import duties; and
the imports have been used by the API-P holders for at least two years as of the import duty notification date

For foreign-invested companies (PMA), an API-P is issued by the BKPM; others are issued by the MOT
Special Importer Identity Number (NPIK)
Granted to companies that import certain products including electronic products, toys, footwear, textiles, rice, sugar, corn, and soybeans
An importer with an API may obtain an NPIK from the MOT
Source: Indonesia Ministry of Trade

As stipulated in MOT Regulation 59 issued in late 2012, an API-U holder may import goods in more than one category only if it can prove there is a "special relationship" with the foreign supplier. The "special relationship" may be in the form of a contractual agreement, equity ownership or related to an agent or distributor and supplier agreement. The "special relationship" has to be authenticated by the Indonesian Embassy in the respective exporting country.
Pre-shipment inspection requirement
Under MOT regulations issued over the past two years,[5] pre-shipment verification is required at the country of origin prior to shipment. Imports that require pre shipment inspection include food and beverages, apparel, footwear, toys, electronic products and cosmetics. Overall, this relates to more than 800 tariff lines across 17 different sectors. The inspection must be carried out by an Indonesian government-approved company (also known as a "surveyor") and occurs at the importer's expense. A "Surveyor Report" has to be submitted by the importer to the Indonesian Customs in order to secure clearance.
Apart from basic product information, such as origin and product description, the pre-shipment verification of imports also determines whether the product complies with the Indonesian National Standard (SNI) for items that are subject to mandatory SNI.[6] Products found to be non-compliant with SNI requirements must be suitably modified before they can be shipped to and sold in Indonesia.
Indonesian National Standard (SNI)
The SNI was introduced in 2007 in order to ensure the quality and safety of consumer goods. Over time, the list of products under SNI coverage has been extended and now covers more than 100 items, almost triple the 34 items initially covered in 2007. There are two types of SNI – mandatory and voluntary. Product categories under mandatory SNI include household appliances, electronics, processed food and beverages, building materials and automotive parts.
An example of this Indonesian legislation includes the mandatory imposition of SNI for toys under specific import tariff codes as of October 2013[7] . This followed the SNI imposition on ceramic tableware products in January 2013, which, in turn, followed a five-year application of an anti dumping duty of 87% on Chinese ceramic tableware products in 2012.
SNI Certification
With regard to the sale and distribution of imported goods in Indonesia, SNI Certification is required for all mandatory SNI products. This must be completed before the items are imported or sold in the country. SNI guidelines and standards are set by the Indonesia National Standardization Agency (BSN). SNI certificates are issued after inspection by those bodies designated as appropriate by the Indonesian government. Each certification body focusses on a specific range of products.
In general, SNI Certification requires the suppliers to have implemented either ISO quality management systems or alternative standards issued by the BSN. Other SNI assessments involve evaluations of the manufacturing processes, the production equipment and relevant safety standards. Would-be importers also have to provide detailed information on the raw materials, factory layout and product testing results.
Useful contacts and links
Related information: Indonesia infographics
---
[1] Under the MOT Regulation No. 27/M-DAG/PER/5/2012 (MOT Reg 27) issued on 1 May 2012.
[2] Under the MOT Regulation No. 59/M-DAG/PER/9/2012 (MOT Reg 59) issued on 21 September 2012.
[3] MOT Reg 27
[4] MOT Reg 59
[5] MOT Regulation No. 83/M-DAG/PER/12/2012 and No. 61/M-DAG/PER/9/2013, effective since 2013 until end of 2015
[6] The list of goods subject to Mandatory Indonesian National Standards from BSN can be found at http://sisni.bsn.go.id/index.php/regtek/regulasi/sni_wajib.
[7] Indonesia Mandates Standards, Certification and Labelling for Toy Safety (May 2013)
Indonesia
Hong Kong
Southeast Asia
Hong Kong