https://hkmb.hktdc.com/en/1X09UTC9
Opportunities under CAFTA: Guangxi-ASEAN supply chain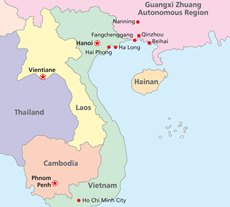 Bordering Vietnam, Guangxi serves as China's bridgehead to ASEAN.
Bordering Vietnam, Guangxi serves as China's bridgehead in linking up with ASEAN. The establishment of the China-ASEAN Free Trade Area (CAFTA) further reinforces Guangxi's strategic position in tapping into the ASEAN market. Manufacturers with factories in Guangxi are now gradually forming a supply chain with related industries in ASEAN. For instance, ASEAN suppliers export raw materials like minerals, energy, agricultural and forestry products to Guangxi, while Guangxi manufacturers export various industrial products and production materials to ASEAN. Across the two places, industries are becoming increasingly dependent on each other and commercial and trade activities are ever thriving. As such, there is an increasing demand for related services from the enterprises to enhance their supply chain management.
Enhancing supply chain management
Take agricultural products and food processing as examples. While some ASEAN member countries boast rich resources, others are confronted by problems like inadequate facilities in warehousing, cold storage and power supply, and a lack of processing and production facilities. Conversely, Guangxi has established a strong food industry cluster, posing huge demands on all kinds of food materials. Some upstream suppliers in ASEAN are therefore seeking export opportunities in Guangxi.
In Guangxi, food processing and manufacturing is a major industry, reporting an annual sales revenue of over Rmb150 billion. Products are supplied to markets not only in southwestern China and other inland provinces and cities, but are also exported worldwide. During the 12th Five-Year Programme period, the Guangxi government is committed to supporting the expansion of the food industry, with a target of raising gradually its annual sales revenue to over Rmb300 billion.1 From raw materials sourcing to production, sales and exports, the supply chain of this sizeable food processing industry needs to be managed efficiently to ensure the quality of the raw materials and manufactured products.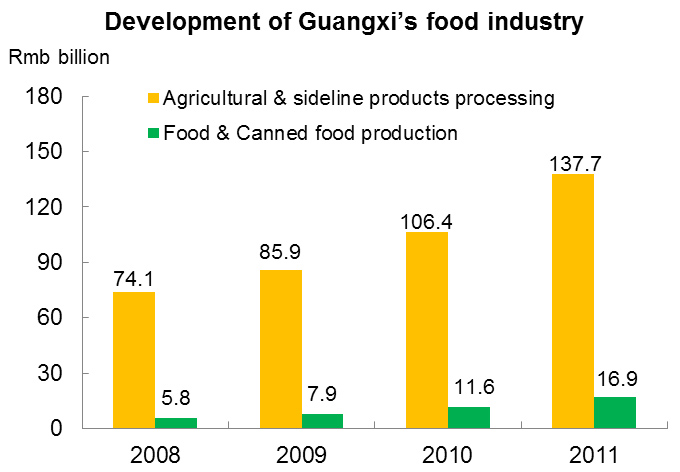 Sales revenue of enterprises (of designated scale) engaged primarily in foodstuff production and processing in Guangxi
Source: Guangxi Statistical Yearbook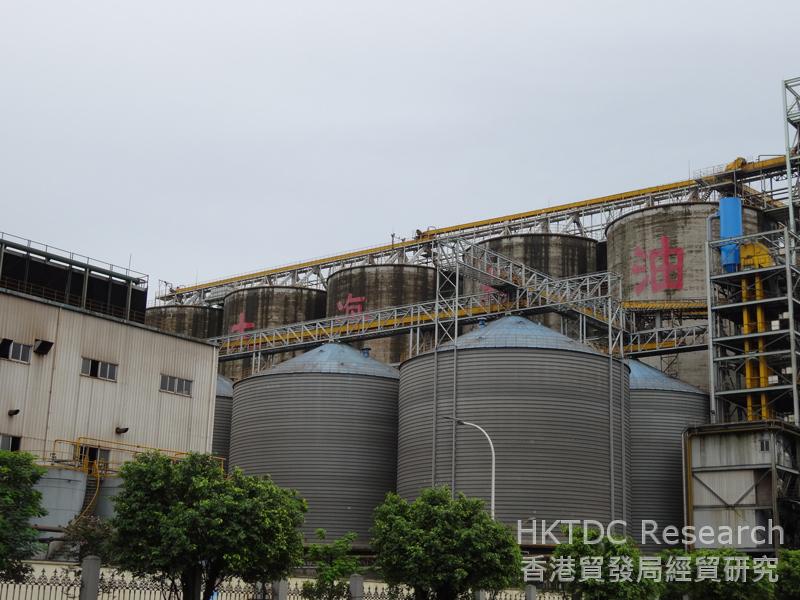 Storage facilities for grain and oil in Guangxi's Beibu Gulf
According to some Guangxi food export processing enterprises, as sales in mainland and overseas markets soar, they must upgrade their supply chain management, deploying the latest technologies to meet with expansion needs. As some Guangxi enterprises now also import more raw materials from ASEAN to meet shortfalls in local supplies, the need to strengthen supply chain management has grown even more pressing. The aim is to ensure that the supply of local and imported food materials can match production cycles and that decay and wastage during storage and transport can be minimised.
IoT technology spells opportunities
Hong Kong-invested Canter Technologies Solutions International has ventured into Guangxi, tapping into the supply chain management service sector through its Internet of Things (IoT) technology. As the sole agent of Autotoll Limited of Hong Kong in Guangxi, Canter provides clients mainly with integrated information services in intelligent transport systems as well as wireless network surveillance software and hardware solutions. Such services include GPS (global positioning system) solutions for logistics enterprises and commercial vehicle fleets and RFID (radio frequency identification) solutions for monitoring cargo flow. The company has also helped launch the electronic customs clearance services in Guangxi.
Canter believes that as Guangxi enterprises expand their exports and import various raw materials from ASEAN, they require a more efficient and effective supply chain management system to enhance operational efficiency. This trend bodes well for the company which has a niche in IoT technology. Food enterprises, in particular, are among Canter's target clients as they are keenly seeking after such services.
Rising demand from food enterprises
In fact, in recent years, many food processing and production enterprises in Guangxi have witnessed double-digit growth in their turnover, and are eager to break into overseas markets. Guangxi Zhengwu Marine Industry Co Ltd, a key enterprise in Guangxi dealing mainly in aquatic food products like fish, shrimps and shells, is a case in point. The company exports its products to markets like Europe, the US, Japan, Korea, Canada, Australia, Russia, Hong Kong and ASEAN, in addition to selling them to China's coastal cities. The company has obtained accreditations in food production system and food hygiene for its facilities, including HACCP, EU health registration, BRC global standard for food safety and ACC (Aquaculture Certification Council) certification.
| | | |
| --- | --- | --- |
| Guangxi Zhengwu Marine Industry Co | Zhengwu's aquatic products | Loading and unloading of frozen aquatic products. |
The company notes that as sales climb continuously both locally and overseas, it conducts periodic reviews of its supply chain management system and implements rigorous measures to ensure that safe and hygienic aquatic food products are offered to clients and consumers. Indeed, the company owes its success partly to the adoption of an efficient supply chain management system, and is hence constantly looking out for more advanced technology in this respect, including IoT. For service providers in this area, Guangxi Zhengwu can be a potential client.
[For more information about Guangxi and ASEAN trade, please see HKTDC Research article at: "Guangxi: China's link to ASEAN free trade opportunities".]
---
1 Source: Outline of the 12th Five-Year Programme for National Economic and Social Development of Guangxi Zhuang Autonomous Region
Food & Beverages
Information Technology
Logistics & Supply Chain
Mainland China
Mainland China
Southeast Asia
ASEAN