https://hkmb.hktdc.com/en/1X09QNHM
Transformation of Asia from a production base to a diversified market
Developing Asia as the world's fastest growing region in 2013
After the global economy started to slow down in 2008, recovery has been at best hesitant. Against the backdrop of another slowdown in 2012, the IMF expects a modest rebound in 2013, with Developing Asia1 projected to expand 7.2% to be the world's fastest growing region,2 thanks to its greater emphasis on spurring domestic demand through a mix of monetary and fiscal tools.
The big growth drivers in Developing Asia are China, India and Indonesia (Asia's top three most populated countries collectively accounting for about 40% of the world's population), which are expected to grow at least 6% in 2013. China will lead the pack at 8.2%, followed by Indonesia's 6.5% and India's 6%. In GDP terms, China, India and Indonesia are the top, third and sixth largest economies in Asia-Pacific.3 Such growth trajectory compares more favourably with Advanced Asia (consisting of Japan, Australia and New Zealand), which is forecast to expand at 2.3% in 2013, faster than the 1.5% for the world's Advanced Economies.
In retrospect, the performance of China and India has been especially outstanding. In terms of the compound average growth rate (CAGR), China's GDP expanded by about 10% each year from 2000-07, quickly doubling its size. In comparison, India and the ASEAN-5 grew by about 7% and 5% each year respectively. Although both China and India may slow somewhat from 2012-13, the ASEAN-5 could maintain their trend growth.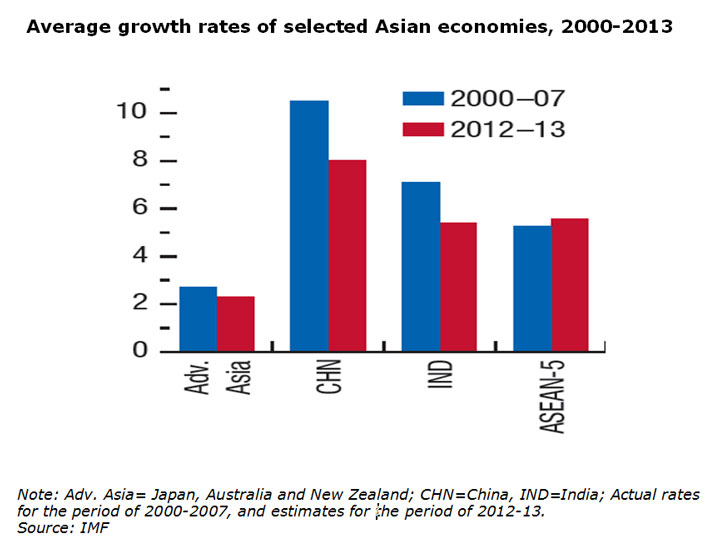 Shift of economic gravity from West to East
The rapid growth and industrialisation of Developing Asian economies relative to the Advanced Economies has culminated in a corresponding shift of economic gravity from the West to East. Advanced Economies' share of global GDP shrank from 62.3% to 51.1% in the decade to 2011. In contrast, Developing Asia's share of global GDP increased from 15.7% to 25% over the same period. China alone accounted for a global share of 14.3% or more than half of Developing Asia's combined GDP.
While Advanced Economies' share of the world's goods and services exports dropped from 68.9% to 62.3% between 2005 and 2011, Developing Asia's share increased from 12.1% to 16.1% over the same period. In 2011, China ranked first in terms of merchandise exports (valued at US$1,899 billion), followed by the US (valued at US$1,481 billion). Conversely, the US was the world's largest services exporter in 2011 with an export value of US$578 billion, as China ranked fourth with a value of US$182 billion.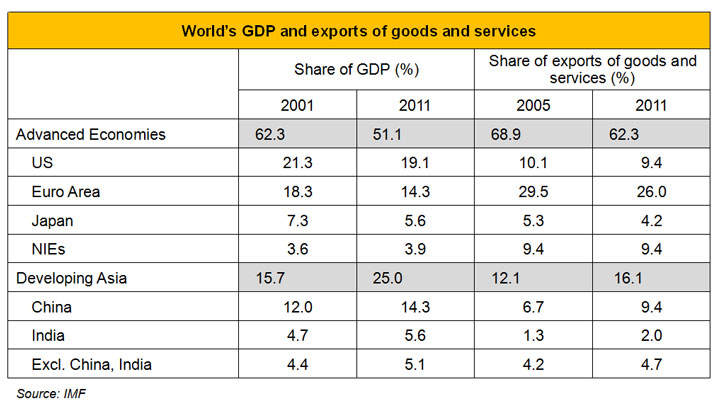 Intra-regional trade rises as Asia becomes an integrated production base
Asia's production bases have become increasingly integrated over the past two decades, with parts made in one Asian country shipped to another Asian country for further added-value or final assembly. This has spurred continued growth in intra Asia trade, which has gone up almost 12 percentage points to 58.6% from 1990-2011. In the past decade alone, intra-Asia trade has tripled by value, rising more rapidly than either extra-Asia trade or global trade, which has just doubled in value.
Excluding trade with Advanced Asia, Developing Asia's intra regional trade, has risen even faster by about 14 percentage points from 1990 to 45.2% in 2011.4 Not surprisingly, intra-regional trade within East Asia5 has made a smaller gain compared with intra-regional trade in either Asia or Developing Asia, up about six percentage points to 39.2% from 1990 2011.

Asian economies have invariably witnessed expanding external trade as a share of GDP over the past two decades. The trend has been especially visible for Vietnam, which joined the WTO only in 2007, with the ratio of trade in goods to GDP rising by 70% from 2000-2011. The change for China (i.e. 26%) may appear less remarkable compared to either India (47.8%) or Japan (56.6%), and one has to take into account China's phenomenal GDP growth after its 2001 WTO accession to more than double its economic size over the 2001 2011 period.
As the world's largest developing economy, China overtook Japan in 2010 to become the world's second largest economy after the US. Total merchandise trade represented about half of China's economic size in 2011, as the country developed into the "world's factory" and an indispensable part of the supply chain in Asia over the past decade.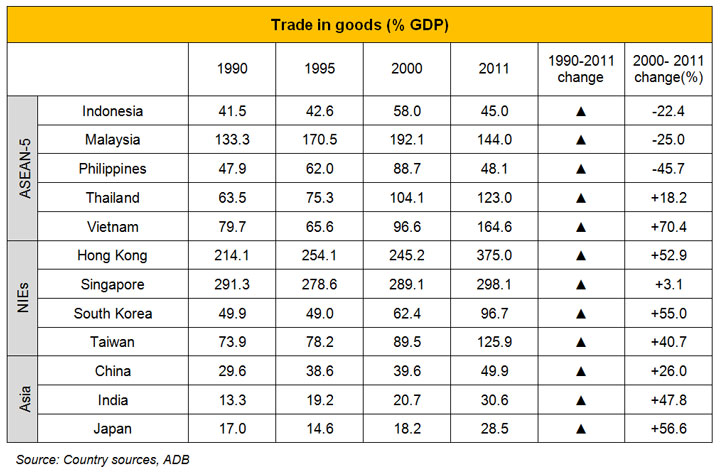 China's economic ascendance and growing trade links with either Developing Asia or Developed Asia has led to the surge in intra-regional trade. Excluding the sub-trend export performances during the international financial crisis of 2008-2009, both Developed Asia and Developing Asia exported more to China in terms of their respective exports to GDP ratios during 2010-2011 than 2000-2007, in particular South Korea, Malaysia, Thailand and Vietnam.
Among the ASEAN-5, Malaysia had the second highest trade to GDP ratio of 144% in 2011 (only trailing Vietnam). Yet, the trade to GDP ratio actually declined between 2000 and 2011 (from 192%, while contrastingly China assumed an expanded share of Malaysia's exports relative to its GDP. This merely highlights that for countries such as Malaysia, trade has become increasingly intra-regional and intertwined with China.
Asia's flying geese are developing into diversified markets
About half a century ago, the "flying geese paradigm", a theory on comparative labour costs and international division labour put forth by Japanese economist Akamatsu, started to gain popularity. Postulated well before Tokyo hosted the Summer Olympics in 1964 and even before Japan was widely recognised as a regional economic power, the paradigm suggested that Asian economies would gradually enter a catch-up game with the developed countries in the West, with the production of commoditised goods gradually cascading down from the more developed economies to the less developed ones.
The paradigm could be visualised as a wild-geese-flying pattern in the order of their different stages of industrialisation and economic development, with Japan being the lead goose. The second-tier flying geese were occupied by the four NIEs, followed by the ASEAN-4 (comprising the Philippines, Indonesia, Thailand and Malaysia), then latecomers such as China and Vietnam, and finally the latest comers such as Cambodia and Bangladesh.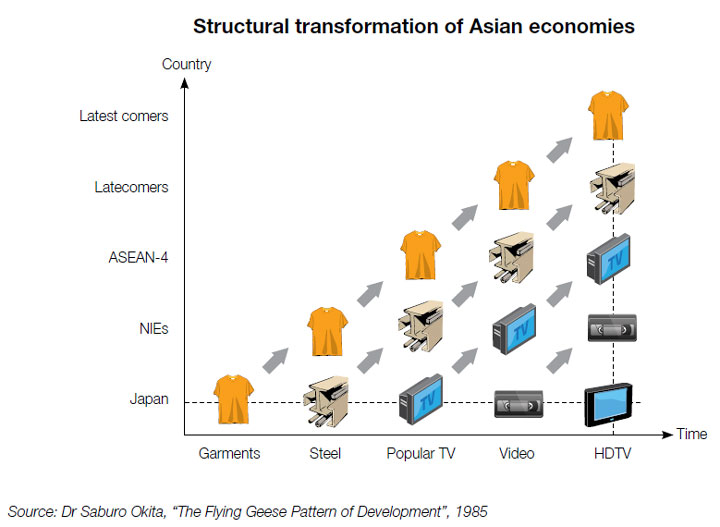 Notwithstanding the many limitations of the paradigm, it does provide a convenient way of depicting the changing production activities of many Asian economies over the past few decades, including the sequential appearance of industries in a developing country, for example, from labour-intensive (e.g. garment) to capital-intensive industries (e.g. high-definition television or HDTV). Further, it suggested that goods produced would be upgraded and diversified to include more complex and sophisticated products, along with the migration of labour-intensive manufacturing to lower-cost developing economies. Over the years, it has also been observed that some of the capital-intensive manufacturing has been relocated overseas to lower-cost countries, covering industries such as audio-visual and electronics, telecom products and automobiles.
As the lower-order flying geese went through an importation-to-export production process concerning certain products, the higher-order geese transformed into the markets for such products. With the benefit of hindsight, export-oriented industrialisation has helped transform some lower-order flying geese into genuine markets, especially after products have become further upgraded and diversified, creating greater trade linkages among flying geese of different orders in an intricate production network or supply chain.
A glance over the changes in industry value-added of Asian economies over the past two decades finds that with the exception of Indonesia, Thailand, Vietnam and China, there has surfaced an established downtrend, which is most notable among the NIEs. Economies with higher ratios of industrial value-added to GDP during 2000-2011 tend to be those more populated economies with a sizeable labour supply, including in particular China and Indonesia. As a latecomer, Vietnam's industrialisation has gained momentum more recently.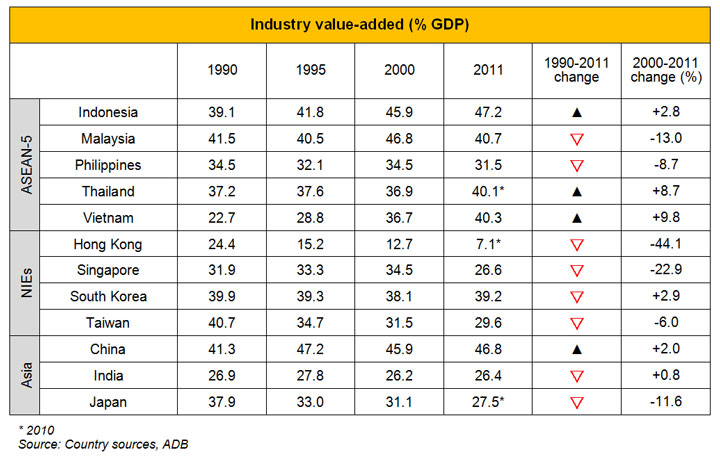 A look at the private consumption expenditure as a share of GDP, however, unveils that some of the fast growing consumer markets these days have actually seen a decline in the consumption share of GDP, typically China, India and Indonesia, the three most populated countries in Asia which have seen an expanding industrial sector over the past decade.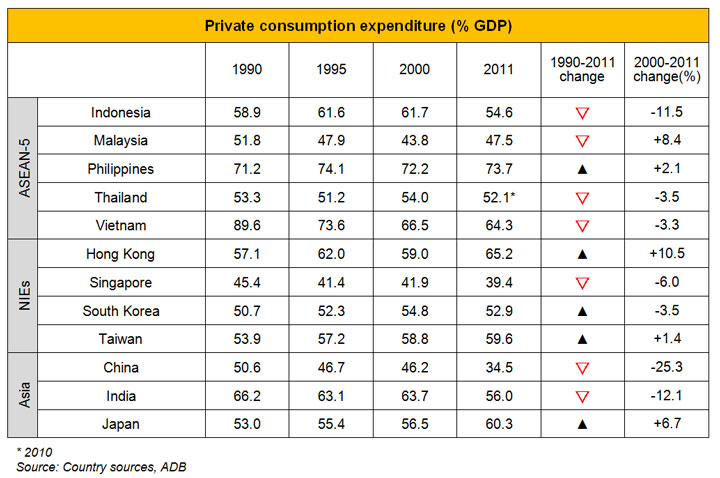 Rising income driving consumption in Asia
China's consumption share of GDP is the lowest among all developing economies, dropping from 46.2% to only 34.5% from 2000-2011. This may obscure the surge in Chinese GDP and income, with the country already parting company with the lower-middle income countries6 (including Indonesia, India and Vietnam) to join the ranks of the upper-middle income countries such as Malaysia and Thailand, arising to become the largest consumer market in Developing Asia.
In fact, China's per capita income of US$5,444 in 2011 was even higher than that of Thailand (US$4,972). While China's per capita income has grown at the fastest average annual growth rate of 17.2% from 2000-2011, it is also worth noting that Indonesia is only a tad slower at 14.7%, followed by India and Vietnam at around 12%.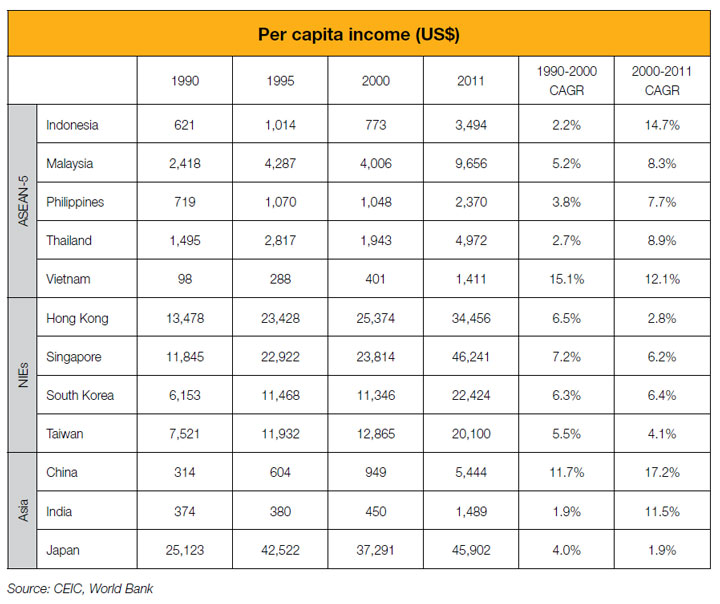 Asia's fast expanding middle class
As a proxy for estimating the size of middle-class people in a country, households with an annual disposable income of more than US$10,000 are treated as the middle class. In China, there was 36% of such households in 2011, translating into a population of 484 million and indicative of the buying power of fairly well-off Chinese consumers.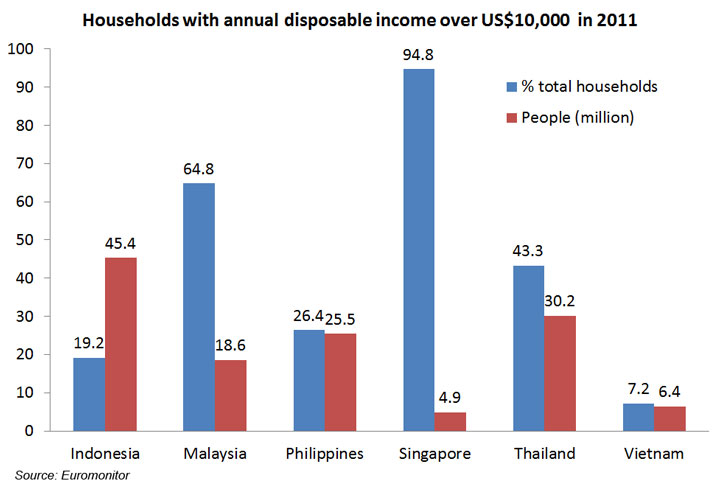 Similarly, India had an estimated middle-class population of 215 million. In Southeast Asia, Indonesia has the largest number of middle-class consumers (more than 45 million). ASEAN-5 together with Singapore had an estimated 131 million middle-class individuals in 2011, thus forming a huge market in Developing Asia beside China and India. Asia's rising middle-class consumers have driven brisk retail sales, along with a fast expansion of organised retail channels. The swift addition of modern shopping malls, including those selling international luxury products, has been eye catching too.
Although there is no clear sign of Developing Asia decoupling from Advanced Economies, trade integration in Asia, along with the rise of per capita income and the expansion of middle-income consumers, helps create some buffer too.
---
1 Developing Asia as defined by the IMF includes most economies in East Asia, Southeast Asia and South Asia, excluding Japan and the four newly industrialised economies (NIEs) comprising Hong Kong, Singapore, South Korea and Taiwan, as well as those ex-Soviet Republics that are separately grouped as the Commonwealth of Independent States (CIS). Developing Asia together with the NIEs is termed by the IMF as Emerging Asia.
2 Outside Asia, Sub-Saharan Africa is expected by the IMF to be the fastest growing region, with respective projected growth rates of 5% and 5.7% in 2012 and 2013.
3 The six largest economies in Asia-Pacific consist of China, Japan, India, Australia, South Korea and Indonesia.
4 Under the definition of the Asian Development Bank (ADB), Developing Asia consists of 45 countries in Asia-Pacific including the four new industrialised economies ("NIEs"), namely, Hong Kong, Singapore, South Korea and Taiwan. The NIEs are categorised by the ADB as part of Developing Asia despite the fact that some of them have per capita income matching or even higher than that of some Developed Asia countries. As such, the ADB definition has a far larger number of economies than that under the IMF definition.
5 East Asia comprises the Chinese mainland, Hong Kong, Japan, Mongolia, South Korea and Taiwan.
6 Under the definition of the World Bank, economies are categorised in accordance with 2011 GNI per capita as low-income, US$1,025 or less; lower-middle income, US$1,026 US$4,035; upper-middle income, US$4,036-US$12,475; and high income, US$12,476 or more.
Viet Nam
Indonesia
Malaysia
Philippines
Thailand
ASEAN
Southeast Asia