Biotechnology is an applied science, where scientific discoveries yield products and services that can in turn feed profitable businesses.
Professor Jun Wang (main picture) was among the first batch of students who went to study abroad after China launched its reform and opening up in the 1970s. He obtained a PhD in molecular biology from the University of Wisconsin-Madison. He led and participated in research that resulted in more than 80 patented inventions.
As the Founder and CEO of GeneHarbor (Hong Kong) Biotechnologies Ltd, Prof Wang said he has great confidence in the research work conducted by his entire team. The company specialises in commercialising scientific research results through entrepreneurship and launching high-quality health products.
Revitalising enzyme
GeneHarbor has focused on researching nicotinamide adenine dinucleotide (NAD+ – Coenzyme I) that helps to repair cells. The firm's enzyme-based biochemical synthesis technology enables it to develop NMN anti-ageing products. Once inside the human body, NMN is converted into NAD+, which helps improve immune systems and the body's ability to heal itself.
Prof Wang said: "After the age of 40, the body's activity declines as the concentration of 'longevity protein' declines. Elderly people generally die as a result of organ failure. Simply put, if you want to live a healthy and long life, you must protect your organs. When a person takes NMN, the molecule can be converted into NAD+, which boosts bodily energy and helps improve sleep quality as well as repair cells in the body. NAD+ also strengthens immunity, and even helps prevent cancer and some nervous system-related diseases such as Alzheimer's."
He said GeneHarbor's bio-manufacturing production platform differs from traditional food extraction technology, significantly reducing production costs.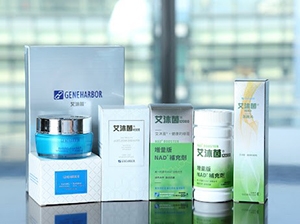 "Six years ago, the Amoyin NMN oral supplement we developed was sold for about HK$1,500 [US$192] a dose, while similar products made in Japan were priced at HK$29,000. Our products are undoubtedly more competitive in the market and, indirectly, more people benefit. This also explains why our product sales have increased many times in just a few years."
Annual NMN product sales are estimated at Rmb3 billion (US$472 million) to Rmb4 billion, and Geneharbor currently ranks first in market share.
"We have so far launched a variety of Amoyin NMN products, including oral supplements, skincare products, facial masks, and so on. The products have been very popular among consumers in Mainland China, and we have also successfully opened up international markets such as the United States and Japan," Prof Wang said.
Direction of progress
The COVID-19 pandemic disrupted global logistics, restricted personnel exchanges and hindered development across the board. Prof Wang said that previously many tourists from the mainland liked to buy health products in Hong Kong. GeneHarbor actively explored the business-to-consumer (B2C) retail market in Hong Kong before the pandemic, opening physical stores in tourist hotspots such as Times Square and Harbour City. Sales in its Hong Kong stores accounted for 50% of the total.
"However, with the outbreak of the pandemic, travel restriction between Hong Kong and the mainland had adversely affected thesales in Hong Kong," Prof Wang said. "Therefore, we have accelerated our online and offline marketing in the mainland. In addition to developing our online business through cross-border e-commerce platforms Tmall and JD.com, we have participated in e-commerce promotional activities with an increasing focus on the huge market in the Greater Bay Area. We are planning to step up our marketing campaign in Guangzhou and Shenzhen."
To capture post-pandemic business opportunities, Prof Wang will focus on two key tasks: "First, we will continue to promote product diversification. We plan to launch five to six new products before the first quarter of 2022 to meet the health concerns of consumers of different ages and their healthcare needs. Second, we hope to reduce product prices so that more people will benefit. "
Biochemical supply chain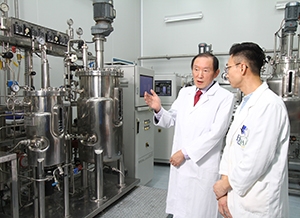 GeneHarbor, which is headquartered in Hong Kong and carries out its research and development in the city, was the earliest Hong Kong Science Park tenant and has since expanded along with the Science Park. The firm's production bases are in the Yangtze Delta cities of Suzhou and Ningbo. GeneHarbor has grown from a 10-person team at the start to more than 350 employees today. Prof Wang said the Hong Kong research team alone included more than 30 scientists from fields including genetics, protein engineering, biochemistry, industrial fermentation and information engineering.
"Many innovation and technology companies specialise in products," he pointed out, "but the biggest difference between GeneHarbor and its peers is that we developed in three phases. In the first stage of more than 10 years, we focused on platform technology and successfully built world-leading biotechnology. In the second stage we used the manufacturing platform to cultivate talents. The third stage merges the technology and talent cultivated in the first two stages to launch a series of high-efficiency anti-ageing products. The broad focus on products and promotion of quality and educating consumers means the development process has been relatively slow."
Prof Wang said that at the early stage of his business, Hong Kong did not provide enough support for innovative technology companies and start-ups, but these challenges did not hinder his entrepreneurial determination.
"I was engaged in innovation and technology entrepreneurship in Hong Kong 20 years ago, when the supporting facilities and atmosphere were far less than today. At that time, the Hong Kong government had just launched the Innovation and Technology Fund to support the development of start-ups, so my start-up funds were all based on friends. As the business becomes bigger and stronger, it gradually attracted more private funds. So far, about HK$1 billion has been invested in research and development, production and promotion. As the company's business began to get on track, we also recorded a profit four years ago."
The Hong Kong Special Administrative Region Government has been promoting "government-industry-university-research" cooperation for many years to promote the development of the innovation and technology (I&T) sector. Prof Wang pointed out that in recent years, the business sector's support and participation in I&T has also continued to increase, which is helping to activate the I&T ecosystem in Hong Kong and the region.
"About a year ago, we had the support from HSBC to further develop our business growth in the GBA. We got the financing through HSBC's GBA+ Technology Fund for us to invest in research and development, production and marketing. It facilitates a step forward for us to capture the business opportunity and huge market in the GBA."
The Hong Kong Trade Development Council and HSBC are working together to support entrepreneurs in Hong Kong and the Guangdong-Hong Kong-Macao Greater Bay Area in general.
Related link
Geneharbor