Hong Kong businesses are known for their flexibility and adaptability. A family-owned factory, now in its second generation, has faced constant challenges since the current owner took over the operation, so it took the decision to actively diversify.
The SwissTech Group has since broken new ground, adding new product lines in addition to its core business, and now intends to enter new markets such as Indonesia and Malaysia in the Association of Southeast Asian Nations (ASEAN).
The company was helped greatly by a dual promotion platform offered by the Hong Kong Trade Development Council (HKTDC). This enabled the company to set up a physical showcase at the Hong Kong Watch & Clock Fair and establish its own page on the hktdc.com Sourcing platform to expand its global business online and offline.
Successful connections have already been made with buyers from the United States, Switzerland, the Netherlands, the Czech Republic and Korea.
Actively meeting challenges
The team at SwissTech has worked together for more than 40 years, building operations in Switzerland, Hong Kong and Mainland China. The firm specialises in the production of high-quality watch movements and mechanical parts, mainly sold in mature markets such as Europe, the US, Japan and Korea. The company also provides consultancy and other services for internationally renowned watch brands.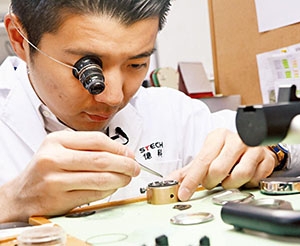 SwissTech's Chief Marketing Officer, Jims Liu, returned to Hong Kong after graduating overseas more than 10 years ago to help handle the company's business. He has always understood the importance of flexibility and a willingness to adapt to changing circumstances.
So when the Swiss government raised the threshold for watch products to be labelled "Swiss-made", regardless of whether the production, assembly and testing of major components must be completed locally, SwissTech cooperated by transferring its research and development (R&D), design and engineering processes to Switzerland.
Its facilities in Mainland China and Hong Kong now produce mid-price watches and other products such as precision parts, automatic optical inspection systems and medical supplies.
Transformation opportunities
During the COVID-19 pandemic, SwissTech turned to the mask market, achieving sales of around HK$150 million (US$19 million) over the past two-and-a-half years. Its main customers have included hospitals, schools, property management companies, restaurants and sports brands.
Mr Liu said: "At that time, there was a shortage of materials and the company had the ability to build a mask production line. Not only did it hope to contribute to the society and people in need but also to develop new business for the company. Why not do it?"
Recently, following the improvement in the pandemic situation and a subsequent decline in the demand for masks, SwissTech plans to transform again and has begun preparations for the production of disinfectant wipes, underwear and sanitary napkins.
"We have very good hardware infrastructure and technical talents, and we can quickly modify the machines to form new production lines to produce different types of products," Mr Liu said.
Market expansion
Mr Liu develops new products in several ways and never loses sight of its original business. The company launches more than 100 watch designs every year – ranging from mechanical winding watches and automatic mechanical watches to smart digital wearable devices – to meet the needs of different customers.
"Recently, skeletonised mechanical sports watches are among the most popular types, with a retail price of about HK$20,000 to HK$30,000," he said.
SwissTech set up a cubic showcase at the HKTDC's Hong Kong Watch & Clock Fair and established a dedicated page at hktdc.com Sourcing to reach potential buyers from all over the world.
"This online-to-offline promotion model is cost-effective, increasing brand exposure and attracting quality buyers. Most of them are interested in sourcing Swiss-made mechanical watches for high-end customers," he said.

ESG value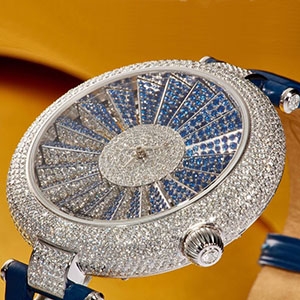 Mr Liu said business has begun to gradually return to normal as the pandemic eased. "However, the price and efficiency of logistics have not yet completely returned to the pre-pandemic level and other production costs have also risen, putting certain pressure on price increases."
Despite watches being durable consumer goods, buyers in Europe, especially Germany and Northern Europe, want suppliers to meet environmental, social and governance (ESG) requirements. "This accounts for about 10% of buyers. For example, to reduce carbon footprint, packaging materials used must be environmentally friendly or degradable," Mr Liu said.
Related link
Swisstech