Two years ago, Big Data & AI World was the last trade show welcoming visitors to the ExCel exhibition and convention centre prior to the United Kingdom succumbing to its first COVID-19 lockdown. The ensuing period proved to be an exciting one in terms of digital transformation, with more and more businesses going online throughout the course of the outbreak.
While the handling of very large data volumes, together with the increased deployment of artificial intelligence (AI) and machine learning technologies, were only a part of this transformation, they were very much the cutting‑edge and delivered real return on investment – at least according to many at the reinstated 2022 expo.
AI to the fore
The show started on something of a high thanks to a message from London Mayor Sadiq Khan and a keynote address by Sir Tim Berners‑Lee, often referred to as "the father of the World Wide Web".
For his part, Mr Berners‑Lee was sceptical about just how useful blockchain and some of its associated technology would be going forward. He did, however, pose some interesting scenarios with regard to just how AI may develop on a practical day‑to‑day level. In particular, he highlighted the way that Amazon is pushing forward the development of Alexa's intelligent prediction and decision‑making facilities, making AI increasingly sophisticated and better able to predict customer demands.
At the business level, he saw business intelligence (BI) as being at the forefront, backing it to capitalise on big data capture and to deliver return on investment through both improved strategic decisions and the delivery of more immediate bottom‑line profit.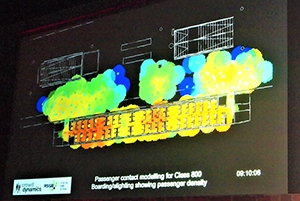 Another well‑attended presentation was "Convening the Emergent Alliance – Using Organisations and Data Citizens to Harness AI for Economic Recovery from COVID", which came courtesy of Caroline Gorski, Group Director of R2 Data Labs, Rolls-Royce's dedicated data innovation hub. Detailing the alliance's mission statement, she said: "A non‑profit organisation, we came together at the start of COVID-19. Our aim, as data scientists, was to better inform economic decision‑makers in order to make a real difference in the face of the global crisis."
Her speech detailed the two‑year history of the Emergent Alliance, outlining how its members had come together to tackle the big issues of the day throughout the pandemic. Maintaining that it has now created a range of operational models and best-practices designed to benefit other data‑sharing communities, she added that its final report is now available to download at https://emergentalliance.org/.
Last to grace the Keynote Theatre's podium was Ian Macdonald, Director of Product Management at Pyramid Analytics, an Amsterdam‑based developer of BI platforms. Taking as his theme "Decision Intelligence: What is it and Why?", he outlined what he sees as many of the current challenges, saying: "At present, data and analyst leaders, as well as AI enthusiasts, are more preoccupied with the accuracy of the algorithms, and building them, than with understanding decisions, as well as their impact and effect on business operations."
In the cloud
Out on the expo floor, meanwhile, the MongoDB booth offered surprisingly few clues as to the company's unique selling point. Looking to remedy this, Account Executive Craig Moore said: "Basically, we provide a VPC [Virtual Private Cloud] for database resourcing, an essential asset when critical reliability is required, a facility often used by developers. As standard, it incorporates a number of security features, including IP whitelisting and always‑on authentication."
Another high‑profile exhibitor was Costain, a UK business with a long history in construction, which subsequently diversified into engineering and, more recently, launched a dedicated Costain Digital division. Explaining the strategy, Tim Burnett, the new initiative's Security Architect, said: "Given that digital transformation will continue at a pace, we wanted to provide our partners and customers with a range of digital technology solutions. As a sector we've lagged behind, but the 40‑strong Costain Digital team, along with its strategic partners, offers clear and relevant insights to its client base."
One of the largest stands at this year's event was that of Domo, the fast‑growing Utah‑based cloud software specialist. As part of his "The Future of Big Data is Fast and Actionable" presentation, Spencer Wilcox, the company's Principal Value Consultant, highlighted the way BI has revolutionised the analysis of advertising effectiveness across a diverse range of platforms, including television, social media and Google, with this unified data allowing content, reach and revenue all to be optimised.
Detailing his own company's point of difference, he said: "Essentially, Domo brings people, data and systems all together in one place, ensuring any business is truly digitally connected. This ensures all of our customers can make truly informed business decisions."
While, admittedly, having a less sizable stand, California‑headquartered Fivetran still sees itself as a true global leader in the data‑integration sector. Outlining how the company extracts value from the millions that companies spend on being data-driven, the company's Account Executive Sarah Hashish said: "Wasting valuable time on just getting data, rather than analysing it for its intended purpose, will demonstrably eat into any company's competitiveness and bottom line. By contrast, we centralise and transform cloud data from hundreds of [software as a service] into high‑performance destinations."
Nearby, the Brytlyt show stand was a notable hive of activity. Explaining why the company's "Speed-of-Thought Analytics" tagline seemed to have struck such a chord with attendees, Mathew Rainbow, a Team Leader with the UK‑based company, said: "Our GPUs [graphics processing units], which power the analytics, give our customers the ability to make the best use of their big data in order to make business decisions in milliseconds. The technology is IP‑protected and is already being used effectively within the telecommunications, genomics, logistics, healthcare and financial services sectors."
Machine learning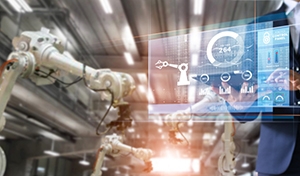 Over on the stand of London‑based Seldon Technologies, Tech Lead Joel Hodson was taking the opportunity to show how machine learning could be the key to making the most of big data. Expanding upon this, he said: "We're at the sharp‑end of this business and are pushing machine learning forward. We believe this is where real value will be delivered in the wake of the big data revolution.
"Since launching in 2014, we have secured £10 million [US$12.53 million] in venture‑capital funding and have had considerable success when it comes to democratising MLOps machine learning technology. As a result, we are now guest adviser to the UK's All-Party Parliamentary Group on Artificial Intelligence."
Making a longer journey to get to the event was Massachusetts‑based Vertica. A specialist in on‑premises big data analytics, the company claims its Vertica Accelerator has the world's fastest start‑to‑finish analytics and machine learning capabilities, attributes that have seen it adopted by many of the leading data disruptors.
Clearly pleased with the company's reception at the event, Data and Analytics Sales Representative Manu Chadha said: "I suppose as brands go in this particular market, we have been around longer than most. While we started in 2005 as an open‑source research project out of MIT, today we power more data‑driven leaders than anyone else."
The 2022 edition of Big Data & AI World took place on 2-3 March at London's ExCel. Asia's technology showcase, the HKTDC Hong Kong Electronics Fair (Spring Edition), rolls out as part of the Hong Kong Trade Development Council's International Sourcing Show in July
Related link
HKTDC Research