Noting the steady stream of disposable cutlery going to Hong Kong landfills, an architect turned industrial designer developed a pocket-friendly dining set for take-away eating city dwellers.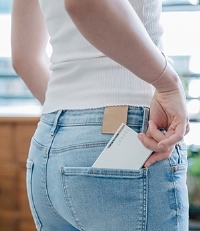 Designer Mr Eric Tong studied architecture at the University of London and worked for the famous architects Future Systems and Zaha Hadid following graduation. He then became interested in industrial design and after returning to Hong Kong set up a design-consultant studio. His products have won many international awards.
"The thinking mode and skills required for architectural and industrial design are very similar, and the software used is the same, so it is not difficult to adapt," Mr Tong said. "I sited the business in Hong Kong because it is not only my home but also adjacent to the production base in Guangdong Province. Taking clients on board is quick and straightforward."
In 2020, he and Chris Lim founded Uphold Living, focusing on the design of environmentally friendly base and determined to promote sustainable living by doing away with disposable tableware. Hong Kong reportedly discards 15 billion pieces of plastic tableware annually. COVID-19 expanded the take-out meal business fourfold, aggravating the problem. Mr Tong said: "Sustainable development is an irreversible global development trend. The Hong Kong SAR government also proposed banning restaurants from providing disposable tableware to customers. Our product Uphold Cutlery is designed to address the needs and lifestyle of city dwellers and will help promote a bringing-your-own cutlery culture, just like bringing your own shopping bags and coffee cups."
Plastic-free drive yields results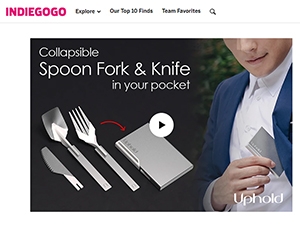 Mr Tong raised funds on crowdfunding platforms Kickstarter and Indiegogo to produce the pocket-size cutlery set , and has raised more than HK$400,000 (US$50,000) but needed to raise more before reaching the minimum production quantity cost set by a factory.
He made an innovative gesture by visiting the Home Affairs Department and promised to do his best to complete the project. If he failed to hit the crowdfunding goal, he would proceed with the production with his own money. "This move really worked. After our explanation and repeated promises, some people who originally planned to give up chose to continue to support. The return rate is close to 20%, which is higher than the 2-3% of general projects."

"Considering the dining habits and needs of city dwellers, production costs and sales prices, we finally decided to use titanium alloy for the cutlery head of the accompanying knife, fork and spoon, use aluminium alloy for the handle and outer box, and heat-resistant and food-friendly materials for the joints. It is made of polypropylene (PP), an environmentally friendly material with safety standards.
"Combining the strengths of the three materials, the portable dining set is as small as a card box and weighs just 75 grams. The product also meets the standards of the United States Transportation Security Administration (TSA) and can be carried on an aircraft."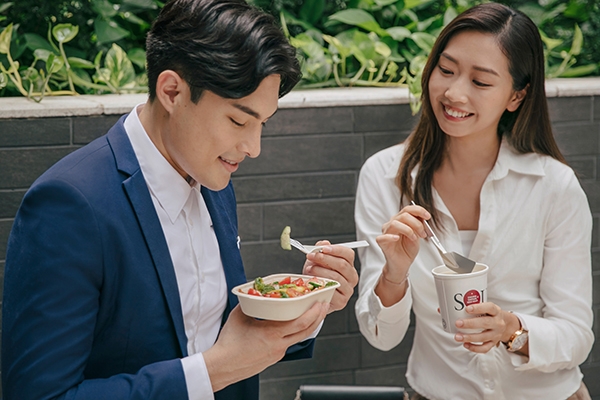 Global patent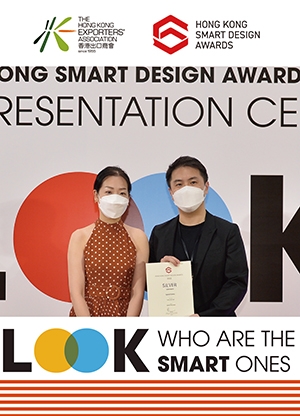 The product parts can be taken apart for easy cleaning. The blades of knives, forks and spoons are replaceable and can be used at least 3,000 times. The design is also in line with the "cradle-to-cradle" principle of sustainable development. The tableware can be disassembled into plastic and metal, which can be recycled and reused separately.
Uphold Cutlery won the Hong Kong Exporters Association's Hong Kong Smart Design Award (leisure and travel products) in 2022. It has also obtained patents in Mainland China and is applying for patents in the US, the United Kingdom, Japan, Taiwan and Hong Kong. The company used the "Patent Application Grant Scheme" of the Innovation and Technology Commission and will apply for global patents for the products.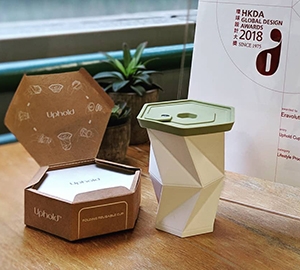 Mr Tong planned to take part in the HKTDC Hong Kong Gifts & Premium Fair organised by the Hong Kong Trade Development Council (HKTDC) to connect with overseas buyers, and to exhibit and sell products in the HKTDC Hong Kong·Design Gallery to expand the retail market.
Related link
Uphold Living