A serial entrepreneur based in Hong Kong for more than 20 years, France-born Sophie Martineau set up her medical supplies business Aquila Healthcare under the brand AquilaVIE in 2020. The launch was in response to the COVID-19 pandemic, when demand for personal protective equipment (PPE) such as masks rapidly outpaced supply.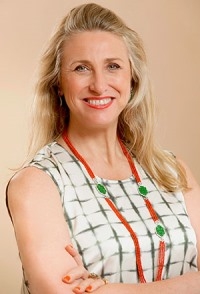 Ms Martineau said one of the most innovative products to result from the company launch is AQ Lollipop, a two-in-one oral/nasal swab suitable for children aged one and up that can detect COVID variants orally by swabbing the cheek instead of inserting it into the nostril. The AquilaVIE product range also includes masks, gloves, syringes and COVID-19 antigen tests.
In a market full of big players, AquilaVIE saw the COVID-generated demand as an opportunity for a young and nimble firm.
AquilaVIE, whose name is derived from the French word vie, meaning "life", managed to hold its own against stiff competition, Ms Martineau said. "In some ways the pandemic brought to light some structural problems in the industry and allowed a new entrant like us to break into the market. Many of the large global players didn't manage their supply chains or manufacturing well enough and many customers were left without access to high-quality medical devices and equipment."
The company has grown quickly and now has regional offices in France, the United States, the United Kingdom and Italy. Headquartered in Hong Kong, its products are made in the city's neighbour – and Guangdong-Hong Kong-Macao Greater Bay Area peer – Shenzhen. Its clients include the French government.
Despite pandemic challenges, particularly in relation to logistics, the business managed to keep supplies moving. "I'm very proud of the fact that throughout the entire pandemic, we never had a delayed shipment to any of our clients," Ms Martineau said.
Product diversification
As COVID-19 gradually shifts from pandemic to endemic, Ms Martineau said the business continues to evolve. "We see the focus shifting to prevention, management and control, and our team has been actively preparing to support this transition," she said.
"Many of our European institutional clients – governments and healthcare providers – have learned their lesson and are actively preparing for the subsequent waves, so demand is still high."
The company's early research and development in 2020 and last year focused mainly on COVID-19, but now the business is turning its attention to other medical products.
"While we still have our core of anti-pandemic products and continue to pay close attention to how the virus evolves, we're actively developing our non-COVID product ranges, including needles and syringes, in-vitro diagnostics and new categories such as advanced wound care, dental care and diagnostic tests," she said.
"With this comprehensive and growing range of product categories, we are on a strong growth trajectory to becoming one of the world's leading professional medical equipment providers."
Ms Martineau emphasises the importance of community support. "Through the AquilaVIE Cares Community Partnership Programme, we set aside a certain percentage of production for charity so that qualified non-profits and community organisations could access our products. We donated about 50,000 test kits, 20,000 masks and face shields to partners including Caritas, Hong Kong Cancer Fund and the Salvation Army."
Hong Kong advantage
When Ms Martineau first came to Asia in 1999, she was working in the diamond industry and spent a lot of time in Hong Kong. "From the moment that I landed in this city I knew that this was going to be home for me. I've always been fascinated with the dynamic and communitarian spirit in Asia, and Hong Kong exemplifies this energy perfectly," she said.
"When I first arrived, the manufacturing industry in Mainland China was still in its infancy but you could already see its incredible potential. With Hong Kong being the main gateway city to the mainland, I decided to move to the city to navigate the complexity of sourcing and manufacturing highly technical products in the region."
She said that working in the jewellery industry helped her develop a meticulous attention to detail, which she carried into her new business.
"This is an absolute necessity for medical devices because in healthcare, people's lives depend on your products and services, so there is absolutely no room for mistakes. In healthcare, there are many trading companies looking to make a quick profit, especially during the early months of the pandemic. We came in to establish a trustworthy brand because people were looking for reassurance and accessibility."
To date, France, Spain, Italy, Germany and the UK have been key AquilaVIE markets, while the AQ Lollipop 2-in-1 nasal and oral swab test has done well in Hong Kong, given that parents must test children for COVID-19 every day before school.
"I'm very excited that we've also established a subsidiary in the US and are now building a team to take our efforts to a new level. We see a great need for advancement care as the US is the largest market for insulin-related medical supplies. Another product category we see as promising is disposable medical devices such as syringes and gloves," she noted.
Hong Kong is the place where Ms Martineau feels most at home, and its advantageous location made it a natural home for the business.
"It was without question that Hong Kong would serve as Aquila Healthcare's headquarters, as it's situated right between our production house in the mainland and our markets in Asia, Europe and the Americas. With our world-class healthcare institutions and access to an international talent pool, Hong Kong has all the elements to build a world-leading medical device company," she said.
Post-pandemic, the world has taken a much more proactive approach to health, said the CEO. "Prevention is key today: all around the world, people have become more conscious about their wellbeing and are taking greater control over their health. We're starting to see the benefit of identifying illnesses or health issues at an early stage."
In addition to diversifying its product range, Ms Martineau said Aquila Healthcare is working closely with partners to create a sustainable ecosystem. "We're moving towards biodegradable processes and product packaging, reducing energy consumption to control the carbon footprint and reinforcing a non-disruptive supply chain around the globe."
Health will be front and centre next month at the Hong Kong Trade Development Council's Asia Summit on Global Health and concurrent Hong Kong International Medical and Healthcare Fair which together comprise International Healthcare Work.
Related link
AquilaVIE