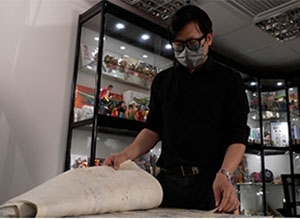 Intellectual property (IP) trading helps comic books stay exposed in the market and maintain their popularity. Hong Kong comic company Culturecom has developed a licensing business by taking advantage of the popularity of online TV movies in Mainland China, generating more creative works across different media and extending the lifetime of their comic creations.
Culturecom General Manager Toby Yue said that one of his tasks is negotiating comic licensing agreements with potential partners. While the company's main business continues to be publishing, through the licensing agreements it can produce different types of comic products and obtain a share without investing in production funds.
"Manga products can be derived from comics, such as toys, card games, film and television works, and even such products as wine and stamps," he said.
Copyright purchase
Culturecom has four decades of comic publishing experience under its belt and now manages more than 200 comic-related intellectual property (IP) projects. Mr Yue said Hong Kong comics have a long history, rich characters and stories, and have remained popular. Given the growing popularity of online TV movies in the mainland, buyers began to approach Culturecom to negotiate copyright and make their comics into TV movies.
Mr Yue pointed out that in the mainland, comic copyright usually belongs to the author, and anyone wanting to create a film and television work will need the author's permission.
"However, in the case of our company, most of the existing works were created by the author as an employee, so copyright belongs to the company and we have not registered the copyright as that is not required in Hong Kong. Buyers sometimes ask us to find the original author to arrange transfer of copyright to the company, which is a difficult requirement."

Contract disputes
Under such circumstances, Mr Yue, with the help of legal services in Hong Kong, found a notary lawyer in the mainland who could apply for a notary certificate to resolve any disputes when drafting a contract.
"The part about the buyer adding the 'resale right' to the notary certificate means they can resell the contract to a third party without the consent of our company, so the copyright cannot be protected," he said.
As a result, Mr Yue went to mainland lawyers to clarify the issue. "The mainland lawyers suggested we should not have 'resale rights' on the notarial deed. The mainland film companies that contacted us would ask to sign a contract, and if there were any problems with arbitration they wanted to handle it in the mainland – but our company insisted on processing such problems in Hong Kong because the copyright is in Hong Kong."
Mr Yue believed that as the copyright market evolved, the industry should use existing IP rights to create more new IP rights and expand copyright transactions, which will help Hong Kong expand its role as an IP trading centre in Asia.
Exclusive licences
"We usually have exclusive licences, and during the licensing period of about four or five years, we cannot even use the related works ourselves. With reference to some foreign movies, some characters will be drawn or reserved when licensing as a non-exclusive form of licensing, turning it into a brand-new intellectual property project, so the licensing business has more room for development."
Enterprises can enhance their IP management capabilities by participating in the IP Training Programme run by the HKSAR Government's Intellectual Property Department. They can apply for the Free IP Consultation Service provided by the department with the support of the Law Society of Hong Kong and conduct a one-on-one interview with practising solicitors to obtain professional advice to help them develop an effective IP strategy.
In addition, the HKTDC will hold the 12th Business of IP Asia Forum at the Hong Kong Convention and Exhibition Centre on 1 and 2 December, enabling the industry to gather, exchange ideas and expand IP-related business opportunities.
Related link
BIP Asia Forum